(Last Updated On: July 25, 2023)
PALOQUETH sex toys are about value for money, features, and of course, pleasure. It may not be the best-known brand name out there, but what Paloqueth lacks in advertising, it more than makes up in value. The brand has a prolific range of sex toys available for women and men, and the customer reviews have been stellar. Let's dive in and see what makes these sex toys tick, and the best toys they have to offer. Here's a quick look at our selection.
Top Sex Toys From Paloqueth
Best Vibrators For Women
PALOQUETH Silicone Magic Wand Clit Stimulator
PALOQUETH Waterproof G-Spot Rabbit Vibrator
PALOQUETH Clitoral Sucking Vibrator with Sonic Technology
PALOQUETH Rotating Clitoral Tongue Vibrator
PALOQUETH Waterproof G-Spot Vibrator
Best Sex Toys For Men
PALOQUETH Rechargeable Automated Oral Sex Masturbation Toy
PALOQUETH Unisex Waterproof Vibrating Butt Plug
PALOQUETH Realistic Male Sleeve Stroker
PALOQUETH Waterproof Silicone Prostate Stimulator
PALOQUETH Wireless Remote Control Vibrating Penis Enhancer Ring
PALOQUETH Sex Toys And Value
As I said, Paloqueth is a rather prolific manufacturer of sex toys. Their range is wide, and you'll see everything from high-tech male masturbators to vibrating panties on offer. What you won't find are proper model names. The company has terrible naming practices and the listed product names are more descriptive rather than direct. The lack of a proper naming system is quite infuriating.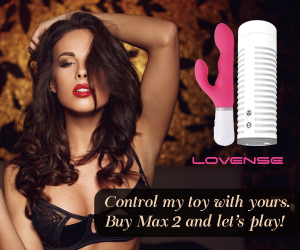 A common denominator throughout the product line is value for money. The products are very well priced, and for that matter, have excellent features for the price. Several of these vibrators and masturbators have features you'll often find in high-end premium sex toys. The value offered is one of the major driving forces of Paloqueth sex toys.
Value For Money Versus Cheap
People often tend to confuse value for money as being cheap or at least cheaply made. These toys aren't exactly cheap. You won't find any of these vibrators selling for 10 bucks. The USP (unique selling point) here is that these sex toys usually have features that are generally expected in more expensive sex toys.
Always Use A Lubricant
Whenever you use a sex toy, use a lubricant. The most common lubricant variants are water-based, silicone-based, and oil-based. They each have their positive and negative points, but for any toy made from silicone or TPE, it's best to use a water-based lubricant.
As such, I'll suggest you use a water-based lubricant with all toys on this list. Water-based lube also tends to dry up relatively quickly, so keep the lube at hand; just in case you have to apply more.
Product Longevity And Paloqueth
Where's the catch, you ask? The catch is longevity. Most of these toys will barely last a year. You might see the battery failing or the construction falling apart.
To be fair to Paloqueth, such problems aren't quite unheard in more expensive toys as well. But you cannot expect Paloqueth to offer a 10-year (limited) coverage like Lelo does.
Top 5 Paloqueth Vibrators For Women
1. PALOQUETH Silicone Magic Wand Clit Stimulator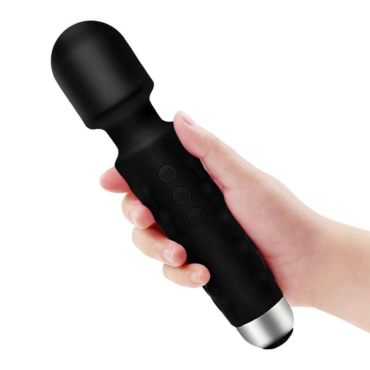 I guess it's only natural that we start with the best wand vibrator Paloqueth has to offer. Magic wand vibrators have earned their name and fame for their prowess in clitoral stimulation. Plus, most magic wands can actually be used as massagers, which incidentally was the original purpose. Until the wands worked their real magic, that is.
Paloqueth Magic Wand has been designed to be small and portable, much like the Shibari Mini Halo. And just like the Shibari, this one doesn't give up on power simply because of its smaller size. The Paloqueth Magic Wand is a powerful little toy wrapped in silicone. You can choose eight vibration speeds and there are 20 patterns to pick. So you can pretty much get the pattern you want, the vibration that works just right.
Looking for the strongest vibrators?
When you switch it on, the vibrator will always start at its maximum speed. That might work if you're a power queen, but for those of us who like to work their way up to higher intensities, this can get a bit annoying. It would also have been far more useful if the wand vibrator started off at its last setting. As much as I love the options of patterns and intensities, sometimes jumping straight to the preferred pattern is all I want.
For its small size, the Paloqueth Silicone Magic Wand quit stimulator packs in quite a punch. Oh, and if you'd like some customizations, it is compatible with Hitachi Magic Wand accessories and add-ons. The head is flexible, so don't shy away from adding pressure if that's your thing.
| | |
| --- | --- |
| Pros | Cons |
| Powerful and compact | Always starts at maximum intensity vibrations |
| Rechargeable and waterproof | Can get noisy at higher intensity settings |
| Silicone coated body is non-porous, non-toxic, and phthalate free | Silicone coat on body can move out of place, making it difficult to spot and hit buttons |
2. PALOQUETH Waterproof G-Spot Rabbit Vibrator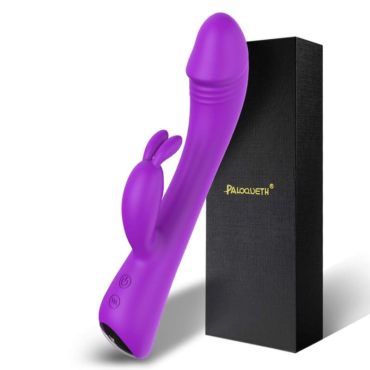 This rabbit vibrator is perhaps the most versatile, and best-known toy that Paloqueth has to offer. It is coated with soft, velvety silicone that makes the toy great to touch. As you can very well guess, having the right sensation to the touch can go a long way when the vibrator gets down to business.
For an insertable toy like the Paloqueth rabbit vibrator, be extra generous with the lube. While the silicone does feel great against the skin, a lubricant can really smoothen things up should you decide to thrust. Or, even for general movement and inserting the vibrator.
The curvy and bulbous shape of the insertable end works quite well. There's a good chance it will hit your g-spot, and stimulate it in all the right ways to bring you to a thunderous, squirting orgasm. Or at least, that's the hope. It's better not to pressure yourself towards squirting.
The ribs placed just along the bulbous top add to the pleasure. It is phallic in appearance, though the Paloqueth rabbit vibrator does not try to look realistic.
The clitoral arm quite literally has rabbit ears, which I suppose to add to the overall appearance of this rabbit vibrator. It is powered by two motors, one for the insertable side and the other for the clitoral stimulator. Both of these motors work together to give you great sensations and pleasure. Paloqueth rabbit vibrator has nine vibration modes and intensity settings, so you can comfortably find one that works best for you.
| | |
| --- | --- |
| Pros | Cons |
| Excellent shape for g-spot stimulation | Clitoral stimulation could have been better |
| Waterproofing makes for easier cleaning, and use in shower/bathtub | Separate pattern and intensity settings would be more convenient |
| Rechargeable battery gives 2 hours of play after 2 hours of charge | |
3. PALOQUETH Clitoral Sucking Vibrator with Sonic Technology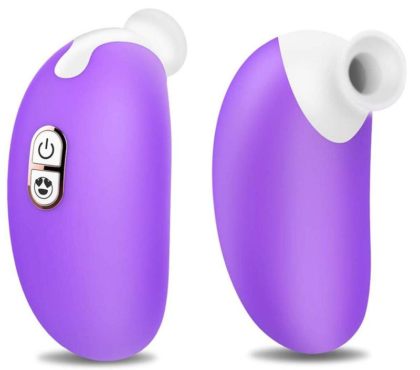 The first thing I noticed about the Paloqueth clitoral sucking vibrator is that it has an emoji on its buttons. I guess is a nudge towards the sensations you should feel once you turn on the vibrator.
This is a no-contact clitoral sucking vibrator. When switched on, a motor kicks in and creates a suction effect that is meant to mimic oral sex. No-contact sucking vibrators are one of the most effective clitoral vibrators currently available. They're powerful, effective, and can usually elicit an orgasm rather quickly.
The Paloqueth sucking vibrator takes on giants like the Satisfyer Pro 2 and Womanizer Pro. And it does a decent job at challenging the incumbent leaders. It has seven vibration modes that are very powerful and can quickly push you over the edge. The silicone attachment forms a convenient seal around the clitoris and makes the vibrator more effective.
Paloqueth also says that the vibrator has a "sonic function" that should put it in the same category as the Lelo Sona. Though I'm fairly certain it relies on suction technology rather than sound waves, so the sonic function is very likely a non-existent gimmick.
The combo of seven intensity and pattern modes works very well and certainly is enjoyable. It is, however, not as convenient or impressive as what you would expect from a Womanizer or Satisfyer toy. While the Paloqueth non-contact vibrator is only a fraction of the cost of a Womanizer, the price difference with the Satisfyer is much smaller. I'd recommend choosing the Satisfyer or Womanizer in this category, even though the Paloqueth toy does have some merits.
| | |
| --- | --- |
| Pros | Cons |
| Powerful toy with several intensities and patterns | Feels more intense rather than fun and pleasant |
| Waterproof | Can get noisy |
| Has a good amount of play time on a full charge | |
4. PALOQUETH Rotating Clitoral Tongue Vibrator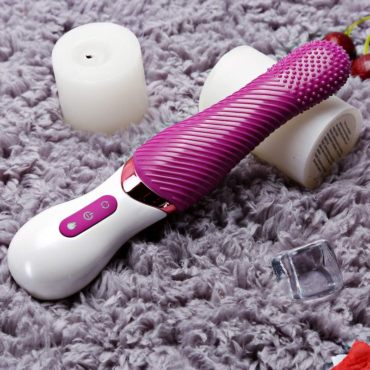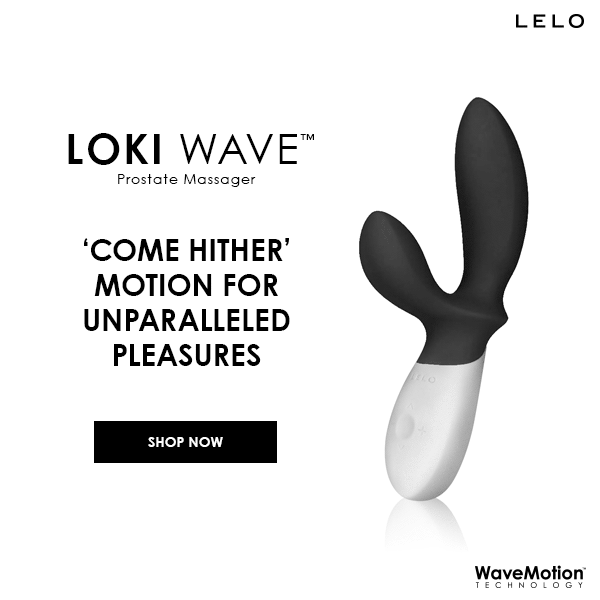 Paloqueth Rotating Tongue Clitoral Vibrator is a bit of a novelty and interesting item to consider. Its unique shape has tiny nubs at the top followed by ribs that cover most of its length. The idea is to mimic the feel of a tongue on the clitoris while you use it for foreplay. Unlike the non-contact sucking vibrator, the tongue vibrator does not try to mimic cunnilingus techniques. Although, you certainly can use it to get the feel of a tongue on the clitoris, and if that works for you, awesome.
While primarily designed as a clitoral vibrator, the PALOQUETH Rotating Clitoral Tongue Vibrator isn't solely meant for external use. All those nubs and the ribbed pattern work wonders when inserted as well. The unique shape and design make this vibrator suited for some g-spot stimulation, as well as stimulating the vaginal opening.
A built-in heating function warms the vibrator up to 104 degrees Fahrenheit. This makes it feel amazing for clitoral and vaginal stimulation. It has seven vibration modes and rotation modes. Heat it up, choose your preferred vibration/rotation setting, and you can waft away into bliss.
It feels great and is one of the better choices to consider. The vibrator, however, is made from TPE to make all those sensations possible. It is bound to be porous to some extent, and all those nubs and ribs will make it difficult to clean.
| | |
| --- | --- |
| Pros | Cons |
| Interesting design allows unique and pleasurable sensations | Use of porous materials limits the lifetime of the vibrator |
| Waterproof and somewhat flexible for increased usability | Difficult to clean and maintain |
| Heating and rotating functions add dimensions of pleasure | Noisy |
5. PALOQUETH Waterproof G-Spot Vibrator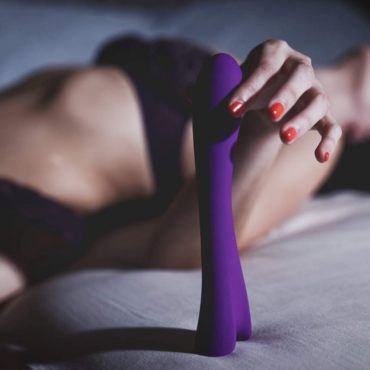 Designed to be phenomenal, this is on our list of one of the best G-spot vibrators on the market. The pronounced curve on the vibrator puts it in a great position to find your G-spot and bring on targeted stimulation. And the low price tag makes this vibrator an excellent value item that is impossible to skip.
The vibrator is wrapped in soft, velvety silicone that is delightful to touch. It is also an FDA approved material and is odorless, non-porous, phthalate-free, and completely body safe. It is operated through a single button. You can use this button to switch the vibrator on/off, or to cycle through its nine vibration modes.
This slim and rather sleek vibrator has a way of finding the g-spot and stimulating at just the right points. The slight bulge at the insertable side does help speed along with the sensations. You'll find it quite skillful, and obviously, an excellent value.
| | |
| --- | --- |
| Pros | Cons |
| Feature rich and easy to operate | Lacks power |
| Waterproof vibrator gives 90 minutes of play time over a full recharge | Battery can drain quickly at higher intensity settings |
| Very well priced | |
5 Best Sex Toys For Men From Paloqueth
1. PALOQUETH Rechargeable Automated Oral Sex Masturbation Toy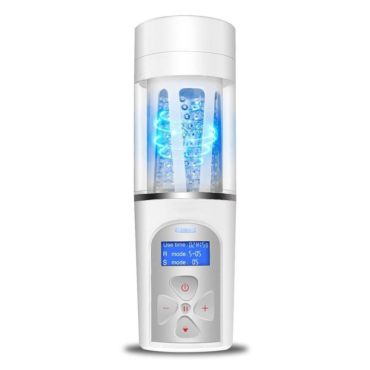 If a high-tech, feature-rich masturbator is what your heart desires, this Paloqueth masturbation toy will fit in just right. It has a long list of functions and features, and its electronic interface is designed to do most of the work, rather than having you thrust into the masturbator.
The up and down thrusting that is usual for masturbators is augmented by rotation from the toy. There are other features that help this toy secure a spot on our list and as one of the best pocket pussies. And again, it's impressive how Paloqueth manages to pack in so many features at an excellent prices.
An included LCD screen on the masturbator makes it easier to manage controls by adding a visual component. The actual controls are handled by five buttons placed just below the screen. You can work with 10 spin modes and five speeds, while managing them easily at the touch of a button. The penis-stimulating parts of the pocket pussy are made from TPE and include several nubs and beads for added pleasure.
Oh, and there's another interesting feature. Should you be partial to "aural stimulation", the device has pre-recorded sounds from six different women. This cheesy little function should give you the same fake moaning sound effects usually seen in porn. But hey, if that's your thing, it should work just fine!
| | |
| --- | --- |
| Pros | Cons |
| Feature-rich with several vibration modes and patterns | Noisy |
| Easily accessible controls | Low battery life |
| Beads are great texture for penile stimulation | |
2. PALOQUETH Unisex Waterproof Vibrating Butt Plug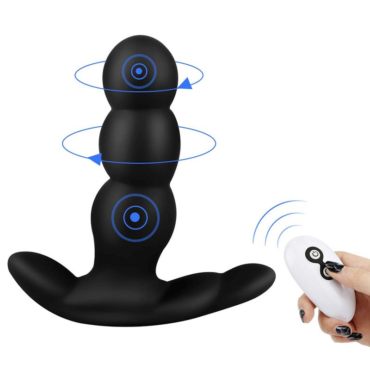 This remote controlled butt plug is designed for use by both sexes. It is not a toy for beginners though and is best employed by people who know their ways around anal toys and anal training.
Its dual motors are placed in the top and the bottom section, giving it coverage and intensity that should border on thrilling. The inserted section takes the shape of three stacked beads, where the top two beads can also rotate as and when necessary. Anal beads form a big part of inspiration for this butt plug.
Convenience of handling and operation makes the Paloqueth vibrating butt plug a great choice. Presence of a remote makes things so much easier and opens doors to the possibility of public play. You can go about it solo, or have your partner join in on the fun. Discretion will require some effort as this butt plug can get noisy. You get to play with seven powerful rotation and intensity modes.
Remember to keep the remote within a small range of the sex toy. The listed range is 30 feet, but it works best closer and with a clear "sight" of the butt plug. If your partner is using the remote, the longest range for the remote will be if they stand behind you.
| | |
| --- | --- |
| Pros | Cons |
| Non-porous and body safe materials | Remote control has a small range and requires careful placement |
| Several intensity and rotation options | Remote can be unreliable |
| Dual motors for extra power and pleasure | Noisy |
See current price on Paloqueth
3. PALOQUETH Realistic Male Sleeve Stroker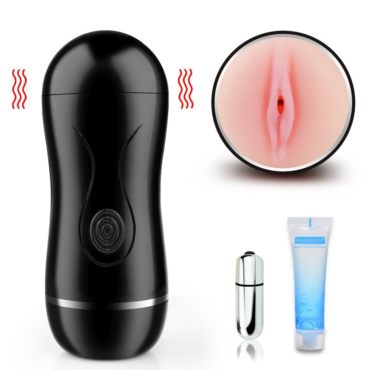 The Paloqueth Male Sleeve is designed for some customizable pressure to go along with the regular stroking. A plastic case is used as housing for the sleeve and includes buttons like the Tenga Flip Hole to create pin-point pressure and stimulation on various parts of the sleeve and penis.
You get a deeper control of the sensations, relying on the pressure applied as well as the texture of the sleeve. The sleeve opening has the appearance of a vagina, playing into the appearance of a "realistic" sleeve. A battery-powered vibration system is designed for enhancing pleasure.
The canal is ribbed and filled with small nodules for maximum stimulation, much of it focused on the glans and the immediate base of the glans to heighten pleasure and sensitivity. You can place the sleeve in warm water to get it up to body temperature for a better sensation. Paloqueth recommends using warm water to clean the masturbation sleeve before and after every use.
| | |
| --- | --- |
| Pros | Cons |
| Strong, pleasurable texture | Can be difficult to clean |
| Vibration system adds richly to stimulation | Vibration system can be unreliable |
| Manual customization for pleasure by pressing buttons on the sleeve housing | |
4. PALOQUETH Waterproof Silicone Prostate Stimulator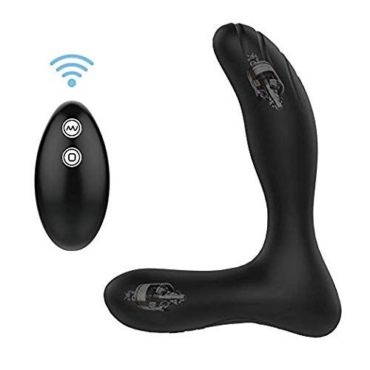 This remote controlled vibrating prostate massager is meant to stimulate the P-spot as well as the perineum. Its clean construction allows you to go about your day with the toy inserted, safe in the knowledge that it will not interfere with your daily activities.
An included remote makes controls easier, and convenient to handle both arms of the prostate massager. Each of them has an individual motor for better operation, and you can cycle through 10 vibration patterns to select one that suits you best.
Paloqueth's prostate stimulator certainly is powerful, and can very conveniently lead to solid p-spot orgasms. The insertable side is about 4-inches, though the vigorous vibrations create a pretty solid stimulation. It is completely waterproof, so cleaning becomes easy, as well as possibility of taking it to the shower or bathtub.
Public play is possible, though the range of the remote is limited to a shorter distance. It also works best when the person controlling the remote is directly behind and in clear sight of the prostate stimulator.
| | |
| --- | --- |
| Pros | Cons |
| Powerful, vigorous vibrations | Battery loses charge quickly between uses |
| Waterproof | Possibility of the prostate massager slipping out unless carefully managed |
| Remote makes controls and public play convenient | |
5. PALOQUETH Wireless Remote Control Vibrating Penis Enhancer Ring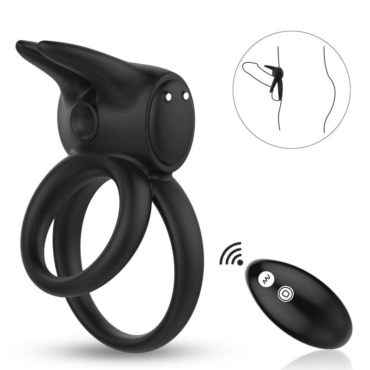 It is no Oden, but Paloqueth's remote-controlled cock ring certainly isn't afraid of commanding respect. The cock-ring has dual rings to wrap around the shaft of the penis as well as the testicles. Its interestingly placed soft attachments are shaped practically as clitoral stimulators or a rabbit vibrator. That should make sense since their job is to stimulate the clitoris as the couple enjoys PIV (penis in vagina) intercourse.
Handle the remote control yourself, or let your partner own it, as she decides the intensity and power options that should flow through not just your penis, but also to her clitoris. The c-ring has seven speed options, so it's easy to find one that tickles her, as well as your fancy.
| | |
| --- | --- |
| Pros | Cons |
| Well placed, flexible clitoral stimulation appendages | Magnetic charger can be a bit flimsy |
| Easy to use controls | The ring can feel uncomfortably tight even for average girth penis |
| Waterproof | |
See current price on Paloqueth
Best Paloqueth Sex Toys — Conclusion
Paloqueth's prolific range offers a lot of toys, and the relatively low price makes it possible to try these toys. The range offers much to enjoy for both sexes, and if you find something that catches your fancy, it very well deserves some action!