(Last Updated On: July 25, 2023)
It is easy to slap on the tag of G-Spot Vibrator on practically any vibrator. Unfortunately, a whole bunch of them do nothing. The G-spot is not located in a very accessible location, and as such can be a tricky point to get to. Just anything with the magic words in its name won't do.
We need something well crafted and designed in a way that it can actually provide g-spot stimulation. Squirting is welcome, but I'll settle for a nice, strong orgasm as well. Here's a list of the best g-spot toys based on customer reviews and my personal opinion.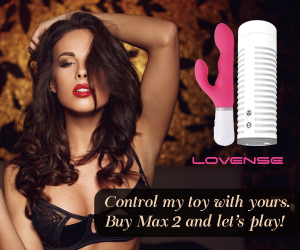 Our Top Picks for 2023
7 Best G-Spot Vibrators
1. Lelo Mona Wave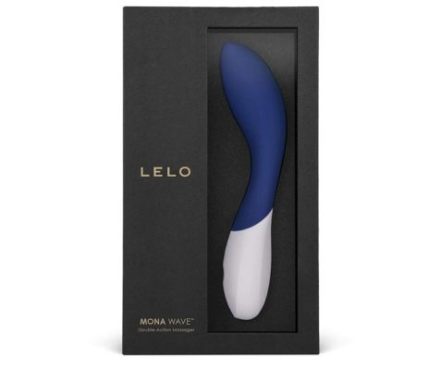 Lelo Mona Wave is an obvious topper on the list. It has power, it has design, and it has a unique function that just makes things a whole lot better. Mona Wave is kind of a champion of the Lelo g-spot toy range. It's covered in the same velvety soft and divine to touch silicone that Lelo products are famous for, though its handle is ABS plastic. Both these materials are phthalate-free, non-porous, odorless, hypoallergenic and completely body safe.
Mona Wave is one of the most powerful sex toys in Lelo's arsenal, and even manages to appeal to those who prefer very strong vibrations. It is designed to reach, stimulate and massage the g-spot, all in an effort to build a very satisfying orgasm. Lelo Mona Wave is fairly sizeable and can make you feel quite "full".
Lelo Mona Wave gets its name from the "come hither" motion it includes. Lelo also calls it the "wave motion". Basically, the wave motion makes the shaft move front and backwards, in a motion intended to imitate the curling of a finger. If you enjoy that feeling, the Mona wave has you covered and all set for bliss. This vibrator includes eight vibration modes with adjustable intensity/speed. There's a good possibility you'll find the vibration you crave with the best g-spot vibe.
Check more details on LELO store
Pros
Powerful
Designed skillfully for g-spot stimulation
Includes several pattern and intensity settings
Rechargeable (2-hours charge for 2-hour use)
Fairly quiet
100% waterproof
Filling
Cons
Expensive
Slightly noisy with wave motion activated
Not the best toy for starters
Use coupon code GURU to save 10% on LELO store
2. Paloqueth Silicone G Spot Vibrator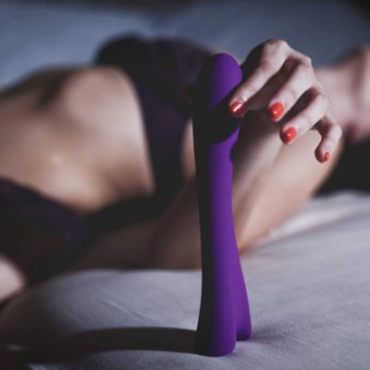 Paloqueth G-spot vibrator is a very popular and cost effective sex toy to get the ball rolling. It's great for beginners and advanced users alike, and is often highly ranked in g spot vibrator reviews. This sleek toy hides a wealth of features, that almost seem too good to be true for the asking price. If you have $20 to spend on a sex toy, spend it on this one.
This vibrator packs in features usually reserved for premium G-spot vibrators that often go for ten times the asking price. It is coated with FDA approved medical grade silicone, has nine vibration modes, is waterproof, and rechargeable. It has a single button, and you can cycle through the various vibration modes by pressing the button. Keeping the button pressed for three seconds turns the vibrator on/off. The vibrator is fairly silent, going to a maximum of 40dB; for comparison, normal speech is rated at 50dB.
Paloqueth Silicone G Spot vibrator is fairly slim, and sleek, making it look fairly unintimidating. It's an excellent start for beginners, and apart from its core function of stimulating the g-spot, it can be used for clitoral stimulation as well. Keep in mind, it's best to use lubricant with most vibrators. Do not use a silicone based lubricant for silicone vibrators, instead, rely on water-based lube. Available on the Paloqueth.
Pros
Feature rich
Very well priced
Silent operation
Rechargeable (90 minutes charge for 2 hours use)
Waterproof
Easy to operate
Cons
Lacks power
Likely problems with longevity
Battery may drain very fast on higher intensity modes
3. We-Vibe Rave G-spot Stimulator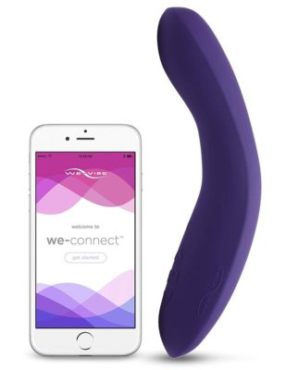 We-Vibe Rave loves technology, and perhaps a bit of kinky play thanks to the possibility of controlling it via a smartphone app. I'd go ahead and suggest public play, but the Rave isn't really built for walking around with, but perhaps getting creative with the app would be just as fun. It is made from medical grade silicone and is great to touch.
If you don't want to use the app, simply switch to controls on the vibrator and enjoy its powerful and deep vibrations. Powerful vibrations is one thing We-Vibe does extremely well. You can expect their products to be powerful and pleasurable from the get-go. With its skilled construction, the We-Vibe Rave pretty much zeroes in on the g-spot and sparks off waves of pleasure. Yes, I just used a cliche, and the reason is that the words fit perfectly in the description.
It is quiet, rechargeable, and app-controlled, which I think is just fantastic. A full charge will keep it running for two hours. Impressive, considering it has very strong vibrations and the option to cycle through 10 patterns.
Pros
Powerful, strong vibrations
App controlled
Rechargeable
Quiet in operation
Different vibration modes
Cons
Only powerful vibration modes, which can be off-putting for some
Some users report flaky connectivity with the included app controls
The higher price point may not be desirable to many users
4. Lelo Gigi 2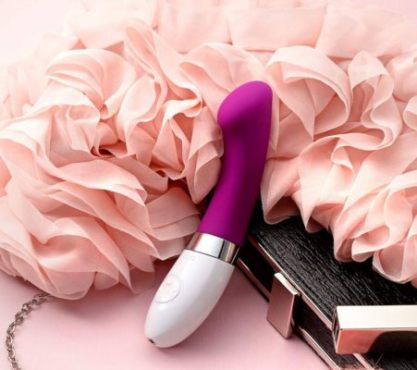 Lelo Gigi 2 doesn't care much about other things, it's purpose in life is to head straight for the g-spot and induce an orgasm. I say that because the Gigi 2 has remarkable precision. If you don't know where your g-spot is, there's a good chance the Lelo Gigi 2 will find it, and stimulate it for you.
At the end of Gigi 2's curved shaft is a slight bulge with a flat area, built especially for massaging the g-spot. It is elegantly designed with the shaft covered in medical grade silicone, and the handle made from ABS plastic. It is sized to be convenient, and for the simple purpose of g spot stimulation, nothing else.
Lelo Gigi 2 has eight pleasure settings or patterns, and seven intensity settings. There's a wide variety of options to choose from, and I'm fairly certain your g spot will thank you for it. Gigi 2 can work an impressive four hours after a charge of 2 hours, and is practically noiseless.

The Gigi 2 is one of the few vibrators that have consistently scored well in reviews, with many crediting it for breaking their squirting virginity. It is perhaps one of the highest rated g spot vibrators, if not the best g-spot vibrator available on the market today. The only downside is that it is not strong enough for some preferences. Unless you prefer very strong vibrations, the Gigi 2 is perhaps exactly what you need for the g-spot.
Pros
Quiet operation
A range of preset patterns and intensity settings
Rechargeable
Waterproof
Specifically designed for g-spot stimulation
Cons
Not powerful enough for those who prefer strong vibrations
Some users complained that the vibrator got progressively noisier with time
Lack of clear battery-level indicator means you will have to ensure full charge before every use
5. Doc Johnson Lucid Dream 14 – Waterproof G-Spot Vibrator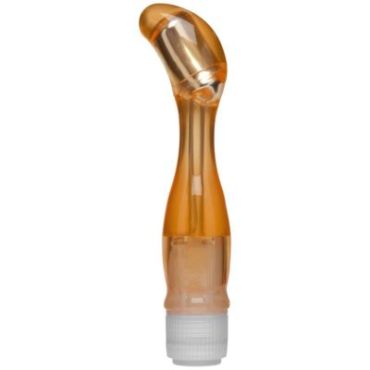 Doc Johnson is a popular choice, and the only one on this list not using silicone. This vibrator is made from body-safe TPR material. One advantage that the material gives this vibrator over silicone is that the Doc Johnson Lucid Dream is flexible, and thus can be more easily maneuvered. That combined with its unique shape and powerful motor is perhaps the reason why this g-spot vibrator is so popular.
The shape lends itself well for g-spot stimulation, though not as good as the Gigi 2, but fairly well for its other competitors. It can feel fairly filling and creates strong sensations thanks to its powerful motors. That unfortunately also means that this runs through batteries pretty fast.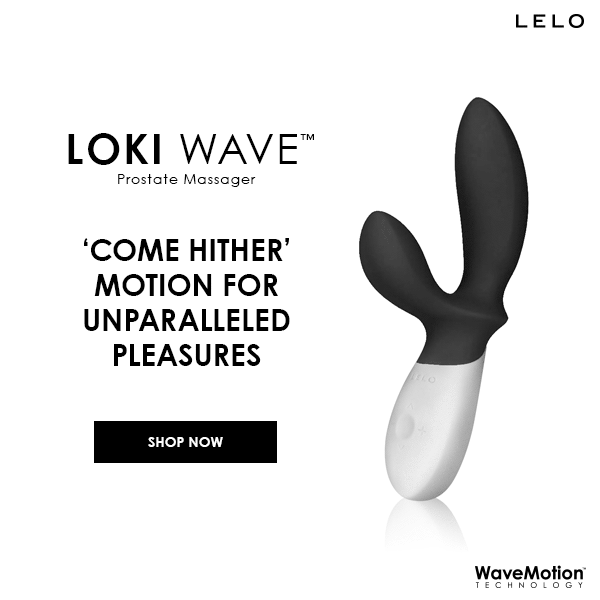 Pros
Powerful
Soft and flexible
Waterproof
Multi-speed vibrations
Unique design for g-spot stimulation
Relatively quiet
Cons
Requires frequent battery changes
Made from Thermoplastic Rubber, which can be porous. It cannot be completely sterilized and will require extra attention to hygiene of the toy
The vibrator can have an unsettling chemical odor even when new
6. Wearable Clitoris And G-Spot Stimulator Vibrator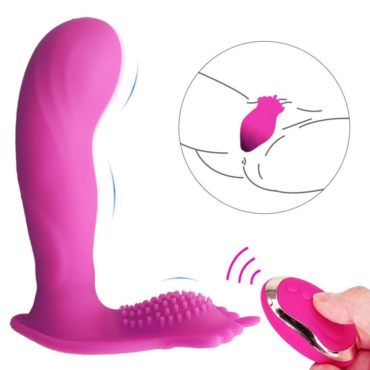 This vibrator is designed to be a remote controlled combo stimulator for the G-spot and the clitoris. Rather than go the classic rabbit vibrator route, it takes on the wearable route. You can go about your day wearing this vibrator, and using the included remote to set off waves of pleasure for your g-spot and clitoris.
A wider and curved insertable side keeps this locked firmly in place as you go about your daily routine. The vibrator utilizes dual motors, one for the clit and the other for the g-spot side. It's useful as a clitoris stimulator, but g-spot stimulation is where this vibrator really shines.
It has a curvy shape, and the top has a slight bulge and curve. This interesting shape lets the vibrator put on some pressure on the g-spot, while vibrations handle the massage. Since it is operated by remote, and can be used hands-free, you get to be a lot more relaxed and can really play with the 10 vibration and pattern settings available with the vibrator.
Check out more reviews on Amazon.
Pros
Good value for money
Silicone coat is non-porous, non-toxic, and feels great
Waterproof
Can be used for public play
Cons
Not robust, questionable longevity
Vibrations can feel very weak for some
Remote control can be a bit spotty
7. CalExotics Jack Rabbit Signature Silicone Thrusting Rabbit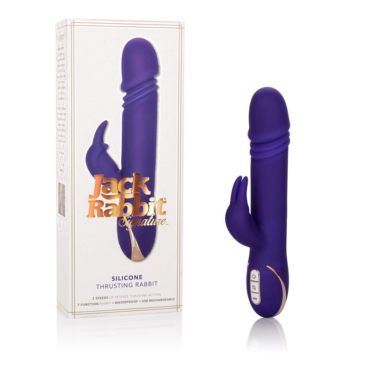 CalExotics Jack Rabbit Signature Silicone Thrusting Rabbit, really puts some thrust into g-spot stimulation. This is a well-made high-quality product for a reasonable price. The most useful feature, and what makes it useful as a g-spot massager is its thrust function.
Top of the insertable side of the vibrator can mimic a thrusting action, which actually provides excellent massage for the g-spot. It is an amazing feel overall, and you can expect this to be an orgasmic encounter. The top of the insertable side is somewhat phallic shaped, though it doesn't try to be "realistic".
There is a slight bulge, followed a series of ribs. Together, this texture combination provides excellent stimulation for the g-spot. It gets better with vibrations, and amazing with the thrusting action.
As for the bunny ears for the clitoris, they're average at their job, but the flickering and fluttering ears do offer pleasure. You can use the flicker function on the bunny ears independent of the thrusting action of the vibrator on the g spot for greater personalization of your experience.
CalExotics Jack Rabbit is waterproof, USB rechargeable, and has 7 vibration functions (separate from the 3 used for thrusting action).
Pros
High-quality construction
Silicone coat is non-porous, phthalate-free, non-toxic, and body-safe
Three thrusting options for greater g-spot stimulation
Excellent variety of vibration options
Silent during use
Cons
The vibrator is largely inflexible
The clitoris massager is underwhelming
Vibration options can feel weak until you go to higher intensity settings
What's So Special About G-Spot Vibrators?
The shape of a vibrator or dildo is what decides its purpose. The vibrator (or dildo) doesn't simply have to be insertable, it should be able to hit — and stimulate — the g-spot. In order to achieve this, most g-spot vibrators either have a curve or a uniquely designed tip that lets them massage the g-spot.
As we know, the best g-spot orgasms come with slight pressure and the vibrations are a bonus. The shape of these vibrators is what helps to achieve that pressure.
A simple, straight dildo or vibrator will give you pleasure, but massaging the g-spot simply isn't in its job description. It might touch the g-spot every now and then, but its shape and motion are not designed to provide targeted stimulation for the g-spot.
The g-spot is located a few inches from the vaginal opening, towards the anterior wall (the one towards the stomach) of the vagina. It's almost halfway between the vaginal opening and the cervix.
So, the goal of many g-spot vibrators is not deep penetration, but reaching and massaging the g-spot. Of course, there are many that offer deep penetration as well, so it's all up to your preference.
If the g-spot is still an enigma to you, check out this guide on how to find your g-spot (and how to stimulate it).
How to Buy the Right G-Spot Vibrator
Getting a vibrator is a personal choice, and the right g-spot vibrator is one that you enjoy. If it can bring you to orgasm, it is awesome. That said, if you are in the market for a new vibrator, here are some things to consider while picking the best g-spot vibrator for you:
Pattern And Textures
Vibrators are available in practically every conceivable variety of patterns and textures. And there are toys that take the shape of a penis – veins and all. Having a physical pattern or texture can provide extra pleasure, and many women enjoy the bumps and ridges that come along. Similarly, if smooth and curvy is your thing, well, you got plenty of options there too.
Battery Power
Practically all modern g-spot vibrators get their power from a battery. High-quality vibrators have built-in, rechargeable batteries and can be ready for several sessions of fun with just a quick charge. Some vibrators need insertable batteries.
Personally, I'd stay away from the mess of storing batteries and keeping extras at hand. There's also the added problem of disposable battery-powered vibrators being unable to handle power and vibration pattern settings as well as the rechargeable battery powered vibrators.
Waterproofing
Sometimes, a girl just wants to have some fun in the shower! If having fun times in a shower or tub is your thing, make sure you've got a vibrator that can handle being exposed to water. Remember, waterproof and water-resistant is not the same thing.
A water-resistant vibrator can handle some water, but should not be submerged or even exposed to water for long. Waterproof vibrators will gladly accompany you into the bathtub. An additional benefit of waterproof vibrators is that cleaning becomes a lot easier.
Remote Control And Play
Having a remote vibrator at hand makes it easier for you to control your vibrator, or have your partner involved in the fun. There is something amazing about having your partner control the vibrations and the position of the vibrator.
Some vibrators also offer remote control through the internet, so even couples in long-distance relationships can have some semblance of intimacy. There's also the angle of public play to explore, where you leave the confines of your bed and control the vibrator (or your partner controls it) while you go around doing your daily tasks.
Clitoral Stimulation
Getting clitoral stimulation along with g-spot stimulation makes the experience more pleasurable and fun for most women. There are plenty of ways to go around it. You could use your free hand, a second vibrator, or your partner to stimulate the clitoris.
Rabbit vibrators are an amazing option as well and offer the advantage of having just one vibrator handle g-spot stimulation as well as clitoral stimulation.
Noise Your Vibrator Makes
There is going to be some sound from your vibrator. So if you intend to be discreet, be careful and check the noise levels of your vibrator before you put it in action.
Most high-quality vibrators limit the noise to under 50dB, which is about the same as the volume of a regular conversation. So there's a good chance someone outside of your room won't hear the whirring sound.
Best G-spot Vibrator — Final Words
The preference in G-spot vibrators of course depends on individual body type and requirements. However, the ones listed here have a track record of being handy in g-spot stimulation.
Take your pick. If you're unsure, perhaps go for a well-received option like the Lelo Gigi 2. If you are a beginner and would rather not spend on the Gigi 2, take a shot at the Paloqueth Silicone G Spot Vibrator. The best g spot vibrator is the one that works for you, and I'm fairly certain one of these will be worth your attention.