There should be no need to sacrifice clitoral stimulation when getting vaginal stimulation. Well, we can always use two vibrators, but I'd much prefer to have a hand free rather than putting both hands to work. Many women swear by the usefulness of the rabbit vibrator, and I agree with them. Rabbit vibrators are amazing at providing clitoral stimulation to go along with vaginal or g spot stimulation. Let's take a deeper look and find the best rabbit vibrator for your collection. To that end, here's a list of the best rabbit sex toys you can get your hands on.
1. Lelo Ina 2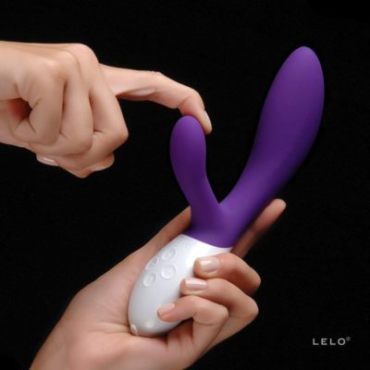 Lelo Ina 2 combines the best of Lelo's vibrators with Lelo rabbit vibrators. Inspired by Lelo Mona 2, the Ina 2 creates a match of power with pleasure and distributes it to the clit and the vagina. The main shaft's base has a relatively small diameter, from where it goes on to a bulge towards the top, finally rounding off for easy insertion. Ina's clit stimulator also shows up near the base of the main shaft, and is slightly more than 2-inches in length.
Ina 2 is fairly powerful to present strong vibrations, and big enough to be satisfactorily filling. Accounting for the relatively large size, Lelo have added two motors to the Ina 2. One near the base, and the other towards the top. The one near the base provides power for clitoral stimulation as well as stimulation for the vaginal opening. As for the second motor, it focuses its stimulation towards the g-spot. Together, these modes play with Ina's eight pattern settings and intensity settings to send you off to orgasm land.
Power for the Lelo Ina 2 rabbit vibrator comes from a Li-ion battery that takes two hours to charge, and offers a user time of up to two hours.
Pros
Powerful
Filling
Rechargeable
Dual motors to provide clitoral and g-spot stimulation
Low noise
Waterproof
Cons
Expensive
Not suitable for beginners
2. Svakom Alice Intelligent Rabbit Vibrator
Svakom's premium silicone covered Alice g-vibe may not be the best rabbit vibe, but it comes pretty close. It looks almost like a simple, timid rabbit. And it plays the part all too well. The insertable length is about 4.5-inches and the diameter is not something to be impressed about. Then it kicks into action, and you'll happily forget all those timid rabbit appearances.
It runs through 7 preset vibration modes and five speeds, but the fun starts once you hop into the intelligence mode. Once in this mode, both motors on the Alice kick to life and get to work providing clitoral (external) as well as internal vibrations and massage. One troublesome thing with most rabbits is their placement of the clitoral massager. Each body is different, and sometimes, they just won't reach! Svakom Alice has a good vibrator length to deal with this scenario and keep your comfortable and focused on your pleasure, not on arranging the vibrator.
It is powered by a Lithium-Polymer battery and takes about 1.5 hours to recharge, and gives back 2 hours of user time. It is fully waterproof and does its work silently. It is available in two colors, violet or a pale pink rabbit vibrator. Check it out on Amazon.
Pros
Easy to use for beginners
Silent operation
Waterproof
Rechargeable
Cons
The intelligent mode can be a hit or miss
3. Happy Rabbit G-Spot Pink Vibrator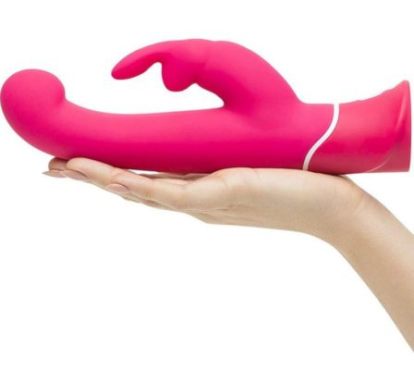 Happy Rabbit G-Spot Pink Vibrator apparently takes the name of its genre way too seriously. You can find the silhouette of a rabbit on this rabbit style vibrator. That apparently simple eccentricity aside, the Happy Rabbit vibrator is a pretty decent vibrator. It matches up its penetrative stimulation with clitoral stimulation (obviously taking help of the rabbit ears) and gives a very pleasurable sensation.
This silicone vibrator is a big machine with 5.25-inches of penetrable length and a maximum circumference of 4.75-inches. Two motors power this vibrator, along with several modes to get you to your desired setup. There are 15 vibration modes to pick from, with 12 affecting the main shaft, and three speeds dedicated to the bunny ears at the clitoral stimulator.
Happy Rabbit's pink vibrator is rechargeable and waterproof. It takes about 2.5 hours to a full charge, and offers a use time of 2 hours. See it on Amazon.
Pros
Powerful vibrations
Many modes and vibration speeds
Big and filling vibrator
Rechargeable
Waterproof
Cons
Can get noisy at high speeds
Not for use by beginners, needs at least some experience
4. GSPY Vibrating G Spot Rabbit Vibrator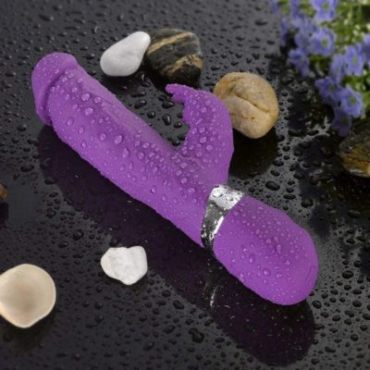 Unlike the other toys on this list, the GSPY straight up takes a penis form and throws in wings at the side to be called a rabbit. While there's always an implication with rabbit vibrators, a very clear penis-rabbit feels humorous to me. While we are on the topic of "feels", this one also feels amazing. I would say it looks tacky as an oversized penis, but I'm more than happy to forget those complaints in orgasmic bliss.
The vibrator is made from medical grade silicone with touches of ABS plastic. To keep controls simple, the vibrator has only two buttons to make its operation simple. One button to power on/off, while the other takes control over the intensity, speed, and vibrations. The shaft gives way and is slightly flexible, allowing the vibrator to bend and take the best position available. It is rechargeable, but not waterproof. See it on Amazon.
Pros
Powerful vibrations
Bendable
Rechargeable
Fairly quiet
Cons
No waterproofing
Low use time for battery
5. Lelo Soraya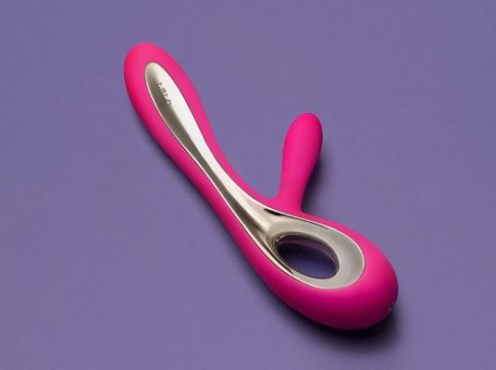 Lelo Soraya has its great looks to go an, and a promise that says its looks are as good as its operation. It looks every bit the premium product you would expect from Lelo. Built on the shape of the Lelo Isla, the Soraya goes in straight for the g-spot while the external clitoral stimulator does its job admirably. It is perhaps one of the best looking vibrators, and one with elegance to boot.
This dual massager lets silicon do all the work, while ABS plastic mostly provides the accents and a glossy contrast to the matte finish of silicone. The loop at the end makes it easy to control this vibrator, just slip in your fingers and you'll find your thumb resting right against the controls. Now that's something! It takes about two hours to charge and returns an impressive four hours of user time. Lelo Soraya is waterproof, so feel free to take it along to the bath.
Pros
Great looks
Excellent battery
Easy to control and manage
Low noise
Waterproof
Rechargeable
Cons
Can be slightly difficult to clean
6. We-Vibe Nova Dual Stimulator

Nova from We-Vibe has a slightly better approach towards clitoral stimulation. Its clitoral stimulator hits the clit or bends to reach it, and stays put at its position. Once the vibrator is inserted and the external stimulator positioned, you can go hands free and control the vibrator through a mobile app. Now that's some comfort!
Of course, should you decide to ditch the mobile, the work all falls upon the four buttons on its ABS plastic handle. The buttons aligned horizontally change intensity, while those placed vertically along the circular control will let you switch through the preset modes. The accompanying app also allows you to share control of the Nova, so simply pass on the control to your partner and add more to the fun times.
We-Vibe Nova dual stimulator is rechargeable, body safe, has 10 vibration modes, and is powered by Lithium ion batteries. See it on Amazon.
Pros
Easy to control
Includes companion app for control
Rechargeable
Waterproof
A good variety of available motions and modes
Cons
Battery can have performance issues
7. Fifty Shades of Grey Greedy Girl G-Spot Rabbit Vibe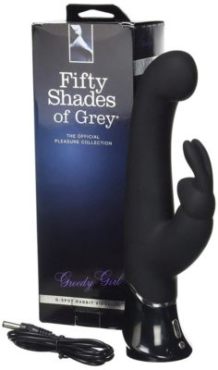 A part of the "official pleasure collection" of the notoriously bad movie, this rabbit vibrator has a lot going for it. In fact, it could probably have made the movie bearable for me. Among its speed and vibration controls, the vibrator offers 36 possible modes, possibly leaving room for every preference. There are three speeds for the bunny ears matching in with nine patterns that also work for the main shaft.
Powered by two powerful motors, the vibrator does a stunning job keeping this exciting, with stimulation going strong internally and externally. Fifty Shades of Grey Greedy Girl G-Spot Rabbit Vibe can be charged via USB, has thick and flexible ears, and is completely waterproof. You'll notice this is a movie-licensed cousin to the Happy Rabbit whom we saw earlier on this list. See it on Amazon.
Pros
Strong vibrations
Attention to internal as well as external vibrations
Waterproof
Rechargeable
Cons
Rabbit ears on the external arm can be an irritant sometimes
So What's The Best Rabbit Vibrator?
Simply put, the one that catches your fancy and your pleasure. There's a fair range of silicone-based vibrators on this list, and that's because silicone is excellent to touch and hygienic to use. The best rabbit vibrator should have these properties, especially if you're going to use it over months or even years. Remember to use only water-based lubricant with your silicone vibrators! The vibrators on this list have great reviews and recommendations, so feel free to choose one that tickles your fancy, and looks like it would be the best fit.