(Last Updated On: July 25, 2023)
The Rabbit Habit is a rabbit vibrator with a lot to offer. It may have passed its prime in the spotlight, but just as a way to refresh your memory, the Vibratex Rabbit Habit was once featured on Sex and the City where it was once used by Carrie. Oprah gave it the epithet of Rolls Royce of sex toys. Let's see if it holds up to all that fame with our Rabbit Habit review.
Rabbit Habit Review — Pros And Cons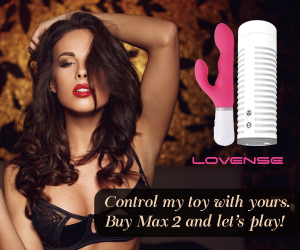 Pros
Powerful with dual motors
Battery powered
Splashproof and easy to clean
Well-designed for pleasure
Uses body-safe materials
Several intensity and pattern settings
Cons
Noisy
No waterproofing
The material used can be porous, even though it is body-safe
Rabbit Habit Features
Design And Aesthetics
As aesthetics go, the Rabbit Habit vibrator is not that impressive. It shows the marks of age and could use a facelift for a better look. The plastic handle and translucent body aren't that impressive a combo where aesthetics are concerned. Its packaging is fairly simple, a box holding the vibrator. The insertable appendage has a slightly protruding cylinder that holds beads. The idea here is to stimulate the vaginal opening, while its tip finds the g-spot.
As for the clitoral stimulation arm, it is topped by the classic rabbit ears of the rabbit vibrator. The ears create a buzz around the clitoris, hopefully leading you straight to orgasm.
Power And Intensity On The Rabbit Habit
Well, this cordless vibrator is not rechargeable. It relies on three AA batteries for power and sends it off to run its two motors. There is no lack of power, it will hit the right spots, and it will hit them well.
You get plenty of options in terms of patterns and vibrations with this Vibratex Rabbit vibrator. It offers four intensity settings, along with four patterns and four rotation settings. Its insertable shaft has an interesting rotating feature that leverages the shape of the vibrator to massage the g-spot. Coupled with rotation, the asymmetric shape of the vibrator creates quite an amazing stimulation for the g-spot. Add clitoral stimulation to the mix, and you're looking at an amazing orgasm!
Salient Points Of Rabbit Habit Vibrator
Cleaning your vibrator is something you should be very familiar with. Vibratex recommends cleaning the Rabbit Habit before you use it. You should also clean it after every use, and preferably employ some cleaning before every use as well. It is splashproof, not waterproof, so don't submerge this vibrator. Instead, choose a cleaning solution or spray from the market. You may also use a mild soap solution for cleaning. Remember to wipe it dry before you store it.
Another point to remember is that this sex toy is noisy. There's a very good chance it will be heard outside your room. Don't expect any stealth if you are using the Rabbit Habit!
Rabbit Habit Review — Performance
The insertable end of the vibrator measures about 5-inches in length and is about 1.5-inches wide. I think that makes it fairly usable, without approaching the territory of intimidating. There are two separate motors. One handles the clitoral stimulation with bunny ears, while the other works the main shaft.
Rather than just buzz and vibrate, the Rabbit Habit also rotates – a feature I find incredibly useful for g-spot stimulation. This one has power, and it has style. It's pretty much excellent at stimulation. Plus, the beads and the cylindrical area do their work at stimulating the vaginal opening. Rabbit Habit vibrator offers stimulation for the vaginal opening, the G-spot, and the clitoris. The whole package of stimulation is exhilarating!
It might take a while to orgasm, but the Rabbit Habit will get you there. Unless of course, if you're distracted by its noise. This thing is freaking loud. Focusing on orgasming becomes a bit tough if you're getting annoyed and irritated by the noise. However, if the noise does not bother you, you're golden.
I do wish it looked better. Even if it is made of high-quality materials, and certainly isn't a cheap vibrator, the looks don't help. I'd be willing to spend more to get a high-quality, better looking, and non-porous materials based vibrator like the Lelo Soraya.
Rabbit Habit Review — Conclusion
Once called the Rolls Royce of sex toys, the Rabbit Habit is past its prime. Don't get me wrong, it is still an amazing vibrator, but that epithet no longer suits it. There simply are better vibrators with a lot more to offer. But if this vibrator catches your fancy, there is no reason to look away. As this Rabbit Habit review says, the vibrator scores well where it matters the most — bringing on a satisfying orgasm.