Hitachi Magic Wand changed a lot of things when it launched in 1968. For one, it showed up prominently in that decade's sex-positive movement as a clitoral vibrator, breaking taboos and eventually leading to the commercial production of vibrators and similar feminine products. There are countless magic wand massagers and vibrators available on the market. Of course, not all wands are magic, and not all magic wands are the same.
Let's take a look at the claimants for best wand vibrator title, and what makes them tick.
LuLu 7+ Personal Wand Massager
Which Is The Best Wand Vibrator For Me?
The modern magic wand vibrators offer a lot of options. They are no longer exclusively rooted in drawing power from the mains, and they can get fairly diminutive in size. Here are some things to consider when picking the best wand vibrator for your use.
Power Of The Wand Vibrator
Wand vibrators have traditionally been the more powerful option for clitoral stimulation. While that still holds true, there are more ways to control the vibration strength and get it to your liking. Most vibrators now offer multiple settings for power and intensity control, as well as a range of preset patterns for you to enjoy. Take control in your hands and find the intensity and power settings that work best for you.
Wired Or Wireless?
If power is your thing, you will want a magic wand that draws its juice from the mains. The famous Hitachi Magic Wand draws is wired, and does a pretty good job at providing deep, rumbling vibrations. Going wireless frees you from the constraints and encumbrance of wires, letting you enjoy at your convenience, without being limited by the distance wires will allow you. Modern battery powered vibrators can be fairly powerful as well, and wireless versions of the famous magic wand have shown up as well.
Waterproofing And The Magic Wand
If you prefer to take the magic wand to the shower or the bathtub, you will need something that is waterproof. Keep in mind, water-resistant is not the same as waterproof. It's best to keep activities where the wand will be exposed to water limited to certified waterproof wand vibrators.
Noise
Even the best magic wand vibrators can get noisy. That's unfortunately just part of the power they bring to the table. Many magic wand massagers make attempts at keeping the noise low and see some success. Although wired massagers generally continue to be noisy.
Body Massage With The Magic Wand
The original design of the magic wand massagers was built to be used to work as a body massager. Best magic wand massagers continue to work on the same principle. A good quality magic wand massager will be useful for regular, soothing body massage as well.
Compatibility With Add-Ons And Accessories
The popularity of the Hitachi Magic Wand saw a number of add-ons and accessories being developed to increase its functionality and uses. Most high-quality magic wand massagers continue to be compatible with these accessories. It's a nice bonus if you want more functionality, and don't necessarily want to buy the magic wand original.
Size Of The Magic Wand Vibrator
Magic wand massagers are available with some flexibility in size. While the shape of most magic wands remains the usual and familiar, the sizes can vary quite dramatically. If you are looking for portability, a relatively smaller, wireless vibrator will fit your needs just fine. On the other hand, if you intend to enjoy the vibrator within the confines of your room, choose one that is larger and has more power and intensity options.
Staying Away From Counterfeits
The popularity of the original Hitachi Magic Wand has led to several counterfeits going around parading as the original. While other vibrators too suffer from the same problem, magic wand original continues to be a hot target for counterfeiters.
Do your research and purchase only from reputed sellers (whether brick and mortar or online). The Hitachi Magic Wand Massager or the Magic Wand Original only come from Vibratex, while the body massagers made by Hitachi are available as well. When purchasing online, even from reputed websites like Amazon, pay attention to the actual seller listed, and see if they can be trusted to deliver an original product.
5 Best Wand Vibrators
1. Lelo Smart Wand – Large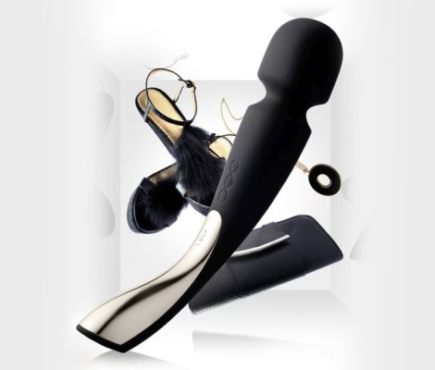 Lelo Smart Wand brings a touch of luxury to the magic wand. It's all coated in Lelo's very classy, velvety smooth silicone, which itself is a pleasure to touch. The shiny, metallic part you see on the wand is ABS plastic, added there for better grip and easy control of the massager.
Lelo's Wand comes in two flavors – medium and large. I'm no fan of the medium, but the large is fairly good. Delivering thumping, high-intensity vibrations isn't Lelo's style. Instead, you get deep, rumbling vibrations that work beautifully and push you towards an orgasm. It is also fully compatible with Hitachi Magic Wand accessories, so you get the added goodness and options of those accessories and add-ons.
Smart Wand is waterproof and cordless, so you can take it with you for some fun in the shower. It's not submersible, so don't take it to the tub. This Lelo vibrator has eight speed modes and is generally quiet unless at the maximum speed. It also has Lelo's SenseTouch technology, which allows it to match vibration intensity with pressure on the wand. Greater the pressure, more is the vibration intensity.
Power comes from a Lithium-ion battery that takes about 2 hours to charge and offers 2 hours of user time. Read our full review of the Lelo Smart Wand
Or check out the latest discount on LELO online shop.
Pros
Luxurious touch and feel
Relatively silent operation
Curved handle makes it easy to move and manipulate
Cordless
Rechargeable
Waterproof
Cons
Somewhat lacking in power
Expensive
Questionable value for money
2. Hitachi Magic Wand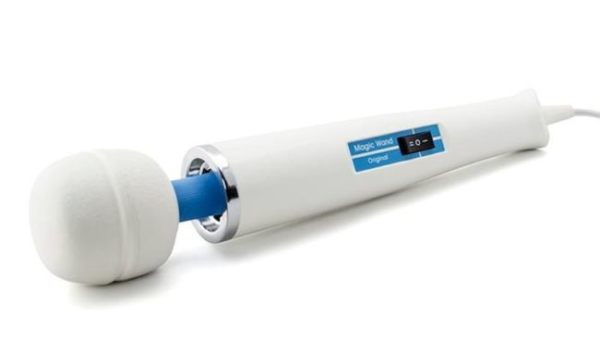 Continuing our history lesson from above, the Hitachi Magic Wand is a bit of a misnomer now. Hitachi wasn't all too happy in being associated with vibrators and the wand no longer carries the Hitachi name. Instead, distributor Vibratex now sells the magic wands under the name of Original Magic Wand and Magic Wand Original. The slogan of powerful, penetrating vibrations still stands, and thankfully, still holds true!
Hitachi Magic Wand has to be connected to an AC power supply to work, and while that makes it a bit of an encumbrance, it also means this magic wand vibrator is one of the strongest vibrators on the market. And yes, should you need it to, it does still function with its original, intended purpose of working as a massager.
Given the popularity and status Hitachi Magic Wand has enjoyed, a whole lot of accessories and add-ons have cropped up around the product. This magic wand vibrator can do a lot of things beyond its original design now. Purchasable accessories include remotes, dildos, and a whole lot more. In its basic version, the vibrator has two speeds – 5000 rpm and 6000rpm. It still maintains its original design, so the look is a bit dated. But hey, it's as good as it ever was for clitoral stimulation.
This is a vibrator that has stood the test of time for nearly five decades now, you can't really go wrong with it! See it on Amazon.
Pros
Powerful, penetrating vibrations
Customization with add-ons and accessories
Stronger compared to most other vibrators
Cons
Outdated look and design
Only two vibration speeds
Some consumers complain about the magic wand heating up during use
2. LuLu 7+ Personal Wand Massager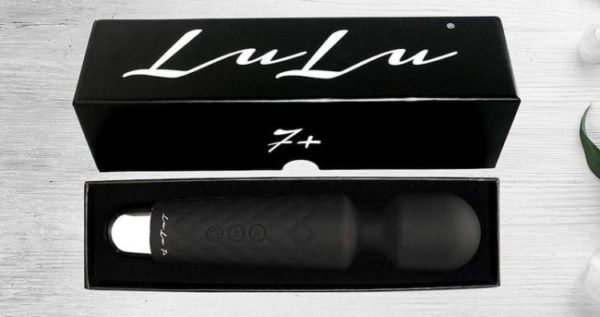 The LuLu 7+, and most magic wand vibrators take some design inspiration from the original that is the Hitachi Magic Wand. The larger change comes in the form of updated looks and a greater acceptance of being used as vibrators (Hitachi Magic Wand still insists on being a massager). And as far as clitoral stimulation goes, magic wand massagers are amazing at their job. Although, you may consider bullet vibrators for smaller size, or rabbit vibrators for more functions, in general terms of clitoral stimulation.
LuLu 7+ is coated in silicone for that nice, skin-like feel that only silicone can provide. Plus, it also gives the vibrator a nice, luxurious look and makes it more pleasant to the touch. This is a battery operated massager, so you don't have to deal with wires while you are enjoying yourself.
The vibrator has 20 different patterns and five speed settings so you can find the combo that you (and your clit) love. A built-in memory function keeps note of your custom setting, so you don't have to go around pressing buttons to find your favored setting every time you turn on the vibrator.
With all its patterns and settings, the LuLu can get to pretty intense vibrations, so if you like your wand vibrators strong, this one might just do the trick. It is powered by a Li-ion battery that gives 2 hours of usage on a full charge..
Pros
Rechargeable
Water resistant (not waterproof)
Memory function to remember the last setting
Silicone coated
Cons
Can get loud
Battery does not hold charge for long
Since buttons are not prominently differentiated from the body, it might take some time to get used to the controls
3. Shibari Mini Halo, "The Original" Compact Power Wand Massager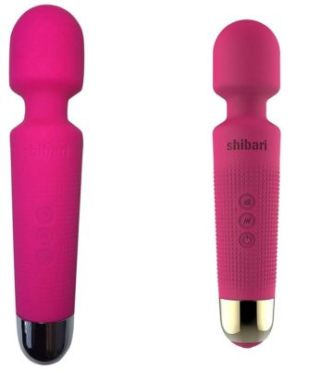 Shibari Mini Halo is a compact wand massager. Keep in mind, compact is a relative term for wands. They are usually larger than bullets, though there are some wand-shaped bullet vibrators! This one measures 7.8-inches in height and has a maximum diameter of 1.6-inches.
Shibari Mini has a high-strength motor, which although not as strong as the Hitachi, still is pretty strong.
Shibari has 20 vibration modes, and intensity settings, so there's a good chance you'll find one that works right for you. It is coated in silicone for a soft, velvety feel, and has a bendable neck for more flexibility in massage and targeted vibrations.
Shibari Mini Halo is battery operated and USB rechargeable, with the battery lasting two hours on a full charge. It is water resistant so it can be used nearly anywhere, however, it is not waterproof and should not be submerged. The Shibari Halo has pretty amazing reviews and has been one of the top sellers and best-reviewed wand massager/vibrator on Amazon for a long time. One enthusiastic reviewer says "Buy. It. Now. If you can go back in time and buy it yesterday, do that." See it on Amazon.
Pros
Powerful vibrations
Several preset patterns and speeds
Good battery usage time
Water-resistant
Rechargeable
Cons
Not compatible with many Hitachi Magic Wand attachments
Can get noisy
Buttons are placed under the silicone membrane, which is susceptible to moving with use. Once that happens, controls become difficult to manage
4. PALOQUETH Personal Body Massager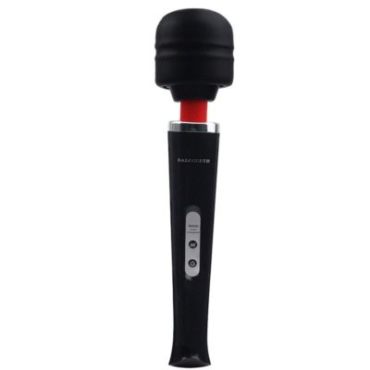 While most of the wand massagers listed here aren't really expensive, the PALOQUETH Personal Body Massager is a great option if you are looking for a bang for the buck model. Made from ABS plastic, this wand massager is as body safe as silicone, albeit without the soft and velvety feel.
Its looks are somewhat inspired by the Hitachi Magic wand, and though this lacks the same power, it makes it up in convenience and functions. There are 10 vibration modes and five speed modes on offer. Paloqueth body massager goes to a high 6700 rpm speed, which is 700 rpm higher than the max of the Hitachi Magic Wand but does not feel as powerful.
One thing I like about this magic wand vibrator is that its USB charger is somewhat more standard. Though it's not the convenient micro-USB, it avoids the outlandish connectors so many vibratos seem to use. Seriously, vibrator manufacturers need to find a standard and stick to it.
The massager is water-resistant and can survive short periods of being submerged. Powered by a 1000mA battery, the vibrator takes about two hours to fully charge and can work for about 90 minutes on a full charge. Check it out on Amazon
Pros
Silent operation
Fairly powerful
Rechargeable
Good selection of patterns and speeds
Lightweight
Cons
Does not fair well on longevity
Plain and dated look
Vibrator head works through an included cover, which muffles vibrations and makes proper cleaning difficult
Best Wand Vibrator — The Finale
The magic wand vibrators listed here are all excellent for use and the best wand vibrators in their own right. It is difficult to call one the "best" since the choices are affected by individual tastes and preferences. However, many of these magic wand massagers are clear winners in specific categories. If you want power, the Hitachi Magic Wand should be the go-to, if you prefer deeper vibrations with a touch of luxury, the Lelo Smart wand could be the right fit