(Last Updated On: July 15, 2023)
Nowadays, the market is flooded with different kinds of sex toys. From vibrators, anal plugs, stimulators, all the way to dildos, whatever you choose, it will bring some heat in the bedroom. Let's say you have decided to indulge in some anal play with your partner.
A trip to his P-town will make your man experience the most incredible and mind-blowing orgasm. Using your fingers is the most common way of doing this.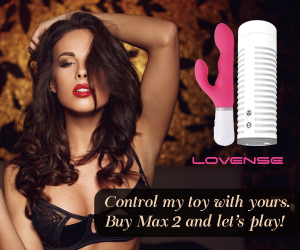 However, if you want to have a softer touch with more precise movements, you will need a sex toy. Worry not, the perfect toy for his pleasurable zone does exist. Let me introduce you to Prostate Dildos!
Now let me tell you, my partner and I are no strangers when it comes to playing around with sex toys, but a prostate dildo was what truly changed the game for us. We've tried a couple of different dildos, so I've managed to make a list of the top 8 prostate dildos for the ultimate backdoor fun for him!
Our Top Choices For The Best Prostrate Dildos
But first…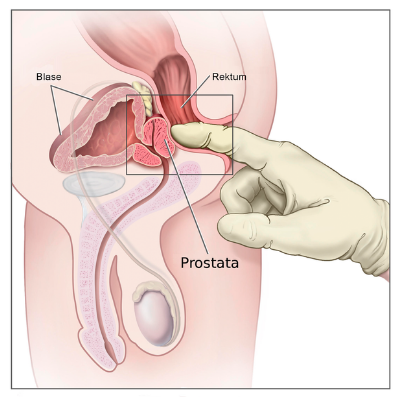 What is a Prostate Dildo?
Before we jump straight into the anal sex toys, it's important to know what the Prostate is and where it's located. Being a part of the reproductive system, the prostate is connected to the penis and testicles. In the human body, it is located in front of the rectum, just underneath the bladder. So, we are talking about a gland the size of a golf ball that weighs no more than an ounce. Because of its location, prostate stimulation can be achieved with anal penetration, leading to extremely intense orgasms.
The prostate is found to be one of the most pleasurable zones for men. You may ask why? This gland helps to keep men's erections hard, and oh boy – it makes the male orgasm the most enjoyable, out-of-this-world sexual experience.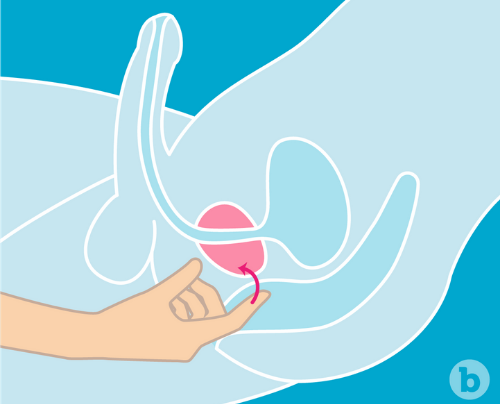 So, anal penetration. Yes, you can do it with your fingers. However, for the experience to be unique, you may want to use a safer method – a sex toy! At the end, we are talking about men's P-spot. The P-zone comes with a lot of nerve endings; therefore, anal penetration must be done carefully and with precautions. You wouldn't want your man to experience pain instead of pleasure, right?
Prostate Dildos are the perfect sex toys for anal penetrations because of their curved phallic shape that can caress the P-zone in all the right places. And, what exactly happens once the dildo is inside? Let me tell you. With enough stimulation, a man can experience penile orgasm or widely known as point of no return. Once the man experiences the orgasm during the stimulation, the prostate will contract – resulting in the seminal fluid coming out without even touching the penis.
These little butt toys can literally change a man's life. Once tried and experienced- there is no going back. Interested to know more? Let's dig deeper and find out the best prostate dildos on the market today.
Doc Johnson Jellie Anal Dildo – Best Selling Product
Best Seller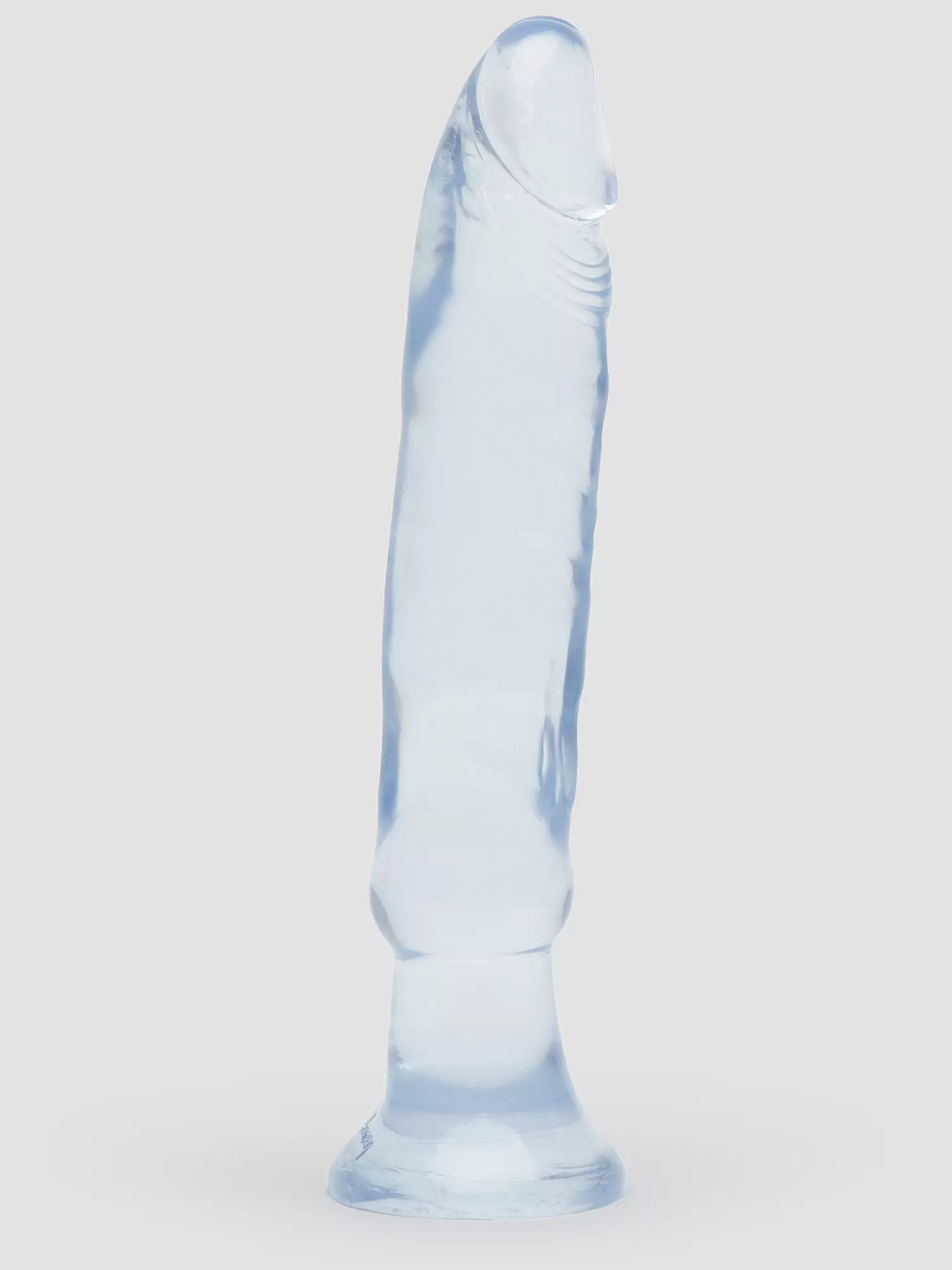 Doc Johnson Jellie Anal Dildo
Giving new meaning to a 'crystal maze', Doc Johnson's Crystal Jellies Anal Dildo is specifically designed for first-time anal. With its slim, tapered, flexible form, it works with your body's natural curves to navigate your hidden labyrinth with ease.
Get 15% off with Code: GURU15
Product Specifications:
Length: 6 inches
Insertable Length: 4.75 inches
Circumference: 3.24 inches
Base Diameter: 1.5 inches
Material: Soft Jelly, phthalate-free
If you are after a soft starter toy for the ultimate anal enjoyment, look no more – Doc Johnson Jellie Anal Dildo is the perfect sex toy for gentle butt play. Made from the most flexible jelly, this anal sex toy has a flared base and a realistic feeling. The Doc Johnson Jellie Anal Dildo is sleek and firm at the same time, which makes this prostate dildo slide with ease in and out of the anus.
This Anal Dildo is suitable for use in a couple as well as solo play. Whether you want to give your man the most pleasurable night, or you are after some kinky solo play, the Doc Johnson Jellie anal dildo is there for your needs. Affordable for everyone, the Doc Johnson Jellie anal dildo can be the perfect prostate stimulation toy for beginners.
Pros
Body safe, no phtalates
Slim and sleek design
Realistic tip
Strong Suction Cup
Tantus – P-Spot Anal Vibrator – Best for flexibility
Best for flexibility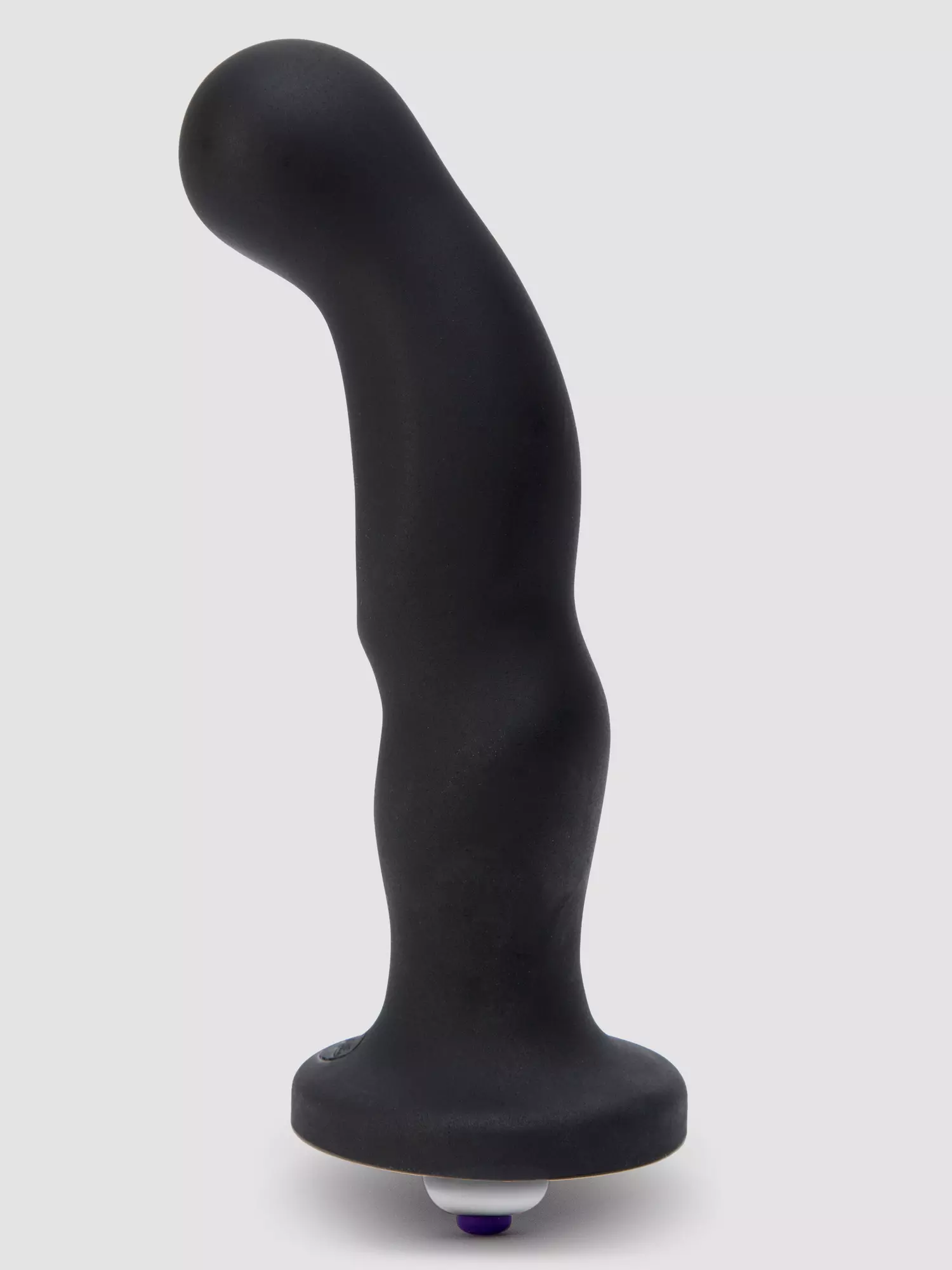 Tantus – P-Spot Anal Vibrator
Indulge in super-pleasurable internal stimulation with this smooth silicone vibrator. A slick 7.5 inch contoured shaft and curved tip provides precise P-spot and G-spot stimulation, whilst a bulbous head gives you that orgasmically full feeling.
Get 15% off with Code: GURU15
Product Specifications:
Insertable Length: 4 inches
Base Diameter: 1.1 inches
Material: 100% medical–grade silicone, phthalate-free
Hypoallergenic
For anal play enthusiasts, the P-Spot Anal Vibrator from Tantus is all you will need to satisfy your desires. This big anal dildo comes with a round tip and wide enough ridges to make you experience orgasm within minutes.
Made from 100% medical-grade silicone, the P-Spot Anal Vibrator is phthalate-free. Plus, it comes with wide flexibility, which makes this prostate stimulation toy flexible and adjustable so that it can fit different bodies.
Enjoy the most pleasurable sexual experience with a dildo that moves back and forth. Sounds tempting, right? Its' perineum massaging bulb will make you scream with pleasure.
But that's not all. The P-spot anal dildo from Tantrum comes with a vibrating bullet on the P-Spot Anal Vibrator with 3 speeds for individual likes. It is waterproof and easily removable. Even though the Tantus Silicone P-Spot Anal Vibrator is a pricier option, this vibrating dildo is your go-to anal sex toy for the ultimate satisfaction.
Pros
Easy to clean
Vibrating bullet with 3 speeds
Dishwasher-safe
Cons
No suction cup
Not compatible with silicone-based lubes.
Pipedream Icicles No 46, Black – Best for Quality
Best Quality
Pipedream Icicles No 46
Elegant, upscale, and hand-crafted with amazing attention to detail, this luxurious line of glass massagers will leave you breathless. Each hand-blown Icicle glass plug is sleek, unique, and made to play hard. Perfect for anal play, this luxurious glass plug features a tapered tip to ease insertion, bulbs that provide extra sensation, and a narrow neck that allows your muscles to wrap around and hold it in.
See latest price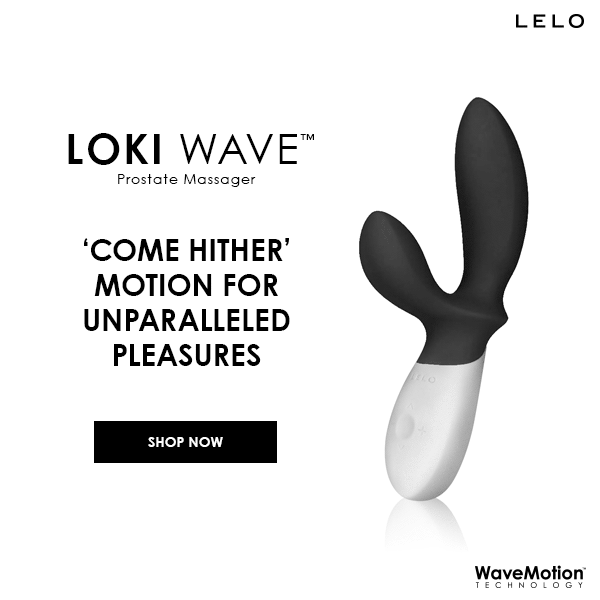 Product Specifications:
Length: 4.25 inches
Insertable Length: 3.25 inches
Base Diameter: 1 inch
Material: Borosilicate Glass
The Pipedream Icicle Anal Play Glass Dildo comes from a quite reputable brand, and it features a smooth surface and the best quality build. Its curved shape comes with a ridge that allows easy P-Spot targeting. Made from durable Borosilicate glass, the Icicles No46 Prostate Dildo can be a great anal toy for temperature sex play.
This Anal Dildo comes with a safety ring or a stopper, making it easier to control and safer to use. The direction of the handle makes it quite easy for one to be able to walk around with this sex toy inside. The Pipedream Icicles Prostate Dildo is the ultimate toy for hands-free anal sex play that won't be a hard hit on your pocket.
Pros
Easy to clean
Tapered Tip
A safety ring
Easy to clean – dishwasher safe
Lelo – Hugo Male Prostate Massager – Best for Solo Play
Best for Solo Play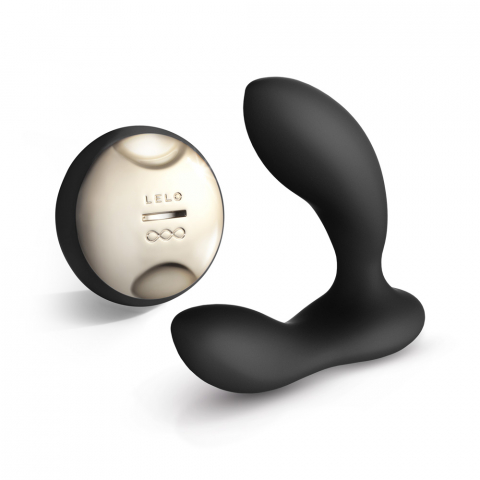 Lelo – Hugo Male Prostate Massager
HUGO™ is a remote control prostate massager that represents an entirely new way to think of men's pleasure, whether it's part of coupled or solo play. With two powerful motors in the base and tip, HUGO™ has a sleek and smooth design that is perfectly formed for bigger, better and even hands-free orgasms.
See latest price
Our Review
Product Specifications:
Length: 5.17 inches
Base Diameter: 1.61 inches
Material: Body-safe Silicone
Are you after an amazing solo sex experience? Worry not; the Hugo Male prostate massager is here for you. Widely known on the market as one of the most powerful remote-controlled prostate massagers, this Anal Dildo comes with wireless control – meaning it can be activated from up to 12 meters. Made from smooth-body safe waterproof silicone, the perfectly shaped Hugo will give you mind-blowing pleasure.

Moreover, this prostate massager has 2 motors for endless fun. The first motor is located on the tip of the prostate and the second one is in the base for the perineum. But that's not all! Hugo comes with 6 different vibration settings and everything is at a touch of a button. Its sleek design makes the perfect toy for prostate stimulation. Moreover, HUGO is USB-rechargeable and a hands-free pleasurable sex toy. Even though it is not quite affordable for everyone, the Hugo Male Prostate Massager is a real choice for a real gentleman.
Pros
Body Certified
sleek design
USB rechargeable
Remote controlled
6 vibration features
2 powerful motors
Cons
Pricey
Battery life lasts for only one hour
Takes 3 hours to be recharged
Healthy Vibes Spiral Anal Dildo – Best for Intense Pleasure
Best for intense
Product Specifications:
Length: 6.5 inches
Base Diameter: 1.75 inches
Material: Soft Jelly Material, Phthalate Free
Take the prostate stimulation on a new level with the Spiral Anal Dildo from Healthy Vibes. This dildo comes with a strong suction cup for a fun, hands-free experience. Simply stick it on a tiled or a glass wall and dive into the pleasurable journey. What makes this Spiral Anal Dildo unique and different from the rest is its straight and tapered design, making it easy and comfortable when inserted inside.
Healthy Vibes Spiral Anal Dildo is made from softer jelly-like material that is malleable but at the same time stiff enough to apply pressure and provoke stimulation. And its spiral texture adds to the whole intense sexual experience. This Anal butt toy is body-certified, waterproof, and easy to clean. So, if you are ready for some enjoyable sex fun with an anal toy that is quite affordable – apply the lube and dive in!
Cons
Not compatible with oil-based lubricants
Funny smell
FST – Anal Plug, Realistic Suction Cup Dildo – Best Design
Best Design
FST – Anal Plug
Every anal player should have one plug like this to explore your new world,this plug will treat you gently and massage your body comfortably.
See latest price
Product Specifications:
Length: 6 inches
Base Diameter: 1.4 inches
Suction cup width: 2.5 inches
Material: medical-grade silicone, phthalate-free
Made to be smooth and flexible, the FST Anal Plug comes with a durable curved shape. Designed to stimulate the male P-spot is firm and soft simultaneously. This Anal Dildo is for people looking for something more rather than just a simple butt toy.
It's made from waterproof medical-grade silicone and is phthalate and toxins free. Another feature that this anal toy has is the strong suction cup which can be attached to almost any smooth surface. Ideal for hands-free pleasure, right?
Being waterproof, this anal dildo can bring some fun and enjoyment under the shower and in the tub. It is quite easy to clean – warm soapy water, and it's good as new! The FST Anal sex toy is compatible with both silicone and water-based lubricants. As for the price – worry not – the FST Anal Dildo is quite affordable for everyone who is craving some wild anal adventure.
Pros
Body Certified
Suction cup
Non-toxic
Affordable
Waterproof
Compatible with water and silicone-based lubricants
Portable
Flexible and smooth
Cons
Not compatible with oil-based lubricants
Njoy Pure Metal Wand 7.5 Inch Polished Steel – Best Material
Product Specifications:
Length: 8 inches
Insertable length: 6 inches
Base Diameter: 1.5 inches
Material: stainless steel
Nonporous
Unisex
The Njoy Metal Wand Stainless Steel Dildo is the perfect anal toy for a fierce couple's play in the bedroom. Designed to be unisex, it makes this dildo one of the few sex toys on the market today, ideal for both males and females. It is great for quickly hitting a woman's G-Spot and at the same time, it is the perfect anal dildo with the right curvature for the male's P-Spot.
The Njoy Metal Wand comes with two bulbous ends, one smaller than the other, made from high-quality stainless steel. This gives you the flexibility and the choice of which end you want to insert inside. Of course, it depends on the level of intensity and stimulation you want to experience. This stainless-steel dildo is nonporous and easy to clean. In terms of affordability, yes, this anal dildo is a little bit pricey – but hey – we are talking about some above and beyond anal pleasure here.
Are you ready for some back-and-forth rocking? If your answer is yes, then the Njoy Pure Metal Wand is the sex toy made for you.
Pros
Body Certified
Non-toxic
Waterproof
Easy to use
2 different sized ends
WE-Vibe Vector Prostate & Perineum Dual Motor Vibrator – Best Massaging Vibrator
Best Massaging vibrator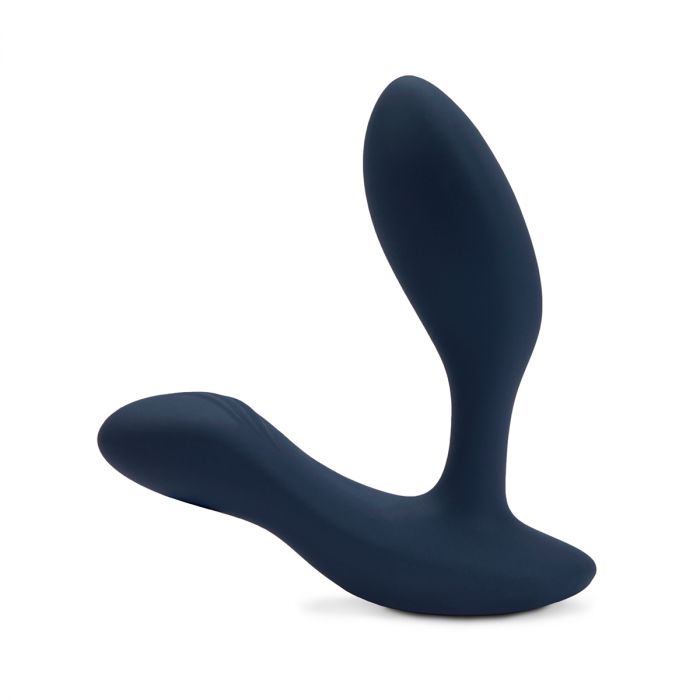 WE-Vibe Vector Prostate
Vector's sleek design and silky-smooth silicone fits to your body, while dual motors deliver thrilling vibrations direct to the prostate and perineum with breathtaking precision. Vector is waterproof & rechargeable. Easily cycle through 6 vibration patterns via the We-Connect app or remote control.
See on We-Vibe
Product Specifications:
Length: 9.25 inches
Insertable length: 6.93 inches
Material: body-safe silicone, phthalate-free, latex-free
Wireless remote and app-controlled
10 powerful vibration levels
Dual motors
The Anal sex toy from We-Vibe is for all the sex lovers who are craving for more in their sex life. Something that will make them scream and enjoy the ultimate pleasure. This prostate dildo comes with dual motors with 10 powerful vibrations designed for individual likes. It is designed with a flexible base allowing maximum comfort once inserted.
Furthermore, the We-Vibe butt toy is suitable for solo and couples play. Think of it as your own smart sex toy. It can be remote and app-controlled, allowing hands-free spicy sex adventure. Just press the wireless remote or log in to the WE-Vibe app, and you are ready to dive in. Even though it is quite powerful and with a range of vibration levels, the We-Vibe prostate dildo is whisper quiet. Perfect for some noise-free sex play!
Made from body-safe smooth silicone, this Prostate and Perineum massaging dildo comes with an adjustable design and soft tip for gentle pressure and intense vibrations. The We-Vibe Anal sex toy is between the more expensive range of sex toys on the market today.
Pros
Body Certified
Non-toxic
Waterproof
Easy to use
USB Rechargeable
Cons
Expensive
Lasts only one hour
Needs three hours for full charge
Prostate Dildos Buying Guide
There are plenty of prostate dildos on the market today. Different companies offer different products with unique features. All the anal toys can appear enticing at first glance, however not every dildo is for you. So, what do you need to know before jumping ahead and buying one? There are a couple of factors that you should consider when purchasing a prostate dildo.
Right Size
Prostate dildos come in a range of sizes. If you are a newbie in anal play, a smaller dildo is the perfect starting point for you. Plus, dildos are sized in two different ways – we have the length and diameter and length and circumference. It is quite important not to mix these two when going shopping for your first anal dildo.
Design
Another factor to consider is the design of the prostate dildo. There are plenty of life-like dildos with balls where the length is 9" long; however, out of the 9" – the insertable length for the dildo would be 8". You can't insert the balls, can you? Meaning, when you are ready to buy your prostate play toy, don't look only at the overall length – look at the insertable length as well.
Shape and texture
Yes, you read well. The shape and texture of the dildo is an important factor for satisfying your needs. All dildos are shaped differently, and each one of them is unique for individual needs. To stimulate the prostate ultimately, you will need a dildo that is long enough to reach the prostate and curved enough to hit your P-spot. For stimulating the entry, a straight or ribbed dildo will do the trick.
Our Verdict
Anal sex toys are there for your pleasure – as simple as that. Whichever dildo you choose, make sure it brings the most pleasurable and enjoyable anal sex experience to you. Whether you are going for silicone or glass made dildo – get ready for the most intense trembling sensations and a mind-blowing orgasm.
Relax, and have fun with your prostate dildo! Are you ready to rock your butt? If yes, have fun! Get yourself a nice prostate dildo and get down to it – your body will thank you! Just make sure you get prepared beforehand and grab a generous amount of lube before you decide to go through the backdoor!