(Last Updated On: March 26, 2023)
In our increasingly technological world, it is pleasing to see sex toys have not only kept up but also be at the forefront of innovation. Lovense Edge is one of these high-tech sex toys. It does everything you can expect from a good-quality prostate massager and then goes beyond with features like Bluetooth control and app control. Heck, you could even control its vibrations with your sound, or make it dance to your music! With this Lovense Edge review, we'll take a look at how well this prostate massager performs, and if it is all just a gimmick.
This review is about the Lovense Edge, Lovense has a newer version – Lovense Edge 2 which has more profound features. Check it out.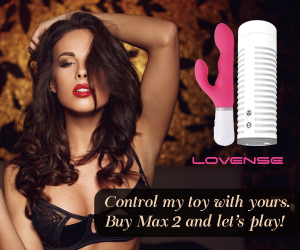 Lovense Edge Review — Pros And Cons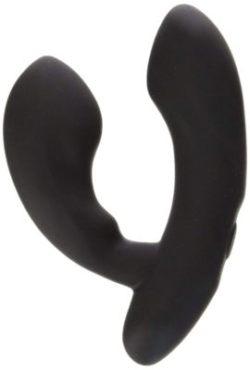 Check out the best deal on Amazon
Pros
The silicone covering is high-quality, non-porous, and body-safe
Flexible enough to move to your preferred position
Waterproof
Rechargeable with good battery backup
Perineum massager and prostate massager can be individually controlled
Practically unlimited vibration patterns
Easy control via app
Low noise makes it convenient for public play
Cons
Most functions are dependent on app control, device controls are very basic
Can suffer from limitations of Bluetooth connection or Internet connection
Expensive
Long-distance control can be problematic
Lovense Edge Features
Packaging, Construction, And Aesthetics
Following Lovense's love for teledildonics, the Lovense Edge is a feature-rich prostate massager. Since the sex toys are built around the app and connectivity, the feature set is quite similar to the Lovense Nora and the Lovense Hush.
Of course, there are some differences to cater specifically to the function and expectations from the Lovense Edge. It is quite similar in packaging to its sibling devices. The box contains the Lovense Edge prostate massager, charging cable, and instruction manual. And yes, I have a gripe over them not including a storage pouch for the Edge once it comes out of the box.
As for construction, the Lovense Edge has two appendages, one insertable and other to massage the perineum. Each of these appendages has its own motors and can be individually controlled. As the shape goes, it is quite similar to the Lelo Hugo and the Lelo Bruno.
The insertable appendage is flexible. You can move it to the position you like best, and once adjusted, it locks into the custom position. This is an excellent feature. You can place it right where you want, and it stays in its place rather than moving to a different position once you're done placing it. The whole prostate massager is covered in high-quality medical grade silicone which is non-porous, body-safe, and phthalate free.
Its insertable side has a generous circumference, so it may take some effort placing it. Those new to anal play should be more careful to ensure they are ready. Lovense Edge has an insertable length of 3.13-inches, a total length of 4.49-inches, and the max diameter of the insertable appendage is 1.41-inches.
Lovense Edge Waterproofing And Battery

Is the Lovense Edge waterproof? Yes, completely. This prostate massager is also submersible, so you can take it to the bathtub. Although, the best thing about waterproofing is that it makes cleaning the toy remarkably easy, and that's a great feature to have for sex toys in general and prostate massagers in particular.
This prostate massager is battery-powered and rechargeable. Lovense Edge charger connects to the massager with a magnetic connection and draws power via USB. A tiny LED lights up to let you know it is charging and goes off once the charging is complete. I'd have preferred the LED change colors to signal completed charging, as that is easier to spot and overall a better indicator. The Lovense Edge can run for up to two hours off a full charge.
Lovense Edge And The Lovense App
The Lovense Edge app is the key to unlocking most of the features. The app is available for iOS and Android and connects to the prostate massager via Bluetooth. Pairing is easy, painless and can be managed easily. Here's a quick list of things you can do with your Lovense Edge and the app:
Unlimited Patterns: You can easily change the vibration intensity on the app to create your own patterns. Alternatively, you can try out some preset patterns.
Vibrations on both arms of the Lovense Edge can be controlled independently. For example, you can simply set the perineum arm to one set of vibrations while manipulating patterns for the insertable end.
Vibrates to your music: Lovense Edge can be set to vibrate to your favorite playlist and will respond to the beats. Pretty damn cool!
Vibrates to sound: Lovense Edge can vibrate to sound input. You could have your partner or your own sound guide the vibrations. Or take it to a concert!
Share controls: You can hand over control of the prostate massager to your partner provided they have the app installed. The vibrator can be controlled via Bluetooth for an effective range of roughly 20 feet. If both of you have a good data connection, your partner can also control the vibrations via the internet from any part of the world. That's great for long-distance couples looking for some semblance of intimacy in their lives.
Lovense Edge Review — Prostate Massager In Action
Solo Play With Lovense Edge
The circumference of the insertable arm of this prostate massager is about 4.4-inches. Though the silicone exterior gives it a somewhat soft feel, it is not squishy and has no give apart from the flexibility at its base. Its best to use a generous amount of water-based lubricant with this sex toy, and take it slow.
Lovense claims that the flexibility of this toy makes it suitable for any body type, however, I'd say it is more of a marketing cliche. While the flexibility of the Lovense Edge certainly does work for many body types, it is no catch-all shape.
Once inserted, it stays well at its place, and you can go about your day without having to worry about the Lovense Edge being overly conspicuous or being too noisy. Well, I wouldn't play it in a silent room, but with decent background noise, it can be fairly unnoticeable. The perineum arm works good, but of course, the object of interest here is the insertable arm.
Lovense Edge is thick and shaped well-enough to create the "filling" feel and sit comfortably. It is quite great at stimulating the P-spot and can be incredibly enjoyable. It isn't even necessary to spend a lot of time on vibrations, it pleasures you as you go about your daily tasks.
The control button on the Edge is difficult to press, which can be a problem if you don't have the app available. But let's face it, the app is the USP of this prostate massager. And the button being difficult to press is actually useful for public play. You don't want a personal massager to go off vibrating at random points, just because the button got accidentally brushed or pressed. As purely a prostate massager, there is nothing to complain about with the Lovense Edge.
Sharing Controls Of The Lovense Edge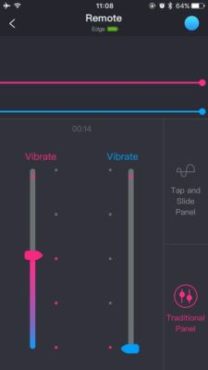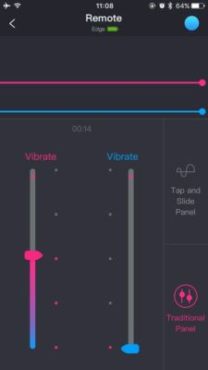 Sharing controls with your partner is a big part of Lovense sex toys with its focus on teledildonics. And since long-distance couples are an important target audience for Lovense, the app and sex toy performance over shared controls is important.
As with most Lovense toys, the Edge performs admirably well over shared controls. Provided of course, you both have a good internet connection. While there may be some latency or lag depending on your network, the Lovense app and the Lovense Edge are fairly quick to respond to commands.
If you are in the same room as your partner, keep in mind the limitations posed by Bluetooth technology. While the company says that the radius for remote control is 6-meters, they are also clear about the limitations of Bluetooth. For example, if your partner is standing in front of you (the one with the Lovense Edge inserted), the Bluetooth range can be considerably shorter.
That's because your body acts as an obstacle to Bluetooth controls. However, the partner may be able to use the full range while standing behind you. There is no lag if you're both in the same room, but again, you might experience some latency depending on your internet connection if you are using the Lovense Edge over longer distances.
Lovense Edge Review — Conclusion
As a prostate massager, Lovense Edge is an excellent choice. It has quite a lot to offer, and couples in long-distance relationships can enjoy the pleasure of feeling intimacy even over longer distances.
If this Lovense Edge Review looked at it purely from a solo play perspective, I'd say it is somewhat expensive for what it offers. However, throw in the option of couple's interaction and sharing controls, and its feature-rich set seems a lot more attractive. It is adept at stimulating the P-spot, and quite worth it if you're looking for a fancy toy.