(Last Updated On: July 27, 2023)
Anal sex and playing with anal toys is a very pleasurable experience. However, it is not something you dive straight into. Just shoving a penis or a toy in the anus won't work; it's more likely to be painful, something anal play should never be. That's why it's best to start with anal training. Pace yourself, and get there slowly. You'll find anal sex training works wonders and can make anal play (and sex) a lot more pleasurable.
How To Train For Anal
Anal play and anal sex are often considered to be messy and painful. They don't have to be either. Some anal training and good habits can get you exactly where you want — the land of pleasure and deep, satisfying orgasms. While written with women and girls in mind, anal training information in this article is relevant to men as well. Prostate massaging can greatly enhance the quality and pleasure of a male orgasm. Let's get started!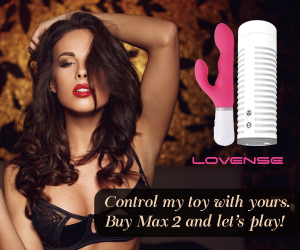 Cleaning Up For Anal Training
It's only natural to worry that anal sex can cause a mess. For most people, pooping before anal training is enough. If you want to be more thorough, using an anal douche can clean things up pretty well. An enema is overkill, but if you enjoy it or have a fetish for it, why not! Beginners should also keep towels or tissues handy, just in case they are needed.
Be Mentally Prepared
Being prepared and calm goes a long way in making anal sex easier. If you are unprepared or nervous, the effect shows with the tightening of your sphincter. The sphincter is a ring of muscles that control the passage of items in or out of your anus. Clearly, a tense sphincter won't help matters along. So if you are a beginner or nervous, here are some things to try:
Your anal sex training should not start straight with penetrative anal sex. Start with a gentle anal massage. Some couples also find joy in anilingus, also known as rimming.
Have an orgasm! Before you go to anal play, give yourself a nice clitoral orgasm, or a g-spot orgasm. An orgasm can soothe and calm your mind, putting you in a better mood for anal sex.
Have a drink. A glass of wine can calm your nerves and put you in a better mood to start with your anal training.
As you can see, I enjoy anal sex and anal play. And while I do suggest everyone try this at least once, you should do things you are comfortable with. There is no fun in being pressured into doing anal sex, or for that matter, any sexual act. These things should be consensual, comfortable, and enjoyable for everyone involved. Ensure your partner understands that too.
Use A Lubricant To Anal Train
Use a lubricant any time you decide to play with yourself or have sex. It is especially more important when you taking the anal route. Since the anus is not self-lubricating, using lube can make things so much easier and pleasurable. There are three major types of lube:
Water-based Lubricant: This is the simplest and most versatile option. Water-based lube is safe for use in most situations and works very well. The only downside is that it dries rather quickly, so you might find yourself groping for the lube bottle in exasperation mid-act.
Oil-based Lubricant: Oil-based lubricant is as efficient as water, and lasts longer. It can stain your bedsheets and be troublesome to clean. The biggest downside here is that it degrades latex condoms, increasing the risk of tear.
Silicone-based Lubricant: Effective and long-lasting, silicone-based lubricant is a popular choice and can be used even in water (pool, bathtub etc.). It is slightly difficult to clean, and should not be used if you are using silicone-based sex toys.
The Fourth Kind: Saliva. As I said, there are three kinds of lubricants. However, some people also use saliva. Gross and inefficient as it sounds, it is perhaps better than nothing. But yeah, I'm going to suggest you stick to actual lubes rather than MacGyver these things.
Anal Sex Training — The Penetration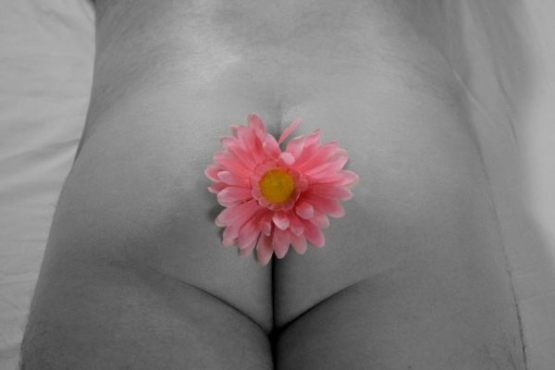 Start with something simple and small. You may start with a finger or a small sex toy. Any toy you use should be safe for anal use, i.e. it must have a flared base or a handle that prevents the full toy from entering the rectum. Being overconfident and using an unsafe sex toy or object is the stuff that leads to awkward conversations with the doctor in an ER.
It is best that beginners use their fingers for the first few times. Slowly and gently insert a finger into the anus. It's okay to use a thrusting motion, but you must be slow and gentle. The same applies for when the finger is being removed, go slow or it can be painful.
Once the finger fits in comfortably, move to using two fingers and eventually, a small sex toy. There are plenty of buttplugs and small prostate massagers in the market. Using a sex toy makes things so much better, so even if you start with your fingers, consider using a toy down the line.
Slowly increasing the number of fingers interested, and movement of the sex toy should soon prepare the anus to receive a larger sex toy (if you're going solo), or your partner's penis. Go slow, stay rhythmic, and have fun!
Anal Training Is Dependent On Communication
Communication is important for sex, and more so if you anal train with your partner. Talk to your partner, make it clear what works and what does not. If you feel ready for a toy, another finger, or the penis, tell your partner about it. Since the partner cannot guess the sensations you are feeling, communicate your pleasure and pain so everything is clear and painless.
Going A Step Ahead With Anal Training — Anal Stretching
It is entirely possible that you want something more filling than a penis, or regular vibrators and prostate massagers for your rectum. Or, you may already be well versed with anal sex training and want to take things a notch higher. Learning to anal stretch may be the answer you are looking for. People who prefer larger, more filling toys are generally called size queens. It's a simple distinction that makes it easier to find the toys you prefer.
Sex Toy To Try An Anal Stretch
Start with a small toy, and you can slowly move to a larger toy like the Lelo Hugo or Loki Wave. None of these toys are for size queens, but once you have tried them (or similar toys) and feel the need for more, it's time to move up the ladder.
As you work on anal stretching, remember that even small change in numbers can represent a huge change in feel and effort required. Increasing the circumference by just half an inch (0.5-inch) can be quite significant. Be realistic and steer clear of rather ambitious changes in diameter. It's okay to skip a size or two as you pick a larger sex toy, but don't go far beyond the numbers.
Much like anal training, anal stretching requires time and patience. Go slow, and take pleasure in the journey rather than hurtling towards the finish line. You can also try anal or rectal dilators to make the anal stretch easier.
And for people interested in BDSM sex, an anal hook might be a great toy to explore anal play.
Best for Solo Play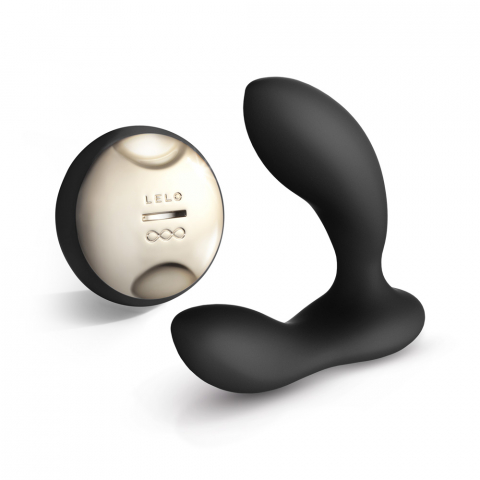 Lelo – Hugo Male Prostate Massager
HUGO™ is a remote control prostate massager that represents an entirely new way to think of men's pleasure, whether it's part of coupled or solo play. With two powerful motors in the base and tip, HUGO™ has a sleek and smooth design that is perfectly formed for bigger, better and even hands-free orgasms.
See latest price
Our Review
Say No To Numbing Products
Using a numbing product might seem alluring since it will allow you to move on with anal stretching sooner rather than taking things slow. Resist the temptation to rush past. You can always move to higher size with the next attempt, but hurting yourself with ambitious attempts at anal training is just going to slow things down.
Pain tells you when to push forward and when to take things slow. Shoving things faster won't work to your advantage. If you don't feel pain, it is going to be very difficult to know if things go wrong, and indeed might be too late before you figure out something went awry.
Final Thoughts On Anal Training And Anal Stretching
Anal training and prostate massaging can be immensely enjoyable for women as well as men. In both sexes, this often leads to stronger, more intense orgasms and is certainly something you should try. When you learn how to train for anal, or even take a step forward and explore the world of anal stretching, remember to take things slow. Listen to your body's signals of pain and pleasure, and communicate with your partner. The goal is always to enjoy and have a great time.