Squirting is sort of the holy grail of orgasms. It is amazing and satisfying at the same time. Unfortunately, most women haven't experienced it. Statistically, only a small number of women have experienced a squirting orgasm. Given that it is so desirable, the low numbers are quite telling of the low effort put into exploring women's sexuality. If you are wondering about how to make a girl squirt, or more appropriately, be in control of your body and make yourself squirt, you are at the right place!
Let's talk all about having a squirting orgasm, and all you can do to make your orgasm a relatively regular reality.
Squirting — Understanding The Basics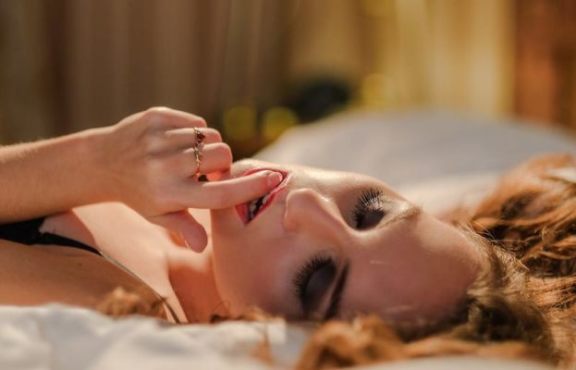 Let's start with the nitty-gritty basics and prepare ourselves well for that amazing squirting orgasm. A squirting orgasm is generally associated with the stimulation of the G-spot. The location and even the existence of the G-spot continues to be hotly debated. Even so, the consensus is slowly shifting in the favor of the G-spot, and there are tons of women who swear by their G-spot and its ability to bring them to orgasm. In case you aren't aware of your G-spot, let's start with locating that little button of pleasure.
Where's My G-Spot?
The G-spot is (generally) located towards the anterior wall (front) of your vagina, usually a few inches from the vaginal opening. Try inserting a finger into the vagina, and look for something that is small, soft, and spongy to the touch. Found it? Well done girl, you are on your way to a squirting orgasm. If you didn't find it yet, don't lose hope, there is plenty more to do.
Location of the g-spot can vary for each woman, and its position and the ease of locating it are dependent on several factors, the major ones being:
Arousal
Skene's Glands
Position of the g-spot
For a lot of women, the g-spot is not easily identifiable and reachable, thus also feeding the stories about the non-existence of the g-spot. Getting to squirt is an important goal, and we're going to push on for our quest.
Being aroused causes a woman's g-spot to become engorged, which is to say it becomes more prominent and bigger. Now that would be a great time to look for it, or better yet, stimulate it.
Skene's gland is a big player for female ejaculation, and works similar to the better-known prostate gland in males. Stimulating the g-spot also stimulates the Skene's gland, and it eventually drains into the urethra. Yup, this is the gland responsible for squirting or ejaculation. Unlike the prostate gland, which has its own set of prostate massagers, the Skene's gland cannot be stimulated directly and thus must be stimulated through the g-spot. The size and anatomy of the Skene's gland can vary with each individual, which also explains why some women can easily squirt while others find it difficult.
How To Squirt
When you wonder about how to squirt, the first thought should always go to vaginal, or more specifically, g-spot stimulation. The squirting can be achieved solo, or with your partner. Similarly, you could have it while masturbating, or having sex. We'll talk about the best sexual positions for squirting, and amazing ways on how to make a woman squirt in a bit. Here are some things to keep in mind:
Relax
Remember to relax and have fun. You cannot will yourself into squirting. In fact, being anxious about squirting might end up being a hindrance and put a roadblock on your squirt. Your goal is to have fun. According to research, most people — men or women — have a better chance of having an orgasm when they are with someone familiar and friendly. Being relaxed around your partner does play a big part.
Advice For Your Partner
If you are with a male who is either using his fingers or a vibrator/dildo, remind them (and if you are a dude reading this, keep in mind), they don't have to go at it like an Olympic athlete. Simple, measured movements and pressure at the right spot is what it takes.
The partner's goal is not to stoke their ego on giving you a squirting orgasm. Their goal is to give you an amazing orgasm. It's more about your enjoyment. It's awesome if your partner is thrilled, they just need to remember the process isn't about their ego or their ability to make a woman orgasm.
Don't Worry About That Pee Feeling
Pee before you start. Since the Skene's gland drains into the urethra when you're having an orgasm, it gives you a sensation of having to pee. It's better to pee before you start so you know that the "pee feeling" is coming from the orgasm. It might also help to keep a couple of towels handy. If you are worried about the bedding, maybe layer it with something protective. It's okay to let go, you don't have to control the peeing impulse, as that might just kill the orgasm.
If you are comfortable with it, you may also consider moving to the bathtub or somewhere similar for the first few orgasms. That allows you to get comfortable with your squirting orgasms without having to worry about soiling the bed.
The point is, you should be calm and comfortable. Expect the pee feeling, and don't worry if you feel like you're about to pee. Don't try to stop or control it.
Use Clitoral Stimulation
Most women say they have stronger, faster, and better orgasms when they combine g-spot stimulation with clitoral stimulation. And it makes perfect sense! The clitoris is a very sensitive part of the body and is more than capable of bringing you to an orgasm by itself. Combine it with your g-spot stimulation and your squirting orgasm could get all that better.
You could use your hand to stimulate the clitoris, but I'm going to suggest you use toys. If you are just starting off, pick an amazing wand vibrator. They are generally stronger and built specifically for clitoral stimulation, and will very likely result in an orgasm. Same is true for vaginal stimulation as well. A sex toy is far more convenient and adept at getting women squirting. If you are skittish about using sex toys, it's time you gave up those dated notions and joined the world of wholesome orgasms.
Use Lubricant Liberally
Sex is meant to be comfortable and enjoyable, as is the use of sex toys. Use lubricant freely to ensure everything moves smoothly and wonderfully. A report from the Indiana University's Center for Sexual Health Promotion says nearly two-thirds of women use a lubricant during sex. Out of these, nearly half were of the opinion that use of a lube helped them orgasm. Keep in mind, the lube you are using goes well with yourself, your partner, and your sex toys. Water-based lubes can often be a safe bet.
How To Make A Girl Squirt — Use A G-spot Stimulator
A G-spot stimulator as a vibrator/dildo can perform wonders and work much better than conventional sex. You could theoretically achieve an orgasm through regular sex, but it is very rare and takes far more effort than using a simple sex toy. For best results, and to compete with a good toy, the penis would have to be of the right shape in its capability of hitting the g-spot. If you have seen a g-spot vibrator, you know having a penis match that shape is a tall order. It's much more convenient to find a vibrator/dildo that does the job.
For your convenience and squirting pleasure, I have put together a quick list of some of the best g-spot dildos and vibrators. Most women find G-spot stimulation more pleasurable than vaginal stimulation, and using the right toys will pay off. Dive in!
1. Njoy Pure Wand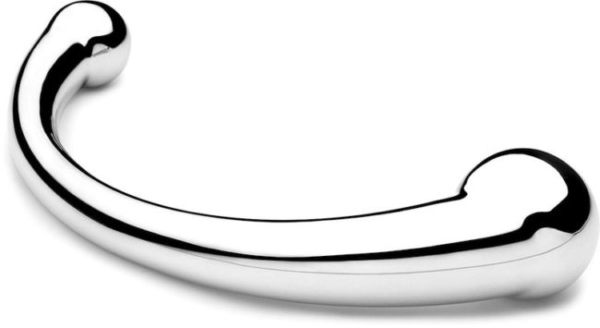 This shiny curvy toy is made from medical grade stainless steel. One end of the curved toy has a larger curved ball, while the other end has a smaller one. The smaller side is meant for prostate stimulation, while the larger side is intended for g-spot stimulation. Of course, those uses are more than suggestions and you can put whatever side you like in whatever hole you prefer.
Being made from steel gives this dildo an additional advantage – it can be fairly heavy. This works great for g-spot stimulation since gentle pressure on the G-spot can be way more effective than vibrations for the vagina.
Holding on to one end of the wand, insert it into the vagina. The curved shape will likely direct the wand towards the G-spot. Make small, deliberate movements, using the weight of the wand to put some pressure on the G-spot. As we know, the G-spot responds incredibly well to pressure, and this wand will get you to an earth-shattering climax.
Njoy is about 8-inches in length and weighs a hefty 1.5 pounds. Being made of stainless steel, it is incredibly easy to clean and sterilize, making its use all the more convenient. See it on Amazon.
Pros:
Convenient to use
Incredible g-spot stimulation
Easy to clean and sterilize
Cons:
The weight of the wand is a benefit and a negative. Using something as heavy can get tiring
Steel holds temperature, and this will be cold when you start. Warm it up before you start using it
2. Lelo Ella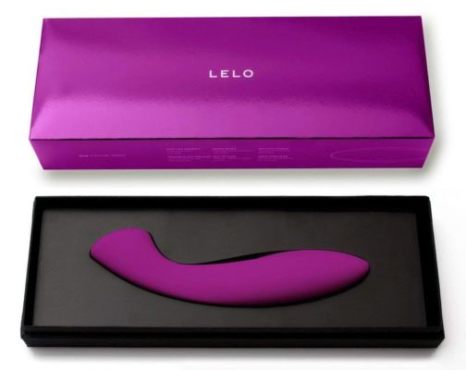 This small, silicone clad dildo is pretty well known for its expertise in honing in on the G-spot and eliciting an orgasm. It's a dual-ended dildo so you can use either side. The somewhat pointy side is great for warming up, while the other end is suited for g-spot stimulation. Of course, this is the side we are interested in at the moment.
The g-spot side flairs towards the end, creating a broader area and making it easier to find and stimulate the G-spot. Lelo Ella is an excellent dildo for beginners, especially so because it paves the way to easier access and stimulation of the G-spot. There are several customer reviews that say this was the dildo that helped them find the G-spot and have the first squirting orgasm.
Ella is coated in body safe silicone. The velvety smooth finish it gets is a pleasure to touch and feel, a feeling that continues on even as the dildo is inserted,
Success of Ella at g-spot stimulation has inspired several other products from Lelo. One of them is the Lelo Olga, a luxury version that is available in stainless steel and gold plating. Apart from the obvious luxury (and expensive) credentials, the Olga is heavier, making it that much more of a success at applying pressure on the g-spot.
Lelo Gigi 2 also makes use of the g-spot side of the Lelo Ella and mates it to a motor. This immensely successful vibrator includes Lelo's preset patterns and intensity settings. You could find the most suitable vibration mode to stimulate your g-spot.
Pros:
Easy and convenient to use
Excellent for beginners as well as pros
Very well targeted for stimulation
Cons:
Lelo Ella can be difficult to hold and maneuver when using the g-spot side
Expensive
3. PALOQUETH Waterproof G-Spot Rabbit Vibrator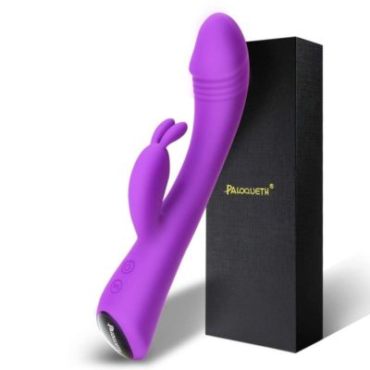 This rabbit vibrator could probably teach a course on how to squirt and get an earth shattering orgasm. It combines the goodness of a regular vibrator with added bunny ears for clitoral stimulation. Plus, it is priced very competitively, making it a great product to experiment and enjoy.
A coat of silicone makes it body safe and amazing to feel. While the tip of the main shaft takes on a phallic shape, the clitoral stimulation shaft keeps on with its cute bunny ear looks. Rounded head on the main shaft is intended to hit the g-spot, although the vibrator largely relies on vibrations and simultaneous stimulation to get the job done. But of course, the bunny ears aren't meant for just looking cute. They work with the main shaft and provide simultaneous stimulation to the clitoris, taking you that much closer to the prospect of a lovely orgasm.
Paloqueth rabbit has nine vibration modes, can put up fairly strong vibrations and cycle through amazing patterns. It is powered by a Lithium-polymer battery and can be recharged directly through a USB outlet. As a downside, it gets somewhat noisy at higher intensity vibration levels. See it on Amazon.
Pros:
Very competitively priced
Several vibration patterns
Simultaneous clitoral and g-spot stimulation
Cons:
Can get noisy at some vibration modes
4. Lelo Mona 2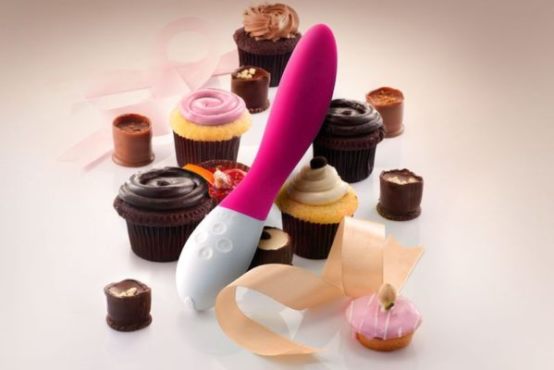 Lelo Mona 2 is amongst the most powerful vibrators from Lelo and has the distinction of being a beloved of professional reviewers as well as showered with glowing customer reviews. If you are wondering how to make a girl squirt, the first step in acquiring a Lelo Mona 2. Okay, I may have oversold it a bit, but it is indeed one of the more potent offerings in Lelo's arsenal.
Mona 2 is not a vibrator for beginners. It is filling and requires a wee bit of skill to insert. It also has fairly strong vibrations that may prove too much for beginners. Mona 2 is fairly thin towards its base where it meets the control handle. There onwards, it tapers up gradually to get to a maximum perimeter of nearly 4.7-inches and tapers off into a circular shape for easy inserting.
Lelo's traditional pattern and intensity settings are easily accessible through buttons on the control handle. Mona 2 is fairly sizable and can feel very filling. Once you turn it on, the vibrations travel and offer a wonderful massage to the g-spot.
Much like the Lelo Ella, the Mona 2 also has a couple of variations, no doubt born due to the success of the Mona. Lelo Ina 2 for example, has a similar appearance to the Mona 2, and is available as a rabbit vibrator. The Ina 2 Wave is another variant, and includes the "come hither" wave motion. This motion moves the main shaft in a pattern similar to a curled finger, adding another dimension to the massage of the G-spot. See it on Amazon
Pros:
Very filling
Strong vibrations
A range of available vibrations, patterns, and models
Cons:
Can get very buzzy
Expensive
5. IMO Vibrating Rabbit G-spot Vibrator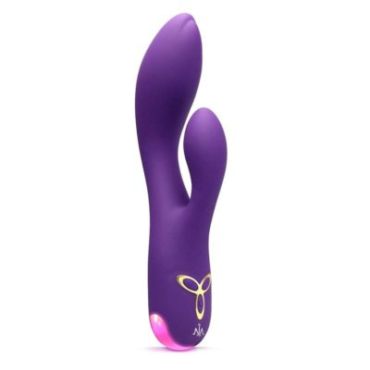 IMO Rabbit, packs a stunning punch of power in its dual motors. There's a separate motor for the main shaft and the clitoris vibrator, giving each of them their own stake at power and glory. Rich in features, it has five speeds, seven patterns, and mood lighting! I don't know what you're supposed to do with a bright light at the back of your vibrator, but I certainly wouldn't recommend using it as a torch or even a tail light.
Thankfully, IMO Rabbit's caprice ends with the "mood lighting". The pattern and speed combinations can really work wonders, and with the separate motors bouncing patterns off each other, you are well on your path to a steamy hot orgasm. The manufacturer claims it is "whisper quiet", and that is true for the most part. However, there is some noise at high speed settings. It's not a deal breaker, but it certainly isn't whisper quiet.
The vibrator is covered in silicone, giving it a nice, velvety touch in a matte finish. The vibrator is waterproof and uses a USB magnetic charger to draw its power. So feel free to play around, experiment, enjoy, and find your bliss in a squirt. See it on Amazon.
Pros:
Elegant design
Waterproof and rechargeable
Multiple speed option
Cons:
Lifespan and longevity of the vibrator remain concerning
Can get noisy at higher speeds
How To Make A Girl Squirt — Sex Positions To Get You Going
Every once in a while, you might want to take the all-natural route and give up sex toys. Here are some useful positions that are more conducive to a g-spot orgasm, and work great to get women squirting.
1. Fingering/Finger Play
This one is dedicated to some simple finger play to get you in the squirting zone with foreplay, using just your fingers. Already aware of the general position of the g-spot, you can reach it with just your index finger. However, that doesn't quite cut it, and doesn't create the best positioning for an orgasm. A better strategy is to insert your middle and ring finger together, leaving the index and pinky finger pointing towards the bed, and the palm facing the stomach. Use the inserted fingers to reach the button-shaped G-spot, and stimulate it with your fingers.
You can also use the "come hither" motion. Curl your fingers to touch and press the g-spot, then return and repeat. Of course, there are a ton of ways you can stimulate the g-spot once you've reached it. Use your imagination!
2. G-Spot Sex Position
As its name implies, the G-spot sex position has the penis massaging and pushing the g-spot with every thrust. It requires a bit of control and strength, but can have immense payoff.
To start this position the woman should lie on her back, with the legs in the air and pointed towards the ceiling. The man is positioned between the woman's legs, on his knees. His knees should be kept together.
Staying in this position, the man has to lift the woman up using her legs, and enter the vagina. For the woman, this means you will have to take most of your own weight on your shoulders and upper back. If you have a bad back, stay away from this position.
3. Take Your Legs Up
Start from the missionary position, then move your legs up to place your ankles against the man's shoulders. Having your body bent like this creates room for a deeper penetration, and makes it easier for him to hit your g-spot. It can be a ton of fun if you can manage the flexibility.
4. Doggy Style
If all those convoluted positions aren't going right, take things simple with the doggy style. Theoretically, it is not exactly the best style to hit the g-spot, it is the most convenient and one that does not require overt displays of strength or putting your body in an awkward position.
In fact, given how natural this position is, and how relaxed you can throw out the theory and this becomes practically one of the best positions to stimulate the g-spot. For one, you're not uncomfortable, and two, you don't have to worry about risking an injury. So this becomes far more relaxing, enjoyable, and capable of hitting the g-spot.
Of course, using sex toys remains the simplest and most enjoyable method of hitting the g-spot and bringing a girl to a squirting orgasm.
Myths About G-Spot And Squirting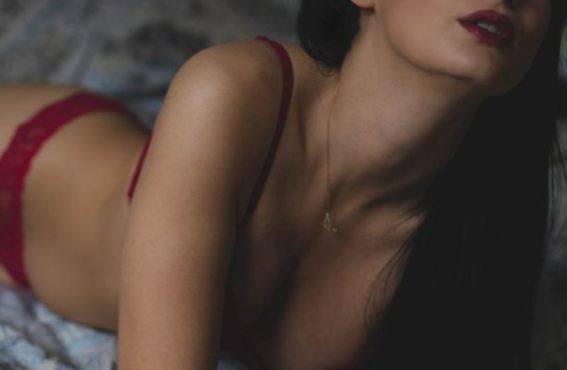 G-spot and squirting, or female orgasm in general remain a hotly debated topic. Here are a few myths associated with Squirting orgasms, and about how to make a woman squirt.
1. Ejaculation Means Letting Out A Stream Of Liquid
Seeing girls squirting in porn movies gives people (including women) the idea that all women must have a squirting orgasm where they expel a solid stream of liquid, perhaps by the liters. Porn movies, like regular movies, do take some liberties. While there are some women who can squirt like that, many women will have a squirting equivalent to a few drops of liquid quietly rolling down, without any massive squirts of fluid.
2. Squirters Will Squirt Every Time
There's a good chance that a woman's first squirting orgasm doesn't let out any fluid at all. Assuming there will always be a similar volume of liquid is incorrect as well. Do not make assumptions on measurements, simply enjoy the process.
3. Intensity of Ejaculation Determines The Quality Of The Orgasm
Wrong again. Remember, the squirting is just an extra, given its own fetish simply because of the novelty of it. What we want is the orgasm, and the amount squirted, or the distance it is thrown is irrelevant. Remember, it's not an Olympic sport.
4. Composition Of 'The Squirt'
While it is indeed the Skene's gland draining into the urethra that plays a part in the process. A research claims that squirting is a mix of pee and other fluids (including those from Skene's glands), often a result of involuntary emission. Your orgasm may not necessarily be the squirt, and it is entirely possible that the orgasm happen more quietly with just the small quantity from the Skene's gland draining into the urethra.
Concluding Remarks — How To Make A Girl Squirt
Going through the process of how to make a girl squirt, or how to make yourself squirt (if you intend to try this yourself) should give you a better understanding of what to do, and what to expect. Keep in mind that your intent is to have fun and a lovely orgasm, not to throw fluid across the room. Achieving a squirting orgasm is way more convenient and comfortable with sex toys. In fact, it might even be better with them, given you don't have to take weird sex positions or strain yourself into awkward poses. If you find sex toys threatening, or if your partner gets insecure, try to include them in the process while reminding them to be sex positive. Most of all, enjoy yourself and have fun.