(Last Updated On: April 9, 2023)
Soraya is a high-end vibrator from the house of LELO. It is rechargeable, stylish, and comes with better functions than conventional rabbit vibrators. Lelo Soraya comes with a comfortable grip that makes it easy to maneuver and handle while pleasuring yourself. It is 100% waterproof; certainly great news for people who love dual pleasure. There is more that puts Lelo Soraya in the realm of the best rabbit vibrators, and this Lelo Soraya review will dive into those details.
Dual Power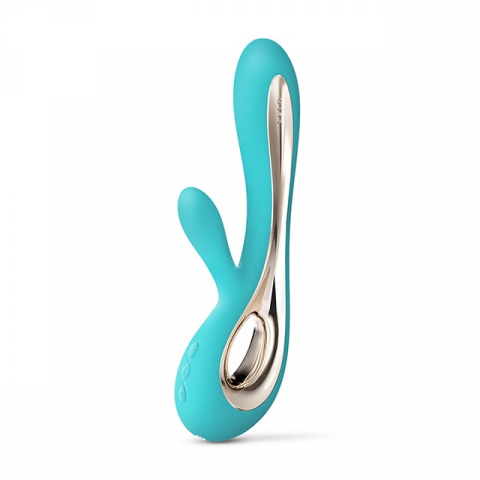 SORAYA 2 - Rabbit Vibrator For Double Pleasure
How do you improve on a vibrator that's already amazing? Innovate! Lelo has hit the metaphorical and literal spot with the Lelo Soraya 2. This intense, amazingly powerful vibrator is capable of delivering its strong, rumbly vibrations right where we need them.
See latest price
Bonus:

Coupon code: GURU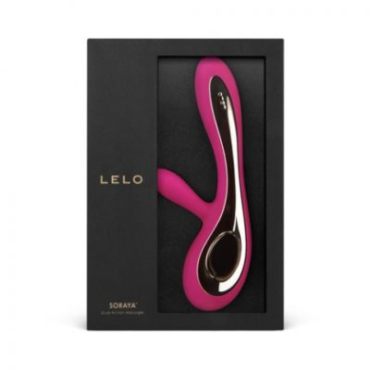 Lelo Soraya Review — Pros And Cons
Pros
Great looks
Good design and ergonomics
Made from body safe materials that are non-porous, phthalate-free, and non-toxic
Rechargeable
Waterproof
Low noise
Greater flexibility of the clitoral arm makes it excellent for clitoral stimulation
Cons
Combination of ABS plastic as the shiny metallic coat and silicone can make this vibrator difficult to clean, especially where the two materials meet
Some customers say that the contact point of silicone and ABS plastic can create a "pinching feel"
The bold Lelo branding on the insertable side is just tacky and ridiculous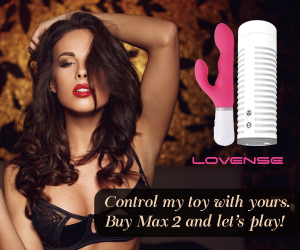 Coupon code: GURU
Lelo Soraya Features
Design, Packaging, And Aesthetics
Lelo Soraya vibrator is one of the best-looking sex toys available. Its non-phallic appearance and sleek design make it very attractive. The combo of ABS plastic and silicone works extremely well. Silicone gives it a matte touch, and the shiny ABS plastic gives it a metallic shine. And of course, like other products from Lelo, the Soraya's silicone coat feels wonderful to touch.
As for packaging, the vibrator is delivered in discreet packaging. Inside, you'll find the product box. The box itself is impressive and has an excellent build to match its careful design. When you open the box, you'll find the Lelo Soraya, satin storage pouch, USB charging cable, user manuals, and a one-year warranty.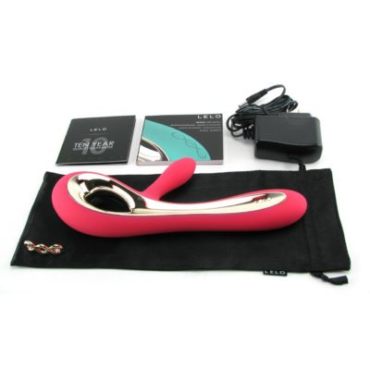 Coupon code: GURU
The loop at the handle-end of the vibrator makes it remarkably easy to control and maneuver. It's almost a relaxed, natural setting that allows you to push the insertable arm of the vibrator towards the G-spot, while the clitoral arm stimulates the clitoris. While the insertable arm is solid and has practically no give, the clit vibrator is flexible at its base. This makes the clitoral stimulation easier to accommodate different anatomies.
Lelo Soraya is available in three color choices, viz. Rose, Black, and Cerise.
Dual Power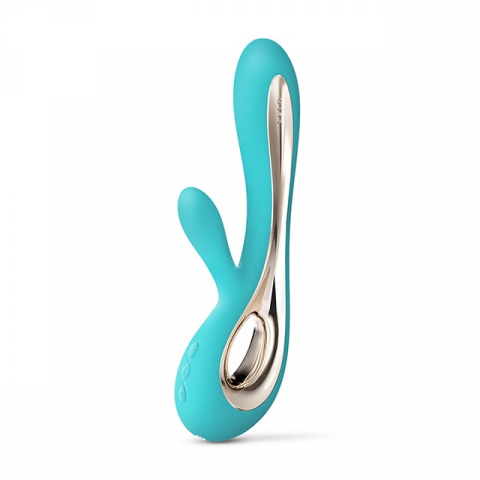 SORAYA 2 - Rabbit Vibrator For Double Pleasure
How do you improve on a vibrator that's already amazing? Innovate! Lelo has hit the metaphorical and literal spot with the Lelo Soraya 2. This intense, amazingly powerful vibrator is capable of delivering its strong, rumbly vibrations right where we need them.
See latest price
Lelo Soraya Vibration Options And Power
It is a fairly powerful vibrator that draws on two motors to control both its appendages. The silicone coat absorbs some vibrations, and this vibrator does have a gentler side, so don't expect it to go thumping around like those powerful vibrators. It is, however, powerful in its own right and will gladly push you to a satisfying orgasm.
It has three vibrating options – shaft stimulator, clitoral stimulator, or both. And then there are five speed settings and eight different patterns to suit your mood and specific preferences. It also has a lock feature that prevents the Lelo Soraya from accidentally turning on, making it more convenient for travel.
Battery And Waterproofing
Lelo Soraya rabbit vibrator is powered by a rechargeable Lithium-ion battery. It charges via USB, so you can plug it into your computer for charging. If you have a USB wall adapter, that works fine too. Personally, I find it more convenient than connecting the sex toy to the computer. A two-hour-full charge gives you up to four hours of use. The time may go lower in practical use, 2-3 hours is more appropriate. In any case, that's enough time for fun and amazing g-spot orgasms.
It may not be the best toy to make you squirt, but it makes a solid effort. And a satisfying, toe-curling orgasm, is as good!
The vibrator is completely waterproof, so feel free to take it with you to the shower or the bathtub. Waterproofing also makes cleaning your sex toy easier, since you can place it under water without any worry. You could also consider purchasing one of Lelo's vibrator cleaning solutions.
Coupon code: GURU
Quick Summary — Lelo Soraya Rabbit Vibrator Advantages
It has 2 powerful motors, in the stem and in the shaft, that can be used simultaneously or separately
Since it's waterproof, it can be used in the bath and is easy to clean
The ergonomic design and push-button controls make it easy to use the vibrator with your partner or for solo play
It's made from body-safe silicone and medical-grade plastic, and is safe to use
It has a rechargeable battery that can last up to 4-hours of use
Quick Summary — Lelo Soraya Rabbit Vibrator Disadvantages
If the shaft is too long for your taste, you may find the clitoral stimulator to be less effective
It is expensive
It can be a bit difficult to clean
Does LELO Soraya Fit Your Bill?
Lelo Soraya is an excellent rabbit vibrator for simultaneous vaginal penetration and clitoral stimulation. The three-button controls are intuitive and make operating the vibrator easy. The Soraya also has sufficient power up its sleeve. Soraya can satisfy you whether you're a novice or a veteran. And then there's the waterproof design that lets you use it in the bath or at the pool.
Other than the price, the length of Soraya's insertable shaft may be a downside for some as they may have to insert it deeper than their comfort limits to be able to enjoy the clitoral stimulation. Its insertable shaft is slightly longer than comparable rabbit vibrators available in the market.
Lelo Ina 2 VS Lelo Soraya – The Difference
It's only natural to compare competing vibrators from the same company. The Ina 2 and Soraya are two heavyweights from Lelo. Both of them have waterproof designs, are made from body-safe materials, have rechargeable batteries, and each of them has powerful dual motors. Then there's the Lelo Ina wave that changes the paradigm with its Come Hither wave motion. Choosing one can be a tough job, and there's competition between the Soraya, Ina 2, and Ina Wave.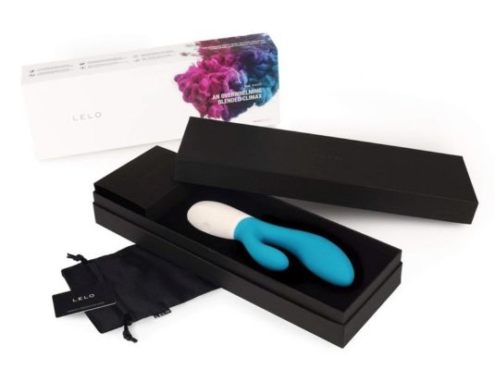 Practically speaking, the largest difference between the Ina 2 and the Ina Wave is the come hither motion of the Wave, so this quick comparison will focus on the Lelo Soraya and Lelo Ina 2. You can follow this link to the best Lelo rabbit vibrator for a detailed comparison between the Lelo Soraya, Ina 2, and the Ina Wave.
Coupon code: GURU
Overall Design
The Ina 2 has a minimalistic design and comes comparatively simplistic colors and shapes. Its flowing curve design compliments the vagina's contours and provides intense satisfaction. The Soraya, on the other hand, has a smooth core and comes in three sensual colors. A handy cut-out handle offers great control and ease of use.
Feature Comparison

The Soraya has a consistent girth throughout, so it does not specialize in G-spot stimulation unlike the Ina 2. It specializes in a powerful, yet discreet, clitoral stimulation. Simply set it to sit on your clitoris and it'll give you an intense stimulation. And if an extended play is your thing, the 4-hour-long battery life will be your blessing in disguise.
Ina 2 is slightly better at G-spot stimulation. When inside, apply a slight push to the base. This will tilt the body of the vibe upwards and lead stimulation towards your G-spot.
The slight advantage of the Lelo Ina 2 in G-spot stimulation does not exactly override the Lelo Soraya. I believe the combined stimulation from the Soraya's shafts is deeper, better managed, and more pleasurable. As a rabbit vibrator, I prefer the Lelo Soraya, and honestly, if G-spot stimulation is the deciding factor, it's better to consider that in the best G-spot vibrators.
Lelo Soraya Review — The Vibrator In Use
Understanding Lelo Soraya Dimensions
Lelo Soraya has an overall length of 8.7-inches. Of these, 4.3-inches are insertable, and at the widest, it offers 4.4-inches of circumference. While the girth may seem a bit challenging for the uninitiated, the length is fairly useful without getting intimidating. The clitoral appendage measures 2.1-inches in length and its flexible base makes it possible to be a convenient clit massager.
Holding this sex toy through the loop also makes it easier to use to the vibrator to find the G-spot and apply pressure at the right points. The girth makes the vibrator feel somewhat "filling" and that adds another dimension of pleasure.
Lelo Soraya In Action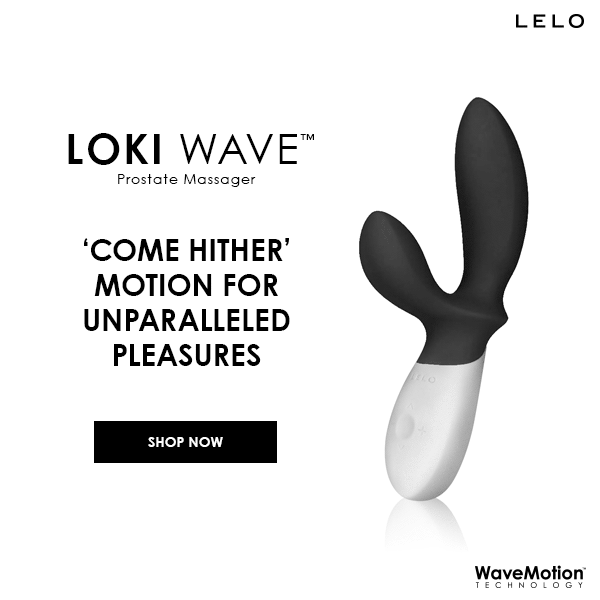 Given the matte finish of the silicone, it's best you generously use water-based lubricant before taking the Soraya near your vagina or clitoris. I prefer to start with stimulating the clitoris, making it easier to get into the mood. Vibrator foreplay, is, after all, an important factor when using vibrators to orgasm.
Once in the mood, you'll likely find the Lelo Soraya pliable for vaginal insertion, as well as maneuvering. Its ease of managing controls is a blessing here, and playing around with speeds and patterns is blissful!
Soraya is one of Lelo's most popular vibrators, and when you use it, you know exactly why! The insertable end is pleasurable enough, but what really makes the Lelo a great rabbit vibrator is the flexible and powerful clitoral arm. It's easy to get into place and offers amazing stimulation for the clitoris. Plus, it works great in conjunction with the insertable end, offering the best of both worlds.
Coupon code: GURU
Dual Power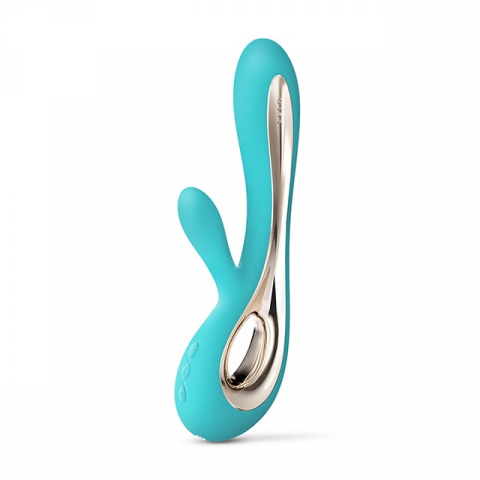 SORAYA 2 - Rabbit Vibrator For Double Pleasure
How do you improve on a vibrator that's already amazing? Innovate! Lelo has hit the metaphorical and literal spot with the Lelo Soraya 2. This intense, amazingly powerful vibrator is capable of delivering its strong, rumbly vibrations right where we need them.
See latest price
LELO Soraya Review — Conclusion
Lelo Soraya is a great rabbit vibrator. It is fun and fairly straightforward to use. The opinion of the Lelo Soraya review is that what makes this vibrator really notable is the overall synergy with which both its arms operate and cooperate with each other.
Of course, you will find individual G-spot vibrators or clit vibrators that do the job better than the Soraya. However, a rabbit vibrator is supposed to do both those things in tandem. Its job is to offer solid stimulation for the vagina as well as the clitoris, and in that regard, the Lelo Soraya is amongst the best.