LELO Soraya review
Soraya is a high-end vibrator from the house of LELO, that is rechargeable, stylish, and comes with better functions than traditional dual-action vibrators. It also comes with a comfortable grip and is 100% waterproof; certainly great news for people who loves dual pleasure.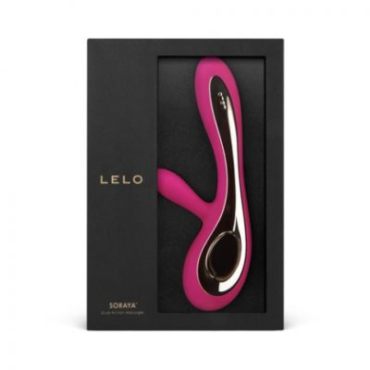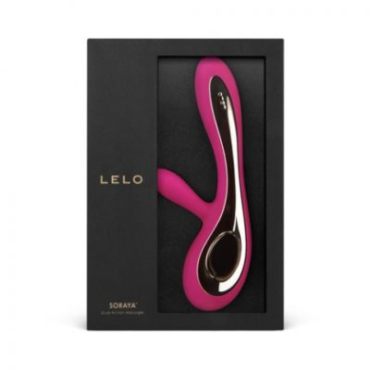 Some Features of LELO soraya
You get to choose from 3 different colors: Rose, Black, & Cerise.

The package comes with the toy, a lined bag, charger, user manuals, a pin, and a one-year warranty.
It has 3 vibrating options: Shaft stimulator, clitoral stimulator, or both. And then there are five speed settings and 8 different modes to suit your every mood.
It also has a lock feature that prevents it from accidentally turning on, saving you those embarrassments.
A two-hour-full charge gives you a four-hour-non-stop pleasure. And if kept in a sleep-mode, the charge may last up to 90 days.
LELO soraya Rabbit Vibrator Advantages
It has 2 powerful motors, in the stem and in the shaft, that can be used simultaneously or separately.
Since it's fully waterproof, it can be used in the bath and is easy to clean.
The ergonomic design, and its push-button controls makes it easy to use with your partner or all alone.
It's made up of body-safe silicone and medical-grade plastic, thereby, making it free from allergies and safe to use.
It has a rechargeable battery that can last up to 4-hours of usage.
LELO soraya Rabbit Vibrator Disadvantages
If the shaft is too long for your taste, you may find the clitoral stimulator to be less effective.
It is on the costlier side of things; therefore, we wouldn't recommend this for newbies.
Click here to find out what customers had to say about the Lelo Soraya.
Does LELO Soraya Fit Your Bill ?
Lelo Soraya is an excellent rabbit vibrator for vaginal penetration and a clitoral stimulator at the same time. It has a beautiful shell and a silky-smooth body made up of body-safe silicone. The three-button design is intuitive, to say the least, and makes operating the vibrator extremely easy. The Soraya also has sufficient power up its sleeve; each motor has 5 different speed vibrations and many pulsation and acceleration modes. Soraya can easily satisfy you whether you're a novice or a veteran. And then there's the waterproof design that lets you use it in the bath or at the pool.
Other than the price, the length of Soraya's insertable shaft may be a downside for some as they may have to insert it deeper than their comfort limits to be able to enjoy the clitoral stimulation. Its insertable shaft is said to be at half an inch longer than other rabbit toys available in the market.
LELO Ina 2 VS LELO Soraya – The Difference
The Ina 2 and Soraya are two heavy weights from the house of LELO. Both of them have waterproof designs; are made from body-safe materials; have rechargeable batteries; and they both have 2 separate, and powerful, motors. Choosing between the two could get tricky; so, here's a comparison that could help you decide.
Click Here to Get the latest discount from LELO
Overall Design
The Ina 2 has a minimalistic design and comes in great colors and shapes. Its flowing curve design compliments the vagina's contours and provides intense satisfaction. The Soraya, on the other hand, has a smooth core and comes in three sensual colors. A handy cut-out handle offers great control and ease of use. It will make a great gift.
Features
The Soraya has a consistent girth throughout, so it does not specialize in g-spot stimulation unlike the Ina 2. It specializes in a powerful, yet discreet, clitoral stimulation. Simply set it to sit on your clitoris and it'll give you an intense stimulation. And if an extended play is your thing, the 4-hour-long battery life will be your blessing in disguise.
But for g-spot fan, the Ina 2 comes as a better choice. When inside you just apply a slight push to the base, this will tilt the body of the vibe upwards and lead all the stimulation towards your g-spot. And the battery will give you 2 hours of play time. On the other hand, the Soraya has a longer shaft that goes well with ladies who likes it deeper. The ABS plastic core and a silky-smooth silicone body combines to give you varying sensations and vibration modes.
Click here to for an in-depth review of the LELO INA 2.
LELO Soraya Review Conclusion 
LELO Soraya is one great rabbit vibrator for ladies who are veterans of the pleasure game and likes their toys deep. However, it is not recommended for beginners given that it's expensive and is of a larger proportion. If you are new to vibrators; buy this only if you are dead-serious on trying THE BIG GUYS and you want to explore dual vibrations.