(Last Updated On: April 4, 2023)
Vibrating panties are fun sex toys with an implied idea of public play. Generally, there's a remote control involved, and the vibrators themselves come in a variety of forms. It could be a classic bullet vibrator tucked strategically inside a panty, or vibrator that follows the curves of the body to stimulate the clitoris. Some of them even offer internal stimulation. Point is, you have a ton of options to pick the best remote control vibrating panties. And they promise to be wicked fun!
2023's Coolest Remote Control Vibrating Panties
11 Best Remote Control Vibrating Panties — Review And Impressions
1. Fem Xtc Womens Remote Control Vibrating Panties with JOLT!
Fem Xtc Womens Remote Control Vibrating Panties include a pocket with a small bullet-style vibrator. The vibrator is managed by a 4-button remote control that has a range of 30 feet. It's perhaps more like 15 feet, after which the controls become unsure, though the vibrator may still respond.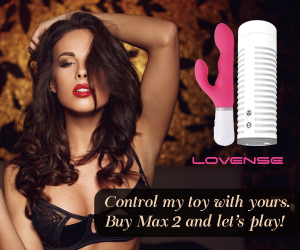 The vibrator comes with ten patterns that can be cycled through at the touch of a button. There's a power button on the vibrator to switch it on or off. In the same vein, the remote includes two buttons to cycle between patterns. A quick mute button allows the vibrator to go silent, but remain active to further commands from the remote.
An interesting choice here is the JOLT! option. Once it is activated, the vibrator goes into super-powered vibrations that last for five seconds. A pocket in the panties holds the bullet vibrator securely in place so you don't have to worry about the vibrator moving around and changing position as it vibrates.
Since the vibrator isn't connected to the panties, it can also be used as a regular bullet vibrator as well. It is made from medical-grade silicone, is non-porous, phthalate-free, and easy to clean. The set includes three panties in various sizes to suit different bodies. These aren't the sexiest of panties available, but they are fairly comfortable. Besides, it's the vibrator that counts here, and it is pretty good!
2. OhMiBod On Amazon – ClubVibe 2.OH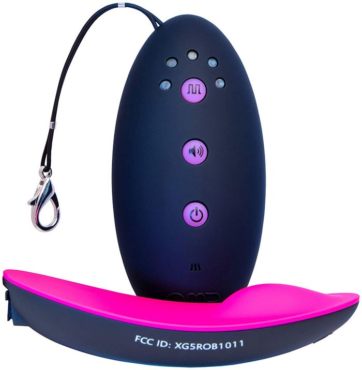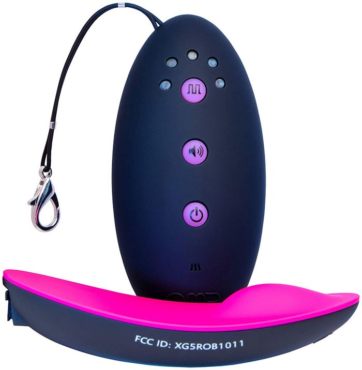 Ohmibod Club Vibe 2.oh is one of the best wearable vibrators you could lay your hands on. It has great features and vibrations that might make you say Oh My… Bod. The curvy vibrator follows the shape of the body and can be tucked up into the panties. A small bump on this vibe helps with the stimulation.
The included remote control is good for about 15-20 feet, which is a very comfortable range. You get to enjoy five intensity modes and five pre-programmed patterns with this vibrator.
Should you need something extra, the ambient sound can come in quite handy as well! The vibrator includes a microphone which picks up sounds and transforms them into vibrations. Imagine playing it up on the dance floor! Vibrations that go along with your song – now that's something you could shake to. Or just go private and let your partner's voice do the trick for you. The possibilities are endless!
The package includes a black lace panty/thong. It includes a special pocket to store the vibrator and keep it in place. Of course, you can use it with your favorite panty as well, just make sure you keep the vibrator in place.
Pros:
Coated in silicone to be comfortable, non-porous, and easy to clean
Low noise
Can respond to music and ambient sound
Cons:
A thinner vibrator would be more likable
Needs special panties to keep it in place
3. Foxshow Wearable G-Spot Butterfly Vibrator
Foxshow Wearable G-Spot Butterfly Vibrator takes stimulation to a different level. It won't just stimulate your clitoris, but also the G-spot for some amazingly orgasmic action. The shape of this vibrator is something similar to the alphabet "L".
On the clitoris side, the vibrator is relatively flat with tiny nubs that serve to stimulate and pleasure the clitoris. Its insertable end is the curvy side determined to stimulate the G-spot. The motor works on the insertable side, though the vibrations travel pretty well to the clitoris as well.
There are a total of 10 vibration modes, easily managed through a thin remote control included with the vibrator. As it vibrates, the sex toy also heats up, going to a maximum of 107 degrees F. The warmth feels pretty good and plays some role in bringing on orgasms.
Power comes from a Lithium-ion battery that takes 1.5 hours to charge and offers 2 hours of play time. Since the insertable vibrator is shaped well, it manages to stay in position conveniently. You don't have to worry about it slipping out or going out of its position.
Pros:
Excellent G-spot and clitoral stimulation
Made from smooth, non-porous, non-toxic silicone
Good response to remote
Cons:
Questionable longevity
The battery does not hold charge for long in standby mode
4. Umania Wearable Vibrator Panties with Wireless Remote Control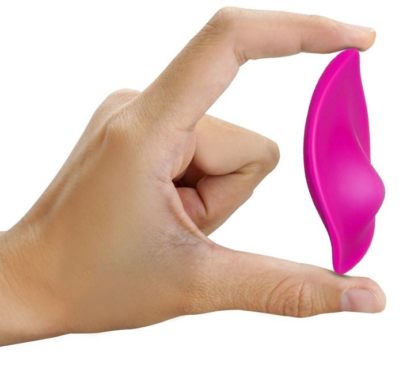 This sleek panty vibrator fits snug and takes its place by following the curves of your body. Umania Wearable Vibrator Panties with Wireless Remote Control doesn't need a special pocket in panties to stay in place. It clings to the body thanks to its shape, and the shape of the vibrator makes its placement either. This also allows for more pinpoint stimulation of the clitoris.
Intriguing as this design is, it does tend to take something of a one-size-fits-all approach. For a wearable vibrator, putting plus size women and smaller women with the same size can be a recipe for discomfort. The vibrator design does account for the different body types with its design, but yeah, some people are likely to find it more comfortable than others.
There are 10 vibration modes on this vibrator, accessed via a sleek remote control that matches its style. Made from silicone, this vibrator is non-porous, non-toxic, and completely waterproof. It takes about two hours to charge and offers a use time of an hour.
Pros:
Good range of vibration options
Sleek vibrator and remote
Easy to clean
Cons:
Can get noisy on some patterns
Needs a tight underwear to keep it in place

5. Adorime Wireless Remote Control Clitoral Stimulation Wearable Panty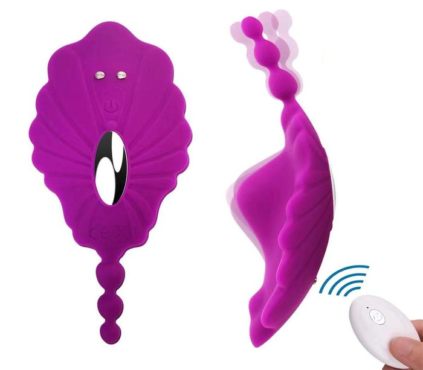 Adorime's vibrating panty may have a long, overly descriptive name, but it has an intriguing shape. And that, along with its presence, is why we have it listed as one of the best remote control vibrating panties. It has the same shape as some others but includes an additional set of beads at an end which work for anal stimulation.
I find that anal part more of a gimmick than actual stimulation, and the vibrations are moderately pleasurable in that direction. It does clitoral stimulation pretty well, and that's where it should have focused, rather than attempting to add more features. As such, the vibrator is fairly pleasurable and fun, but it sometimes misses the mark to reach an orgasm.
The 10 vibration modes it has are pretty pleasurable and its long range remote works fairly well. It is designed to follow the curves of your body and does not need any special pockets or arrangements to stay in place. That can get a bit tricky with different body types, though the vibrator makes an attempt to stay true to universal sizing.
Pros:
Intriguing shape
Waterproof and rechargeable
Convenient controls via remote
Cons:
Some patterns and settings feel weak and buzzy
Questionable longevity
6. Feelingirl Wearable 2-in-1 Vibrator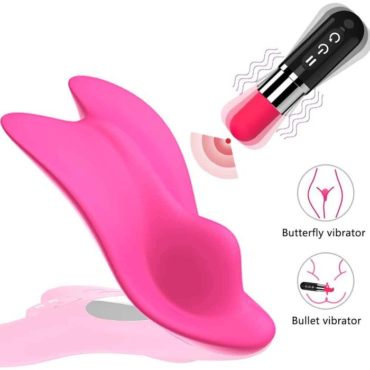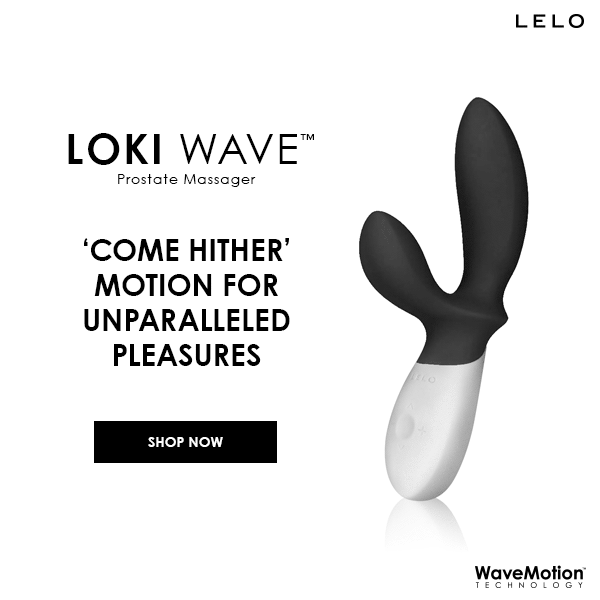 Feelingirl Wearable 2-in-1 Vibrator is an interesting vibrator that sometimes can feel baffling. This is a wireless remote controlled panty vibrator like others, but there's a twist. The remote vibrates as well, and is a full-featured bullet vibrator by itself. This isn't like Lelo's SenseMotion Remote that gives you an idea of the vibrations on the actual vibrator. Nope, the remote control here can be used as a vibrator by itself!
That makes it something of a mix between a combo vibrator and a panty vibrator. The panty vibrator is a thin butterfly-style vibrator that follows the curves of the body to stimulate the clitoris. The package also includes special black lace underwear that can come in handy in keeping the vibrator affixed to its place.
Pros:
Good value for money
Includes butterfly vibrator and remote control that works as bullet vibrator
A good range of vibration patterns
Cons:
Questionable longevity
The construction quality isn't exactly impressive
7. Lovetoy Remote Control Bullet Vibrator Panties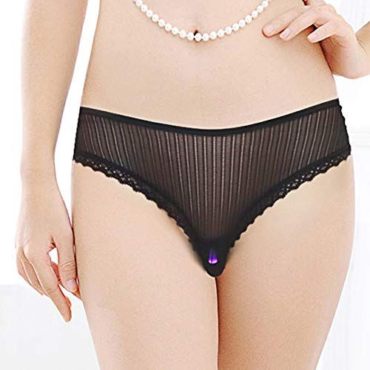 Lovetoy Remote Control Bullet Vibrator Panties for women take a more conventional shape. This is largely a bullet vibrator managed by a remote control. Simply put the vibrator in place and let the remote work its magic. The set includes a lace thong with room to place the bullet vibrator.
You get access to three intensity settings and seven patterns for the vibrator. All of these can be accessed by means of the remote control that has a range of roughly 30 feet. The reliable range, I found was more in the neighborhood of 15 feet. This is largely true for most remote toys, where manufacturers tend to overstate the range. Still, these remotes are fairly useful and can be more convenient than more advanced Bluetooth vibrating panties that make your smartphone the remote.
The vibrator is completely waterproof and rechargeable, adding to the convenience of its use. The company is offering a one-year warranty on this sex toy, which is somewhat rare for vibrators in this more modest pricing range. An admirable move, and one I hope more manufacturers will use to better their service.
Pros:
Excellent vibration and pattern options
Waterproof and easy to clean
Rechargeable
Quiet
Cons:
Some low power modes can feel underwhelming
Remote control range is vastly overstated
8. Adorime Wearable Vibrator with Wireless Remote Control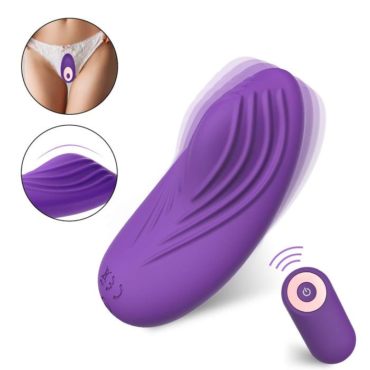 Adorime Wearable Vibrator is coated in medical-grade silicone so it feels velvety. Silicone is non-porous and non-toxic, so it's an excellent choice for sex toys. The vibrator has contours to follow the body and a rather prominent and wide nub to deliver vibrations. Given the rather prominent nub, this vibrator is more suited for specific body types that can accommodate it, rather than fitting all sizes.
It has 10 vibration modes and intensities combined, all accessible by the included remote control. The range of the remote is 32feet, and again, the effective range is 16 feet. Vibrations on offer cover a wide range. It goes all the way from meh at mild settings to oooh at the more powerful vibrations.
Pros:
Good range of vibrations
Waterproof and easy to clean
Rechargeable
Cons:
Can get noisy
Curves can feel too pronounced
Could have been thinner
9. Oixgirl Remote Control Butterfly Vibrator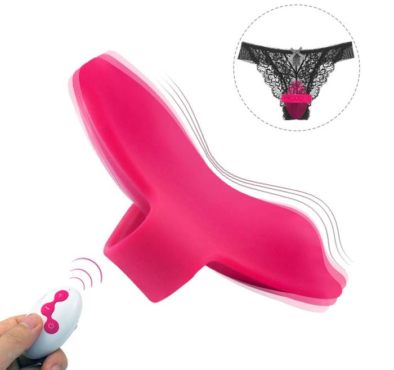 Keeping the vibrator in its right place is an important consideration for vibrating panties. Which is one reason you see these vibrators try on several methods to keep themselves in place. Oixgirl Remote Control Butterfly Vibrator approaches that problem with a buckle.
Of course, the buckle won't really grab the panty and stick to its place. However, it does create enough leverage for the vibrator to stay in place. At the very least, you don't have to worry about the vibrator falling out, which is a bit of a bonus by itself. On the downside, the buckle adds some bulk to the vibrator. And it is significant, especially considering that the vibrator isn't a model of sleek design by itself. It isn't noticeable, but I'd really have preferred a sleeker profile.
The vibrator is operated by a remote control with a declared range of 30 feet. There are 10 vibration modes, all accessible through the remote, including the option to go up/down through the list of vibration patterns. Oixgirl's vibrator is built from high-quality silicone. It is non-porous, non-toxic, and body-safe. Oixgirl claims the vibrator simulates the "real sex process". That claim obviously is a load of crap. Perhaps it came from the same great minds that thought adding a full-fledged thick buckle to a vibrating panty was a good idea.
Pros:
Good range of vibrations
Silicone coat is non-porous
Fair amount of use time
Cons:
Wildly inaccurate claims that make you doubt everything about this vibrator
The buckle adds more to the profile of the vibrator
10. Loverbeby Wearable Vibrator G-Spot and Clitoris Stimulator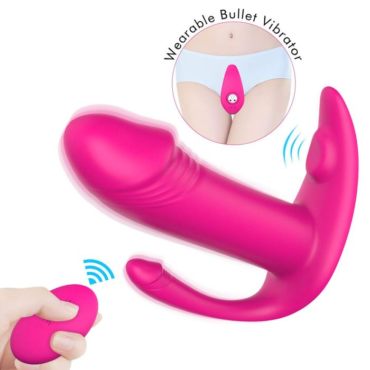 This overzealous panty vibrator intends to stimulate the G-spot, the clitoris, and the prostate in one go. Since women don't have a prostate gland for this vibrator to massage, I feel doubtful of everything this company says. I am, however, going to overlook that with the assumption that something got lost in translation.
The vibrator includes a small penis-shaped appendage that is meant for anal stimulation. A larger, more prominent g-spot massager comes next, and finally, there's a button-shaped spot that is intended to stimulate the clitoris. There's a lot going on in here in this small package, and it shows.
Though the claim is for vibrations to be strong, they're passable at best. And with the compact motor having to service three points, it doesn't quite get anywhere. This entry is basically a representative for triple stimulation vibrators. There isn't enough room for this vibrator to actually employ enough to service all these areas.
There are nine vibration and pattern modes on this vibrator and the included remote offers a claimed range of 30 feet. The vibrator is coated in soft silica gel.
Pros:
Stimulation for clitoris, g-spot, and anus
Good range for remote control
Cons:
The vibration strength leaves much to be desired
Questionable longevity
11. Wearable Panty Vibrator Wireless Remote By Xinghaoya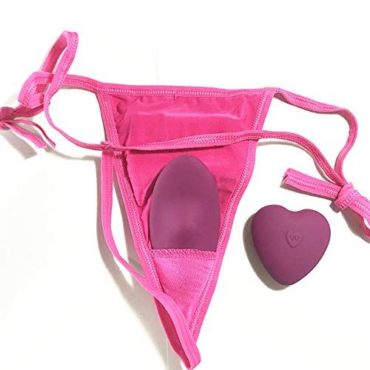 What I like about this vibrator is that the vibrator as well as the remote are both rechargeable. Once placed, the vibrator remains fairly stable, and offers fairly good stimulation. The claimed remote range is 50 feet, and the actual usable range is 20 feet.
You'll find 10 vibration modes on this sex toy, which are fairly good and enjoyable. It takes about 2 hours to fully charge the vibrator, while the use time is 60-90 minutes. The package also includes a panty.
Pros:
Coated in non-porous, non-toxic silicone
Good range of vibrations
Waterproof
Vibrator and remote both have rechargeable batteries
Cons:
The battery does not hold charge for long during standby
Vibrator could be sleeker
Here's How To Pick The Right Vibrating Panties
Comfort And Fun
Before we think of vibrations and other things, we have to think of comfort. There isn't going to be much fun if the vibrating panty keeps scraping against your body, risks falling off, or is otherwise uncomfortable. If it's your introduction to vibrating panties, I'll suggest you pick a more conventional design.
A small bullet vibrator tucked securely in its designated pocket is a good choice. The setup is non-invasive, and for a beginner can feel all the more convenient.
Stealth And Noise For Your Vibrating Dildo Panties
If you're going out in the public, it makes sense for a vibrating panty to not announce its presence – visually or audibly. A lump in the clothes that implies you have something placed near your crotch is going to be awkward. Similarly, a vibrator that sounds like a truck starting up in your pants isn't going to help either.
Being discreet is the bread and butter for vibrators meant for use in public. Our selection here fits both criteria – quiet and no clear appearance on the clothes.
Vibrating Underwear And Vibrations
The quality of vibrations makes or breaks a vibrator. Deep rumbly vibrations are preferred, and buzzy vibrations that feel like itching are heartily unwelcome. Getting powerful vibrations without creating a racket is a big deal and an area where the best vibrating panties shine.
Add in a remote control, and you've got a convenient way to play. It's not just solo play, you can get your partner in on the game as well. Finding creative places to use your remote control vibrating panties adds to the fun and excitement. It's a great aphrodisiac, and better yet, a way forward to satisfying orgasms!
There's always going to be an element of fun with public play, and getting creative with where you use it adds a whole lot more. The vibrating panties challenge pretty much showed how awesome these could be. Here's one video to see the challenge in action!
Get Creative And Find Some Fun With Vibrating Panties
Choosing the best remote control vibrating panties is half the job. A big part of the fun is getting creative, naughty, and bold with the use of your vibrator. It's way more fun with your partner involved and creates some lovely shared experiences and a bond of intimacy. I've put together the best options for your use here, so take a look and see what works for you!