(Last Updated On: September 18, 2022)
You know how you're just sitting there and you start to feel your heartbeat in your vagina when you get turned on? Well, wearing vibrating panties is a lot like that. In fact, their ability to jingle your pringle is exactly what they've become so popular. You'll find them everywhere these days, from your local sex shop to your family-friendly supermarket. So, what's the big deal?
As it turns out, these unassuming underwear are ideal for many purposes, including some you might not have even considered yet. They're frisky, fun, and discreet enough for all types of play. The trick is to find one that's fit for your body and powerful enough for you pussy. And this is what you need to know if you're trying to do that. 
Here's everything you need to know about vibrating panties.
What are vibrating panties?
These are exactly what they sound like: a pair of sexy undergarments that vibrate when you turn them on. They don't wait for you to get aroused, but instead, do the arousing for you. With the click of a button, they buzz to life and provide a strong, steady current of vibrations to your most sensitive zones. In many cases, the device can actually vibe at different speeds and intensity levels too.
Vibed-out pantaloons are designed to fit snugly inside your innerwear so that nobody can see or hear it. Manufacturers use a wide variety of different techniques to make that happen, including some that involve physics and/or technology. The best devices are those that operate silently and have external controls for easier manipulation. Truth be told, those are the only ones that should count.
How do they work?
No two pairs of vibrating panties are designed the same, and that's why so many people have such a hard time finding the right ones. They're all different, with unique features and variable controls that tantalize the senses and promote better sex. However, they all work in the same basic way. So, at least they're user-friendly if not traditional and modest.
Usually, you'll find some buttons on the side of the device which control the settings. In rare cases, you might receive a wired or wireless remote control to help manipulate things better. As more technologies are being incorporated into modern-day sex toys, devices are starting to operate via Bluetooth as well. In fact, there are now some models that can be played with remotely by partners across the world.
The 5 main features of panties that vibrate
Although they're all different, these are the 5 primary qualities that the best vibrating panties share:
#1. Variable Vibe Speeds
Most of the time, you'll get more than one vibration speed per pair. However, you're usually limited to no more than 10 or 12. But that means you can adjust the sensations to match your mood or even experiment with different levels of stimulation to work on your stamina.
#2. Adjustable Intensity Levels
You can also customize how intense the panty's vibrations are, at least in most cases. Some pairs feature a simple bullet vibrator while others offer high-tech motors with more capabilities. Either way, you're usually able to define your stimulation parameters with a simple press or twist.
#3. Long-Lasting Batteries
Because of the way these devices are meant to be used, they're typically equipped with high-performance batteries. The lifespan of a good pair is generally several hours at least, and some models even come with rechargeable batteries just in case it takes longer than expected to get off.
#4. Skin-Safe Materials
Since you're wearing these things so close to your delicate vagina, manufacturers have taken special care of craft their devices out of soft, breathable, hypoallergenic materials. In fact, some vibrating underoos are even made to look, feel, and function like normal panties, with removeable bullets and everything.
#5. Body-Friendly Dimensions
Just like regular underwear, these sexy slip-ons must fit. So, their makers design them in either a one-size-fits-all model or they offer various sizes for different body types. The point is to find something that stays in place, but that's why they usually feature clips or magnets in the first place.
If you're lucky, you'll even find some panties with attractive detailing and soft or sexy fabrics. They may come in various colors as well. Meanwhile, none of those factors are inconsequential. If panties that vibrate weren't amazing, they would have become obsolete by now. Obviously, there are some major advantages to using them. So, it's up to you to figure out what they are.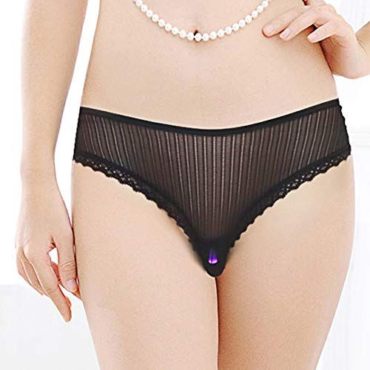 Benefits of wearing vibrating panties
Versatility is one of the key advantages to using vibrating panties as your favorite female sex toy. Although these devices aren't made for internal stimulation, they can provide external pleasure and that's what most women prefer anyway. In fact, a majority of ladies can't even reach orgasm without enough attention paid to their clitoris. Meanwhile, the distinct settings can help the wearer customize her experience more intuitively.
These things are pretty discreet too. Because they fit snugly inside her pants, she can wear them anywhere and with almost any outfit. Most models are made to be sleek and lightweight as well, meaning long-term play sessions are finally a possibility even if you live busy lives or spend most of your time in public. Panties that vibrate are fun and frisky without being obvious or obtuse, so choose yours wisely and always keep it clean.
NOTE: An improperly maintained toy might not offer the same level of discretion or pleasure, by the way.
The takeaway
You can't just ignore something that the whole world seems to love, even if you're a die-hard dildo user who has never worn a pair of vibrating panties in your life. The fact that you understand orgasms and want to explore your sexuality is a good enough reason to start looking at new things. So, don't disregard these things just because they offer external stimulation only. After all, your pussy might prefer it that way and you can always add a dong later on.