(Last Updated On: April 9, 2023)
Ranging in the whole spectrum from naughty to convenient, bullet vibrators are practically a must-have accessory. They're easy to carry around, and more often than not, discreet enough to pass for a random object in the bag. Some are simple enough to pass off as lipstick. Of course, while discretion is welcome, that's not the reason we love powerful vibrators. We like them for the fun and ease they offer.
There are a boatload of "personal massagers" on offer, so I have created a list to help you choose the best bullet vibrator for you. Let's take a look.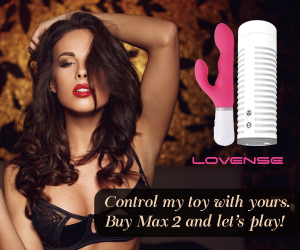 Choosing The Best Bullet Vibrator
Bullet vibrators are primarily meant for clitoral stimulation, although some models can serve other purposes as well. They're built to be discreet and portable, packing the power they can muster in their small size. Many bullet vibrators don't necessarily "look" the part of a sex toy. Their size and intended function makes it possible to have bullet vibrators look like a lipstick or other random objects in a woman's bag. Here are some things to consider when purchasing your bullet vibrator:
Size And Shape
Bullet vibrators are usually smaller in size, and can take a few different shapes. Main considerations for size are simply bringing ease to portability and discretion. If those are not primary factors for you, you don't have to be limited to the "bullet" shape. Bullet vibes have long gone beyond their namesake bullet shape, and are available in several different sizes and shapes.
Remote Control
Remote controls add another dimension of play with your vibrator. They're increasingly common, and can be seen with some of the best bullet vibrators available. It's not simply about the convenience of controlling the vibrator with a remote, but also the possibility of including your partner with the vibration experience.
Extend reading:
A wired remote makes things interesting, but let's face it, a wireless remote is far more convenient and desirable. Plus, that lets you indulge in a bit of public play, where you can go about your daily tasks with the vibrator tucked in place. That allows you, or your partner to let loose waves of pleasure even during mundane tasks. Spicy.
Power Of The Vibrator
Simply due to their size, bullet vibrators cannot afford to have big batteries backing them up. That results in many vibrators struggling to put out enough power to create rumbly, satisfying vibrations. Many manufacturers use disposable batteries, while others try to make the rechargeable batteries more powerful. Some even end up using button cells! Before you purchase a bullet vibrators, take a look at the kind of battery they are using. Reading bullet vibrator reviews can help you choose a vibrator suitable for your needs.
Vibration Variation
There's always some fun to be derived from changing vibration speeds on your bullet vibrator, or letting preset vibration patterns do their job. Working your way to your own customized pattern and speed can be a big part of your vibrator selection. Some models offer just one speed, some offer more, and some mix speed as well as pattern variations. Do your research!
Cost
There is quite a variation in the price of available bullet vibrators —- obviously dependent on features on offer, and to some degree, on materials used. If you are a beginner, it may be prudent to start with a cheaper vibrator. As you get comfortable, you can invest in more pricier options.
Waterproofing
If you intend to play with your vibrator in the shower or bathtub, make sure it is waterproof. Also to be noted, water-resistant and waterproof are different things. A waterproof vibrator is submersible and can be used inside water (like when you're in the bathtub). Water-resistant may take some exposure to water, but going underwater can be risky business.
9 Best Bullet Vibrators
1. Lelo Lily 2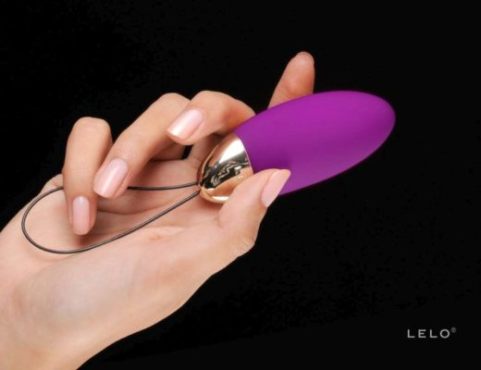 In the world of bullets, Lelo Lily 2 has carved out a name for itself. It offers the right mix of luxury, pleasure, and getting naughty with public play. Its silicone dipped body is velvety smooth to touch (and a pleasure in itself), while the glossy elements on the body and the strings are made from ABS plastic. Both these materials FDA approved to be body safe.
Lyla 2 comes with Lelo's SenseMotion Remote, so your partner can be involved. You could use this bullet vibrator solo, cycling through its six pre-programmed patterns. It can be used externally for clitoral stimulation, or internally, with the attached loop used for retrieval. Using the remote however, unlocks more fun and options for Lelo Lyla 2. SenseMotion remote can work from a distance of 39 feet, cycle through the patterns, increase/decrease vibration intensity, and has two of its own modes for vibrations.
In the first mode, vibrations on the Lyla 2 respond to the orientation of the remote. Horizontal gives 10%, placing the remote vertically takes intensity to 100%. In Mode 2, faster you move the remote, stronger the vibrations. The remote vibrates in patterns similar to Lyla 2, keeping the controller informed of what's going on with the vibrator. Plus, it can work as a massager by itself!
When placed internally, this bullet sex toy is incredibly silent, allowing you to indulge in public play and perhaps take foreplay to a whole new, hot level.
Lelo Lyla 2 is rechargeable via USB and offers 2-hours of user time after 2-hours of charge. SenseMotion remote needs 2 AAA batteries to function, and can run for 10 hours. Check more details on LELO store.
Pros
Rechargeable
Waterproof
Remote-controlled
Silent enough to allow for public play
For internal as well as external use
Convenient
Cons
Expensive
Some customers say the remote control gets unreliable with Lyla 2 inserted
Included instruction booklet is generic, leaving the buyer to figure out most functions
Lelo has just released an updated version of the Lily 2. Check out the Lily 3 Review
2. Sensuelle Point Rechargeable 20 Function Bullet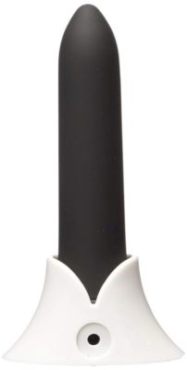 A double coating of silicone gives the Sensuelle Point bullet vibrator a matte finish with a soft feel. The beauty of this vibrator is being simple and going straight to the point, both literally and metaphorically. Its vibration patterns and speed settings give it 20 functions in total, which is a fairly expansive number in terms of options to have.
It can go from a soft touch to fairly strong vibrations that the manufacturer refers to as "mind-blowing intense". The big selling point here is of course the soft touch coming from the silicon layers, and the simple ability to cycle through numerous functions. It comes with a charging cradle that makes it look something like a rocket. Even though I appreciate the rocket look, I'd have preferred a simple USB charger way more than a clunky charger. Should you want to forego silicone in favor of the classic silver bullet vibrator, Sensuelle has got you covered.
It can charge in a few hours and can retain the charge for a while.
Pros
Rechargeable
Strong vibrations
Fairly quiet
Several speed and intensity options

Cons
Longevity of the charger is suspect at best
Charging cradle makes portability difficult, and the vibrator is rather indiscreet while charging
Can drain battery pretty fast at high vibration intensity
3. Oomph! Mini Bullet Shape Waterproof Bullet Vibrator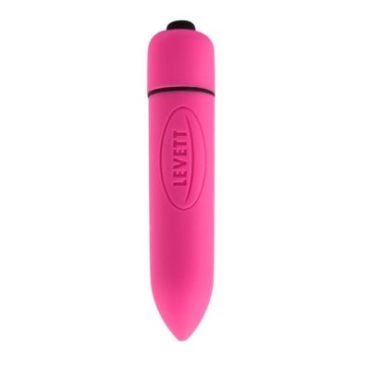 This mini bullet vibrator is a relatively simple product that is great for beginners. It's straightforward for use, relatively inexpensive, and is excellent for introducing beginners to vibrators. Even at its low price point, the vibrator offers several features including silicone coating, waterproof, and several speed options.
Its shape is the classic bullet shape, and is sized to match a lipstick. This one is not rechargeable and runs off N-cell batteries, which should be fairly convenient for beginners. Well, except for the trouble of staying stocked on N-cell batteries. Oomph! Mini Bullet Vibrator can work 16 speed modes, has a noise rating of just 30dB, and the battery usually lasts 1-2 hours depending on battery type and intensity settings. It is very cheap. Anyone can try it.
Pros
Simple and convenient
Economically priced
Speed and intensity options
Noiseless
Cons
Battery does not last long
Lacks power
Several consumers report poor warranty handling
4. Crave Bullet Rechargeable Vibrator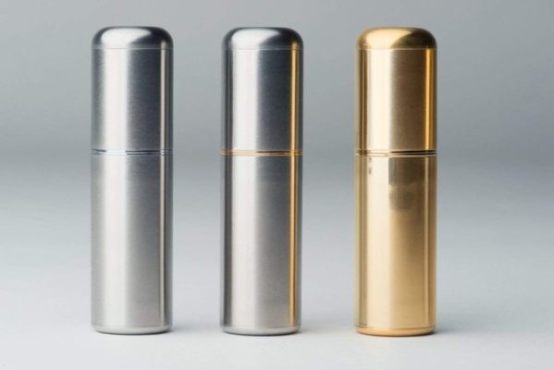 Designed to be simple, elegant, and discreet, the Crave Bullet Vibrator takes a form that looks more like a conservative lipstick than a vibrator. It is built from stainless steel and backed by a powerful motor to generate strong vibrations. Of course, not everyone enjoys the feel of steel on their body, so they've included an extra silicone sleeve so you have a bit of an option when it comes to available textures on the bullet.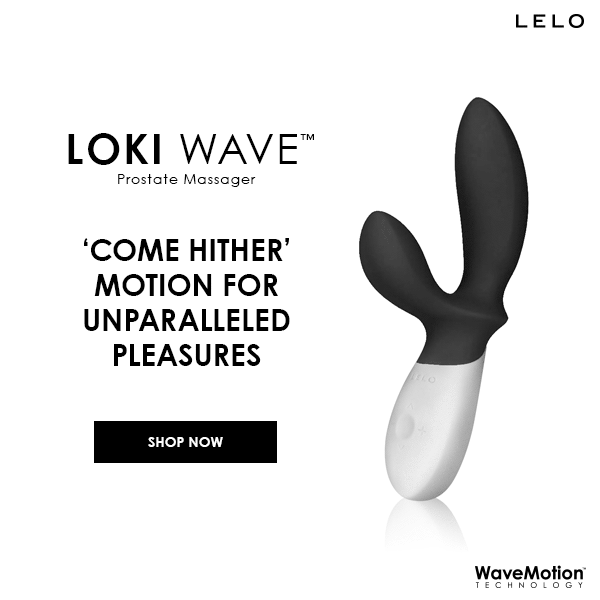 Crave has been designed to not just run solo, but also in companionship of other sex toys that are compatible with conventional 60mm vibrators. The vibrator is rechargeable, just unscrew its top and it can be charged using a supplied USB cable. Four vibration settings are available, low, med, high, and high-pulsing, and they can be fairly powerful. Even so, the Crave maintains a somewhat silent profile, keeping up with relative discretion.
Pros
Simple to use and carry
Discreet
Rechargeable
Waterproof
Silent
Cons
Limited vibration options
Remember to warm it up before use! Putting cold steel against your privates is best avoided
Included silicone sleeve makes cleaning more work, and is susceptible to being lost
5. We-Vibe Tango USB Rechargeable Vibe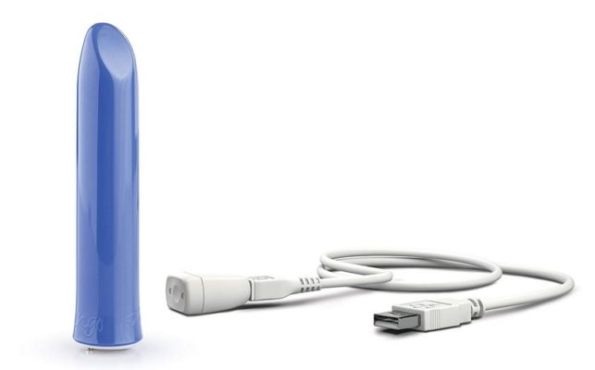 We-Vibe Tango is practically the best bullet vibrator when it comes to strength and intensity of vibrations. This little vibrator is the go-to device for those who prefer deeper and intense vibrations. It looks fairly simple with its lipstick-like shape, except for the charging points visible at the bottom.
It has eight vibration modes, all handled through a single button. The intensity of vibrations remains relatively constant, so keep in mind that this vibrator is better suited for those who prefer stronger vibrations. It can work for a preference of softer vibrations as well, but the Tango's strength lies in its deep, rumbling, orgasmic vibrations for clitoral stimulation. This is a power-packed clit vibrator.
We-Vibe Tango is made from body safe ABS thermoplastic. It takes about 90-minutes for a full charge, giving a play time of 2-hours. It includes a very useful low-battery indicator that lets you know when its time to put the vibrator back on charging.
Pros
Strong vibrations
Silent operation
Easy to use
Waterproof
Rechargeable
Cons
Charging connectors are a bit unreliable
Long recharge times
Some customers find cycling through the modes is non-intuitive
Read the full We-Vibe Tango review.
6. Lovehoney Mini Thrill Rechargeable Silicone Bullet Vibrator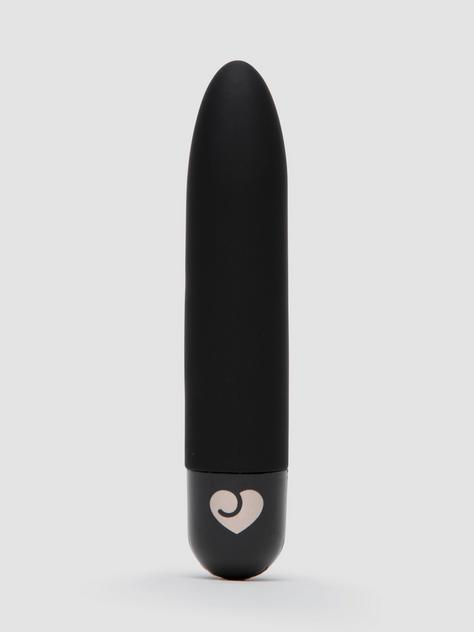 Interestingly styled and competitively priced, the mini wand vibrating bullet massager pretty much assumes the shape of a regular vibrator. That, however, does not stop it from insisting that it is actually a massager. A total of 5.9-inches in length, this bullet vibrator is coated in silicone, while the bottom has plastic in a metallic accent.
There is a single button at the bottom for operation. You press it for a few seconds to switch on the vibrator. Each subsequent hit on the button cycles it through its eight vibration patterns and speeds. A magnetic charger can be tacked in just above the plastic coat at the bottom.
It's a fairly powerful vibrator, and even though the silicone absorbs some vibrations, it remains a fairly powerful machine. Its downside is that as vibrations get more powerful, the vibrator tends to move towards the buzzy side. That makes the vibrations feel itchy, rather than satisfying.
Pros
Good value for money
Silicone and plastic combo make it non-porous and hypoallergenic
Waterproof
Cons
Feels buzzy at higher intensity vibrations
Battery loses charge quickly between uses
Not very durable
7. Lelo Mia 2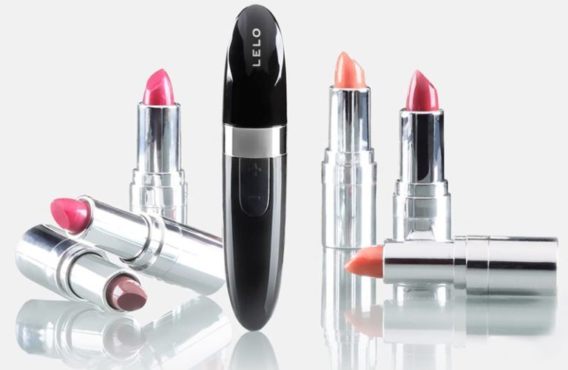 Shaped to look like a lipstick, the Lelo Mia 2 will discreetly place itself in your handbag or wherever you prefer to place it. The all-plastic body makes it quite easy for the Mia 2 to blend in with regular lipsticks. Of course, the Mia 2 is a bullet vibrator, not a lipstick. So, you'll clearly see the control buttons and the Lelo branding. And did I mention that at 4.4-inches, the Lelo Mia 2 is a bit taller than regular lipsticks?
It's pretty good where it matters – Lelo Mia 2 delivers rumbly vibrations that will make your clit say its thanks with an orgasm. There are quite a few vibration options to pick. You can choose from six speed settings and five pre-programmed patterns. While the vibrations are all nice and rumbly, they may not be exactly on point for those who prefer a stronger, pinpoint stimulation. Choose the We-Vibe Tango for that one.
Lelo Mia 2 is pretty convenient to charge as well. You just remove the cap and place it onto your computer's USB port. As good as a pen drive, huh?! Mia 2 bullet vibrator keeps up with its discreet style even when it's down to business. It's very low noise and will stay practically unheard outside your room.
Pros
Discreet appearance and low noise
Several intensity and pattern options
Convenient to carry and charge
Cons
Not powerful enough for those who prefer stronger vibrations
Vibrations can be very weak at low power setting
Read our review of the Lelo Mia 2.
8. Doc Johnson White Nights Controller & Bullet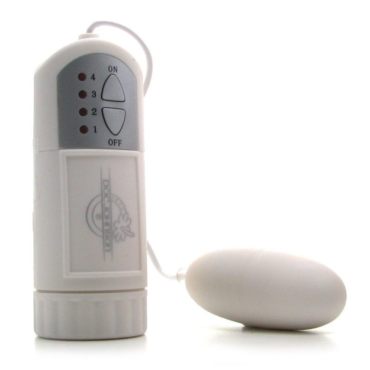 Doc Johnson White Nights Controller & Bullet is a cheaper, simpler alternative to the Lelo Lyla 2. The remote here is connected to the bullet by means of a wire, so there will be some loss of convenience. However, it's also quick and easier to control, making the remote very effective.
It has four vibration intensity options. You can easily move through each option with the remote, where an LED lights up to show you the current intensity setting. While there are only four options, the range is fairly convenient and you will have an excellent experience.
The Doc Johnson bullet vibrator runs on two AA batteries, so be sure to keep some extra ones handy. Nobody enjoys losing power while the vibrator is running! To its credit, the vibrator manages to make good use of batteries, even though it is fairly powerful.
Pros
Good value for money
Convenient control via remote
Fairly powerful
Cons
Needs separate batteries
Limited speed options
Not very durable
9. Womanizer 2Go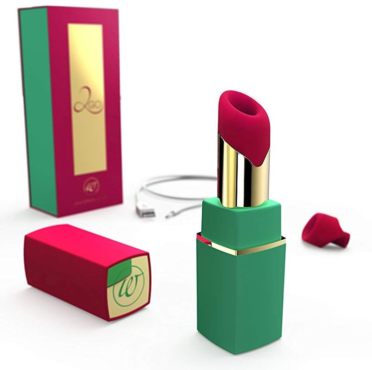 When looking at bullet vibrators, we've seen several that could be compared to lipsticks in size or appearance. Well, the Womanizer 2Go quite literally takes on the appearance of a lipstick. Shape, design, and looks, this little clit sucking vibrator is a lipstick! It is, however, substantially larger than any lipstick. Put it besides a lipstick, and you'll know it's way different.
Womanizer 2Go is a non-contact vibrator, employing the company's well-known, and much-appreciated PleasureAir technology. It can be a bit noisy when you switch it on, but goes virtually silent when placed around the clitoris. Once in pace, the 2Go and its awesome whirls of air get to work and bring on waves of pleasure. It has six power settings, though I doubt most of us will go beyond the third or fourth – it's that effective.
Changing power options is smooth, and while you know it's more powerful, the shift isn't jarring or sudden. Once fully charged, the Womanizer 2Go can be in action for up to two hours. It only needs a few minutes to work its magic! The battery can hold the charge fairly well, so you won't have to recharge it every time you use it.
See further reviews on Amazon.
Pros
Good looks and discreet appearance
Powerful
Silicone tips are removable and replaceable
Made from high-quality materials that are phthalate-free, non-porous, and body-safe
Cons
Deceptively large size (for a lipstick!)
Can be noisy
Expensive
Read our full review of the Womanizer 2Go.
Best Bullet Vibrator — The Verdict
This list highlights the best bullet vibrators available in different categories and ranges. Keep in mind good habits for use and maintenance of these vibrators. For example, it is a good idea to clean your vibrators before and after every use. Also, do not use silicone-based lubricant with silicone vibrators, it's better to use water-based lubricants for this category. Take your time to pick one that works best for you, simply because the vibrators have a range of functions, strengths, and weaknesses. All vibrators on this list good reviews from customers and critics, and offer a range of functions for orgasmic bliss.