(Last Updated On: May 29, 2023)
In the world of bullet vibrators, the We-Vibe Tango has a special place. It is one of the most powerful bullets, and has received quite a lot of attention and praise. The popular phrase says, "it takes "two to tango." I'm going to go ahead and assume that means you, and the We-Vibe Tango. Let's go into detail of what's so special about this vibrator with our We-Vibe Tango review. Time to dive in!
We-Vibe Tango Review — Pros And Cons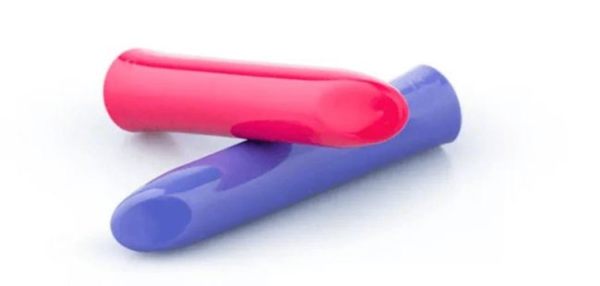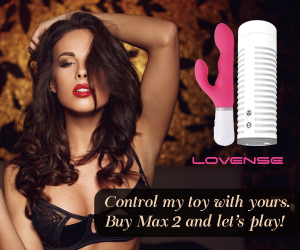 Pros
Deep, rumbly vibrations
Powerful
A good mix of pattern and speed options
Low-power indicator
Discreet
ABS plastic body is non-porous and body safe
Waterproof
Easy to clean
Low noise
Cons
We-Vibe Tango Review — Features
Appearance And Design Of The We-Vibe Tango
This clit vibrator is designed to be discreet as well as powerful. The We-Vibe Tango looks quite like a lipstick, much like the Lelo Mia 2, and so can conveniently be carried around in your purse.
The We-Vibe Tango measures about 3.5 inches in length and has a circumference of about 2.2 inches. Its fairly convenient to hold and maneuver, allowing you to command it to offer up powerful pinpoint vibrations, or take a slightly different route with stimulating the vulva. The bottom of the vibrator has the points to stick the magnetic charger, as well as a single button to control and manage the vibrations.
A quick word on the charger: it's terrible. The magnets are weak and it keeps falling off if you as much as touch the wire while it is charging. It can be solved by being vigilant, but I would much rather have a charger that can stick to its place without threatening to fall off every second. This is a USB-rechargeable vibrator, so if you are connected through your computer, having to worry about the wire becomes a whole lot of drag.
Moving on, the cylindrical end of the vibrator near the base also houses the low-battery warning light. It's the little things that make most products a lot more likable, and for the We-Vibe Tango, this is an amazing feature. It helps to know that the vibrator battery is about to die out, rather than having it die mid-action.
Also, since many of us can spend a lot of time with the We-Vibe Tango, it helps to have a warning light come on before it's too late. Why do I spend so much time with the Tango, well gurl, back-to-back orgasms are awesome!
We-Vibe Tango Vibrations
The Tango Vibrator has a single button to control its vibrations. Each press of the button cycles you through the four intensity options, as well as the preset patterns. The speed settings are Low, Medium, High, and Ultra-High. The available patterns are Wave, Pulse, Tease, and Cha-cha.
An interesting (and useful) thing about the We-Vibe Tango is that it remembers your previously used vibration settings. So when it turns on, it starts with the last mode used. This is a blessing for those of us who enjoy a conventional or specific intensity.
Alternatively, it is a bother if you like to start from a different setting since you will have to go through several button presses to reach the desired intensity setting. It would be useful to have a +/- style control for better command over the functions, but hey, the We-Vibe Tango is good enough to let some problems slide.
As for the vibrations themselves, the We-Vibe Tango offers deep, rumbly, and powerful vibrations. Well, obviously the vibrations from the We-Vibe Tango are unlikely to be as strong as your favorite wand vibrator, but they are extremely impressive for a bullet vibrator. And, to be honest, better than several low-quality wand vibrators as well.
Interestingly (and thankfully), the We-Vibe Tango manages to keep the noise low even as its vibrations show that much power. Well, it's not exactly silent, but the vibrations barely go beyond a comforter and certainly don't travel across walls and doors.
Battery And Waterproofing
The We-Vibe Tango is completely waterproof. This offers several advantages, like you can take it freely to accompany you to the shower or the bathtub. Another advantage is that it becomes ridiculously easy to clean this vibrator. The glossy ABS plastic body of the Tango vibrator does come in handy in helping to clean it up.
We-Vibe Tango is powered by a USB rechargeable battery. It's simple and fairly powerful. You can get about 2 hours of playtime from the Tango after a full-recharge of 90 minutes. Although practically speaking, since the user will change vibration speeds and intensity, and more likely use a higher vibration strength, the battery will last much less than the advertised time. In my opinion, the average time is something like 90 minutes or slightly lower.
We-Vibe Tango Review — The Vibrator In Action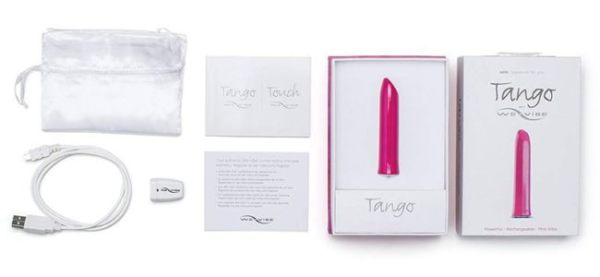 If you've been paying any amount of attention, you know by now that the Tango offers amazing, deep, rumbly, and powerful vibrations. It is amazing! Yes, there are other vibrators that offer similar vibrations intensities, but not many bullet vibrators can match the impressive performance of the We-Vibe Tango.
You will most likely never use the Ultra-high intensity setting, but even so, the rumbling vibrations of the Tango vibrator are sure to bring on extremely satisfying orgasms. If you're getting along with the vibrator, it takes only a couple of minutes to build-up to, and bring on an orgasm. But there is no need to stop after one! If your clitoris agrees to more action, go right ahead. I've heard many women claiming they have received several back-to-back orgasms from the We-Vibe Tango.
The relatively easy controls play a useful part as well. With just a single, well-placed button, you don't have to worry about accidentally changing the vibration settings. Although I still maintain that more controls could have been useful, once you reach the desired vibration setting, all that does not seem so very important.
Knowing What To Expect From The We-Vibe Tango
As a bullet vibrator, the We-Vibe Tango has a very simple role, the pinpoint stimulation of the clitoris. And it is amazing at that job. Those deep vibrations that I keep talking about? They work, and they work brilliantly. Of course, if pinpoint vibrations aren't really your thing, it's best to give up on the We-Vibe Tango. While it certainly can be used on the broader side to stimulate the Vulva, that really isn't the strong suit for the Tango vibrator.
Thanks to a body made from ABS plastic in a relatively glossy finish, the We-Vibe Tango doesn't play well with lubricant. Having even a little bit of lubricant over the vibrator makes it slippery and difficult to hold.
Vibrations from the We-Vibe Tango travel throughout its body and over the hands holding it in place. You may feel discomfort from those vibrations, and those who have trouble with problems like carpal tunnel may even find it painful to hold for long durations.
Finally, the fair expectations you can have from the We-Vibe Tango are those deep, rumbling vibrations that everyone loves so well! This one's a fast ticket to orgasm nation.
We-Vibe Tango Review — The Verdict
The We-Vibe Tango is one of the most powerful bullet vibrators and it does an amazing job with its deep, rumbling vibrations. And if you're up for it, the Tango vibrator will take you to a journey of back-to-back orgasms. While our We-Vibe Tango review shows some flaws that the vibrator has, most of them can be forgiven in favor of the immense pleasure and power that this remarkable bullet vibrator has to offer.