(Last Updated On: September 19, 2023)
Maybe not all of them, but you will want many of the hands free vibrators listed here for your own. Sometimes you want pin-point guided stimulation for your orgasms, and sometimes, it's better to let the vibrator handle it all on its own. Hands-free sex toys don't need you to direct them. Once switched on, these vibrators can stimulate your privates without needing your hand to guide them to your bliss.
Top Hands Free Vibrators And Dildos In 2022
Hands-Free Sex Toys Reviews And Impressions
1. Eva Vibrator by Dame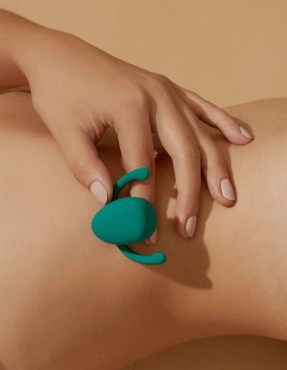 Dame Eva II was born out of an interesting concept. Its use is also fairly unique and interesting, which makes it one of the more remarkable sex toys. This clitoral vibrator will hold itself in place, while it delivers pleasurable vibrations to you. Oh, and you can be hands-free because Eva vibrator has its own "hands".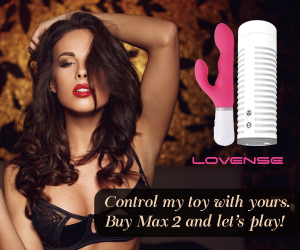 Those two wings you see on the side of the vibrator are what it uses to hold itself into place. To use this vibrator, place it on the clitoris (or where it feels right), and put each of the wings under the labia (lips). That's it! The wings will hold it in place, while you enjoy the vibrations.
Eva II is best enjoyed as a couples vibrator. There's a chance you won't get the most out of it if you use it solo. The motions and movements produced during sex affect the skin around Eva and help the vibrations be distributed and feel more pleasurable. Plus, the pressure your bodies apply when pressed against each other will help the vibrations feel deeper. Oddly, this can also limit the number of sex positions you can use. For example, it can be tough to keep the Eva II in place while you're going at it doggy style!
The vibrator is waterproof, covered in medical-grade silicone, and powered by a 3-speed motor. An included charging case helps the vibrator stay more discreet, and enables it to be charged conveniently.
Pros:
Innovative concept with great vibrations
Exterior made from non-porous medical-grade silicone
Phthalate-free
Waterproof
Includes a useful case for recharging
Cons:
May need to be pressed down to be more effective
Best used with PiV (Penis in Vagina) sex
Vibrations can feel weak for some people
Read more about it on Dame Products or Amazon
2. Lelo Tiani 3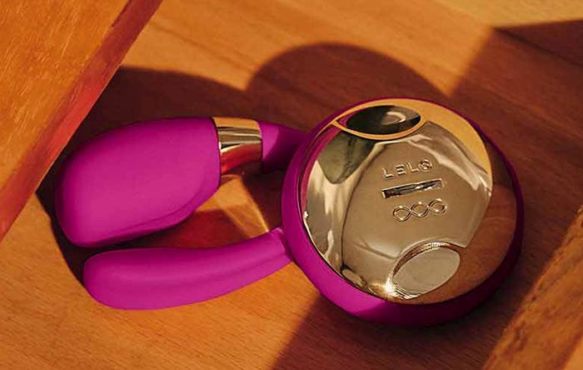 Lelo Tiani 3 is a versatile vibrator. You can use it solo or you can use it as a couples vibrator. Either way, once you put the vibrator into place, you don't need to use your hands. Both ends of the vibrator are equipped to deliver orgasmic vibrations. The thicker side works on the clitoris, while the other end will stimulate the G-spot.
The vibrator is covered in FDA-approved body safe silicone, which in classic Lelo style is velvety smooth to the touch and feels amazing. The shiny ring along the clitoral side that looks metallic is made from ABS plastic. Both these materials are non-porous, phthalate-free, and body safe. There are five speed modes and six patterns available for stimulation. Lelo includes the wireless SenseMotion remote to control this vibrator.
When you have PiV sex with the Tiani 3 inserted, some vibrations are also transferred to his penis. This makes the Tiani feel amazing for both of you, making this couples vibrator pretty amazing. The bend on the vibrator is thin enough and intended to be non-intrusive, though it will obviously be felt.
The remote can be used to control various patterns using buttons, but it can also work with gestures. For example, the faster the remote shakes, more intensely the Tiani 3 vibrates. Another gestural mode uses the orientation of the remote for vibrations. Keeping it horizontal means lowest intensity, but as you change the axis to vertical, the intensity goes up progressively.
Pros:
High quality vibrator with amazing vibrations
Plenty of vibration pattern and intensity settings
SenseMotion remote includes conventional as well as gestural controls
Non-porous, phthalate-free, and body safe
Low noise
Cons:
Expensive
May feel uncomfortable for some people
Check for the latest discounts on Lelo
3. LOVENSE Lush 2 Bullet Vibrator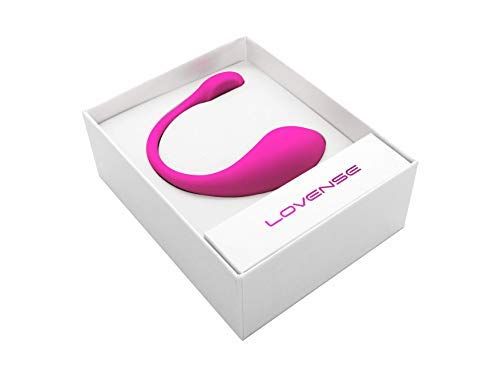 LOVENSE Lush 2 focuses heavily on teledildonics. Indeed, it is made not just to be operated hands-free, but also as a remarkable long distance sex toy. You can share the controls of this device with your partner, even if they are anywhere in the world. Both of you need to have a smartphone with a good internet connection, and that's pretty much it!
Controls of this vibrator are accessed via the app. It connects to your phone through Bluetooth and once connected, you get access to a variety of vibration patterns and intensity settings. You can also create custom settings that suit your preference. Lovense Lush 2 can sync to other toys like the Max 2. In sync mode, motions of your partner with the Max 2 will affect the vibration on your Lush 2. How cool is that?!
Pros:
Good vibration intensity
Can sync with other sex toys
Several vibration patterns via app
Lush 2 vibrates to music and sound
Cons:
Pretty much useless as a standalone vibrator without smartphone
Several consumer complaints about battery longevity
4. Vixen Creations Mustang Vixskin — Enjoy With Dildo Mount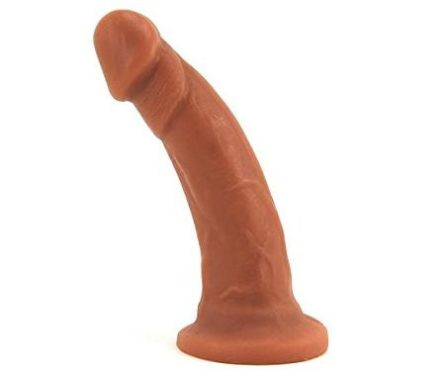 Mustang Vixskin by Vixen Creations is one of the amazing and top-quality dildos available on the market. Vixskin as a material is soft and squishy and feels amazing. It's not just that it's shaped like a penis, it does get pretty close to the real deal in texture and sensation as well. That's all to the credit of the dual-density silicone. This also ensures that the toy is non-porous and hypoallergenic.
This dildo is a joy to use, but it isn't exactly hands-free. Get it up on a nice dildo mount, and you will be all set. A dildo mount or dildo holders are very useful accessories and open up a world of possibilities.
Mustang is easy to clean and manage. In fact, you can put this dildo in a 10% bleach solution, or even put it in boiling water to sanitize it.

Pros:
Amazing sensations
Non-porous, phthalate-free, body safe
Easy to clean
Available in several colors
Cons:
Expensive
Requires a dildo mount to use
5. We-Vibe Unite 2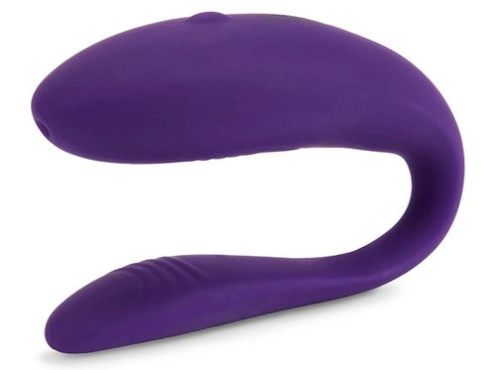 We-Vibe Unite 2 is one of the more affordable couples vibrators from the company. Like the Tiani 3 above, the Unite 2 aims to stimulate the clitoris and g-spot in one go. There are about 10 pattern and intensity settings available on this vibrator, all of them accessible through a wireless remote. The body is silicone coated to be non-porous, phthalate-free, and hypoallergenic. It may be the low cost We-Vibe, but the Unite 2 gets rumbly and powerful vibrations expected from We-Vibe.
It is relatively easy to clean, but be careful because the vibrator is only splashproof, not waterproof. Unite 2 is flexible, which makes it easy to maneuver the vibrator and place it into position. The vibrator also has a low power alert, so you're never caught off-guard.
One downside is that there is only one button on the remote control. So when you want to change the pattern or intensity settings, you'll have to cycle through all the available options. The range of the remote is about three meters. We-Vibe Unite 2 does not have access to the We-Connect app.
Pros:
Low noise
Flexible
Rechargeable
Low power alert
Strong, rumbly vibrations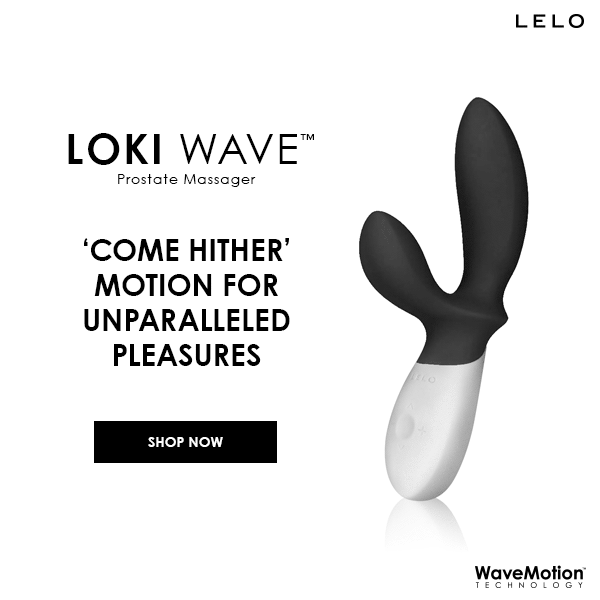 Cons:
Only splashproof, not waterproof
Remote control has only one button
6. Vixen Creations Bandit VixSkin Dildo — Hands Free Dildo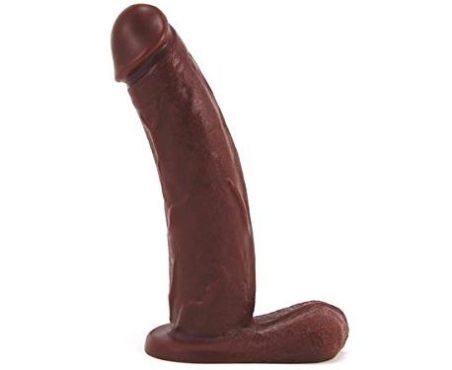 Another classic dildo for Vixen Creations, Bandit comes with a suction cup that allows it to be truly used hands-free. Just press the dildo's suction cup on a plain surface, and you're good to go. The dildo is made from VixSkin, which allows it to be soft and pliable, yet completely non-porous and phthalate-free. Vixen's dual-density silicone magic is worthy of praise for achieving something like this.
Bandit is available in three colors and takes on a rather realistic appearance. Presence of a solid inner core surrounded by a soft silicone exterior does credit to the feel and appearance of this dildo. Cleaning is easy. Since it is non-porous, you can employ any number of cleaning solutions available. The dildo can also be cleaned with a 10% bleach solution or be sanitized by dropping it in boiling water.
Pros:
Excellent feel
Quality construction
Non-porous, phthalate-free, hypoallergenic, and body safe
Easy to clean
Available in several colors
Cons:
Expensive
The suction cup can sometimes be problematic
Check discounts and details on Amazon
7. Fun Factory BI Stronic Fusion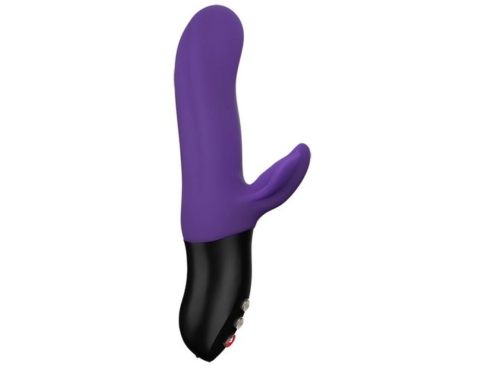 Fun Factory Stronic line of vibrators is popular and feature-rich. The biggest draw to these vibrators is that they can replicate the thrusting motion inside the vagina. Stronic's operation is hands-free. Once inserted, the vibrator takes care of its duties quite well.
BI Stronic Fusion is available in a rabbit vibrator style. While its insertable side does the thrusting to pleasure you, the smaller appendage stimulates the clitoris. It makes quite a heady option and one that leads to an orgasmic wonderland. Fun Factory Stronic Fusion is available in a variety of styles, colors, and shapes.
The common denominator here is that the vibrator remains hands free and offers satisfying thrusts. In most cases, the diameter of the vibrator is large enough to create a good and filling sensation. Bring on the thrusting, and it's a whole new wonderland.
Fun Factory BI Stronic Fusion vibrator is covered in high-quality silicone that makes it phthalate-free, non-porous, and body safe. It would appear that the Stronic has a drawback in the form of low longevity. On the plus side, innovation puts it strongly in the driver's seat, and makes this vibrator appear all the more enticing.
Pros:
Thrusting action is amazing
Feels filling and satisfying when inserted
BI Stronic provides excellent stimulation to the vagina and clitoris
Cons:
Expensive
Questionable longevity
8. Cheven Vibrating Panties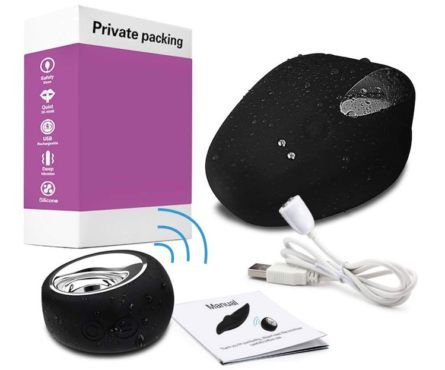 Cheven Vibrating Panties make a solid impression in the world of the best remote vibrators. The sleek vibrator can be placed directly against your body, with the panty ensuring that the vibrator stays in place. The vibrator itself is pretty sleek and well-built, so you won't see much trouble in placing it discreetly.
It is made from silicone and has rounded edges to ensure it feels nice and does not scrape against the body. This allows you freedom of movement, even if you go out into public wearing this vibrator.
And let's face it, half the fun of using remote control vibrating panties, is enjoying the pleasures of public play. To play well in that arena, this vibrator includes a discreet, rounded remote control wrapped in silicone. Hand the remote to your partner, and enjoy a flirtatious time while you get orgasmic doses of pleasure from a vibrator safely hidden in your undergarments.
The vibrator has 12 intensity and pattern settings, all accessible via the remote. It is USB rechargeable and discreet and sensible enough to keep noise on the lower side.
Pros:
Low noise
USB rechargeable
Discreet
Cons:
9. Treediride Realistic Dildo Automatic G spot Vibrator with Suction Cup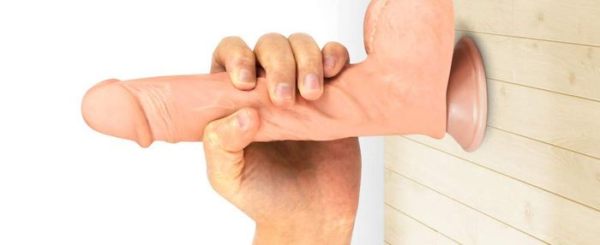 Treediride Realistic Dildo Automatic G spot Vibrator is a bit of a high on features, and low on budget sex toy. A suction cup at its base lets you go completely hands free with this sex toy, as you enjoy the variety of functions it offers.
For one, you can use it as a regular dildo, relying on the veiny texture of the realistic penis dildo to offer stimulation. It also offers up vibrations which should be quite a touch, but more importantly, it offers a thrusting motion. The claim is that the "retractable vibration motion" aka thrusting can be as quick as 200 insertions per minute. The movement for these motions is almost three centimeters, though it does vary.
Total insertable length for this sex toy is 5.6 inches out of a total 7.95-inch length. An internal system heats up the self-heating dildo to nearly body temperature. It is powered by a rechargeable battery and controlled by means of an included remote control. The avowed range of the remote is 39-feet, though I wouldn't place it at more than 10-15 feet. I love how this feature-rich vibrator is so reasonably – even cheaply priced. And that really makes me wonder if that exterior really is medical grade silicone as claimed by the manufacturer.
Pros:
Feature-rich
Includes suction cup
Heats up to body temperature, has thrusting motion, remote control, and several intensity settings
Cons:
Noisy
Questionable longevity
10. Paloqueth Realistic Ultra-Soft Dildo With Suction Cup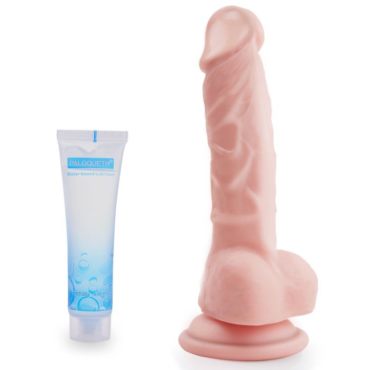 Sometimes simplicity is all that's important. This hands free dildo gives you exactly that. The rideable sex toy takes the "realistic" route and is shaped like a penis. Thick veins on the dildo provide excellent texture for enjoyment. Presence of testicles forms a flared base, making this dildo fit for anal use as well.
A suction cup is placed at the bottom of the dildo, allowing it to be easily mounted or placed on to various surfaces. There isn't much for you to do here, just put in place, and ride away to glorious orgasms. Total length of the Paloqueth Realistic Ultra-Soft Dildo is 6.7 inches of which 5.2 inches are insertable.
Pros:
Good value for money
Texture provides excellent stimulation
Suction cup works well for hands-free use
Cons:
Questionable longevity
Needs better quality control
Qualities To Look For In Your Hands-Free Sex Toys
Usability
Is it really hands-free? If you have to fidget every few seconds to get your sex toy in place, it isn't the right hands-free choice. A hands-free toy should be exactly that. From start to orgasm, you should not have to keep adjusting it. It goes without saying that some adjustment to make the toy hit the right spot is acceptable. Having to continuously push it in the right direction is not.
Vibrator Or Dildo?
Would you prefer a vibrator or a dildo? Not every sex toy needs to be automated. Sometimes, working to your will on a dildo is all you need for orgasms. Don't discount either, and dive back into your preferences to check. There's a fair chance that the dildo and vibrator of your choice do not cross paths in usability. If it is convenient, give both of them a shot!
Mounts, Straps, And Harnesses
With the right equipment, there is a possibility that your regular sex toy turns into a hands free sex toy. Whether you prefer a harness, strap, or a mount – if it can conveniently hold your dildo or vibrator, you have the preferred hands-free sex toy available. This works especially well if you have a favored or favorite toy. Rather than replacing it, you can find a way to continue using your toy of choice without having to use your hands for action.
Going Hands Free
Getting your choice of hands free sex toys isn't difficult. The market is full of options that can bring on glorious and lovely orgasms with relative ease. All you need to do is get a toy that suits your preferences and be set for the fun ride ahead. Oh, and don't forget to experiment and occasionally push your comfort zone. Great pleasure comes to those who look for it!