Sometimes, the weak buzz doesn't cut it. While there are those who are happy with a quick buzz, some need their vibrators to be powerful to go all the way to a strong orgasm. Even if it's not always needed, getting the most powerful vibrator sometimes can be plain amazing. Let's take a look at some of the strongest vibrators, and see how they stack up.
What to expect from the most powerful vibrators
Vibrators that draw all that power sometimes also need to break away from conventional vibrator appearances and styles to put out the vibrations without going overboard. Many women enjoy powerful vibrations, and some do need power to have a satisfactory orgasm. Even the most powerful vibrators have to put out enough vibrations to satisfy these needs, while keeping a check on the power employed, considering they are going to be used on private parts.
Buzzy And Rumbly Vibrations
Buzzy vibrations are a quick buzz you feel. They are quite superficial and barely have any amplitude to caress and stimulate. They can be more tiring than pleasurable. Most good-quality vibrators, and especially the powerful vibrators put their stock in rumbly vibrations. These vibrations go deep, providing the stimulus and pleasure we want from our vibrators.
Hitachi magic wand massager, for example, was intended to be a body massager that soothed muscles with its deep, rumbling vibrations. Then someone found out how amazing it was for clitoral stimulation and masturbation, and the world of sex toys hasn't been the same since!
Power Source For The Vibrator
Those in the market for the most powerful vibrator will eventually find themselves making a choice. Vibrators that draw power from the mains have more juice at their command and can put forth a lot more power on demand. The downside to this approach is that you will have to deal with the wires, and the slightly larger size of the vibrator that makes it capable of utilizing all that power.
Battery powered vibrators can be fairly powerful too, but of course they are limited by the size of the battery, power that can be drawn from the battery, and other practical considerations.
Most Powerful Vibrators Can Be Big On Size
The most powerful vibrators can give up portability or a small size in favor of power. Sybian, one of the strongest vibrators in the world, has to be placed on a surface like the floor or bed, and then mounted. While significantly smaller than the Sybian, the Hitachi Magic Wand isn't exactly pocket-sized either.
More Power Can Mean More Noise
Once the vibrators have the big, amazing vibrations we so love, they can also make a ton of noise. Powerful vibrators are often noisy, since there is only so much to do about the noise generated by motors. The top two most powerful vibrators — Sybian and Hitachi Magic Wand — can get fairly noisy. Also since Sybian prefers to be placed on the floor, be prepared for a fair amount of noise.
If staying discreet with vibrator use is your thing, know that the most powerful vibrators can get noisy to draw their power. There are several powerful vibrators that manage to keep things on the down low. Vibrators with only power and pleasure on their mind don't generally keep things quiet!
5 Most Powerful Vibrators
1. Lelo Mona 2
Lelo doesn't quite delve in raw power. Their products don't generally fit into the range of most powerful vibrators, though the Lelo Mona 2 is a pleasant exception. Lelo Mona 2 marries power to luxury, creating a combination that's mind-blowingly impressive.
Built for internal use, this vibrator has a 4.3-inch insertable length that really pumps up the g-spot to climax. Lelo Mona 2 is thinnest at the end of its insertable length, then tapers up to a circumference of 4.7-inches towards the top, which is quickly rounded up for easy insertion.
Mona 2 feels very filling, and the velvety smooth silicone of Lelo is incredible to touch and feel. The ABS plastic handle holds the controls that let you travel through six preset patterns and intensity levels. Close to its highest intensity settings, Lelo Mona 2 will go toe to toe with any claimant for the crown of the strongest vibrator in the world. Its strong buzzing staking the claim for the Mona 2.
It is waterproof and submersible, so feel free to enjoy it wherever your heart takes you. The vibrator employs a USB charger that takes about 2 hours for a full charge and offers 2 hours of user time. The best place to buy Mona 2 is from LELO online store.
Pros
Powerful
Luxurious to touch and feel
Variety of patterns and speeds
Rechargeable and waterproof
Lelo's 10-year quality guarantee is pretty handy
Cons
Expensive
USB charger includes only wire and no plug, which is an inconvenient oversight for a high-priced item
Mona 2 is not very useful for thrusting and those who prefer movement should rely on grinding or other small movements
2. Hitachi Magic Wand Massager – Top seller

Even though the magic wand does not carry the Hitachi name now, it's way too recognizable and famous to give up! It's just like the Hitachi Magic Wand. Don't be fooled by the looks, the Hitachi magic wand is a high powered vibrator. The bump in power compared to other vibrators comes with Hitachi Magic Wand's willingness to use power from the mains rather than relying on a battery. And it makes good use of that.
Though it has two adjustable speeds, the Magic Wand can go to a high of 6000 rpm, and the moment it touches you, all its deep, intense vibrations will show. Popular for more than 40 years now, the Hitachi Magic Wand is practically a classic. There's a reason it has stayed on at the top in this world of fast-moving technology, and that's because it is the most powerful sex vibrator for clitoral stimulation. All that power does come with a fair bit of noise. Do not expect the Hitachi to be silent.
There's a benefit of staying on the top, and that shows up in the whole range of accessories and add-ons that have showed up for this wand massager. You can get a lot of functions and use out of this one, and more importantly, a lot of orgasms. Should you need to just chill out, this is still a kickass body massager!
Pros
Powerful and penetrating vibrations
Customizable with plenty of accessories
Cons
Only 2 vibrations speeds
Outdated look
Some customer complaints about the massager heating up during use
Get the best deal for Hitachi Magic Wand Massager from Amazon
3. Yarosi Personal Wand Massager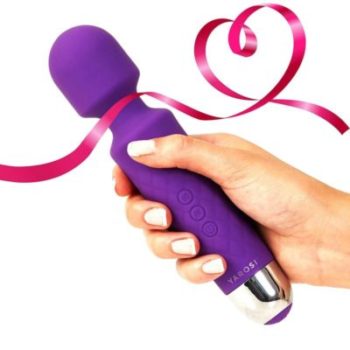 Wired vibrators are awesome, but what if you want the strongest vibrator to be wireless? There's a freedom and joy in not being beholden to wires and their range, and it would be great not to sacrifice power. Enter, the Yarosi Personal Wand Massager. While not exactly as powerful as its counterparts who draw power from the mains, this Yarosi does make a case for being amongst the strongest vibrators in the world.
At 7.8-inches length, this is a relatively compact wand. And it packs in big power in that small size. Getting power from a 1200 mAh battery, lets you enjoy 18 patterns and eight speed settings. It is coated in silicone for that silky, smooth touch, and is waterproof, though I think it's best not to submerge this wand. Yarosi personal wand offers up about 2 hours of use after a full charge, though it does not retain charge very well. Prepare to put it back on charge before you intend to use it. See it on Amazon.
Pros
Compact size
Big on power
Several speed and pattern settings
Wireless and rechargeable
Cons
Often, the battery does not retain charge
Can get noisy
Buttons are plain marks on the body, so it might take a while before you become familiar with button location and operation
4. Sybian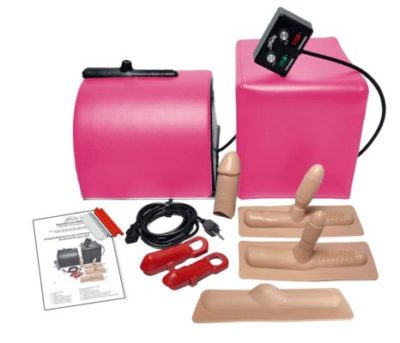 Saddle up for the Sybian. I mean that literally. This one doesn't work the conventional way, you don't lie down and hold the device. The vibrator is kept in a box with room for attachments on the top. Fit in your choice of attachment, and take a cowgirl stance on the machine. Push and pull at the dials and you will know bliss, though perhaps there might be a settling-in time as you get used to the new position.
Sybian goes to as high as 6500 rpm, though the company says most of its customers rarely go beyond half the power. I'm inclined to agree! The wide range of attachments and continued development by the company means they really do stay on top of things (heh).
In action for about three decades now, Sybian is the most famous sex machine on the planet.
Sybian is very much the world's strongest vibrator, unless of course if you want to risk playing with a jackhammer. Don't mistake it for a regular vibrator though. This thing is noisy, and all that rumbling and shaking going on isn't just you nearing climax, it's also the machine shaking things up with its power.
Break out your favorite attachment and crank it all the way up, and you will see how far this most intense vibrator is willing to go. Of course, it's not a regular use item. It is expensive and it is noisy. But if you can get your hands on one, don't miss the opportunity! See it on Amazon.
Pros
Extremely powerful and intense
Wide range of accessories
Excellent to use and enjoy
Cons
Very loud
Very expensive
Many women find it takes some time to be comfortable with the mounting position the Sybian needs
5. We-Vibe Rave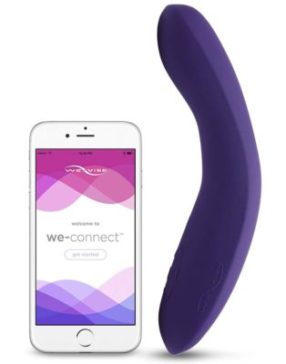 We-Vibe Rave G-spot stimulator is a high powered vibrator that adds the convenience of controls by a mobile app. Imagine the things, and the possibilities of all you and your partner could do with controlling the vibrator and its speed and patterns through a mobile app. It even allows you to create customized patterns, you could have the vibrator move to your exact preferences. If you don't have the phone handy or don't prefer using it, you can use the manual controls on the vibrator and have it work on its original settings.
The We-Vibe Rave vibrator itself is coated in silicone to be body safe as well as have that wonderful smooth feeling that only silicone can lend to a vibrator. Its intense vibrations work surprisingly well for the g-spot and will bring you to a wonderful orgasm. You can also use it as a clitoral vibrator.
A full charge can keep the We-Vibe rave in play for two hours, and the vibrator includes a very handy low power alert system. See the warning light blinking? Charge it. You practically never have to deal with the disappointment of the vibrator dying mid-act. See it on Amazon.
Pros
Powerful vibrations
Can be remote controlled via app
Extremely customizable with app
Rechargeable and easy to use
Cons
App control can sometimes be a bit flaky
Higher price point
Can be slow to charge
Most Powerful Vibrator — The Verdict
If it comes down to pure numbers, the most powerful vibrator is obviously the one pulling power from the mains. But let's not encumber ourselves with plain figures of power and see the strongest vibrator also in terms of convenience and personal use. Frankly, I find the latter metric more appealing and practical.