(Last Updated On: June 24, 2023)
Lovense Domi Wand wants to be sensual and powerful. It's got style, it's got power, and hey, it even has disco lights! Also, since this is a Lovense product, it gives you access to a whole lot of features once you connect it to the Lovense app. It does focus on teledildonics like other Lovense products, but this wand vibrator has more to think of. Like most wand vibrators, the Domi has its eye on the seat of the king, the Hitachi Magic Wand. This Lovense Domi review will see just how well this vibrator stacks up.
Our Top Pick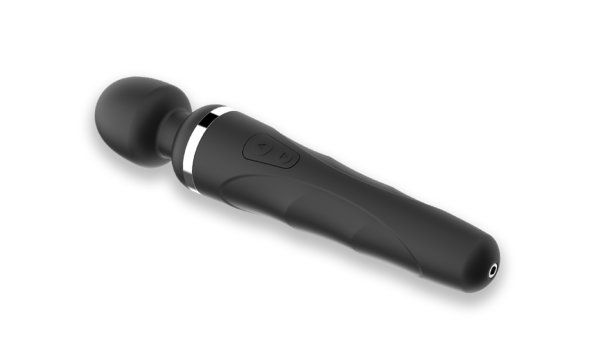 Lovense Domi Review — Pros And Cons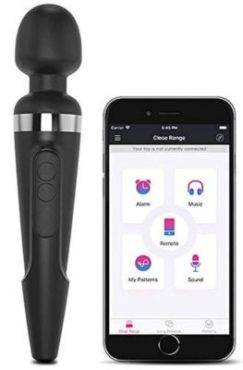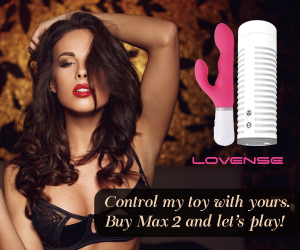 Pros
Cons
The shape can be problematic, and the "disco lights" can be annoying at times
Water-resistant, not waterproof
Change in speed settings on standalone mode can be jarring at times
Can get noisy
Lovense Domi Features
Packaging, Aesthetics, And Design
Lovense Domi arrives in a well-constructed and decently designed box. Remove the top, and you'll find the Domi well-placed in the box, along with a user manual and charging cable. Like other Lovense products, the Lovense Domi Wand box does not include a storage pouch either. Which, I have said several times, should be seen as a necessity at this price point.
As for construction, the Lovense Domi measures 9.2-inches. That is considerably less than other vibrators like the Hitachi Magic Wand or the Doxy vibrator. It is, however, slightly longer than the Shibari Mini Halo. Much of the Lovense Domi is wrapped in high-quality, body-safe silicone, with an interesting touch of a light ring just below the vibrating head. The handle of the Lovense Domi is tapered, which can pose a problem in holding the wand vibrator firmly in its place, especially if you have lube on your hands.
There are two buttons on the Lovense Domi to help you navigate the 10 preset patterns that come along with this vibrator. Of course, the Lovense App adds a whole lot of patterns, but you can have this vibrator running decently as a standalone device as well. Personally, I agree with this choice. Having a remote control vibrator for wands does not seem particularly helpful for solo play.
Due to the shape of the Lovense Domi vibrator, it might take some getting used to. Sometimes I think it looks more like a mic, especially with that shiny ring of lights around its neck. Probably best not to take it along to Karaoke night!
Our Top Pick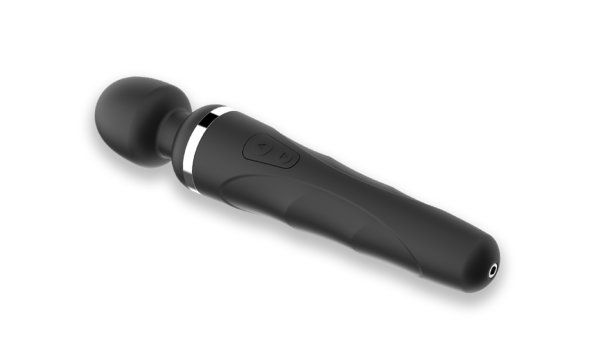 Lovense Domi Patterns, Battery, And Waterproofing
Lovense Domi cordless vibrator is battery powered and rechargeable. A full charge gives the vibrator a use time of about one hour. It is USB rechargeable and the charger connects to the Domi through a port at the bottom of the handle.
Oddly enough, unlike other Lovense products, the Domi is not waterproof. It is water-resistant, which means it will withstand some water splashing on it, but cannot be submerged or stay in contact with water for long. Those disco lights don't particularly enjoy contact with water as well.
There are two buttons on the Lovense Domi, allowing you to cycle through the patterns and intensity settings available onboard the wand vibrator.
Controlling Lovense Domi Through Lovense App
Lovense has a love for teledildonics, and so its products have room to be controlled over Bluetooth or the Internet. Pairing the Lovense Domi with your phone via Bluetooth is easy enough using the app, and once you're done, you get a whole lot of features. These include a vast array of patterns, remote control of your vibrator, sharing control of your wand vibrator, and a lot more.
One of the coolest features is the ability to sync the Lovense Domi to the music playing on your phone, so the Domi vibrates according to the music playing on your device. Similarly, you can set it to voice mode, and its vibrations will respond to your (or your partner's) sounds over the phone. Just for the sake of being clear, the vibrator responds to your sound, not voice commands. It's not the same as commands you give for automation, or to digital personal assistants like Alexa or Siri.
You can also share the control of the vibrator with your partner over the Lovense app. Your partner can control the Lovense Domi through Bluetooth if you're in the same room, or through the Internet, if you are in a long distance relationship.
To see more details on app features, take a look at my reviews of the Lovense Nora and Lovense Hush.
Lovense Domi Review — Putting The Wand To Use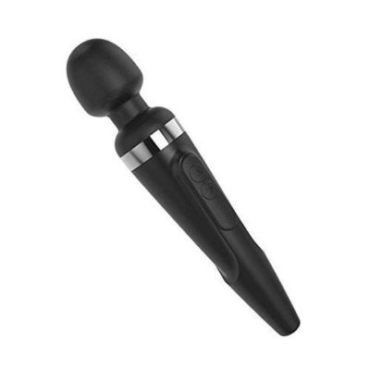 A simple test for a wand vibrator is how quickly it brings us to orgasm, and how awesome that orgasm is. Using a wand vibrator as a clit vibrator puts the focus on power and vibration surface area. The Lovense Domi wants to be powerful, and it gets there though there are some hitches along the way.
When it starts, the Lovense Domi's vibrations are unimpressive, as in terribly low-powered and nowhere near being the deep, rumbly vibrations we all know and love. Go a notch higher and the vibrations are in a whole different league. They're deep, rumbly, and amazing! The gripe I have here is that the change from unimpressive vibrations to powerful vibrations is sudden, and can come as a bit of a shock.
Once you hit the powerful vibrations, there is no reason to complain about the Lovense Domi. It does its job, and it does it amazingly well. There's plenty of room to play around with the app, so you and your partner can experiment a bit and have a whole lotta fun.
The availability of good options in standalone mode is a huge plus because using a wand vibrator with direct controls can be far more desirable in solo play. Its head is fairly flexible, so you can put pressure on the Lovense Domi to hit just the right spot. At its delicious higher power settings, the Lovense Domi feels quite similar to the Lelo Smart Wand, though perhaps slightly less rumbly.
Oh, and one (minor) thing to keep in mind for solo play is that the disco lights cannot be controlled directly through the Lovense Domi. If you want to switch the lights on/off, you'll have to use the Lovense App.
Lovense Domi Review — The Verdict
It's time to say the final word of the Lovense Domi review. I find teledildonics fascinating and lovely, but I believe they are a bit out of place for a wand. There are far better toys even in the Lovense range for long-distance intimacy. The novelty of the light ring may wear-off pretty quickly as well, making them annoying lights on your vibrator. Lovense Domi is excellent as a wand vibrator, but unless you are specifically looking for long-range remote control, it may not be the best value.
Our Top Pick