(Last Updated On: November 14, 2022)
The We-Vibe Sync is an award-winning, hands-free vibrator meant to be used by couples or for during solo play. Despite its multiple settings and intensities, and adjustability that allows it to work for varying vaginal shapes and penis sizes, it's not a toy that we're a huge fan of. Here's what you need to know.
Bestselling Couple's Vibrator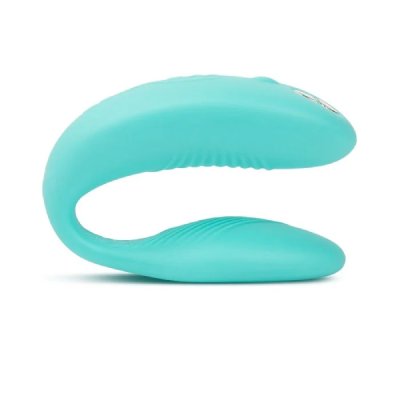 What is We-Vibe Sync
The Sync is We-Vibe's best-selling g-spot and clitoral vibrator- one which claims to be perfect for couples. The toy has an adjustable c-shape, which was made to bend and fit the contours of a woman's vagina. When placed perfectly, it stimulates both the g-spot and clitoris, as well the penis, when there's a male partner involved.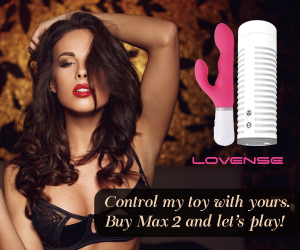 The original We-Vibe Sync was created in 2016 and so far, no updated versions have been made to this vibrator. The company did, however, release two limited edition colors as part of their Anniversary Collection, back in 2018; those Syncs had the same features as the originals.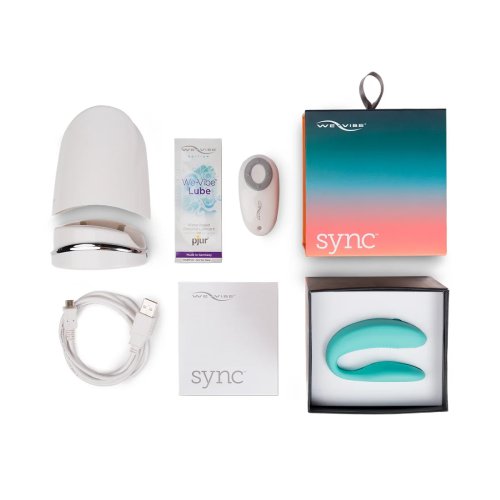 We-Vibe Sync Main Features
The We-Vibe Sync was designed to be used either manually, paired with one's smartphone via the We-Connect app or with the wireless remote control that it comes with (which works from up to three meters away), depending on how hands-on you'd like to get.
This technologically-advanced toy is great for long-distance relationships because it allows partners who aren't nearby to control the intensity of the vibrations using an app on their cellphones, tablets or computers. Users can go as far as creating their own custom vibes, which can even be paired with music.
The instructions differ based on the way the toy is used, as does the time it takes to set up pre-coitus. In the box is a discreet charging base (and storage case) that uses a USB cable. A multi-language, illustrative instructional guide, along with a sample of the We-Vibe's very own lube, "We-Vibe Clean – made by pjur."
Bestselling Couple's Vibrator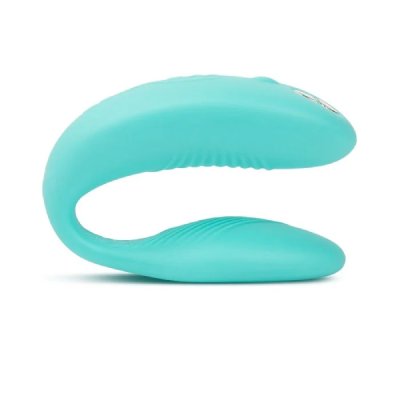 Main Specs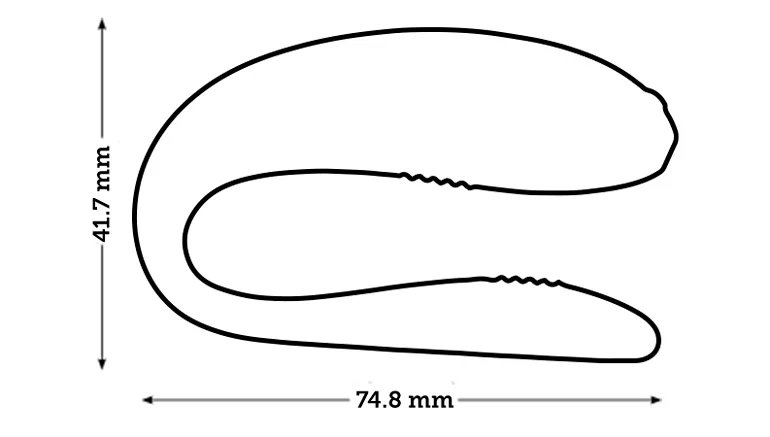 Dimensions: 4.17cm x 3.14cm x 7.48 cm
Battery: Fully rechargeable lithium polymer
Battery life: Up to 90 minutes with a charge time of 2 hours
Colors: Aqua, purple, limited edition pink, limited edition cosmic purple
Vibration modes: 10 options, including low to high
Material: Adjustable body-safe silicone, latex-free
Noise level rating: Not loud- cannot be heard through walls or doors
Warranty: Two years
How to Use The We-Vibe Sync
The smaller end of the We-Vibe Sync is meant to be inserted into the vagina, because it was scientifically designed to stimulate the g-spot. Makers suggest trying the toy in its original shape first, then adjusting slightly depending on your needs. If you've never used a c-shaped vibrator before, get used to it solo before using it with a partner.
When a partner is involved, ensure that the g-spot stimulator is resting "against the anterior wall of the vagina and out of the way of the penis." No special position is required with this vibrator, although it might be best to try it out doing missionary first. Once you're used to the toy, positions can be changed without repositioning, as long as the toy is securely fastened.
Lots of water-based lube is advised on the g-spot end due to the vibrations made by the toy and the added friction produced by a moving penis. A tiny bit can also be added to the clitoris since that end is said to have the stronger vibration.
The toy is versatile in that it can be used anally, as long as the shape is respected (it shouldn't be bent unnaturally to fit into the anus). The company does ask users to be aware of the location of charging contacts and to keep them outside the body at all times. It's also recommended that the toy be washed when switching between the vagina and anus and vice versa.
Bestselling Couple's Vibrator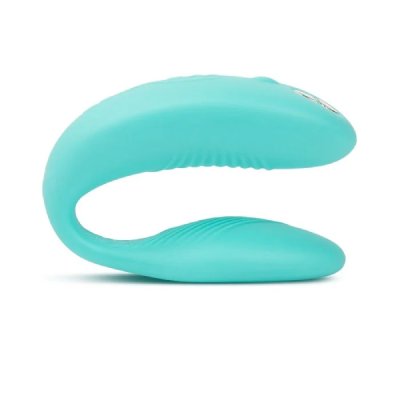 How to Clean the We-Vibe Sync
According to the website, the We-Vibe Sync should be cleaned with their own sex toy cleaner or soap and water before and after each use. It is very important to only use water-based cleaners with this product; other types of cleaners could break down the silicone.
The toy should not be placed in a dishwasher, washing machine, or in any other household appliance. It should be completely dry before being placed back on the charging dock.
Our Verdict on the We-Vibe Sync
The idea behind the We-Vibe Sync is great; a hands-free orgasmic experience for two with the help of technology. We certainly applaud We-Vibe for their efforts, including making the vibrator waterproof and giving users more than one way to control it.
And for the price, it showed lots of promise. But despite the clear instructions, sleek and comfy size and shape, it has failed to deliver, with the majority of its issues attributed to what was supposed to be one of its biggest draws, the technology.
Pros and Cons
Fast and Magical
When the We-Vibe Sync works, it definitely gets the job done, with users claiming that the big O happened within seconds once they found the right vibe, for both parties. "A gift from the gods," "a delicious buzz" and "a weird and wonderful little thing" are just a few of its rave reviews.
Comfortable Fit
An overwhelming number of women claimed that the We-Vibe Sync was super comfortable, despite their initial worries about fitting it and a functioning phallus into their vaginas. Their partners, who had varying erection sizes, also found the toy comfortable to use, with the right amount of foreplay and lubrication, of course.
Pairing Problems
The number one con that we've learned about the We-Vibe Sync is that it doesn't always stay paired to one's phone, something that could really kill the mood. In fact, this issue was so bothersome that users reported wanting to return the toy, but due to the nature of the product and depending on where it was bought, returns weren't an option. What's strange is that the Sync's website does acknowledge that the connection could be weakened when the toy is "completely enveloped in flesh," which is its function, and yet, no update has been made to address that.
Price Point
The We-Vibe Sync's price point places it in the high-end or luxury group of vibrators. At $199 (although now on sale for $149), we can't imagine this being in many people's budgets, especially with all the technical difficulties that users have reported.
Remote Control Not Waterproof
Last but not least, it's great that the makers of this toy thought to make it waterproof. The not-so-great news is that the remote control isn't designed to get wet. It's hard to imagine using this in the shower or bath with dry hands. People aren't exactly paying attention to that in the heat of the moment.
Bestselling Couple's Vibrator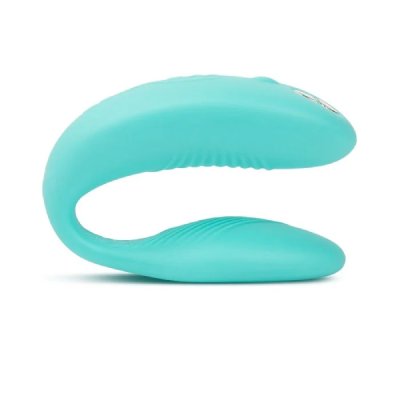 We-Vibe Sync Alternatives
PHANXY Rechargeable Clitoral and G-Spot Vibrator
When it comes to a great couple's vibrator, this PHANXY product takes the number one spot on Amazon. With over 15,000 reviews, 78% of which have given it 4 stars or higher, it's definitely a product we recommend buying.
What's more is that its original price is less than half of that of the We-Vibe Sync, so if you bought it during a sale – which is going on right now- you could get it for a steal!
Our research has found that it works similarly to the Sync, but without the bluetooth, so disconnecting will not be an issue. People don't seem to mind that it's not as technologically-advanced because the remote is easy enough to use.
Where the Sync needs to charge for two hours and delivers 90 minutes of pleasure, this one is the reverse- it charges for 90 minutes and provides two hours of fun.

Users say that it has a nice range of intensities, was quiet enough to use in public (solo, of course) and it was very easy to clean. On the downside, it isn't adjustable like the Sync, so it's not made for every woman and a few say that it's too big for their partners to fit comfortably.