(Last Updated On: August 11, 2022)
Lelo Liv 2 is one of the smaller vibrators available from Lelo. Don't let the petite size fool you, this one can be quite amazing. Lelo has placed the Liv 2 in its G-Spot vibrators range, and describes it as a vibrator "for women who demand their satisfaction in style".
Stylish and good looking the Liv 2 certainly is, and it carries a certain bit of oomph that makes it appear as an alluring object. I'm completely sold on the appearance. But, we have to look for more than just looks. Let's see how well this vibrator performs with a detailed Lelo Liv 2 review.
Limited Time offer: Save 10% on LELO Liv 2 Now

Coupon code: GURU
Lelo Liv 2 And Its Worth In First Impression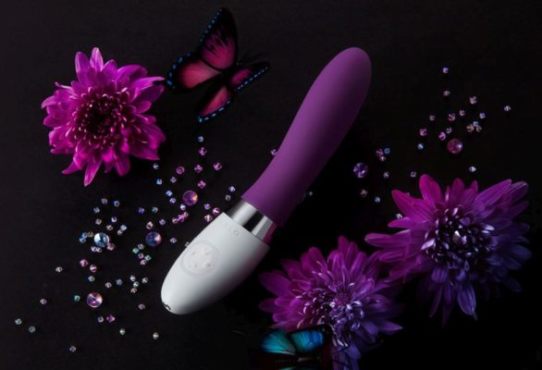 Lelo Liv 2 package is pretty much the same as a conventional Lelo products. A neat box for the Lelo Liv 2 is packaged in a matching sleeve. Opening the lid of the box leads to the interesting looking Liv 2 vibrator and other contents in the box. Here's what you'll find in the box:
Lelo Liv 2 vibrator
USB charging cord
Black satin drawstring pouch to hold the vibrator
Warranty registration card. Lelo offers a very impressive one year product warranty and 10 year quality warranty
Instruction manual
A small sachet of Lelo personal moisturiser (Lelo water-based lube)
Lelo Liv 2 vibrator is available in four different colors: plum, deep blue, cerise, and lime green. While the colors do seem a bit odd to read or hear, the vibrator is without a doubt beautiful to behold. It has a slightly phallic shape and size, though it steers miles away from a fake penis look. The Lelo Liv 2 is great to hold and touch, and you will find yourself quite pleased with the feel of the seamless silicone in your hand, and your vagina.
Limited Time offer: Save 10% on LELO Liv 2 Now
Coupon code: GURU
Lelo Liv 2 Build And Dimensions, And Its Road To Aesthetics
Lelo Liv insertable area is made from seamless, body safe silicone, and has that beautiful velvety smooth texture that we have come to expect and love from Lelo vibrators and dildos. This insertable layer is followed by a small ring of metal accented ring of ABS plastic, which is followed by a plastic handle that includes the controls.
ABS plastic, as well as the silicone used on the vibrator are non-porous, hypoallergenic, phthalate-free, and completely body safe. The vibrator is not flexible. It has its curvy shape, and it won't budge even slightly. Not that it needs to bend, the Liv 2 has a comfortable length, and is easily maneuverable, making it fairly versatile.
Total length of the Lelo Liv 2 is 6.9-inches, out of which 3.9-inches is insertable. Yup, it is that small, and that should be a cause for surprise if you are comfortable with Liv 2's bigger sibling, the Lelo Elise 2. At its widest insertable point, the Liv 2 has a diameter of 1.2 inches and a circumference of 3.7 inches.
Lelo Liv 2 Vibrator: Where Did The Power Go?
Limited Time offer: Save 10% on LELO Liv 2 Now
Coupon code: GURU
Even with the small size, the Liv 2 uses its curved body, phallic shape, and sheer ingenuity of Lelo's designing to hit the G-spot. It provides massaging and stimulation to the G-spot that will most assuredly put you on the path to an orgasm.
Since its body is made from matte finish silicone, you may find it offering some resistance on insertion. Using lube will work like a charm and add to the pleasure. You should use a water-based lube with the Lelo Liv 2, as a silicone lubricant will damage the vibrator.
It works especially well if you're a petite person or a beginner looking to trying out a vibrator or dildo. It's a good looking sex toy small, non-imposing look that one would find in something large like the Lelo Elise 2, or even the Lelo Isla. As such, it makes for an excellent transition toy.
I keep circling back to Lelo Liv 2 as a vibrator for beginners or those of the petite frame, because most users, especially the experienced will find that the Liv 2 does not quite cut it in vibration strength.
According to Lelo, the Liv 2 vibrator is twices as powerful as the original Lelo Liv. Assuming that is true, it is tough to imagine that the Liv had any power at all, given the fact that the Lelo Liv 2 barely makes a mark.
Don't get me wrong, the Lelo Liv 2 is a G-spot massager and it does its job extremely well. Its vibrations and its G-spot massaging are all on point, though using it brings up the need for extra stimulation – like a clitoral stimulator for reaching an orgasm. The Liv 2 takes us on an excellent journey to the land of orgasm, but it rarely gets there without some assistance. And once you accept the Liv 2 for what it is, it won't disappoint.
Coupon code: GURU
Features Offered By The Liv 2
https://youtu.be/JD5bMPryEbs
Vibrations And Intensity
The plastic handle of the Lelo Liv 2 has four buttons arranged on a circle. Arranged horizontally, the (+) and (-) buttons can be used to increase or decrease the intensity of vibrations. The arrow buttons, arranged vertically allow you to cycle through the eight different available vibration modes, the first mode being the constant vibrations.
The variety of modes available and the possibility of customizing those with intensity creates an impressive range of options to choose from, and is certainly something you can look forward to. Customize, experiment, and find what fits right for you. And I'm not just talking of the vibration modes and intensity — experiment with this vibrator. Try it for clitoral stimulation, or even on other parts of your own, or your partner's body.
Holding the + and – buttons together for five seconds locks/unlocks the vibrator. This makes it a useful travel lock, ensuring that your device doesn't start whirring in your luggage if it should get a knock.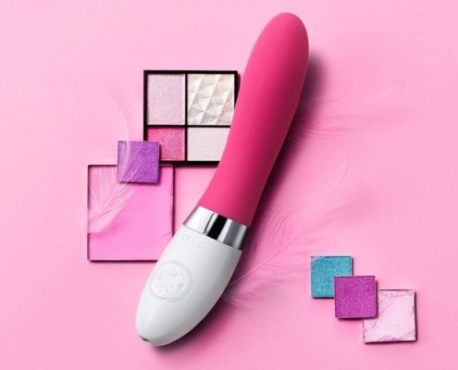 Charging The Liv 2
Lelo Liv 2 has a point at the very end of its handle where you can insert the charger. As soon as you connect the charger, an LED will show up blinking under the control buttons on the handle. Once the device is completely charged, the LED stops blinking to take on a steady glow.
The battery takes about two hours to charge. Although, if your Lelo Liv 2 is new, you might want to give it some extra time — maybe let it charge overnight. Once fully charged, the Lelo Liv 2 offers about 4 hours of action, and has a standby time of up to 90 days.
Coupon code: GURU
Lelo Liv 2 Is Waterproof
I think being waterproof, wireless, and rechargeable are the qualities necessary for any premium dildo. The Lelo Liv 2 is completely waterproof, and stays so for a depth of up to one meter under water. The charging point at the handle is internally sealed, so you don't have to worry about water entering and damaging your precious vibrator. Plus, having a waterproof vibrator increases the freedom you have and your choice of options. I may not necessarily take it to the shower, but it's always comforting to know that should I desire it, there is nothing to be worried about.
Lelo Liv 2 Pros And Cons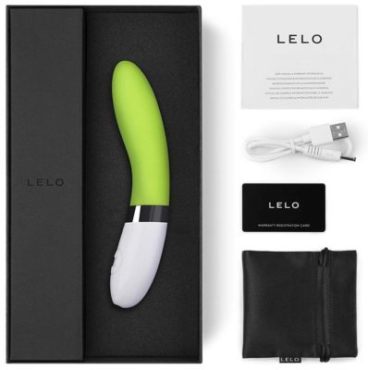 Pros
Great looks and feel
Easy to use
Works great for those with a petite frame or those new to sex toys
Good range of vibration modes and intensities
Relatively easy to control
Pleasurable G-spot massaging
Cons
Small size
Low power, may not be attractive to experienced users who want more power
Coupon code: GURU
Lelo Liv 2 Review — Final Impressions
One could count its small and diminutive size as a drawback, but it is also what makes the Lelo Liv 2 an excellent vibrator. Its non-imposing shape and size, and its beautiful color and feel make the Liv 2 a desirable toy. Even if you desire power and the Liv 2 does not lead you to an orgasm, it will help you in taking a pleasurable and calm sensation by massaging the G-spot. Just have something more powerful at hand to finish the job! Buy LELO Liv 2 from LELO online store.