(Last Updated On: May 13, 2023)
The Lelo Billy may come across as a regular sex toy with a motor in it. But a closer look at it will reveal that it has the ability to satisfy men more than it can satisfy women. Women's Health Magazine referred to it as "the best thing in hi-tech intimacy," and it also featured in the Cosmopolitan, GQ, and Refinery29; so we thought of bringing to you our review of the Lelo Billy. The Lelo Billy is a prostate massager that is designed to easily slide inside your anus and deliver a dose of orgasm directly into the male p-spot.
Lelo Billy vibrator Features
The Lelo Billy is ergonomically designed for the male body. It has a sleek and curvy body with a slightly wide base for a better control. This, wide base, may come in extremely handy in times of heightened orgasm.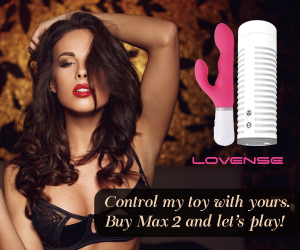 This vibe comes with 6 different vibration settings and is powered by a reasonably durable motor. It has a fully rechargeable battery and it comes in 2 colors: Deep Blue and Bordeaux (Red). By offering maximum satisfaction, the Lello Billy is a man's best "Butt buddy."
Lelo Billy In The Box
Lelo has always been known for its packaging and this one is no exception. The box is extremely attractive and it contains:
A charger that lights up when in use.
A beautiful satin travel pouch.
User manual.
Warranty Card.
Sadly though, there are no toy cleaners or sample lubes included.
How Lelo Billy Vibrator Feels
Since it's made from FDA approved body-safe silicone, the quality can be felt right from the get go. The shaft is silky-smooth and easily glides in to the ass. The size is sufficient for men who likes taking it from their ass; but we will not recommend it to you if you are a newbie. It's a li'l tricky because, along with a powerful motor, it also has a control interface that's somewhat complicated to understand; therefore, we feel that only experienced dudes can operate it properly.
Lelo Billy Pros & Cons
Here's a list of things we liked and didn't like about the Lello Billy.
Pros
A fully charged battery can give you 4 hours of play time and 90 days of stand-by time. There's also an indicator to indicate if your device is charging.
Extremely safe since it's free from phthalate and latex. And it's made from body-safe silicone.
Has sufficient girth and length to satisfy your intense pleasure needs.
The control section is easy to locate and features different vibration-mode-and-power combinations.
Cons
Maintaining the Lelo Billy is an expensive business since it cannot be cleaned with water and soap; you need a sex toy cleaner (something that isn't even included in the box). Also, it cannot be cleaned with external brushes nor can it be left to dry in the sun.
The slightest amount of water, or even moisture accumulation, on the charging port or the control interface seems to affect operation of the device.
Operating the Lelo Billy will be rocket science, especially if you don't have the user manual.