(Last Updated On: May 13, 2023)
Lelo Ella is a dual-ended dildo that's built to reach and hit the g-spot to give you amazing orgasms. Even with its petite size, the Ella does a great job. Now, there are several dildos that throw out words like g-spot stimulation more as a marketing touch rather than a reality. A brand like Lelo though, does not play around with bland marketing techniques. And as this Lelo Ella Review and almost every other will tell you, this dildo delivers what it promises.
Lelo Ella Packaging And Appearance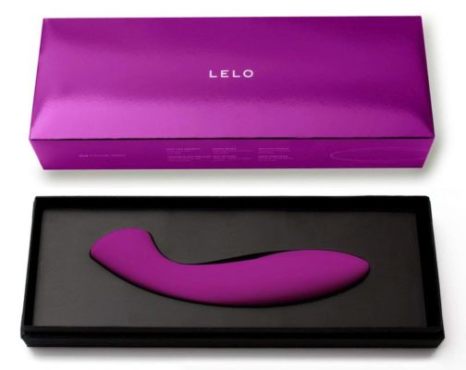 Lelo Ella takes its luxurious credentials seriously, and it can be seen in the box and packaging of the dildo. The box looks great and includes the dildo along with Lelo's classic satin pouch for storing the sex toy.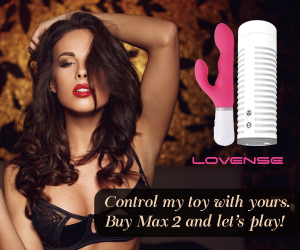 Made from silicone, the dildo has that beautiful and elegant look you would associate with a luxury product. The silicone used is FDA approved, and is hypoallergenic, phthalate-free, non-porous, and safe for the body. Another advantage is that silicone starts to match the body temperature rather quickly, and thus feel much better than several other materials. It has a great velvety smooth texture that feels great to touch, and immediately makes you wonder of how it would feel inside you (answer: pretty damn good).
G Marks The Spot
Ella, as you already know, is a dual-ended dildo. Both ends are connected by a slightly curved (and slightly bendable) neck that helps the Lelo Ella hit the right spot. When I say hit the right spot, I do mean it. This dildo has a knack for hitting the G-spot. Hell, if you are new to the game and have no idea where you g-spot is, you can trust Ella to find (and stimulate) it for you. Since it obviously isn't using a homing beacon to hit the g-spot I think its success can be attributed to good construction.
Lelo Ella Dildo — Build And Features
The Ella is just over seven inches in length, five out of which can be inserted. That's not necessarily small, however, the small frame makes the Ella look smaller. There are no seams, which is a huge plus, and the slight bendiness makes it a lot more useful and enjoyable than rigid dildos.
It has a conventional-styled tapered side, that's useful for thrusting and warming up, while the other end with a flattened tip is designed specifically for the g-spot.
For whatever reason, Lelo decided to brand their company name on each side of the tapered arm. It isn't a distraction while using the Lelo Ella, but the grooves in the branding are a magnet for lube and body fluids, thus making cleaning a chore. You could enjoy your time with the Ella dildo, and then be stuck brushing out and cleaning the branded alphabets with a brush. It's a minor inconvenience, sure, but it is also one that could have been avoided altogether.
Lelo Ella Dimensions
Ella has a 4.25 inch circumference at it highest girth, and the tapering 7-inch long dildo measures 4-inch circumference at the biconvex, and 1.5-inch at the tapered tip.
Lelo Ella Dildo — The Tapered Tip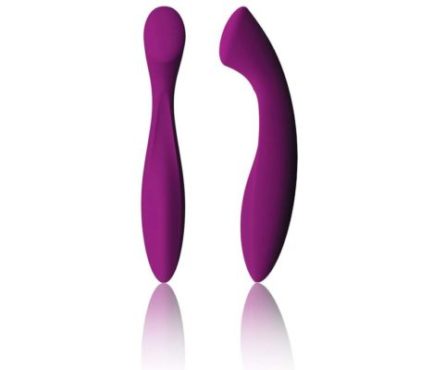 Pros:
The tapered side of the Ella can be used to provide the initial thrusts to warm up and get you going. And it does its job oh so well. The small size and girth make it quite non-intimidating, and you can enjoy your time with it at your leisure. As a plus, the biconvex works as a handle, so you have a pretty comfortable grip. Expanding girth on this side, will make you happy; and you will love it.
Lelo Ella Cons:
A downside here would be… well, the tapered side. It's an unyielding silicone dildo (somewhat flexible), but mostly rigid. If you mistakenly take the wrong angle or thrust too deep, you will feel the wrath of the tapered edge. It isn't massively painful, but it isn't fun. And let's face it, the dildo was supposed to be fun! Similarly, if you push it too deep, there's a chance it will touch your cervix or pubic bone. Again, not the best shape to deal there.
Ella And The G-Spot
Lelo Ella Pros:
It's the g-spot that Lelo Ella is all about. If you're done with the tapered side, move on to the fun side and prepare to have the biconvex side stimulate and massage your G-spot. A great skill on the Ella is that it manages to hit the g-spot, even for inexperienced users. If you don't know where it is, there's an excellent chance that this one will find it for you.
There are countless reviews claiming the virtue of the biconvex. Some happily mention that it was the one that broke their squirting orgasm virginity. A thundering, squirting orgasm is what the world wants. Although there are several more who did not squirt, but still maintain that the quality of the orgasm was amazing. Reviewers might compare what might work better than the Lelo Ella, but no one denies the goodness of Ella that it stands on its own in orgasm heaven.
Cons:
There are bound to be problems though, the first one being the lack of a place to hold the dildo. When using this side, you will be holding the Lelo Ella at the tapered edge, and its smooth velvety body isn't the best place to get a grip. To make matters more complicated, the dildo will be covered in body fluids and lube, making it more difficult to get a grip on.
The second problem too has to do with the shape of the Lelo Ella. It's a tapered, somewhat petite body with a larger biconvex at the end. And that means sometimes you will get a sound similar to if you were using a plunger. It isn't painful, but the sound is fairly loud and could carry, and an image of using a plunger in the vagina evokes quite embarrassing and hilarious thoughts.
Lelo Ella Review — The Finale
Who Is Lelo Ella Dildo Is Great For You
Ella is great for you if you fit into any of these categories.
Lelo Ella works for everyone, but is especially good for beginners
If you like G-spot toys, you want this
Dual use toy users
Those who prefer dildos with a lower girth
Who Should Not Buy Lelo Ella
You should avoid the Lelo Ella if you belong to the following categories.
Lelo Ella Review — The Verdict
Ella is, without a doubt, a great sex toy. If you are a beginner, start off with the Ella. If you start your luxury toy collection, Ella is a great entry point. There are several problems with this, and you will find it troublesome at times. However, you will soon be enjoying the Lelo Ella based orgasms to care about whatever faults someone thinks exist.