(Last Updated On: March 26, 2023)
The Lelo Luna Beads have received praise even from the staunchest sex toy critics. There's yet to be a negative review about this kegel balls. So here's my version of the "Lelo Luna Beads Review." Lelo Beads are can be used even by beginners whose PC muscles are yet to start flexing. This should help you figure out how to use Luna Beads.
Basics Of The Luna Beads
The Lelo Luna Beads is a colorful bead that has a smaller, and slightly weightier, bead inside of it. These beads jump around inside your vagina as you walk/move/jump/run. Every time these beads roll towards the walls of your vagina, it contracts your PC muscles. It's one lazy, yet effective way of working out the PC muscles. The harness of the Luna Beads is composed of silicone, while the retrieval string comes in nylon. The beads themselves are made from ABS plastic; these materials are all safe and hygienic.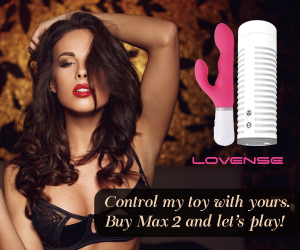 You get four options with the beads; 2 light balls, and 2 heavier balls. You have the option of using the balls individually, or as a pair. This way you can gradually increase the beads weight as your muscle gains strength. The lighter beads are the ones in pink each weighing 28 grams; the blue ones are the heavier ones weighing in at 37 grams. It's good to start with 28 grams if you are a beginner and progress towards 74 grams. Each ball has a diameter of 36 mm.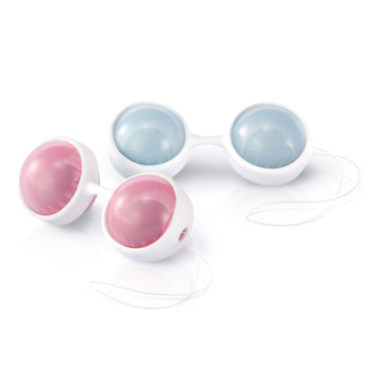 ​​
LELO Luna Beads – Elegant Packaging
The Lelo Luna Beads comes in a sleek box that contains 4 beads and the harness, both carefully tucked in their respective slots so that it doesn't roll around and spark anyone's curiosity at the time of delivery. That's not all; you'll also find a satin travel pouch, a user manual, and a warranty card. Lelo has also generously included a sample of their lube.
You would be required to register the Lelo Luna Bead online by creating an account and entering the product code and the warranty code. You can also find the user manual online, in case you're not a fan of stockpiling papers.
The Lelo Luna Experience – how to use Luna beads
Since I work from home, there is not much moving around in my daily life; I'm mostly seated in some corner of the house and writing. So every time I get off my chair, I feel a subtle rocking motion that's constant and keeps letting me feel that there's a kegel ball inside of me. As long as I'm seated, I don't feel a thing; a lot like wearing tampons.
But whenever I get up or move, it bursts into a vibracious jiggle and starts working out my muscle as I walk from one place to another. It almost feels like a pussy purring (pun intended). And if you turn and twist heavily the Luna Beads will start rocking you from the inside–out, and mind you "that's a lot of fun."
For normal twists and turns, I don't get to hear the purring much but if I purposely move/shake hard enough; I get to hear the purring from inside my vagina. If your PC muscles are as untrained as mine, you may want to stick to the lighter – Pink – beads. This way it'll also be easier for you to use 2 beads at once.
But if you wear them longer than you should, your vagina will tire out indicating that it's time to stop. Inserting the Luna Beads is never an issue as long as you:
Apply a li'l bit of lube on the top end of both the beads.
Insert one bead at a time.
The toy will automatically fall into your right spot. You don't have to be a contortionist to get them right. Taking them out is more simple, a gentle tug on the retrieval string will pop the cherries out (pun intended again). This will be followed by another important step: Cleaning. Take this step very seriously and always clean them in the holster. It's imperative that you take good care of your sex toys. You and your vagina's safety depends on it.
LELO luna beads – Experimentations & Caution
In case you're wondering if you should run errands across town with the Lelo Luna Beads inside you; my suggestion is that you go for it.
You'll experience a crazy amount of pleasure. But I would like you to refrain from using it immediately after a steamy sex session. Cuz after you climax, your vagina will naturally be lubed up; and if you insert the kegel balls inside, it'll pop out like a bullet. Imagine the embarrassment if they pop out when you are already out of your home? In a car, at a restaurant, or at the mall; the odds will be stacked against you. And removing them from your panty then on, without others noticing, will require you to be a magician.
So as much as running errands, with the Luna Beads inside you, sounds fun; being outside with the kegel balls popped out onto your panty will be horrible.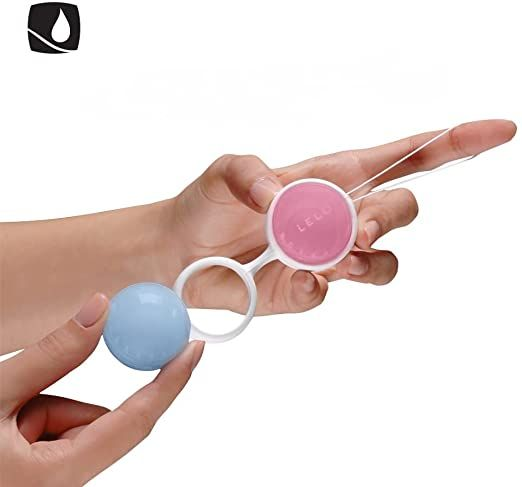 LELO luna beads review – Final Thoughts
The Lelo Luna Beads are a great set of kegel balls if you are the newest member of the self-pleasure club. You don't need to constantly operate it; they are neither too long, nor too wide; inserting and removing them is extremely easy; and their weight ranges only between 28g and 74g.
The Luna Beads keeps working its magic on you, on its own, as long as there is movement in your body. Even though it does not provide vibration like a vibrator or other sex toys; the sensations are pretty strong for you to feel as long as it's inside you. And at the same time, it's discreet (cuz no one's gonna know what inside your vagina right?).
I highly recommend this for girls who are new to kegel balls, and for those ladies out there who wants a sex toy that gets more challenging as it progresses.
I do not recommend this for girls who are not a fan of duotone and girls who find it difficult to place the kegel balls in the harness.