Good things come in small packages is a phrase well-illustrated when we look at Ben Wa Balls. These versatile little toys are good for a lot of things. Exercising the pelvic floor, sexual stimulation, and kegel workouts – these toys have it all figured out. They're called by several names, the most common ones being Ben Wa Balls and Kegel Balls. Let's look at the best Ben Wa Balls available to see these small toys work their best.
Top Kegel Balls Of 2022
A Quick Discourse On Ben Wa Balls
How To Use Ben Wa Balls And How Do Ben Wa Balls Work?
Some Ben Wa Balls are meant for short term use, while many are designed to be used for a longer time. You could use some of these for hours without any trouble.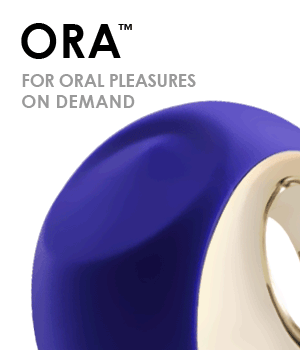 To use these balls, simply add some lube and insert them into your vagina. You may want to use cervical muscles to hold them. In some ways, it is very similar to using a tampon, except Ben Wa balls shouldn't be used during your period.
Once in position, the Ben Wa balls condition and stimulate the muscles inside the vagina. One obvious effect of this is sexual pleasure. There are, however, some amazing health benefits to be had as well.
Benefits Of Using Ben Wa Balls
There is the obvious benefit of deriving sexual pleasure from using these toys. Other benefits are equally remarkable as well. For one, they bring the benefits of Kegel Exercises. These can help treat prolapse, prevent incontinence, and tighter vaginal muscles can make sex feel better. For those wondering do Kegel exercises make you tighter, the answer is yes.
From strengthening the pelvic floor to improving sex life, the benefits of Ben Wa balls certainly aren't overstated. It's one of those useful things that bring both pleasure and tangible health benefits.
9 Best Kegel Balls Reviewed
1. Lelo Luna Beads
A very popular choice, the Lelo Luna Beads are a great way to Kegel Exercises, and yes, pleasure. The box includes four beads made from ABS plastic. Each bead has a weighted ball inside it. For the conventional set, the pink beads have a 28-gram weight, while the blue ones are at 37 grams. A silicone harness is used to keep the beads in place.
When you move around, the weighted balls inside the beads move around as well. This movement creates small vibrations, which feel very pleasurable, and yes, play a role in performing Kegels as well.
If you are a beginner, skip the silicone harness and use a single lightweight bead. It's a simple and easy way to get started. As you get more comfortable with using the beads, you can start using the harness and two beads.
Don't forget to mix and match the weights and use the combination that feels right for you. Luna beads are safe, convenient, and a great way to get some exercise for your Kegel muscle.
Pros:
Made from body-safe materials
Easy to use
Useful for beginners as well as advanced users
Cons:
Can be tough to clean because of the tracks on beads that keep them in the silicone harness
Check for discounts from LELO official online store
2. Polar Jade Yoni Eggs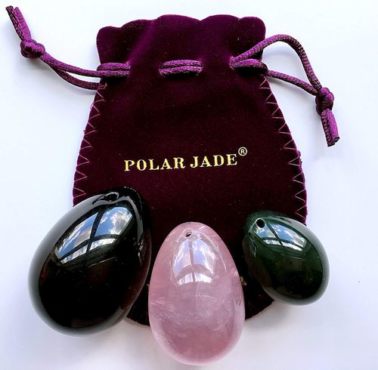 Made from GIA certified nephrite jade, these eggs are as beautiful as they are functional. The pack contains three eggs, each of a different color, gemstone, and size. The smallest egg with the green(ish) color is made from nephrite jade, the pink-colored medium-sized egg is made from rose quartz, and the largest sized black egg is made from obsidian. Each egg is drilled to make room for a retrieval string.
That also brings me to my gripe with the yoni eggs. This isn't a cheap product, and I would hope they offer something more substantial as a retrieval string. Packing dental floss for retrieval strings just doesn't cut it! Also, the drilled hole for the string is too much trouble to clean, including a suitable brush would have gone a long way.
As for the performance of the eggs themselves, there is no cause for complaint. They feel great. I wouldn't walk around all day with them, but that isn't a terrible idea either. I'm more partial to the smallest egg, largely because it is the only one made from nephrite jade. Being less porous, it's just a better material for this purpose. That's not to say the others are bad, they're just not as good.
Remember to clean the eggs before and after each use. To sanitize the eggs, you can drop them in boiling water for a few minutes.
Pros:
Good quality materials
Well-constructed with gemstones
Pleasurable
Can be sanitized with boiling water
Cons:
Expensive
The drilled hole can be tough to clean
3. Joy ON Kegel Exerciser With App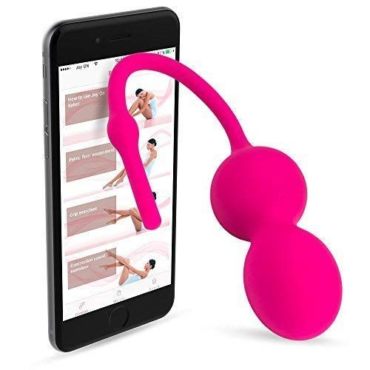 Offering good value and quality, the Joy ON Kegel Exerciser With App is certainly worth note. Rather than keeping the Ben Wa balls as separate pieces, the Kegel Exerciser has been designed as a single unit. The insertable end is styled like two Ben Wa balls placed together.
Joy ON Kegel Exerciser is an electronic device with a built-in battery. It connects to your smartphone via Bluetooth and can be controlled by means of the "Kehel" app. As a standalone unit, it has two modes of vibration. Once connected to the app, you get access to a lot of features. These include more vibration modes, reminders to stay on exercise schedule, personalized monitoring, and manual training.
Pros:
Convenient to use
Made from body-safe materials
The app helps keep track of your progress and exercise
Simple way to kegel exercises
Cons:
Bluetooth connectivity can be troublesome
Better used by more advanced users
4. IntiFit Kegel Weights for Women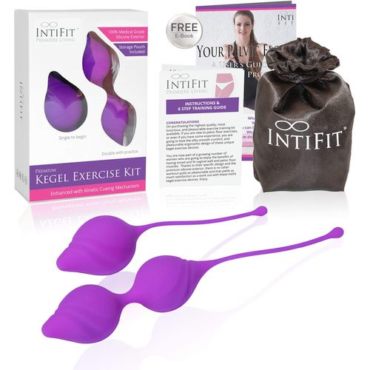 IntiFit Kegel Weights are well-designed and ergonomic. Each pack contains two pieces – one with a single ball, and the other with two. The single piece is meant for beginners, while more advanced users may find it better to use the double ball unit.
Each Ben Wa ball has a "Biofeedback Kinetic Cueing" system inside. That basically means there's a weight placed inside each ball, which moves around with your movements. This movement produces subtle vibrations that encourage users to perform Kegel exercises and help massage vaginal and pelvic muscles.
The body of the IntiFit is made from medical grade silicone that is soft and velvety to the touch. The silicone body extends beyond the Kegel balls and also acts as the retrieval string. Overall, this makes it very convenient to use. It's worth noting that the single unit has a diameter of 34mm and weighs 40 grams. Specifics for the double IntiFit are 30mm diameter and 62-gram weight.
Pros:
Ergonomic and convenient to use
Made from body-safe materials
Easy to clean and waterproof
Cons:
It could do with better presentation and looks
Can slip out of some women – being more aware when you start can be useful
5. Kegel Rx PC Muscle Exercise Kit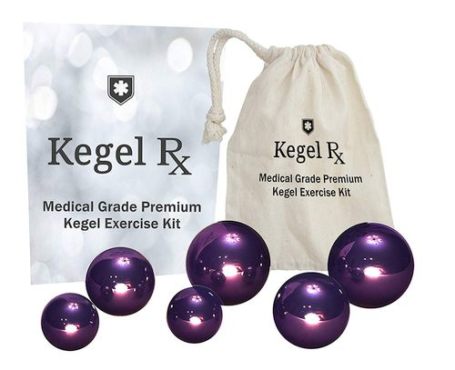 PC Muscle Exercise Kit Ben Wa balls are made from stainless steel and have the classic shiny stainless steel finish. The balls are available in two sets. One set contains 30g and 70g balls, while the second set adds another ball, a 130g stainless steel. The diameter for these balls respectively is ¾-inch, 1-inch, and 1.25-inch.
Being made from stainless steel, the balls are non-porous, hypoallergenic, and easy to clean. In most cases, you can simply wipe and clean them with warm water. To sanitize, you can drop them in boiling water.
Pros:
Made from good quality stainless steel without any coatings
Easy to use
Easy to clean
Cons:
While easy enough to remove, the lack of a retrieval string on these balls can be inconvenient
6. InJoy Ben Wa Kegel Balls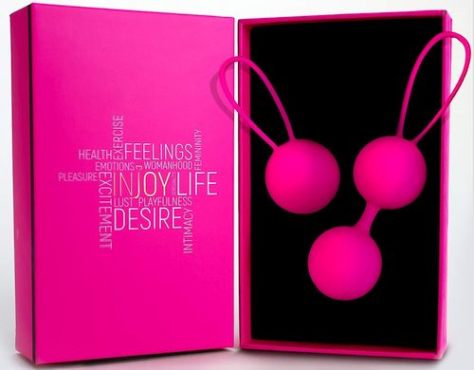 InJoy Ben Wa Kegel Balls is a well-priced set with two units included. They even throw in a free resistance band for other exercises. Coming back to the balls, the two units are a small one with a single ball, and the larger one makes use of two Ben Wa balls. The single weight weighs 1.41 oz while the double weighs 2.84 oz. Both of these are made from silicone and include silicone retrieval strings.
They're simple and convenient to use and make their presence felt as you go about your day. The silicon coating for the balls is phthalate-free, non-porous, and body-safe. Since these are made from silicone, remember to use water-based lubricant liberally before you insert these balls. In fact, make it a point to use lube every time you insert any kegel balls.
The weight is good and they stay put once you insert them. I suspect the broad diameter and silicone body helps, though that may also be the reason why beginners are sometimes troubled by this product.
Pros:
Good value for money
Made from silicone that is body-safe and phthalate-free
Convenient to use
Cons:
Retrieval string feels clumsy and risks coming off
7. Abandship Kegel Balls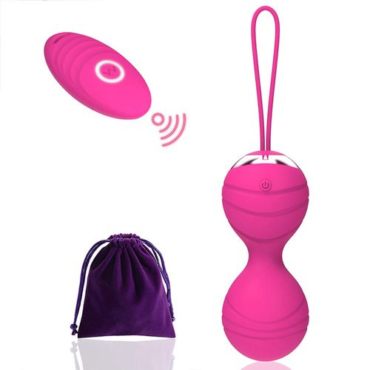 Abandship Kegel Balls are electronic vibrating toys operated by a remote control. There are 10 vibration modes on this Kegel exerciser, and in some respects it functions more like a vibrator than a Ben Wa ball. It doesn't, however, give up the role of Ben Wa Balls and is a pretty useful tool for Kegel exercises. It just focuses a bit more on the pleasure side of things.
The body of this Kegel exerciser is covered in food-grade premium silicone that is hypoallergenic, phthalate-free, non-porous, and odorless. The vibrator is IPX6 waterproof, and the small texture details on its surface add a bit of pleasure to the mix. A power on/off button is included on the Kegel Balls, while a single button on the remote can be used to switch through the available vibration patterns.
In some ways, the remote is more effective than Bluetooth-based remotes, because it isn't greatly affected once the toy is inserted. It may have fewer functions, but it does its job well. I'd have preferred if there were up-down buttons to move through vibration modes. Having to cycle through all vibration modes to reach your preferred setting is a bit of a drag.
Pros:
Good value for money
Remote controlled vibrations
Vibrations help exercise Kegel muscles
Cons:
The battery does not hold charge well when not in use
Questionable longevity
8. Adorime Kegel Exercise Weights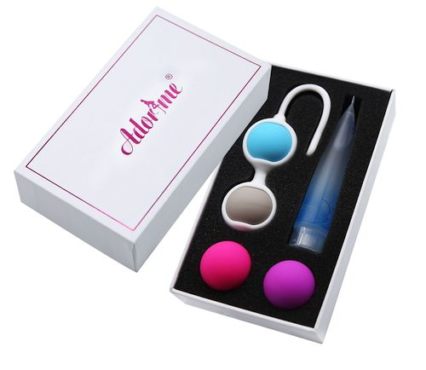 In simple appearance, the Adorime Kegel Exercise Weights look quite similar to the Lelo Luna beads further above in this list. However, it takes a different approach to Kegel Balls. All four balls have a different weight, and can be used in combination or standalone. The blue ball weighs 15g, rose 25g, purple 35g, and gray 55g.
When ready to use, just place your choice of balls in the harness, and insert it into the vagina. The harness keeps a good grip on the balls, and prevents from coming loose. The set is made out of silicone and is phthalate-free, BPA-free, and odorless.
Pros:
Simple to use
Different set of weights
Good quality materials
Can be used by beginners and advanced users
Cons:
Can be a bit tough to clean
9. Shibari Cherry Kegel Balls, 5 Piece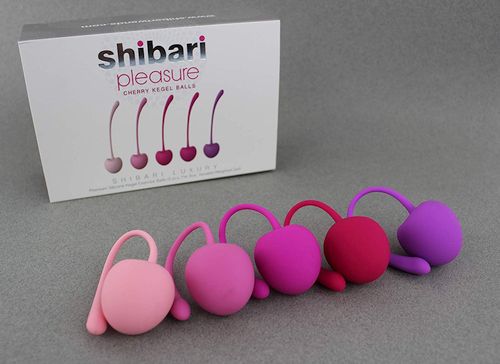 This is an interesting, and dare I say, cute set of Kegel Balls. Shibari's set includes a set of 5 Kegel Balls, each shaped like a cherry and with a different weight. The balls are made from premium-grade silicone and are convenient to use.
Over the five balls, the weight varies progressively. There isn't a sudden jump, but rather a convenient change from low to high weight of the balls. The variable weighted set includes cherries that weigh 1.06 oz, 1.41 oz., 2.12oz., 3.00 oz., and 3.88 oz.
It is worth pointing out that they are all nearly the same in size, it is the weight that changes. This has the unintended effect of making the cherries feel too big, especially for beginners. I think it would have made more change the size slightly with the weight. The 3.88oz cherry is bound to be large. Having a beginner who wants a 1.06oz cherry deal with the large size is counterintuitive.
Pros:
Good looks
Good quality materials
Comfortable progressively increasing weights
Excellent exercise for Kegel muscles
Cons:
The balls can feel too large
Same size balls for the full range of weights
The Right Fit Kegel Balls
From health to pleasure, the best Ben Wa Balls deliver it all. It would be incorrect to see these solely as sex balls or sex toys. Their health benefits are real and medically acknowledged. The pleasure that many of these balls bring when used, is a happy side effect. So if you need help with Kegel exercises, these balls are the way to go. Just FYI, if you're not doing Kegel Exercises, the right time to start is right now!