(Last Updated On: August 22, 2023)
Exercising your Kegel Muscles, or the pelvic floor muscles can have a remarkable effect on your health and social wellbeing. A workout for your vagina probably isn't at the top of your list, but it should be. Kegel exercises can help treat prolapse, prevent incontinence, and they make sex better too. Exercising your Kegel Muscles is simple, but if you can't get around to it, there's always the convenient and fun option of using sex toys to strengthen Kegel muscles.
How To Exercise My Kegel Muscles?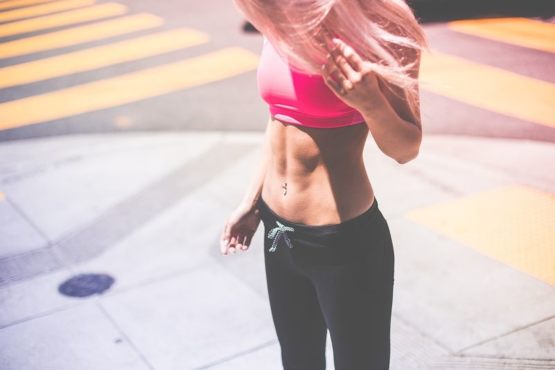 Kegel exercises work great for both genders, however, I'm going to focus on women for this article. To perform a Kegel exercise just "squeeze" your vagina like when you're holding in pee. Let it go. Repeat. It's that simple.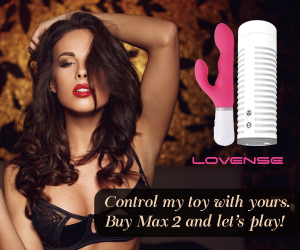 You should be doing at least three sessions of ten kegels every day. You can do it anytime, like when waiting at traffic lights, doing random chores, or just sitting at your desk.
Who Should Be Doing Kegel Exercises?
Everyone. Kegel exercises strengthen the pelvic floor muscles that support various organs like the uterus, bladder, rectum, and the small intestine. The muscles can weaken with age, childbirth, and several other factors. Strengthening those muscles will allow you to be in better shape. Don't worry if you're 20 or 70; just get started.
Oh, and better health of Kegel muscles can enable you to have stronger orgasms. Now that should be encouragement enough!
Using Sex Toys To Strengthen Kegel Muscles
If you keep forgetting about doing your Kegels or just find it too boring, you could always use a sex toy. There are plenty of well-crafted vibrators created expressly for the purpose of stimulating the Kegel muscles. You place the toy, switch it on, and it does the job of squeezing and relaxing your Kegel muscles.
The sex toy does all the work for you, and it makes it pleasurable. That's a win.
5 Sex Toys For Your Kegel Exercises
Let's take a quick look at some sex toys that work great for your Kegel exercises.
1. Calexotics Impulse Intimate E-Stimulator Remote Kegel Exerciser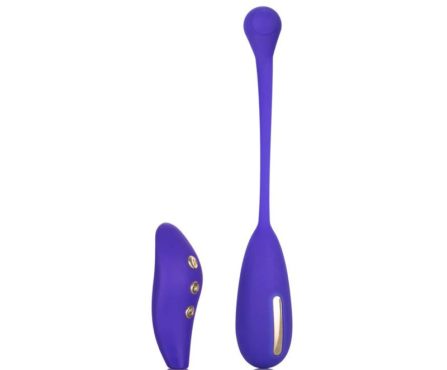 One of the best-known Kegel Exercisers, the Calexotics Impulse is a remote-operated vibrator designed to stimulate your pelvic floor muscles discreetly at the touch of a button. The exerciser is silent while vibrating, and can be conveniently controlled with a three-button remote.
Once the Impulse Intimate has been inserted, you can go about your day without a worry. Whenever you feel like exercising your kegels, or for a dose of pleasure from the vibrations, simply pull out the remote and set it to work.
The vibrator has an e-stimulation function for the pelvic muscles. When triggered, it sends a small electronic pulse from a metallic zinc alloy electro-stimulation pad. This pulse encourages the muscles to contract and relax, thus providing the exercise. It isn't all about tiny electrical shocks. Apart from the five e-stimulations, the Calexotics Impulse Vibrator also has seven vibration functions.
2. Elvie Kegel Trainer – Kegel Exercise Device for Women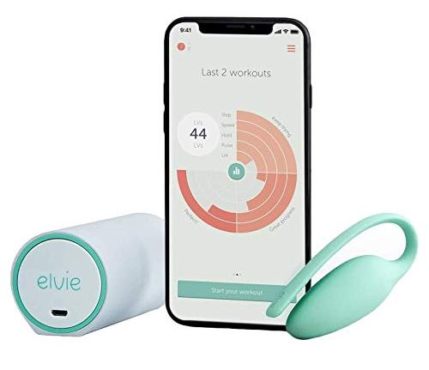 Elvie Kegel Trainer has made quite a name for itself. This high-tech Kegel trainer has the looks of a sleek couples vibrator, but it's not intended for that use. Elvie keeps its focus on being a feature-rich kegel exerciser for women.
The Elvie Kegel Trainer is controlled by means of an app. It doesn't simply act as a remote control, but also includes helpful exercising instructions and pointers to ensure you get your exercise. Visualization, guides, and real time feedback on the app can be immensely useful for getting your Kegel training right.
It's portable and the carry case also acts as a charger for added convenience. Elvie Kegel Trainer is made from medical grade silicone and is completely body safe.
3. K-fit Kegel Toner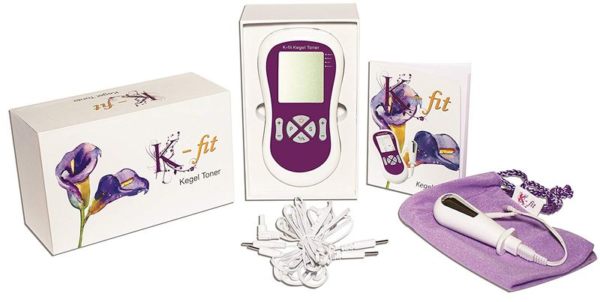 What the K-fit Kegel Toner lacks in looks, it makes up in performance. Much like the CalExotics Impulse we saw above, the K-Fit Kegel Toner makes use of electrical impulses to encourage the pelvic muscles into cycles of contractions and relaxation. There is an included wired remote control for managing the intensity and use of the product.
There is some amount of pleasure involved with the movement of the muscles and vagina, but this is more focused on Kegel exercise. It's a very useful product, I just wish it didn't look so… clinical.
4. Kegel Exerciser by Joy ON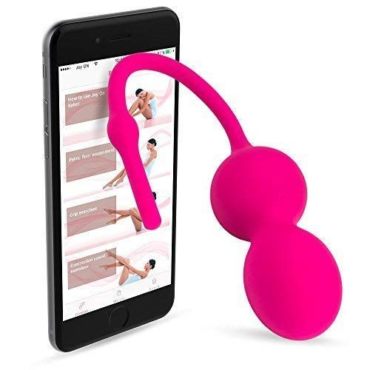 This one is a value for money Kegel exerciser. It connects to your phone via Bluetooth and can be controlled by means of an app. Its looks are somewhat reminiscent of Ben-Wa balls, though the primary function here is to vibrate and stimulate the muscles on the pelvic floor.
Its unique design does allow for some internal stimulation as well, and it could very well work as a vibrator too. The "Kehel" app allows four modes of massage settings for this Kegel exerciser, and only two modes are available without using the app. Kehel app also allows personalized monitoring and progress check to keep up with your Kegel exercise schedule.
5. Fondlove Kegel Balls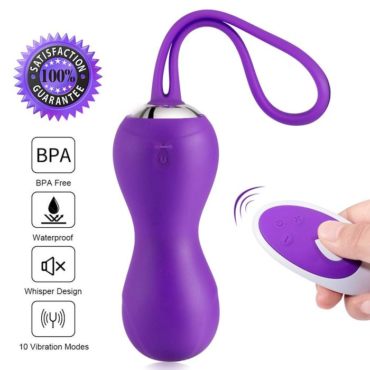 Fondlove Kegel Balls are a budget option to consider. This one's designed to feel more like a tampon when placed, so it can also work as a Kegel Exercise weight. Although that clearly isn't the intended use.

Fondlove Kegel Balls are controlled by means of a remote and have 10 speed settings. These vibrations are fairly good at stimulating the pelvic floor muscles and can be benficial for casual use. However, if you have requirements beyond casual use, you should consider other Kegel exercisers on this list.
The Final Word For Sex Toys That Strengthen Your Kegel Muscles
Exercising your Kegel Muscles regularly is important for your well-being and can have an impact on the general quality of life. Make it a point to do your Kegel Exercises regularly, or, select an exerciser from this list to do the work for you. I'm somewhat partial towards the Elvie, but they're all pretty good at their job.