(Last Updated On: September 10, 2023)
I have always preached that sex toys make fantastic gifts. Even if the recipient is a sex toy beginner, the gift of play and pleasure can't be topped. If someone doesn't think to treat themselves to sex toys, then receiving them as gifts can open up a world of pleasure.
These are my recommendations for sex toy gifts for couples, the perfect thing to get for your significant other to add a little excitement to your next play session. These kits are designed with couples in mind, a selection of tools that can be experimented and played with over an evening or a dirty weekend away. Though some of the kits are specialized to be focused on a particular area (anal, or vibrators, for example), most aim to give you the tools for a variety of sensations all over the body for everyone involved.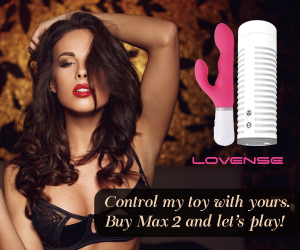 Maybe it's just you and your other half, or maybe you like to play in threes or fours. Maybe you're buying for a close friend and their partner. Maybe you're buying for a couple that you swing with. No matter your relationship style and dynamic, sex toys can spice things up so why not give the gift of pleasure?
The winter holidays are the perfect time to get intimate with your partner. When it's cold and dark outside, with all that free time off work, why not get warm and cosy under the covers with your other half? Why not heat things up with some new toys?
Sex Toy Kits:
This list is all the best kits for you and your significant other, or others, to try. Sex toy kits make great gifts, often better than individual toys, because of the amount of variety in them. They can be a jumping off point for experimentation. Maybe there's one or two things in a kit that you know the gift recipient will love, maybe there's also one or two things that will be something new to try. That curiosity, the chance to experiment with something new, can often be the best thing about receiving sex toy gifts.
Kits are also a great choice for couples. Maybe you're buying for your significant other, and you like the idea of using the toys together. Or maybe you're buying for a couple that you're close enough too that it feels appropriate. Either way, toy kits are a great option because of the flexibility. In any one kit you could find toys that can be used alone, in foreplay, and during sex. As well as being toys that could bring pleasure to him or her in various ways. 
The Best Sex Toy Gifts For Couples
Lovehoney Best Night Ever Couple's Sex Toy Kit (5 Piece)
Includes:
Sex toys have a tendency to lean towards women, and that is reflected in what's included in the kits available. This kit has a lot for her, but it has more than usual for him too. For this reason, I think this is the best choice if you're looking for a well-balanced kit that won't leave him feeling left out of the fun.
Including two toys for use on the penis, one anal toy, and a fingertip vibrator that could be used to stimulate any part of the body, this set has a lot of flexibility when it comes to making both halves of a couple feel included. For that reason, this is my top choice for the man in your life.
Lovehoney Wild Weekend Mega Couple's Sex Toy Kit (11 Piece)
Includes:
G-Spot Vibrator
Vibrating Rabbit Ears
Butt Plug
Rabbit Vibrator
Penis Stroker
Jiggle Balls
Rabbit Cock Ring
Cock Ring Set
The Lovehoney Wild Weekend Mega Couple's Sex to Kit is my top choice overall. This 11-piece kit has everything you need to hit the right spots. In this extensive set of 11 toys, you will find a huge range of toys that supply all the sensations you need for a memorable evening.
For foreplay, the set includes a g-spot vibrator and a rabbit vibrator for her as well as a penis stroker for him. Several sizes of cock ring and a vibrating cock ring will enhance sex along with vibrating rabbit ears. It even includes two anal toys for some back door experimentation.
Out of all the sex toy kits on the list, this is the most well balanced. All wrapped up in one gift, you can give someone all the tools that they need to get started on a sex toy journey, providing them with night after night of fun and experimentation.
Pros
A good range of toys which hit a lot of the basics that you would want in a collection.
Great price considering how much you would need to spend to get all the items individually.
Very beginner friendly.
Cons
If you already have a few toys, then you might find that you have some in your collection that are similar to those in the set.
Designed with cis-het couples in mind.
Lovehoney First Time Fun Vibrator Starter Kit (4 Piece)
Best for sapphic couples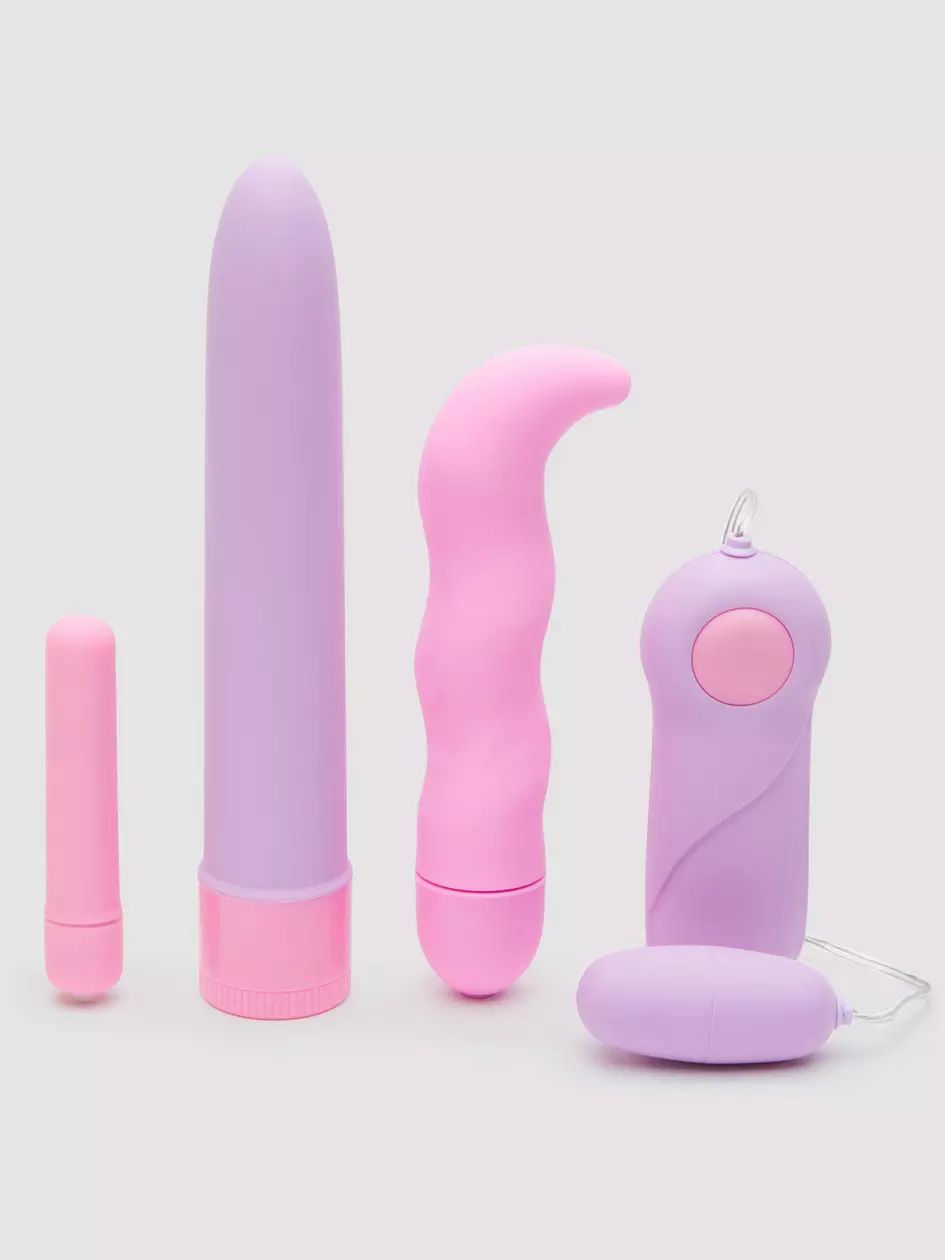 Includes:
Classic Vibrator
Egg Vibrator
G-Spot Vibrator
Mini Bullet
For anyone looking to experiment with some good vibrations, this four-piece Lovehoney First Time Fun Vibrator Starter Kit would make the perfect gift. These toys are super cute and great for beginners. The kits include beginner friendly designs that look stylish and sweet in their pink and purple tones. The cohesively designed set would be a great gift for someone looking to play with vibrators, allowing them to experiment with a variety of styles from the classic vibrator to the egg vibrator.
Pros
Beautiful colours and design, very sweet and feminine.
Great place to start for those looking to experiment with vibrators.
Easy to use and understand toys.
Great for partnered or solo play.
Perfect for sapphic couples.
Though there's a focus on female pleasure, they could be enjoyed by any gender.
Cons
All toys are battery operated rather than rechargeable. Most people prefer rechargeable toys rather than battery operated ones, and these tend to come at a higher price point.
May not get the intense vibrations that some other toys can offer.
Though they are popular toys and many swear by them, some people just don't enjoy the sensation and you might not know until you try.
Lovehoney X Womanizer Couple's Sex Toy Advent Calendar
Great Value / Honorable Mention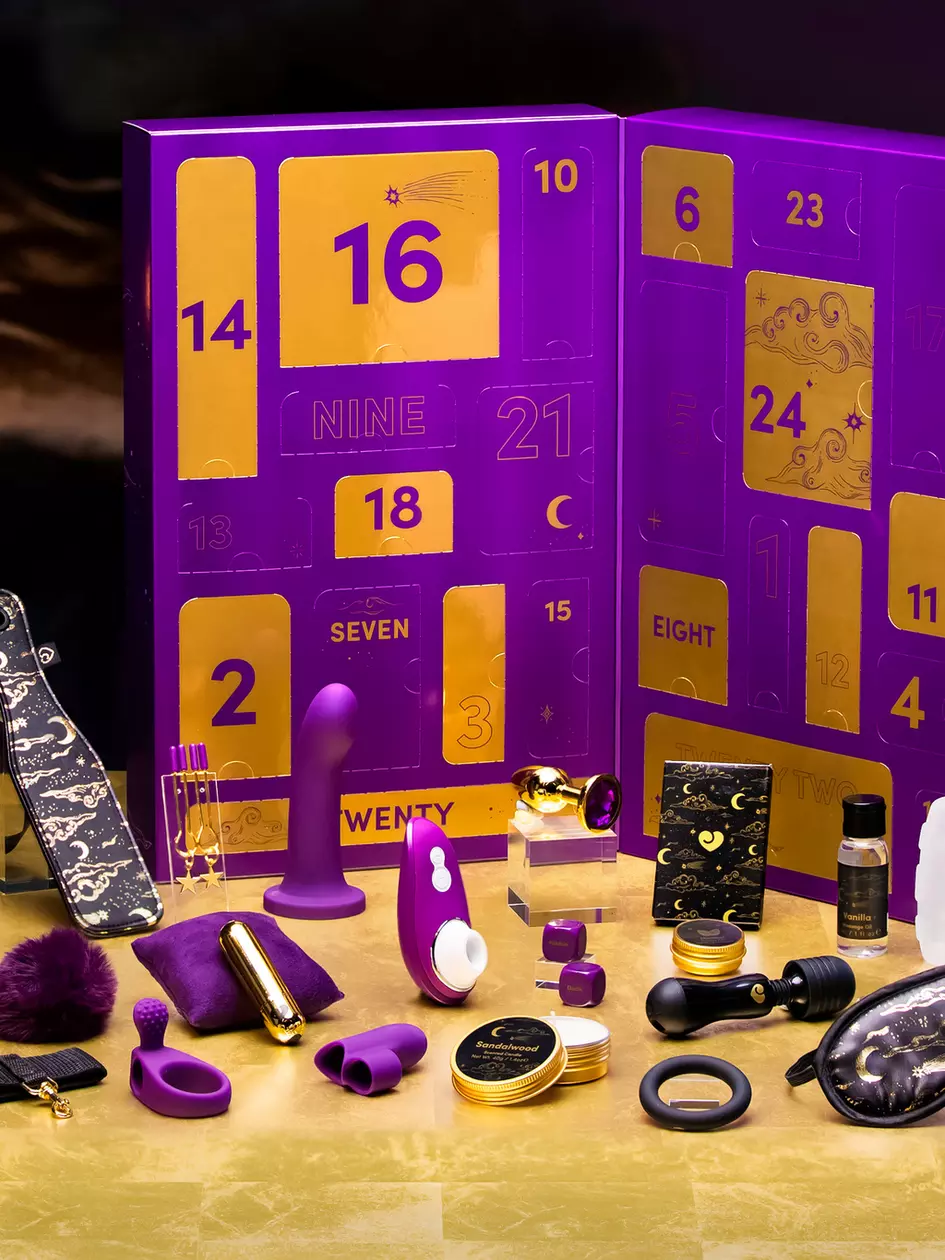 Calendar Contains:
Womanizer Liberty Clitoral Stimulator
USB Rechargeable Bullet Vibrator
Finger Vibrator Sleeve
Mini Massage Wand Vibrator
Nipple Clamps
Couple's Cock Ring
Under Mattress Restraint
Cock Ring
Ankle Restraints
G-Spot Dildo
Ribbed Stroker
Crystal Butt Plug
Anal Beads
Dice
Vanilla Massage Oil
Sandalwood Scented Candle
Body Massager
Sex Position Snap Card Game
Textured Stroker
Tickler
Blindfold
Wrist Restraints
Mint Orgasm Balm
Mini Paddle
This advent calendar really has it all if you're looking to experiment this December. Count down the days to Christmas with this extraordinary advent calendar and make the fun last all month. Behind each door of this advent calendar is a little treat that can add a little spice to bedtime.
The calendar is great value for money, currently on sale at $95. Considering the huge number of toys it hides behind its doors, it's a very impressive price. One of the toys is the Womanizer Liberty Clitoral Stimulator which is worth $99.99 on its own.
If you have the patience to wait and open the doors once a day, then the fun can last all of advent. Why put all the pressure on Christmas when every day can bring sexy gifts and reasons to run to the bedroom?
Pros
Fantastic value considering everything the calendar contains.
Cohesive and stylish purple theme running throughout.
Great range of toys which encourage experimentation.
Though you could open them all at once, the advent calendar encourages appreciation and experimentation one toy at a time.
Cons
The sheer number of toys means that you might get things which you already have in your collection or get toys that aren't to your tastes.
Even though it's great value, it's still a high price point.
Lovehoney Midnight Magic Couple's Sex Toy Kit (7 Piece)
Contains:
Womanizer Starlet 2 Clitoral Suction Vibrator
Rechargeable Bullet Vibrator
Cock Ring
Butt Plug
Love Dice
Blindfold
A Vanilla-Scented Candle

The Lovehoney Midnight Magic Couple's Sex Toy Kit is a lovely little kit containing several high-quality toys. The blindfold and candle are perfect for sensory play, heightening an erotic experience and providing the perfect role play. Also, great to winding up and getting down to it, are the sex dice. They might seem like a silly gimmick, but it's important to stay playful in the bedroom and the dice are a great way to make that happen.
Not only does this kit encourage playful and indulgent foreplay, but it also puts clitoral stimulation front and center with a vibrating cock ring and clitoral suction vibrator.
Fifty Shades of Grey Take It Slow Gift Set (4 Piece)
Contains:
Butt Plug
Vibrating Butt Plug
Douche
Anal Beads
This Fifty Shades of Grey branded anal gift set if perfect for those looking to get into anal play. Especially fans of the books who want to experience the sensations described in the anal play scenes with the butt plugs and anal beads. Weather inspired by Fifty Shades of Grey or not, this is a great starter kit for those looking to explore anal play with several shapes of anal toy and an anal douche for pre play cleaning.
Lovehoney Crystal Kink Couple's Sex Toy Kit (7 Piece)
Contains:
G-Spot Rabbit Vibrator
8-Inch Anal Beads
Spiral Butt Plug
Jiggle Balls
Vibrating Rabbit Cock Ring (With Removable Bullet Vibrator)
Ribbed Penis Sleeve
The Lovehoney Crystal Kink Couple's Sex Toy Kit is another kit which has a cohesive aesthetic theme which makes it a lovely choice of gift. The little glitter details in the toys are sweet and also very festive. When it comes to the wow factor on opening, I think that the crystal design has it covered.
When it comes to the contents, it also has a great balance of toys which could make for a very special night in. Including toys for anal, vaginal, and penile stimulation, the kit covers a lot of bases. I think that the star of the set is the full-size rabbit vibrator which I think would get a lot of use in anyone's collection for partnered and solo play. It's closely followed by the vibrating rabbit cock ring, which can bring those same good vibrations into penetrative sex with a partner.
Lovehoney Bumper Booty Bundle Anal Sex Toy Kit (6 Piece)
Contains:
Butt Plug
Vibrating Butt Plug
Vibrating Anal Beads
Vibrating Prostate Massager
Anal Douche
Bullet Vibrator (Removeable- To Be Used with Vibrating Toys)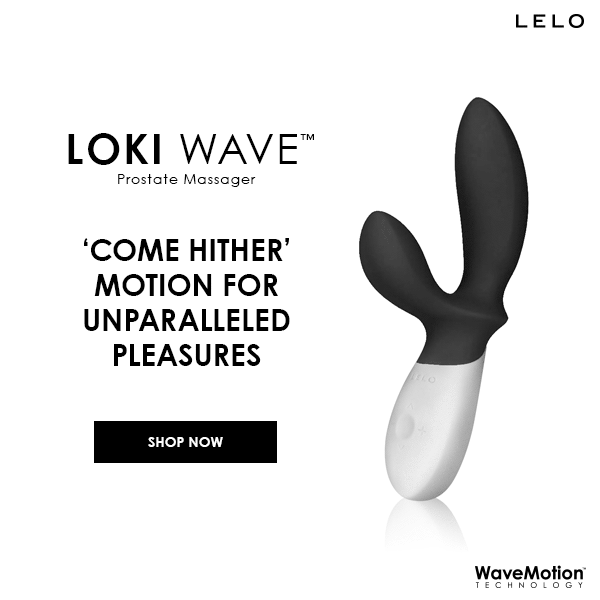 This is the perfect kit for someone looking to get into anal play, or even someone experienced who might like to play with a few new sensations. It has everything that someone looking to get into some light anal play or training would need. With the addition of the bullet vibrator which can be used with the plugs, it can also add a little vibration too which is perfect for newbies and the more experienced. The kit even comes with an anal douching bulb for easy pre-play cleaning.
Pros
Anal play can be enjoyed by anyone regardless of gender or sexual orientation, so the kit isn't limited to being a good choice for just cis-het couples.
Beginner friendly and easy to use.
Sleek and stylish black design.
Cons
Even with the best toys, anal can be hard to get in to. It can take a lot of patience and practice as well as a lot of lube.
Using an anal douching bulb is particularly tricky for beginners. It's not always necessary to douche, but if you want to then I recommend doing some reading beforehand for the smoothest experience possible.
Bondage Boutique Red Hot Passion Bedroom Bondage Kit (6 Piece)
Contains:
Wrist And Ankle Cuffs
Blindfold
Ball Gag
Flogger
Bondage Strap
The Bondage Boutique Red Hot Passion Bedroom Bondage Kit is my pick for those looking to bring a little BDSM into their play. This set has everything that you need to get started with kinky play in the bedroom. It has restraints that are easy to use and can be configured in multiple ways for a variety of positions. There's a beginner friendly ball gag to experiment with, as well as a blindfold to increase the feeling of submission. To top it all off, the kit even comes with a flog so that even absolute beginners can start to explore impact play.
More experienced kinksters may have many of these items already, but if you're looking to explore and maybe open the door to some kinky pleasure with your partner then this would be a great choice of gift.
Pros
A great starting point for anyone looking to explore BDSM.
Stylish red and black theme.
Easy to use.
Can be enjoyed by anyone regardless of gender or sexual orientation.
Cons
Even if the tools are easy to use, beginners still need to make sure that they are educated on safer BDSM practices before starting.
Though the quality is good for the price, you might feel the need to splash out on higher quality versions if they become a very common part of your play.
Final Thoughts
For the couple new to sex toys, or new to a particular area like anal or bondage, these kits make for fantastic gifts.
When choosing a kit, think about you and your partner and how you will be using it. Do you want toys for playing together? If so, how do you play and how do you see these toys fitting into that play? Do you also want toys that can bring you both solo pleasure?  So, what's my favorite sex toy gift for couples? It's got to be the Lovehoney Wild Weekend Mega Couple's Sex Toy Kit (11 Piece). The value is phenomenal, and it literally packs everything any couple would need to have mind-blowing sexual experiences.
My main piece of advice for when you're looking at these kits and choosing the best one, is to picture spreading them all out on the bed or on the table. Think about you and your partner looking over them, considering all the possibilities and wondering which ones you should reach for first. Knowing you and knowing your partner, which kit looks best in that situation? Which will cause the most excitement and anticipation?
The holidays are the time for giving gifts, the gift of new experiences and pleasure is a great one to give. Whether you are buying for a close friend, for you and your partner, for couples, thruples, or anyone else then sex toys can make great gifts. Long cold winter nights are the perfect time to experiment and play, these kits will give you the perfect excuse to do just that.