I always love a good fingering session, but sometimes penetration alone is not enough. I've been frustrated before, thinking something was wrong with me. Turns out – I'm not alone, and nothing was wrong with me at all – I just needed extra stimulation! In fact, a study showed that only 18% of women could reach orgasm only with penetration. But luckily, there are many toys on the market that help you reach orgasmic highs like you never thought possible!
On one of my searches for a toy that would give me that much-needed orgasm, I stumbled upon the Lovense fingering vibrator. This toy stimulates the G-spot while delivering delicious vibrations to the clitoris. But there's much more to this device than meets the eye. Not only does it deliver vibrations to the clit and the G-spot, but it also mimics that notorious 'come hither' motion that makes all girls quiver! The experience gets even more fun when you learn that you can remotely control the sensations you feel – straight from your smartphone.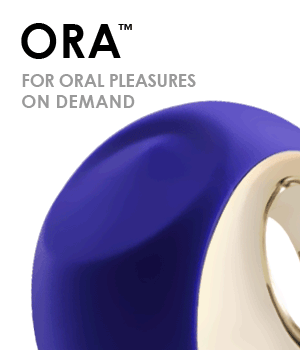 If you're intrigued, keep reading my detailed review of the Lovense Flexer – it's amazing features and the benefits you stand to gain – and find your way to new depths of sexual satisfaction.
Lovense Flexer Features
Beware! After reading through all the features packed into this compact piece of sex equipment, you won't be able to wait to try it out and feel for yourself what these magic fingers can do for your sex life. Masturbating is a form of self-care, so don't feel like you're doing something bad. Chase those orgasms guilt-free because you'd miss out on a lot.
Let's take a closer look at the Lovense features that can help you reach them.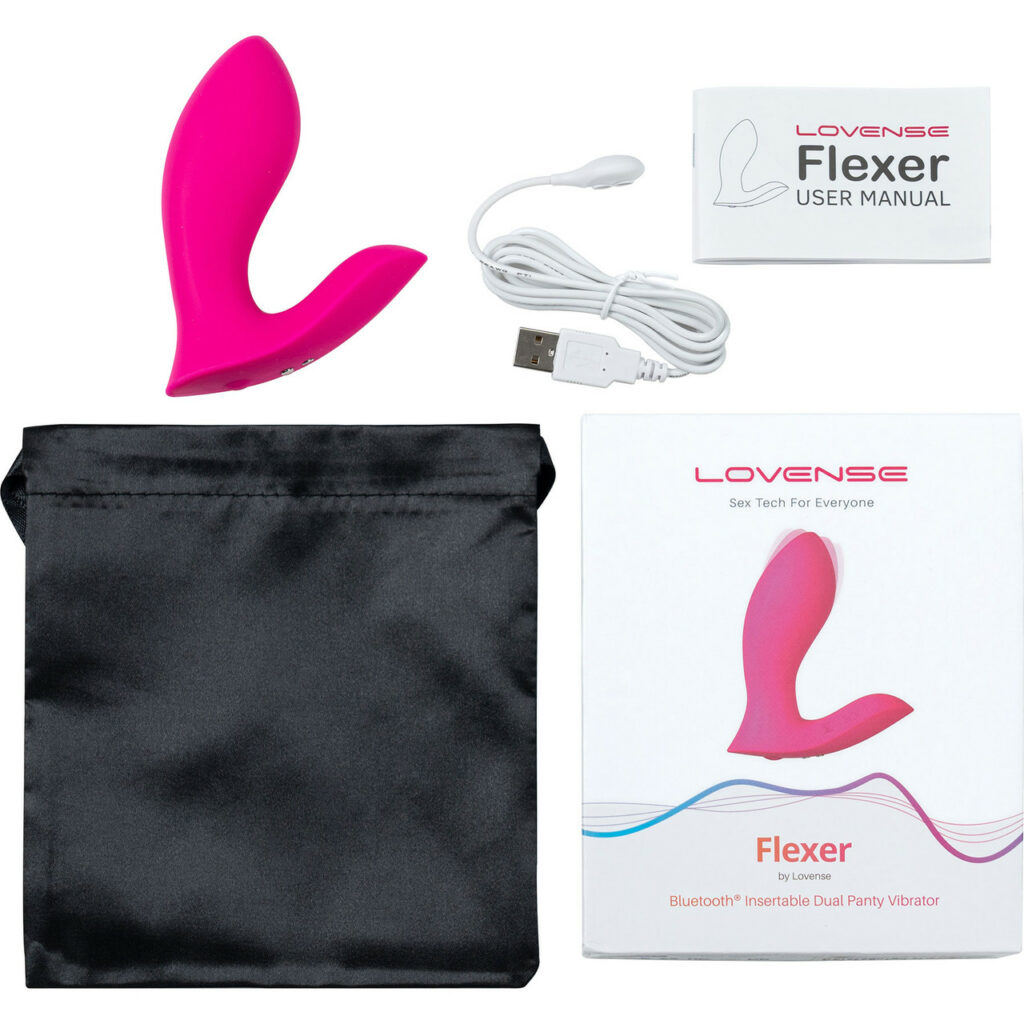 #1 Three-Motor Functionality
The Lovense Flexer has not one, not two, but three little yet extremely powerful motors that can be activated separately or simultaneously. The curved part of the Flexer that you insert into your vagina can produce vibrations, but it can also imitate the hand movements used when fingering.
You can go for vibrations only, but when you combine them with the 'come-hither' movements, you get maximum G-spot stimulation. If you treat the G-spot in the right way, it pushes against the clitoris, stimulating it from the inside, thus producing a more powerful orgasm. Activate the clitoral vibrator on top of that and get ready for the joy ride of a lifetime.
#2 Three Vibration Levels
Besides having three different motors that control different parts of the device, there are three different vibration levels you can choose from. You can opt for low, medium, or high vibrations, depending on what you're in the mood for. Vibrations can also increase sexual desire and improve sexual function, so that's another bonus.
When in the mood for something gentle and romantic, go for the low-vibration setting. If you want a longer pleasure session, the medium should keep you on your toes for a while, while the high level will get you to your destination quickly and efficiently. But the best thing about these vibration levels is the fact that you can experiment with them – jump from one level to the next and add some suspense to the session.
One more piece of advice: be wary of your surroundings! If you're out in public, I advise against using the high-vibration setting, as you may be overheard. The higher the vibration, the higher the sound, so maybe go for the low or medium settings when playing in public.
#3 Design
Before we dive into more of the specifics, I felt compelled to mention something that (I believe) is just as important as the rest of the product's features – the design. When you take a glance at the Lovense Flexer, it becomes clear that this vibrator has been designed with the female anatomy in mind. It's small and a perfect fit for most female bodies. The head is just plump enough to be easily inserted in the vagina and put pressure on the right spot, while the vibrating clit massager is suitable for any anatomy.
The toy is coated in body-safe silicone, one of the best possible materials used in sex-toy production. The high-quality material and the matte texture prevent bacteria from remaining on the device during playtime. Plus, the hot pink colour makes it look sexy — and also kind of cute. Overall, the design has been well-envisioned and well-executed, giving us a glimpse into the future of sex toys.
#4 Remote Controlled
One of this device's best features is that you can control it from a distance. Having a stable Bluetooth connection, the vibrator will remain constantly connected to your mobile device. On top of this, the Bluetooth connection has a great range, so you don't have to worry about straying too far from your phone. The app that lets you control your pleasure is compatible with Android and iOS phones, but also with Mac and Windows computers so that you can sit in front of the computer and experiment with the different options offered in the app.
#5 Wearable
Probably my favourite feature of the Lovense Flexer is wearability. It's small enough to be worn at all times without anyone noticing that you're in for a sexy time. And since it fits so well with your body, you can wear any type of clothes and not worry about being discovered. Plus, it's quite comfortable, so you won't mind wearing it throughout the day; quite the opposite, actually. Knowing that you can have an orgasm at any point will keep you aroused until your next play session.
This dual wearable panty vibrator is an excellent choice if you're among the people that want to have sexy fun on the go. Whether you're around the house and need a quick break from the chores, or you're having a stressful day at work, and you want to pop in the bathroom for a quick orgasmic experience, this is the toy for you. These hands-free, wearable vibrators are great for solo play, but you can also try them during partnered sex and use your free hands for other acts of pleasure.

#6 Waterproof
The longer you look at the Lovense Flexer features, the better it gets. This toy is waterproof, with an IPX7 rating, so you don't have to worry about soaking it if you squirt during playtime. All you need to do is relax and focus on the pleasure you're getting out of it.
But this feature has other benefits; you can use your toy if you're in the mood for a sexy bath or play in the jacuzzi for an even hotter experience. After you're done playing, you can wash the vibrator without fussing about messing up any of its functions. Just wash it with some warm water and soap, dry it with a towel, and store it away until the next time you're in the mood for some action.
#7 Rechargeable
As can only be expected, this device is rechargeable, and you can keep on using it for years to come. The device comes with a magnetic charger. So, you need to turn off the device, attach the magnets on the device to the charger and plug it into any USB port. Properly charging the toy is very important, so make sure to follow the instructions provided by the manufacturer. .
The red light indicates that the device is charging — a charging session takes approximately 70 minutes. When you see the red light go off, you'll know that your toy is fully charged and ready for your next session.
Never use the device while charging! I know it might be hard to resist, but safety first!
#8 Long Battery Life
One of the worst things that can happen when using a vibrator is the battery running out right before you climax. If you've ever experienced this, you know that it feels frustrating, and it may ruin your whole experience. And if you've never managed to get to the very end using a vibrator, fret not – there are plenty of ways you can climax with your sex toy.
You'll also be happy to learn that you won't have such problems with the Lovense Flexer; this device has a long battery life, allowing you to finish your business before it shuts down. This toy can go strong for 2 or 2.5 hours on a single charge, depending on how many motors you've activated and on which vibration level you're vibing. For most women, this battery life should be more than enough for several sessions!
If you're not using the device, just turn it off to preserve the battery. The battery doesn't drain quickly when not in use, so you have some power left for an impromptu session.
#9 Customizable Patterns
At this point, you already know that there are different motors you can activate when you're playing and that you can choose among three levels of vibrations. You can choose a frequency that works best for you and tune into that; the best thing about these sex devices is that you're in complete control.
But the Lovense Flexer vibrator and fingering wizard takes the controlled sex experience to a whole new level. It allows you to create your own vibrational patterns through the app, experimenting with different vibration levels and modes – the possibilities are endless. Once you stumble upon a pattern that brings the satisfaction, you're after, you can program it into the app and use it again whenever you feel like reliving the experience. And imagine this – you can store up to 10 different patterns for repeated use!
#10 One-Year Warranty
The Lovense Flexer is a great toy — there's no doubt about that. But to give you peace of mind, the manufacturer has added a one-year warranty to the product, covering all defects that might occur due to faulty parts or materials.
You can rest assured that the device is completely safe and up to all the necessary industry standards. Plus, it's delivered to you in a discreet package, so no one will know what you're getting in the mail.
Conclusion
I hope you enjoyed reading through my review of the Lovense Flexer. I did my best to cover all the aspects of this little toy and tell you how each feature can bring a smile to your face and tingles in your nether regions! I think sex toys should be taken seriously, so I put my serious hat on during the research process and came up with some (in my opinion) exceptional findings — let me know what you think!
When I set out to review this fingering vibrator, I wanted to give you an honest review of the product and tell you why it might be the next best thing to add to your sex toy collection. I wanted to give you a detailed look into the design and usability of this device, but also the numerous benefits, without revealing too much at once. It's always good to leave something to the imagination, so there are just a few more things for you to discover on your own as you set out on your journey to satisfaction.
Now that you've read my take on this sex toy, I'm curious to see what you think! Have you tried it out? Did it live up to your expectations? Would you recommend it to a friend?
Don't hesitate to leave a comment down below and share your thoughts on the Lovense Flexer — the more, the better! And if you liked this article, share it and spread the word— there's a new sex toy in town, and it'll blow your mind!