We all love our partners, but more often than not, penetration alone doesn't cut it. For the longest time, I'd thought something wasn't right with my body. Turns out: I'm not alone and am perfectly healthy; all I needed was a bit more stimulation in certain areas.
According to research, only about 18.4% of a thousand women can orgasm through penetration alone. However, most women can almost always orgasm through masturbation, showing that masturbation plays a beneficial role in the healthy development of female sexuality.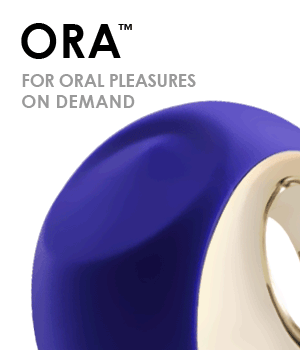 Most of the time, pleasure is achieved through clitoral stimulation, but a toy may come in handy if you wish to scratch a hard-to-reach itch like your G-spot.
So, as a fan of both masturbation and toys that elevate the game, I went on a quest for a two-in-one toy – one that'd massage my clit while adding pressure to my G-spot.
That's when I stumbled upon the Lovense Osci 2, which ended up being a complete game-changer. Both the G-spot and clitoris receive stimulation as the head of the Osci 2 oscillates rather than vibrates, as opposed to other traditional G-spot stimulators.
The vibrator has manual controls, but when you realize you can remotely manage the sensations you feel right from your smartphone, everything becomes much more exciting as curiosity rises.
If this sounds like something that'd tickle your pickle, continue reading for my detailed Lovense Osci 2 review and discover new heights of sexual pleasure!
Lovense Osci 2: Short Overview
What is the Lovense Osci 2? As stated on the Lovense website, it is an app-controlled G-spot oscillation wand. The head does not vibrate against the G-spot but instead swings side to side against your G-spot like a pendulum, only incomparably quicker.
Being just the second addition to its kind, following the Lovense Osci, Lovense raised the bar for G-Spot-focused toys with its exceptional design, functionality, and efficiency.
The Osci 2 is ideal for novice and experienced women alike since it is simple to use. It also provides enough freedom for the user to decide what sensations they like best and how they'd like to receive them, be it manually or via Bluetooth.
Let's get into this toy's specifications, so I can explain exactly how it's going to change your view of pleasure forever as it did mine:
#1 Neat Packaging
Starting off with the box, the Lovense Osci 2 comes neatly wrapped with all the parts and accessories needed to offer you the enjoyable experience you deserve. The white box boasts an image of the product on one side and details and specifications on the back.
One thing I'd like to note is that the device does not come in a silky drawstring bag like other Lovense products. However, the discreet packaging makes up for it, allowing your purchase to remain a dirty little secret!
When you open the package, you will find the Osci 2, a USB charging cord, a 'how to clit and Gspot vibrator' handbook, and fast setup instructions.
#2 Top-notch Design
The Osci 2 is a very efficient toy that is easy to use and store because of its small size and feather-light weight. It is 8.66 inches long by 1.5 inches broad.
The Lovense Osci 2's straightforward design offers not just a simple head-first technique to pleasuring yourself but also makes it simple to slather it with lube without having to go through any elaborate extra steps.
This incredible gspot vibrator, with a shape compared with the letter S, is accessible to all women, regardless of body type. You can test out how and where the toy feels best by yourself – and let me tell you, it feels damn good.
The bright pink Lovense Osci 2 has a clearly visible top and bottom and is made up of the toy's head, lengthy body, and handle. Contrary to the product's head, the handle region, which contains the primary button, is thoughtfully constructed in bright silver to prevent accidental insertion.
Due to it having smooth texture, you can focus all of your attention on the oscillating head without worrying about other surfaces or textures, as you might with a dildo. Because of the toy's uncomplicated appearance, you can easily clean up and resume your activities with the confidence of a satisfied woman.

#3 Body-safe Materials
The Osci 2 is made of ABS plastic and medical-grade silicone. I myself have a couple of allergies, and this toy did not make any of them flare up. Because Lovense employs body-safe materials that don't include phthalates or any other potentially dangerous chemicals that might hurt your vagina – the Lovense Osci 2 is completely safe to use both internally and externally on your body.
Water and moisture cannot harm the vibrator's complete design because it has been IPX7 certified and is waterproof throughout.
What's worth mentioning in this Lovense Osci 2 review is that it's not recommended to submerge the button/handle end in water. I like to go over it with antibacterial wipes and wash the rest of its body with a generous amount of lukewarm water.
#4 Whisper-level Sound
We finally arrive at the most important question for most of you reading this – exactly how loud is the Osci 2?
The volume of the Osci 2 depends on its consistent levels; 41 dB for low level, 44 dB for medium, and 48 dB for high level.
A volume of 41 dB is about as rowdy as it gets in a study hall, if that helps you understand. There is a whisper mode available. To compare, the 44db level is as loud as a whisper – to hear it, you'd have to be paying attention to the hum. The 48db level isn't as quiet as the other levels and can disrupt the silence, so I prefer using it in private.
#5 Easy Charging
Aside from the star of the show, the second most important thing in that special box is the USB charger. The charger is magnetic, making the toy super accessible to clean.
I suggest you charge the Osci 2 as soon as you take it out of the box. Plug the charger into a USB/AC power converter or an available port on your laptop or PC.
While the device charges, a red LED light will go on; after charging is complete, the LED light will turn off. Check the battery indicator in the app if you are unsure whether your Osci 2 is completely charged. The time it takes for the toy to charge completely is around 105 minutes.
Tip: Never use the device while it's still charging. You can use it continuously for approximately 5 hours when it is completely charged.
#6 Orgasms at the Press of a Button
If you're looking for a toy that grants orgasms at the press of a button – I got you. The Osci 2 features a button on top of the iconic "S" shape you can press to manually adjust the intensity level to low, medium, or high.
If those three modes don't quite hit the spot, the app has you covered.
#7 Remote-controlled Oscillations
One of my favorite aspects of this gspot vibrator is the hands-free or smartphone control. You can change stimulation patterns through the app, and if you want to crank up the "heat" grant your partner control of it instead!
Not to mention, even if your partner is on the other side of the planet, they can still use the app to take part in pleasuring you – how cool is that?
The software is simple to use and readily available for practically all devices, and the interface is user-friendly.
Some of the devices you can install the app on are:
iPhone/iPad Air/iPad Mini/iPod Touch iOS 11 and later
Android 5.0 and later (with Bluetooth 4.0 enabled)
Mac (with Bluetooth 4.0 enabled)
Windows PC (keep in mind you'll need a Lovense USB Bluetooth Adapter to connect)
You can control the pace manually with the Remote option, but you can also select from a gallery of vibration patterns that can be downloaded via the app.
#8 Various App Modes
Osci 2 is also sound activated – use it while listening to music you have downloaded on your smartphone or by connecting it to your Spotify account. It will respond to the beat of the music by vibrating, allowing you to feel the rhythm internally. Personally, I've never felt closer to some of my favorite artists as I have while using the Osci 2!
The options presented on the app include:
In this mode, you will see the "Tap and Slide Panel" function, where a pink floating circle appears. Move the pink circle up or down to change the intensity. Choose "Float" for a continuous feel or "Loop" to repeat a pattern after it has been established.
Similarly, you get the "Traditional Panel" function. You will notice a slider in place of a floating button, though. Drag the slider up or down to switch up the vibration's intensity.
Here, you can see all the preset patterns, which you can use if you don't want to spend time creating your own. This page includes a list of all the patterns other users have made so far, which is practically endless. If you decide to be creative, select "Create Pattern." You may then download, store, and share the pattern you've created with other Lovense users.
This is a fantastic feature for women who like noisy places. With this option, the device syncs to the background noise and vibrates to that exact rhythm. You can even change the microphone's sensitivity levels to make the most of this feature. Here's a tip – take advantage of this using your partner's voice!
Making direct phone or video calls to your lover using this app is yet another marvelous function, making it so you do not need to use other apps to spice up your experience. This was my partner's favorite option. Even if your lover is miles away, the app will give them a view of all the steamy action taking place.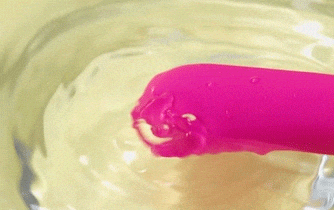 #8 Straightforward Cleanup and Maintenance
As previously mentioned, the design of the Osci 2 is extremely detailed and well thought-out. It makes it perfect for easy cleaning. I always make sure to wash it regularly and thoroughly to prevent any unwanted situations.
As this toy is waterproof, you don't need to worry about it getting wet as you wash it. However, it's important to note that it should never be entirely submerged in water since that may cause damage to the key components of the toy. Instead, use warm water and antibacterial soap, or add a sex toy cleaning solution while rinsing. After properly washing it, I used a soft, lint-free towel to dry it.
Due to its sleek form, it's a breeze to put it away after use. However, to keep the toy in excellent functioning order, storing it in conditions that are too hot or too cold should be avoided. Be sure to recharge your toy at least once every six months as well.
Additional Tips on Using the Lovense Osci 2
There are a couple of things that are good to know before you use a gspot vibrator, especially the Osci 2:
To lessen friction between the silicone exterior and your vagina, liberally lubricate both your body and the head of the Osci 2 before inserting it.
It is strongly advised that you use water-based lubricant rather than oil since it will make cleanup simpler for you.
It's advised that you only insert it as far as your G-spot. The toy was created to let you comfortably go as deep as is required for that specific target region.
Make sure the Osci 2 is switched off at the time of insertion to avoid pain and potential harm.
The device should be inserted at a 45-degree angle because of its S for to allow comfortable and pain-free entry. After this, turn on the device and succumb to pleasure!
Conclusion
According to my own experience, if you're ready to amp up your enjoyment or push your pleasure buttons to the limit, the Lovense Osci 2 will offer you a powerful orgasm and more!
It might not be the best toy for you if your only method of reaching orgasm is clitoral stimulation. However, if you've never experienced a G-spot orgasm, the Osci 2 might be the toy that changes that!
Mind that, just like any other toy, the Osci 2 will present a challenge until you get the hang of it. It's the kind of thing that takes a bit of time and patience.
G-Spot stimulation is far more enjoyable for me than clitoral stimulation. Given this, I appreciated how simple it is to insert and customize the Osci 2. It is incredibly easy to use, and the oscillation provides a sensation that is considerably different from looped rubbing or typical vibration. If you're anything like me and have no trouble with the elusive G-spot orgasm, the Osci 2 will become your best companion.
I hope you found my review helpful considering I made sure to include all the benefits other Lovense Osci 2 reviews might've forgotten.
Feel free to share any experiences you may have had with the Lovense Osci 2; Whether it's techniques, patterns, tips, or anything else, I'd love to hear all about it. And don't forget to share with a fellow sex toy enthusiast!