(Last Updated On: July 2, 2023)
Womanizer Plus is a larger sized take on the brand's famous clit sucking vibrators. PleasureAir technology that makes sex toys from this brand an orgasmic wonderland. Womanizer Plus Size does not stray from the tried and tested technology. It makes a few changes that qualify it is a separate product, as we'll see with this Womanizer Plus review. Let's hear the call of the sleek sex toy and see what it has to offer.
Womanizer Plus Review — Pros And Cons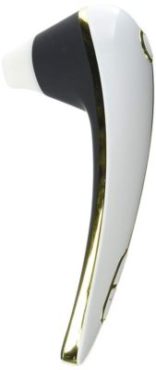 Pros
Excellent performance
Easier to manage intensity controls
Replaceable and interchangeable tips
Good design and looks
Waterproof and easy to clean
Rechargeable
Powerful
High-quality construction with body-safe materials
Cons
Noisy until pressed into action
Expensive
Weirdly named
Unergonomic placement of the power button
Womanizer Plus Size Features
Getting To Know The Womanizer Plus Naming
When the Womanizer Plus was announced, many assumed it would be a clitoral vibrator built for larger sized women. That is not the case. The name is simply a reference to a longer build. I have to say, naming products or sticking with names does not seem to be the strong suit of Womanizer.
Exhibit one would be the terrible judgment of naming the brand "Womanizer". Also notable is the fumbling in the naming of this product. It is known as Womanizer Plussize, Plus Size, +Size, Womanizer +, and of course, Womanizer Plus. If it wasn't the company itself blundering about with the naming, I'd probably have to call your attention to lazily named knockoffs!
Womanizer Plussize Packaging And Design
The Womanizer arrives in a well-crafted box. Inside, you'll find the Womanizer Plus, USB charging cable, power adapter, an extra silicone tip, user manual, and a simple pouch to store the sex toy. Simple as the pouch is, it is a welcome addition considering that several Womanizer toys come with no means of storage once pulled out of the box.
Its design is clean, even elegant. A notable departure from the flashy and poorly thought patterns on the Womanizer W500. The Womanizer Plus Size shows colors of white, black, and gold. All made from ABS plastic, and in a design that is both modern and attractive. True to its name, the Womanizer Plussize is longer than its sibling toys. That makes it easier to hold, control, and to keep in position. Womanizer Plus Size is about 8.2 inches (21 cm) in length but is lightweight enough to maneuver without trouble.
Buttons to control the toy are easily reached, although they take an interesting route. The intensity control +/- buttons are placed towards the end of the toy, making them convenient to access and control. Placement of the power button is different, going all the way to the top edge of the vibrator. While not a dealbreaker, the placement of the power button feel unergonomic and can be troublesome for those of us who use it for a quick reset on vibrator speeds.
Womanizer Plus Power And Intensity
Much like the Womanizer W500, or for that matter, the Womanizer 2Go, the Womanizer Plus will not leave you wanting for power. If one thing can be said of these touch-less models, is that the PleasureAir technology they rely on can elicit orgasms at will. This powerful mimicking can match the best positions for oral sex and bring about orgasms quickly, and if you prefer, repeatedly.
It has 12 intensity modes. The number of modes is more than other Womanizer toys. Most of these new intensity modes have been added at lower power levels. That is a positive improvement because even at their lowest setting, Womanizer models can feel very powerful. Womanizer Plus Size, however, starts at a lower power level and makes the transition to higher intensity settings more pleasurable. Since many women find the intensity on touch-less toys like the Womanizer too strong, the lower options can be very handy.
Cleaning And Charging The Womanizer Plus Size
ABS plastic and the high-quality silicone tip used to construct the Womanizer Plus are non-porous and completely body safe. This sex toy is completely waterproof and can even accompany you in the bathtub should you wish it. Waterproofing also offers advantages in cleaning. The contact points of the ABS detailing may require extra attention when cleaning. The job gets easier since you don't have to worry about water spoiling an expensive sex toy. Sanitizing the sex toy is also easier since you can remove the silicone tip and place it in boiling water.
A powerful battery backs the Womanizer Plus. Once fully charged, it can stay in use for up to four hours. That number may go slightly lower for those who prefer higher intensity settings, but even so, a couple of hours is more than enough for a full charge. It should be noted, the company recommends that Womanizer toys not be used for more than 15 minutes at a stretch.
Womanizer Plus Accessories
Womanizer Plussize comes with two silicone tips, each of different diameters. The general size of these silicone tips is not different than what you would find in the Womanizer Pro40 or the W500. Both sizes are good for play and allow some choice based on the individual's anatomy. The company lists the tips as well as the charging cable for sale, so your expensive toy won't be ruined if any of these accessories are lost or destroyed.
Womanizer Plus Review — The Toy In Action
Where orgasms are concerned, the Womanizer Plussize does not leave much to be desired. It will be noisy when first switched on, but that noise subsides to a whisper as soon as the Plussize is placed against the body. It helps to have some water-based lube, so the suction and air movement of the toy can be sealed within the silicone tip.
Starting at is lowest speeds, the gentle thuds of air from the Womanizer Plus are pleasurable. As you go higher, the air sucking gets more consistent and powerful. It's natural to expect an orgasm in a couple of minutes. If you especially enjoy oral sex, you might even see the orgasm hitting sooner. Orgasms are quick and easy, and you can always go back for more to keep things going!
The only cases where I would not recommend the Womanizer Plus is for women who do not enjoy oral sex, or who might have difficulty in placing the Womanizer Plus on their clitoris.
It may not be very instructive, but it still is hilarious to see Conan dealing with Womanizer sex toys!
Womanizer Plus Review — Bottomline
If you have followed this Womanizer Plus review this far, you know already that I find this toy worth recommending. The only reservation I have is the price. The Womanizer Plus is expensive, even by Womanizer standards. Unless you need the size advantage offered by this sex toy, getting your hands on the classic Womanizer Pro40 might be a better economic choice.