(Last Updated On: September 10, 2023)
The Sensual Vibe sucking vibrator is a combination toy that vibrates and massages your most delicate erogenous zones. Perfect for both singles and couples, this toy will change your sex life for the better.
Boasting ten different vibrating and sucking modes, I really thought this one was the winner! But although this toy has been keeping me warm at night lately, after a while, I couldn't help but crave something bigger, better. With that in mind, I made a turn at the online sex shop corner!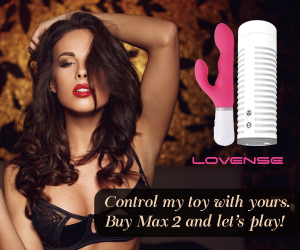 If I told you how many toys I've tried in pursuit of that ultimate la petite mort, you wouldn't believe it! Nonetheless, I kept looking and managed to snag some great alternatives to the Sensual Vibe.
Abounding with versatile vibration and suction patterns, the following devices have turned my view of erotic pleasure upside-down – and they will knock you off your socks just as well!
Despite my loyalty towards the Sensual Vibe, now that I got myself properly acquainted – and impressed with my favorite alternatives, I thought I'd pay a closer look at the toys in whole – what they do, how they work, their pros, cons, specs, uses and more!
A Look at the Sensual Vibe Sucking Vibrator
It's no news that the Sensual Vibe knows its way around the vagina. However, no toy is perfect, and that includes this one. That's why I decided to not gloss over any of its features and give you an authentic review of this magic wand. So, without further ado, let's talk about the Sensual Vibe pros and cons!
Pros
Unique double stimulation feature
20 intensity levels total; 10 vibrations, 10 sucking speeds
Waterproof
Great for indoor and outdoor wear
Pretty quiet (around 60dB)
Cons
Must fully charge it before you use it
Shorter lifespan than the average vibrator
Not as intense as it could be
The highly experienced might find it dull to use

I merely felt happy using this toy; however, I've definitely had more spasm-inducing orgasms before! And the magic wands I'm about to show you will do the trick just as good, if not better than the Sensual Vibe ever did.
Sensual Vibe Sucking Vibrator: Main Features
In experimenting with the Sensual Vibe sucking vibrator, I found three main traits that define and set the product from the pack. Those are as follow:
USB-Chargeable
The Sensual Vibe is entirely USB-rechargeable. One can argue that rechargeable toys are superior to battery-powered ones because you'll never have to buy a battery ever again. On the other hand, some might hit back with the "but what if your battery dies mid-session?", and you're absolutely right!
Clit Suction
The suction element of the toy was created with the intention of simulating a breastfeeding-like sensation – but on your clit. There are also ten sucking settings to choose from. I deeply enjoyed this feature, however, I found the suction a tad bit too strong for me.
Vaginal Penetrator
The penetrating part of this magic wand was supposed to be the icing on the cake – that was until it couldn't get me off for hours on end. Maybe it was my hard-to-please and stubborn demeanor, maybe it was the toy – who knows! Either way, that's when mama decided to call it a day and look for a new one!
Sensual Vibe Sucking Vibrator Specs
The Sensual Vibe, created by The Secret Affaire, possesses the following specs:
5.28×4.65 inches
Composed of ABS and silicone
Waterproof
Buzzes at roughly 60 decibels
Operates at a current of roughly 500mA
A voltage of around 3.7V
20 modes: 10 suction and 10 vibration patterns.

The Sensual Vibe Alternatives
If you've determined the Sensual Vibe is not the right toy for you, do not fret, as I've prepared a list of tested and proven sex toys by reputable creators.

Yes, yours truly also gave these babies a run and found a few specifics that surpass those of the Sensual Vibe.
Her Fantasy Heated G-spot Vibrator
Best Alternative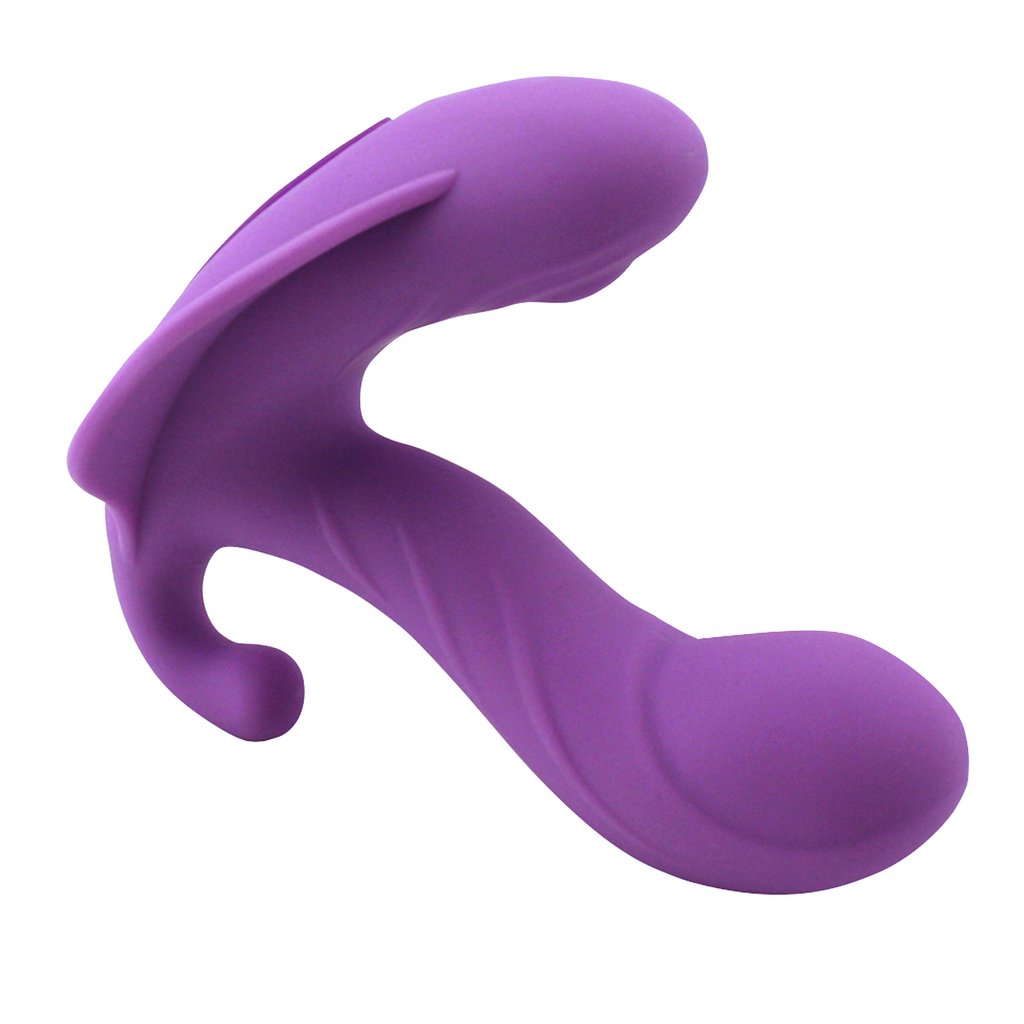 This heated G-spot vibrator is part of the Her Fantasy sex toy collection bought by women with an insatiable sex drive. This toy will tame the beast inside you, turning you into a docile house cat happily purring away! And just like our original pick, this one boasts 20 vibration modes.
Buuuuut, it also features something the Sensual Vibe doesn't: a heating function.
Namely, when you press the fire button, the toy reaches a whopping 104 degrees to warm you up, which will make you climax faster. It is 4.5 inches in insertable length and 1.5 inches wide, which makes it of average dimensions. It's easy to use and comes with its own USB charger.
This vibrator is not unrelenting in any way, but will still provide you with a rather loud and intense orgasm. Keep in mind that it is pretty noisy compared to the Sensual Vibe, but your intimate affairs behind closed doors will be beyond satisfying, noise or no noise!
When I tried this vibrator for the first time, I quite enjoyed the warming sensation it provided, as well as the potent G-spot stimulation.
Specs:
20 vibration settings
USB-rechargeable
Heating function (up to 104°F)
Double stimulation
Insertable (4.5 inches long and 1.5 inches wide)
Premium silicone
Pros
Multiple functions
Heats up nice and warm
Looks and feels nice
Cons
A tad bit expensive at $49.99
Womanizer X Lovehoney InsideOut Rechargeable G-spot and Clitoral Stimulator
Premium Alternative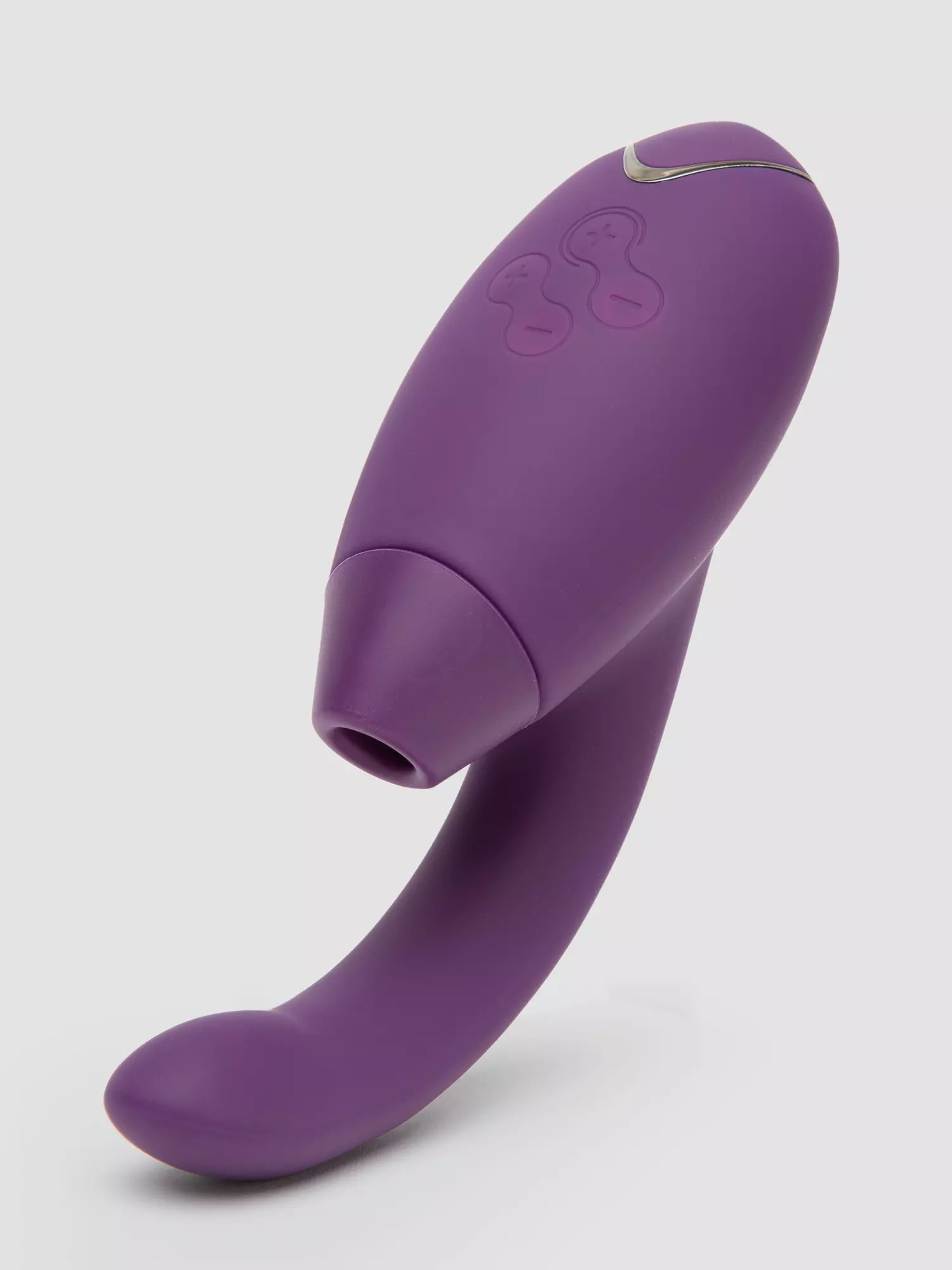 We've got a winner here, gals! In case you've never heard of Lovehoney, they own some of the best sex toys on the market right now. So, naturally, when I saw this vibrator online, I just had to give it a run!
Now, this one's a pretty little thing to add to your toy collection, though, as a high-end product, it costs around $150. However, the price comes with the performance.
Namely, this G-spot stimulator endorses a patented Air Technology for contactless stimulation for a mind-blowing clitoral orgasm. You can switch between the 12 intensity settings for both the G-spot stimulator and the clitoral one. If you're ready to trigger your most erogenous inner zones, then this Womanizer ft. Lovehoney collab will help you reach your deepest, most sensitive erogenous zones.
The toy is waterproof and rechargeable with multiple speed settings. It has an average vibrator length of 4.5 inches, and a thickness of 3.5 inches. And if you're looking for a quiet toy, then this is your top pick. Aside from its general performances, I truly appreciated how silent this toy was, perhaps even more than the Sensual Vibe itself.

Specs:
Patented Air Technology for contactless stimulation
Curved G-spot teaser
12 intensities each for the insertable and the suction part
Latex and phthalate-free
Waterproof
USB-rechargeable
Circumference: 3.5 inches
Insertable Length: 4.5 inches (7.5 in total)
Pros
Superior to the Sensual Vibe in suction and vibration settings
Excellent far-from-touch stimulation
The G-spot teaser provides an orgasmic sensation
Cons
Not entirely worth the price
Too firm
INYA Sonnet G-spot Vibe with Suction
Most Affordable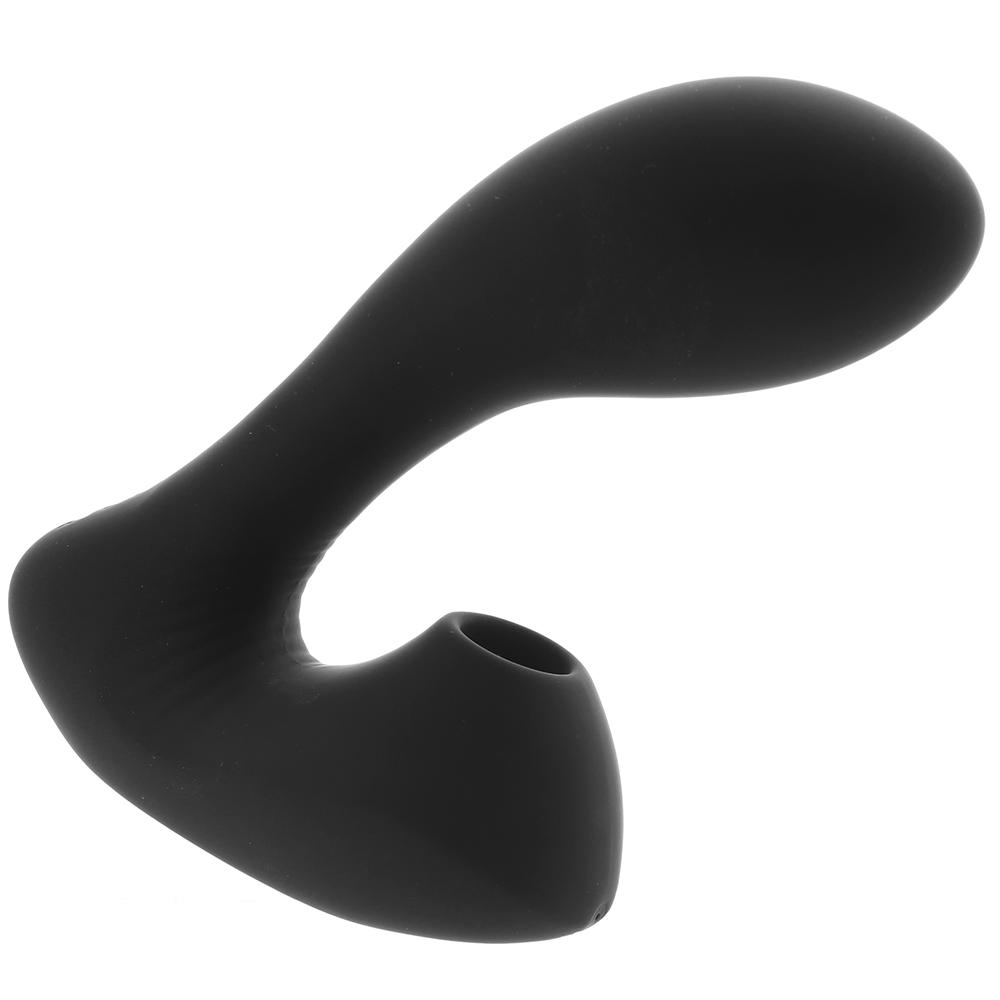 INYA Sonnet G-spot Vibe with Suction
If you're into poetry, you'll probably know that a sonnet is a fourteen-line poem with a fixed rhyming rhythm. This Sonnet, on the other hand, features ten vibrating rhythms and seven sensual modes of pulsing suction, It's pleasure poetry!
See latest price

The INYA Sonnet G-spot vibrator is the closest you're gonna get to Sensual Vibe – though at a price of $47.96. This elegant-looking clitoral and G-spot stimulator will make you shiver with pleasure or get that sucking power into motion and drive your clit or nipples wild!
Its multiple-intensity levels deliver a perfect balance of double stimulation, whereas its flexible build can adjust to fit anyone's anatomy. If you think your G-spot is out of reach, wait until you try this toy out!
The product is made entirely from silicone and can be charged via USB. Because it is hypoallergenic, it is safe for anyone to use it. Always make sure it's clean before putting it in, however. I even recommend soaking it in warm soapy water, without fully immersing it.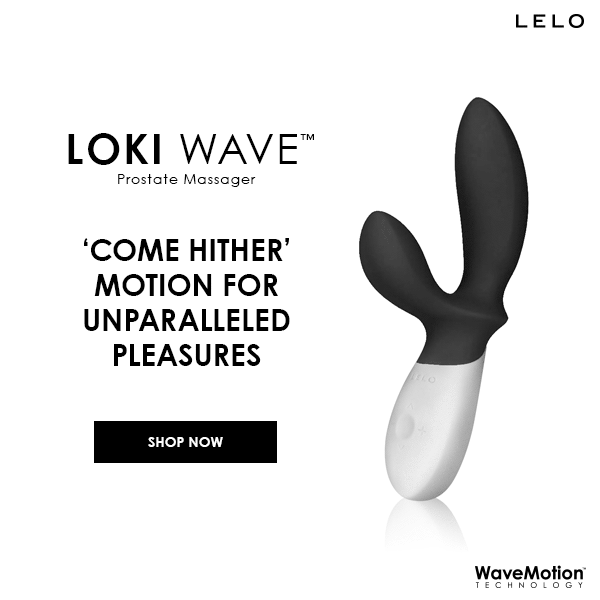 Specs:
Silicone toy
Rechargeable
Multiple speeds and functions
Length: 5.75 inches
Insertable Length: 4.25 inches
Girth: 4.75″ (largest point)
Width: 1.5″ (largest point)
Splash-proof
Pros
Very potent vibrator
Shaking orgasms
Classy design
Cons
Not completely submersible
The Rose Clit Sucker
Most Discreet Option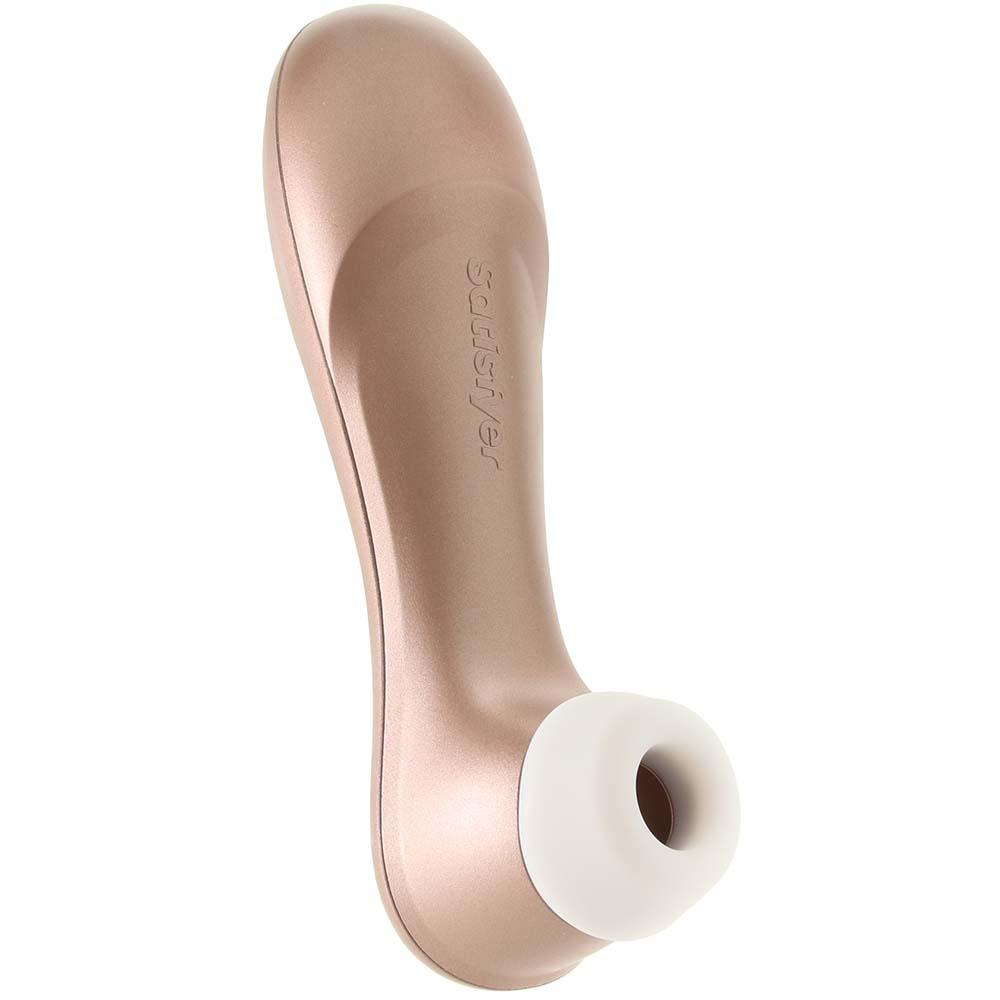 No, Valentine's is not around the corner, but who says you can't give someone a rose in the form of a magic wand? That's right, this rose clit sucker will spare you the thinking when in need of that perfect present for your other half!
Not only does this red rose gem look delicate and soft, but it is also a potent vibrator ready to floor you when you need it most. A fair competition to the Sensual Vibe, this one offers a clit-sucking sensation as you've never felt before. With its ten electrifying suction settings, this rosebud beats my original pick – big time.
Made from body-safe silicone, you'll never have to worry about wrapping this bad boy around your legs. And for the steamiest love sessions, this waterproof beauty will be there to save the day, taking in all your sweet juices!
Rose is 2.4 inches in length, and 2.4 inches in width, making it dandy and easy to glide right into your love canal. The silicone provides a silk-like feeling on your skin, making you shiver with pleasure every time the toy buzzes and pulsates on your sweet spot.
This magnificent vibrator disguised as a rose costs $34.99, which is a low price considering the things it did to me. Boy, oh, boy!
Specs:
Clit sucker
Air technology for contactless stimulation
Length: 2.5 inches
Width: 2.3 inches
Ten intensity settings
Rechargeable
Pros
Beautiful design
Versatile: great for anywhere on your body
Smooth and soft on the skin
Satisfyer Pro 2 Air Pulse Simulator
Best seller of 2023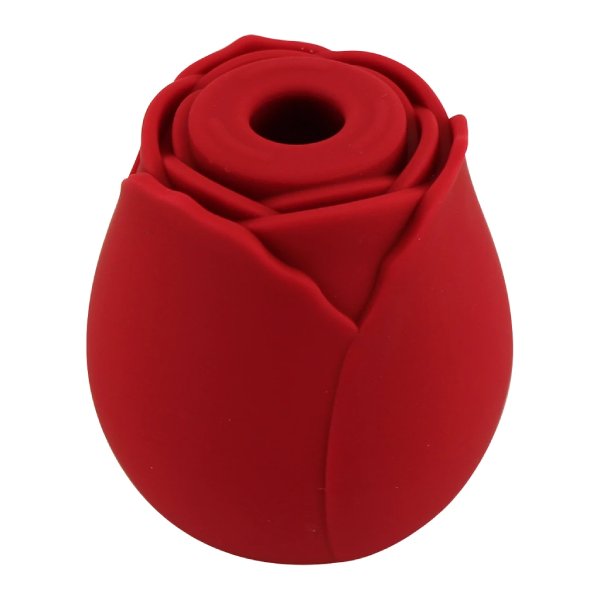 Man oh man, did this toy understand its assignment! I've gotta say, in my years-long history of experimenting with even the most unimaginable toys, this one took me by surprise the most. Simply put, this magic wand offers various suction levels for comfortable and soft clit stimulation.
In reality, this wand will make you scream sweet profanities while deeply prodding and thrusting into your most sensitive areas! The vibrator comes in the shape of eleven throbbing and sucking sensations. For an optimal and most pleasurable experience, I positioned this baby right on my clit, letting it buzz away and squirming with pleasure at its littlest touch.
Of course, not everyone is a fan of hardcore stimulation. For those with a sensitive clitoral area, I would advise you to take advantage of the toy's potent air stimulation. Yes, the suction level is so strong, you don't have to put this wand on your clit for it to do its job! That way, you're avoiding that god-awful numbing sensation that is the aftermath of overstimulation.
This clit play toy is USB-rechargeable and wrapped in ABS plastic for a straightforward and easy clean. What I like most about this product is its ease of use. No flicking a million buttons before finding the right one – the '+' and '-' buttons at the top easily switch between suction settings.
Specs:
Air pulse wave technology
11 modes
Rechargeable
Skin-friendly silicone, ABS plastic
Length: 6.5″
Girth: 7.1″ (largest point)
Width: 2.4″ (largest point)
Waterproof
Pros
Great price at $29.95
The best air tech contactless stimulation toy I've tried
Super quiet
Cons
Haven't noticed any so far!
Satisfyer Partner Silicone Couples Vibe
Best for Couple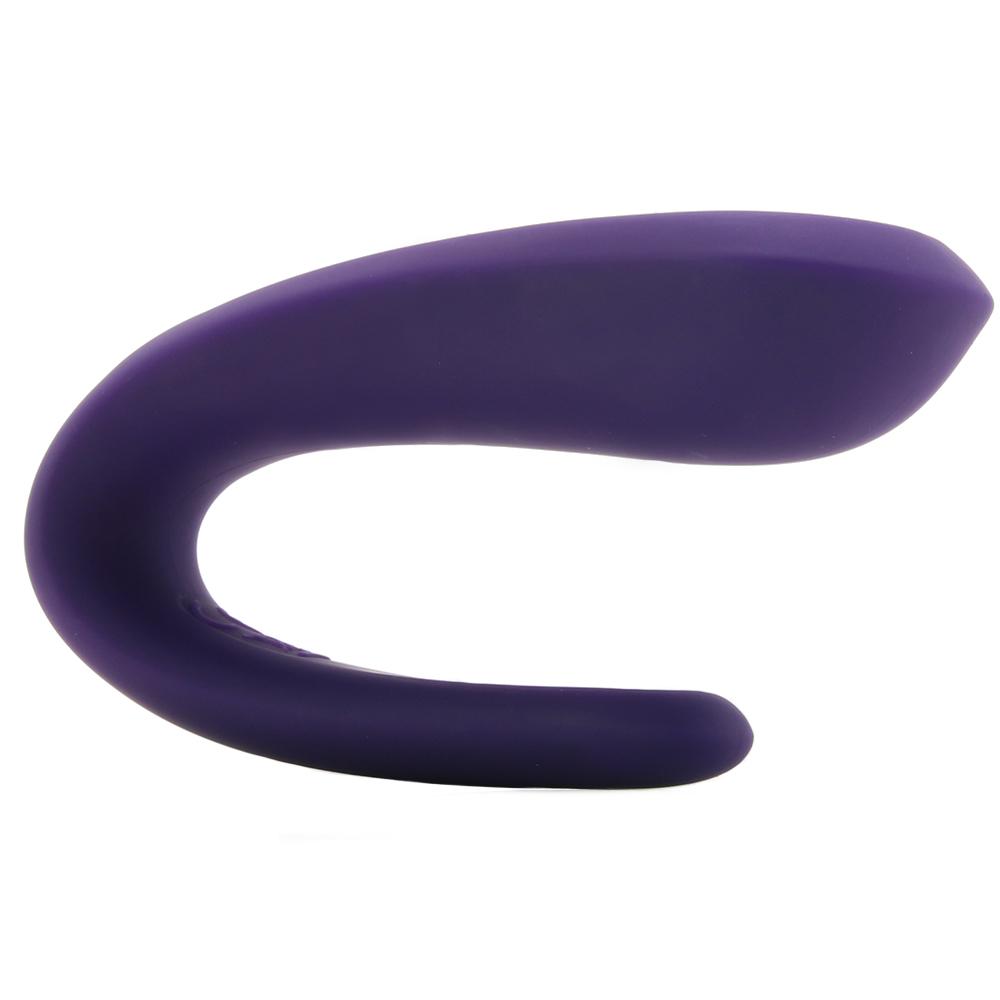 Satisfyer Partner Silicone Couples Viberator
You probably learned that all-important 'sharing is caring' life lesson way back when, right? Well, if sharing caring, then sharing the pleasure is caring A LOT. We're talking about sex toys (of course!), and specifically, Satisfyer's Partner vibe.
See latest price
This sucking vibrator and perfect clitoral stimulator somehow found its way into my bedside drawer and has yet to disappoint! The Satisfyer Partner found on PinkCherry's website provides users with simultaneous arousal of the G-spot and the clitoris.
Due to its softness and smoothness, I not only use it for that perfect release but as a stimulant of other erogenous zones on my body, too! That's right, this nifty toy is ideal for soft and gentle nipple play or to leave shiver-inducing traces down your spine. Get it and utilize it for your utmost pleasure!
For how well it does its assignments, I must say $19.96 sounds like a rather sweet deal. The length is 3.75 inches, and the width is 2.75 at its largest point. Made of silicone and USB-rechargeable, this toy is great for indoor and outdoor wear.
So, if you're looking for the next toy to fulfill your wildest fantasies, I proclaim this one the winner!
Specs:
Length: 3.75″
Girth: 3.6″ (largest point)
Width: 2.75″ (largest point)
Silicone
USB-rechargeable
Phthalate-free
Multiple functions and speeds
Wearable
Textured surface
Pros
Extra flexible
Comfortable to use
Sleek, unassuming design
Cons
Not that comfortable to wear, personally
How to Use A Sucking or Double Stimulation Vibrator?
I will now navigate you through my personal experience using one of the aforementioned products, its ease of use, and the perfect way to reach an explosive orgasm. For our demo, I'll talk about the Satisfyer Partner.
Sex play rule number one: lube up! I cannot stress this enough; make sure you've got a lubricant on hand when inserting the Satisfyer Partner toy. I found that lubing myself up and then penetrating the toy has made my experience all the more pleasant and rewarding. Remember; the wetter, the better! I recommend using a water-based lube, as it is the most compatible option in using silicone sex toys.
When all is done and wet enough, put the vibrator in place, sit back and relax while the toy's pleasure waves take care of the rest! No more begging your partner for a helping hand when you've got the Satisfyer Partner sucking vibrator.
Afterward, you'll want to clean your toy. Though all the products I mentioned are waterproof, not all of them are submersible. Always be careful with how you handle your toys! Don't drown them in water, and most importantly, wipe them down afterward! To get rid of dirt and bacteria, use anti-bacterial wipes or a damp cloth.
Finally, put your toy away in a drawer, your closet, or wherever else you want. Keep in mind to place it in its disguisable packaging to avoid uncomfortable surprises!
The Bottom Line
Sucking vibrators are an innovative way to reach a delightful orgasm – and likely even two consecutive ones – in a matter of seconds. Now, my preferred alternatives to the Sensual Vibe aren't all for penetration – some simply stimulate the clit, feeding off of your wetness and building it up even more.
For example, the Rose clit sucker and Satisfyer Partner vibrator are my top picks for clitoral pleasure. Providing users with an array of vibrations, from slow and steady to leg-shaking ones, they present a perfect alternative to Sensual Vibe's clit suction feature.
On the other hand, you'll never go wrong using an air stimulation wand such as the Satisfyer Pro 2! This one's for my most gentle gals that shiver at the slightest touch. If overly-sensitive is how you'd describe your lady bits, then this magic wand will go easy on you yet quench your thirst for the ultimate climax.
And there you have it ladies – a handful of toys designated for your hands-on and hands-free experiences! Take your pick, estimate your pleasure needs, and get down to business with a little buzz-push-suck magic of your choice!