In the game of non-contact clit sucking vibrators, Womanizer Pro40 has made a name for itself. It presented a slight refinement of Womanizer product designing, which has since continued to progress. But what really makes the Womanizer Pro40 is its ability to deliver amazing orgasms. Orgasms-on-demand, if you will. So here's my Womanizer Pro40 review, along with recommendations for similar, newer, Womanizer models.
Womanizer Pro40 Review — Pros And Cons

Pros
Excellent sensations and power
Good battery life and playtime
Rechargeable
Waterproof
Replaceable and interchangeable tips
High-quality construction; made with non-porous and body-safe materials
Cons
Somewhat noisy
Expensive
And of course, the naming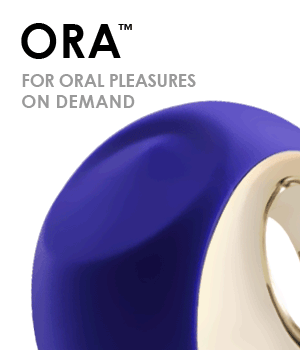 Womanizer Pro40 Features
Packaging, Design, And First Impressions
Womanizer Pro40 was built to be a better-designed version of the original Womanizer sex toy. It did tremendously bring down the garishness of the original, even if the Pro40 itself wasn't the epitome of elegant design. By the way, if you are a fan of the leopard prints and crystal buttons of the original Womanizer, you can still find that touch in some variants of the Womanizer W500 (also known as the Womanizer Pro).
Back to topic, the Womanizer Pro40 has a look that some people have likened to an ear thermometer. Jabs on the looks aside, the Womanizer Pro40 has a design suited to its skill set. And it employs that quality pretty well.
As for the packaging, the box is fairly sturdy but average enough to be ignored. Inside, you'll find the Womanizer Pro40, USB charging cable with a wall adapter (which is a nice touch), two silicone tips to accommodate different sizes, and an instruction manual. Nope, no storage pouch for you, which is a not-so-nice touch. I firmly believe that expensive sex toys should include these seemingly insignificant goodies, simply because they make storage and care so much easier.
Moving on to dimensions, Womanizer Pro40 measures just 12cm (4.7-inches) in length and 4.6cm (1.8-inches) in width. It weighs just 140 grams (5oz), so you can move and maneuver it with relative ease, something that will be especially welcome for those with mobility or pain issues. If you like the sex toy to be longer, the Womanizer Plus is a great option.
Womanizer Pro40 Power, Intensity, And Controls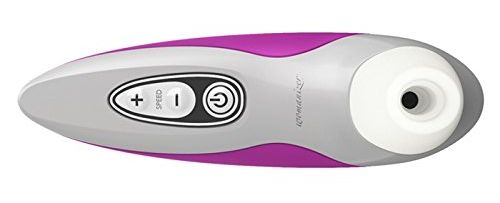 Controls for the Womanizer Pro40 are placed towards the lower, body-facing side. There are three buttons, two to increase and decrease intensity, and one for power. The buttons are easily accessible and placed well enough to allow for easy controls of the sex toy.
You can make use of eight intensity modes, the lowest being simple yet deliciously powerful. The lowest setting works great for setting the tone of this clit-sucking vibe. Once you move to higher modes, you'll see the PleasureAir technology work its magic and take you straight to the path of an orgasm. Most women love the sensation of the Womanizer Pro40, and I think it is one of the best clitoral vibrators you can buy.
Going to full power is pretty rare, but you can quickly cycle back to the lowest power mode and continue to move up higher. Works great for some back-to-back orgasms!
Charging And Cleaning The Womanizer Pro40
You can charge the Womanizer Pro40 with its included USB charger. Plug it in directly to the USB port on the computer, or place it on with a wall adapter. Once fully charged, the Lithium polymer battery offers a use time of about 2 hours. Honestly, a few minutes with this thing are enough for orgasms. The battery is more than sufficient for using it numerous times. Just a note, do not use clit-sucking vibrators for more than 30 minutes at a time.
The Womanizer Pro40 is completely waterproof, so you can take it to the shower. Even the bathtub's fair game if you'd like to have some fun there. Of course, the power decreases somewhat in the tub, but it's still pretty good. Another plus of waterproofing is cleaning. You can clean this sex toy with relative ease, without worrying about water damaging any parts. Plus, the silicone tip is removable and makes parts easier to access for cleaning.
Womanizer Pro40 Availability And Options
The Womanizer Pro40 is being phased out in favor of newer models. Popularity of this sex toy, however, has made it still available as many retailers continue to stock it. Womanizer Pro40 Amazon options seem to be readily available. As much as I enjoy this sex toy, moving to newer models is a welcome move as well. It shows the company is continuously working on better models. Here's a look at newer models designed to take the mantle.
Womanizer Classic

Essentially a sleeker version of the Womanizer Pro40, the Womanizer Classic brings out better looks. It has similar dimensions as the Pro40, but the length of the nozzle has been considerably shortened. Buttons have been moved from the body-facing side to the upper side of the vibrator. Another change is the better color scheme that is more in tune with modern design expectations.
The body is made of ABS plastic, and the nozzle is still silicone. Womanizer Classic is completely waterproof, has 8 intensity levels, and a battery that lasts for up to four hours on a full charge. As an extra, the orange glow in the nozzle usual with Womanizer toys has been dropped as well. Womanizer Classic is quieter than the Womanizer Pro40, showing that the new design does have more to offer. Oh, and its box includes a pouch for storing the Classic, though the power adapter is gone.
Womanizer Premium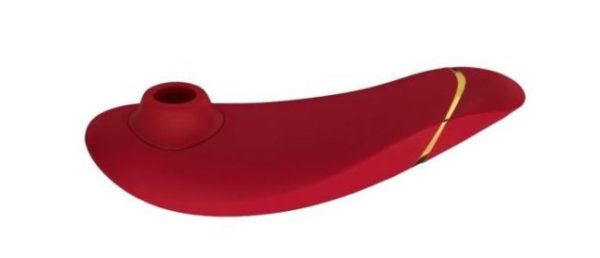 Slightly longer than the Womanizer Pro40, the Womanizer Premium is a curvy, sleek toy. It is available in three colors; white with chrome accents, or red with gold, or black with gold accents. Womanizer Premium has 12 intensity levels and is completely waterproof. An interesting feature here is the Autopilot.
With the Autopilot feature, the air-sucking intensity varies randomly within a selected mode. The idea apparently is to match up the PleasureAir technology with patterns available with classic vibrators. I am intrigued by this technology, and look forward to seeing how it progresses.
Womanizer Pro40 Review — Taking It For A Spin
The larger/wider silicone tip is my preference for the Womanizer Pro40. The wider area gives the Womanizer Pro40 something more to work on, and the sensations are enjoyable. Add some water-based lube so the seal that the nozzle forms with the body can be better. Once you got that going, the gentle pulls of this sex toy are enough to bring on an orgasm.
It's worth it to spend more time on the lower settings, gently building up to an orgasm. The higher intensity settings work pretty fast and will bring out an orgasm rather quickly. I think it's worth the trouble to spend some time on the lower intensity settings. I don't think the lower intensity levels are enough to bring on an orgasm, but if you're particularly fond of oral sex, they just might work right for you.
The vibrator is noisy. Well, it's not exactly loud enough to be heard beyond your door, but its high-pitched whine can barely skip your attention. That weird noise is the only downside for me, other than that, this is a pretty great sex toy.
Womanizer Pro40 Review — Conclusion
It is dusk for this Womanizer Pro40 review, and it's time to lay our cards on the table. I think the Womanizer Pro40 really brought the manufacturers Epi24 some solid ground in the business. And it pushed the non-contact vibrator into a better spot. It is a solid sex toy, and one that won't fail to bring on an orgasm, or if you so desire, multiple orgasms.