Dual stimulation for solo play should not be frustrating anymore due to the invention of dual massager sex toys.
Over the years, I have used a variety of dual massager toys ranging from the We-vibes to Lelos.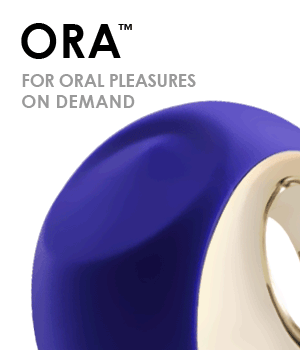 Lelo has excelled in designing sex toys for various stimulations. The designs range from Lelo Soraya 2 to Lelo Sona.
Now, the Lelo Enigma is here with us. Lelo Enigma is a pleasure factory for those looking for simultaneous G-spot and clitoral stimulations.
Some of the features that made me love the Enigma are its unique flexible design and sonic waves that will externally and internally stimulate the sensitive parts for an ultimate experience and pleasure.
In this article, I will provide a more detailed review and my experience using the Lelo Enigma.
Sounds great? Keep reading to find out more.
What is Lelo Enigma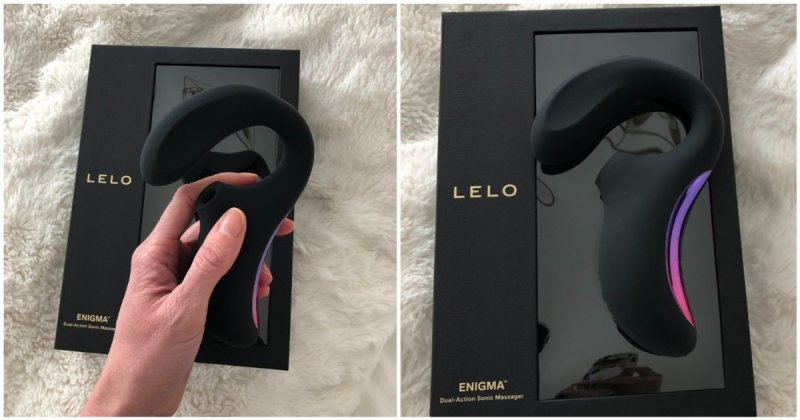 I would define Lelo Enigma as the most sensual dual massager that was ever designed for solo play. It was designed using sensonic technology.
Sensonic technology means that the sonic waves provide clitoral stimulation for gentle and deeper sensations without making direct contact.
Dual massager means that it offers ultra-powerful stimulations to both the clitoris and G-spot. It will suck your soul out of your body and release it to the universe multiple times.
It has eight pleasure settings. This means that you can experience a wide range of pleasures, from a teasing murmur to a more satisfying pulse.
It is also an ergonomic internal stimulator. This means that it has a fully flexible and smooth internal arm with super powerful vibrations that provide sensational stimulation.
Lelo Enigma Main Features
Lelo Enigma has features that make it a unique dual massager. Such features include;
Ergonomic and fully flexible design
Extra-smooth silicone material that is body-safe
Sensonic technology
Dual stimulation
Eight pleasure settings
Waterproof
Easy to clean
Rumbly G-spot vibration
Intense clit-suction
Keep reading for more detailed information about these features.
Ergonomic and Flexible Design
The Enigma has a unique ergonomic and flexible design that is most suited for dual stimulation.
The manufacturers designed this Lelo with an ergonomic internal simulator with a fully flexible internal arm with super-intense vibrations that provide stimulation.
The extra-smooth silicone material allowed the Enigma to slide inside me with comfort. It also stayed in place without slipping out.
Its light weight of 0.43 ounces and length of 5.5 inches makes it a suitable sex toy for beginners.
Other sex toys always need me to keep changing angles for different grinding techniques. Lelo Enigma is flexible to conform to different positions. The thought that it can bend in various directions and angles is terrific.
Eight Pleasure Settings
Unlike other sex toys, the Enigma stimulated my G-spot and clit with rumbly and deep vibrations. Thanks to the eight pleasure settings.
The motors vibrated independently for some added pleasure and pleasure variety.
There were eight inbuilt vibrations modes that I was able to choose from. For instance, vibrations range from a teasing murmur to a more satisfying pulse. I bet you can not exhaust even half of these vibration functions before you orgasm.
The Three-Button Interface
The Enigma has a three-button interface situated at the base. This allows you to turn it on/off simultaneously. This interface also allows you to control the G-spot vibration and clit airwaves separately. Besides, you can switch between the eight vibration patterns.
This three-button interface makes it easy to use the Enigma for solo play.
However, I realized that the button was somehow stiff. Once you insert the vector, it will be a little hard to change the settings.
Lelo Enigma Specs
Brand: Lelo
Size: 5.5 inches in length, 1.3 inches in width, and 1.1 inches in depth
Number of batteries: 1 Lithium Polymer batteries
Battery life: Rechargeable
Weight: 0.43 ounces
Strokes frequency: 60 Hz/ 100 Hz
Colors: Black
Material, texture: Extra-Soft Silicone
User time: Up to two hours
Warranty: 1 Year
How to Use The Lelo Enigma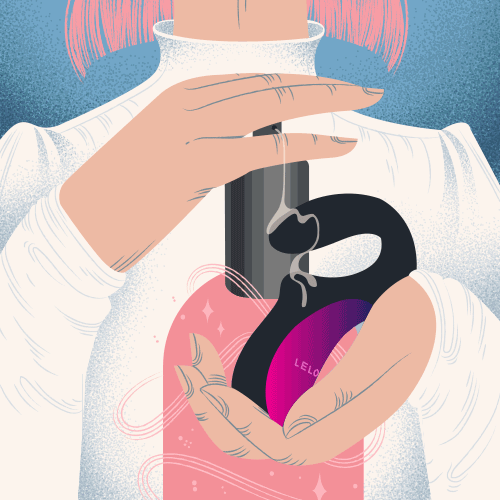 This advanced dual massager is relatively easy to use. For instance, you can manually control the Enigma by pressing the buttons.
It has a three-button interface that allows you to turn it on/off simultaneously. This interface also allows you to control the G-spot vibration and clit airwaves separately. Besides, you can switch between the eight vibration patterns.
It is super easy to operate. Here is how you can use or operate the Enigma.
Step 1: Before you use it for the first time, make sure that you charge it for up to 2 hours.
Step 2: Unlock your Enigma by pressing and holding the "+" button and "-" button for three seconds until the light turns on.
Step 3: Apply Lelo personal lube or moisturizer on your Enigma and your body for enhanced pleasure.
Step 4: Press the "+" button to turn on the Lelo Enigma.
Step 5: Press "+" again to increase the vibration or stimulation strength. If you wish to reduce the vibration strength or stimulation strength, press the "-" button.
Step 6: Press the () button to switch between the eight vibrations patterns.
Step 7: Press and hold the () button to turn off your Enigma.
Step 8: Press and hold "+" and "-" together for 3 seconds until the light goes off to lock your Enigma.
Solo Stimulation
I enjoy using my Lelo Enigma while lying on my back. This allows me to relax and enable my Enigma to stimulate the clitoris and hit my G-spot simultaneously. Lelo Enigma is the best sex toy I have used for solo stimulation.
I change the stimulation or vibration settings depending on how bubbly I feel. The vibration strength allows gets me carried away easily.
The ergonomic design of the Lelo Enigma allows me to handle it with one hand. As such, I always have a free hand to explore other sensitive parts of my body, such as nipples, as the Enigma is doing its work down there.
I also have, on many occasions, used the Enigma while lying on my stomach. However, if I wish to change the toy position, I usually feel my wrist getting tired.
Couple Stimulation
Although the Enigma is best suited for solo play, you can use it with your partner. From my experience, Lelo Enigma is not the best for couple stimulation. However, I have been using it with my partner for foreplays. We use the lowest vibration setting to get things started.
With time, the play gets more heated. As such, we increase the vibrations a notch at a time.
It is fun. However, the Enigma could get you to climax faster than your partner.
How to Clean the Lelo Enigma
Lelo Enigma is made of non-porous silicone material. This means that it usually has the least amount of bacteria left on the surface after use. As such, it is easy to clean. Besides, it is 100% waterproof. For instance, you can submerge it in water for effective cleaning.
The best three methods that you can use to clean your Lelo Enigma are;
Wash with a sex toy cleaner
Submerge it in boiling water
Sanitize it using a specially-crafted, high-tech mechanism
Using Sex Toy Cleaners
Sex toy cleaners such as Toy Life are made of natural ingredients that leave your Lelo Enigma looking and feeling brand new. It is also strong on bacteria and germs.
You can use the sex toy cleaner by directly applying it to your Lelo Enigma and rinsing your sex toy in lukewarm water after a few seconds. Ensure you dry it off using a clean towel.
Submerging in Boiling Water
This is the easiest and most affordable method that you can use to clean your Lelo Enigma.
Our Lelo Enigma is 100% waterproof, meaning you can submerge it in water for minutes. Therefore, to clean it, you need to drop it in boiling water. Allow the water to do its cleaning work. Take it out of the water after a few minutes and dry it using a clean towel.
Using High-tech System
There are many high-tech means, such as UV light sanitizer, that you can use to clean your Lelo Enigma effectively. It guarantees 99.9 disinfection of all bacterias in 11 minutes.
All you have to do is to put your Lelo Enigma in this system. It will be sterilized for 11 minutes and dried in 40 minutes.
Our Verdict on the Lelo Enigma
Due to its dual stimulation, Lelo Enigma provides intense orgasms with little effort.
It is easy to operate. For instance, it has three buttons that are easy to understand.
From my experience, it has been great to apply water-based lube. Without the lube, the silicone always feels tight while inserting. Although the Enigma has a smooth surface, more lubrication is needed for more comfort while using it.
As I get the Enigma deep inside me, I begin to feel the G-spot stimulation that motivated me into buying this sex toy.
I experienced a louder clit suction. It got even higher as I increased the mode. The pleasure and stimulation I was getting made me not care much about the noise.
The pulse combination surrounding the clit and vulva gave me a sensitive feeling all over.
As the Enigma kept hitting my G-spot, I enjoyed the pulsating.
However, the clit stimulation is what made me orgasm in seconds. I would recommend this toy to you if you are someone who finds it hard to climax without clitoral stimulation.
I have been using it for many years to heat up things before I get intimate with my partner. However, due to the sonic wave action, I found it hard to use the Enigma during oral sex. For instance, the sonic wave enables touchless clit stimulation, but you would not want someone's tongue near that.
Another thing that made me love the Enigma more is its dual massager mechanism. For instance, it can be used by women who can only climax through penetration. Besides, it can be used by women like me who can orgasm with either but wish for dual sensations.
The Enigma's girth and 5.5 inches size are great for beginners looking to explore their sexual fantasies. However, this toy may not suit those who wish to have more size.
Pros and Cons of Lelo Enigma
Pros
Made from high-quality body-safe materials
Excellent sensations
Can work with VR, encoded games, and is FeelMe compatible
Stylish design
Cons
Maximum battery life of 1 hour
No vibrations
Lelo Enigma Alternatives
Lovense Lush 3
If solo play is not your thing, you might want to check out Lovense Lush 3. Lush 3 suits you if you are looking for a reliable and discrete G-spot vibrating toy that you can use with your partner close to you. It is also suitable for long-distance couples wishing for a sex toy to keep the intimacy alive.
Best-selling Remote Vibrator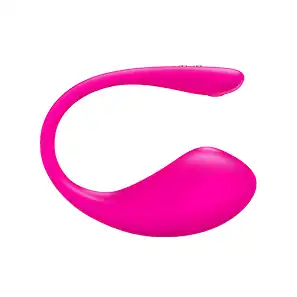 This toy was designed for you if you enjoy teasing or being teased. Besides,
It is technically an app-enabled wearable sex toy that sends intense and rumbly vibrations to your G-spot. It offers a reliable connection for naughty public days.
However, Lush 3 is not the best option if you are looking for a sex toy that offers internal and external stimulation at the same time.
Lelo Sona 2
If you are looking for a sex toy whose design is similar to the Lelo Enigma, you might want to go for Lelo Sona 2. For instance, the mouth, clit stimulation part, noise level, and air-wave intensity are similar.
However, Lelo Sona 2 offers the best clitoral stimulation at relatively half the cost of the Enigma. For instance, the large, soft, deep mouth will give you total satisfaction inside and out. Besides, it relies on gentle and deep sonic waves to stimulate your entire external stimulation spots.
However, Lelo Sona is not meant for you if you are looking for a sex toy that offers penetration.
Womanizer Duo
If you have a sensitive clit and are looking for a sex toy that will give you intense but gentle pleasure, you might go for the womanizer duo.
Premium Alternative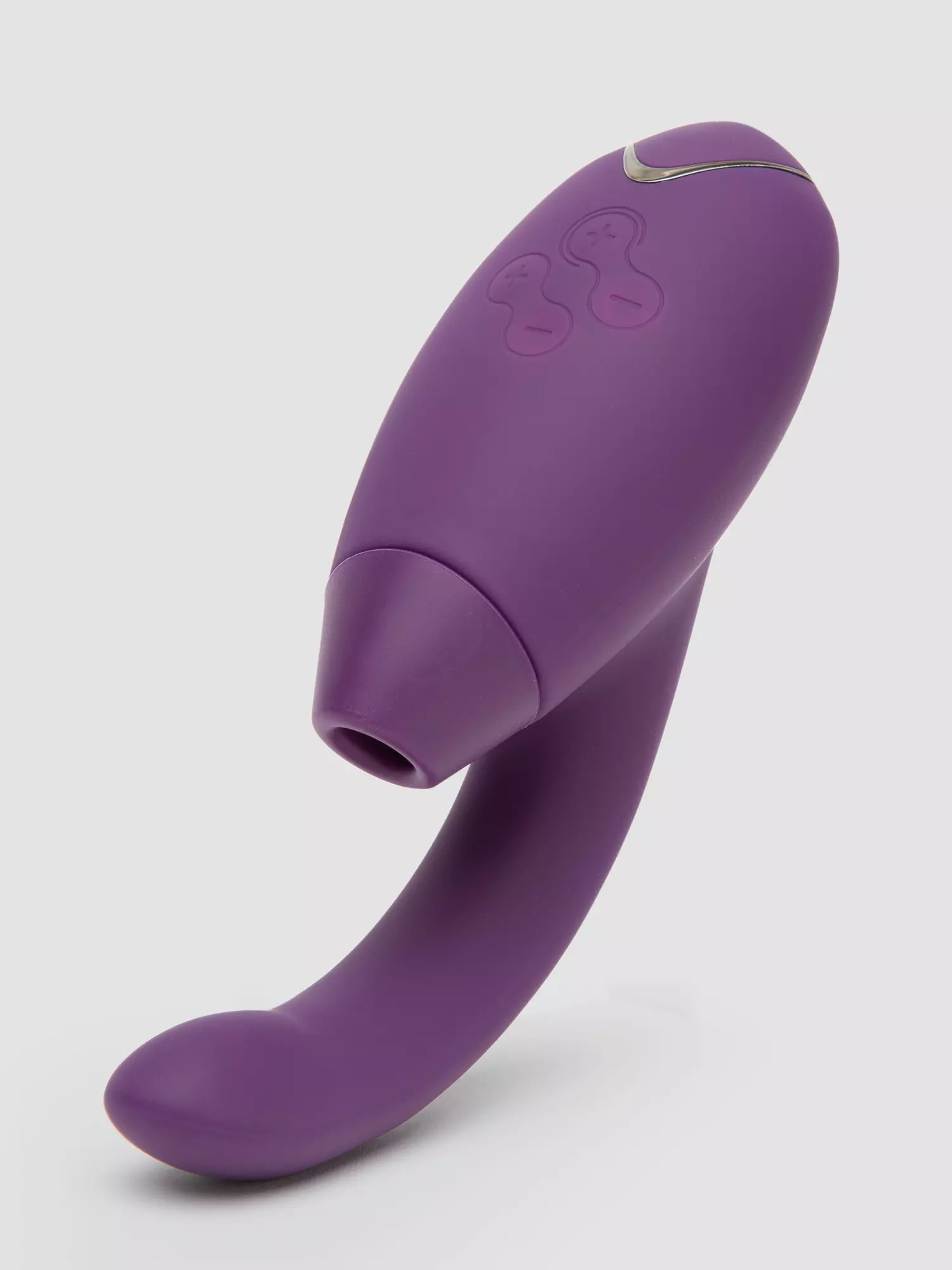 Its design is similar to that of the Enigma. The G-spot vibrations are similar. However, the clit stimulation from the Womanizer Duo is gentle and intense, which is better than the Lelo Enigma.
Womanizer Duo is not as flexible as compared to the Lelo Enigma.