(Last Updated On: June 24, 2023)
All that hype about G-spot is nice, but let's not forget that the clit can work wonders. Research says that most women need clitoral stimulation to reach an orgasm. So even if you are using one of those very nice g-spot vibrators, chances are, you will need clitoral stimulation. If not for the sake of orgasms, then for reaching a stronger, deeper climax. Thankfully, there is no dearth of options, especially so if you are shopping online. That also brings questions, like which is the best clitoral vibrator for me? Check out this list and find one that fits your needs!
Getting To Know Clitoral Vibrators Better
A clitoral vibrator, by definition, focuses on clitoral stimulation. Since clitoral stimulation can be such a major part of female orgasms, there are many vibrators designed to offer clitoral stimulation and they come in several shapes and sizes. Given the popularity of this segment, companies have put in considerable effort to create clitoral vibrators that do their job amazingly well. I'm not just talking vibrations here, but the technology involved as well.
Clitoral vibrators come in an impressive variety, and with varying technology and methods used for stimulation. As such, clitoral vibrators represent a larger set, including bullet vibrators, magic wand vibrators, and rabbit vibrators. While these represent the most popular types of clitoral vibrators, they are by no means the sole representatives. The market has exploded in recent years, and you can find other varieties like suction-based vibrators, couples' vibrators, sonic vibrators, tongue vibrators, nubs, and a lot more.
Options have kept up with the variety of vibrators available, and you can find vibrators that are hands-free, remote controlled, USB rechargeable, phone app controlled, and a more! In short, the market has a bewildering array of options available for when you want some fun with your clit. We have come far beyond pillow humping, although it still has its own allure!
Put Your Preference First When Choosing A Clit Vibrator
Use the army of options at your disposal, and pick a vibrator that is most suitable for your needs. Here are some pointers to consider:
Strength Of The Vibrator
How powerful do you want the vibrations to be? Clitoral vibrators include some of the most powerful vibrators available. If you need loads of power to get things going, clitoral vibrators have you covered. Several vibrators also come with adjustable power and intensity settings, letting you go beyond the normal buzz to deep, rumbling vibrations.
Noise
Vibrators can be virtually silent, and yet some can make a ruckus. Look at the noise rating of your vibrator to see how loud it is going to be. Many high-quality vibrators try to keep noise levels below 50dB (normal volume for a conversation), which means the vibrator will be barely audible beyond closed doors of your room. Some bullet vibrators take the noise threshold even lower, while the more powerful clit vibrators can't help making some noise.
Wired Or Wireless
Wired vibrators draw their power from the mains and can be delightfully powerful. Wireless vibrators sacrifice some of that power in favor of using batteries and getting rid of encumbrance of wires. Plus, the freedom of movement can be much desirable.
Waterproofing
If you want to take your clit vibrator to the shower or bathtub with you, waterproofing is the way to go. For obvious reasons, wired vibrators must stay away from showers or wet areas. Similarly, vibrators marked water-resistant should not be submerged in water.
Portable And Discreet
Carrying around your vibrator can be a valid requirement for many women. Bullet vibrators work extremely well in this arena, since they can often be discreet in their appearance as well. Not having a sex-toy appearance does work in favor of many bullet vibrators. However, if portability is the only consideration, some of the best clitoral vibrators come in smaller sizes. New range of contactless vibrators like the Womanizer Pro or the Lelo Sona are fairly small in size and are very portable.
7 Best Clitoral Vibrators
1. Lelo Smart Wand (Large)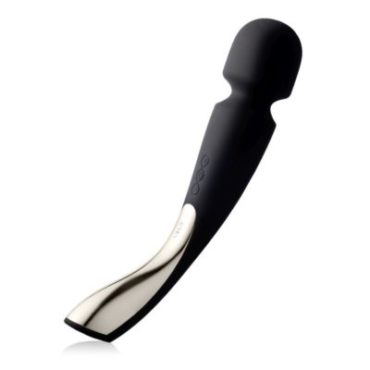 It would probably be a crime to talk about best clitoral vibrators and skip smart wands and massagers. My pick for this category is the Lelo Smart Wand, which looks great, is simple to use, and is practically divine to touch. It isn't as strong as the Hitachi Magic Wand or other mains powered vibrators/massagers. But if you aren't an intensity queen, the Lelo smart wand offers several advantages.
The Large variant of the Lelo Smart Wand is fairly powerful, and being battery powered, offers a freedom of movement to go along its deep, rumbling vibrations. It's also water-resistant, so you can take it to the shower if that's your thing.
An excellent feature on the Smart Wand is the SenseTouch, technology which works wonders when it comes to getting the right amount of power. Rather than having to press buttons, SenseTouch works with the pressure applied. Greater the pressure applied, more is the intensity of vibrations. Of course, there are also the conventional intensity and pattern buttons from Lelo, should you have no interest in using the Lelo SenseTouch. Plus, if you are not in the mood for a clit massage, the Lelo Smart Wand is amazing at giving you a regular massage.
The wand is also available in a Medium size, with less power than the Large size. It is perhaps best used by beginners or those who are very sensitive. Or maybe if you are looking for slightly more mobility. If you're confident and know your way around your clitoris, the Smart Wand Large is the natural choice.
Read our full review of the Lelo Smart Wand.
or check the latest discount from LELO
Pros
Easy to use
Excellent touch and feel
SenseTouch technology makes for more natural controls
Several available patterns and intensities
Relatively silent
Cons
Expensive
SenseTouch may not always work as intended
Does not work well for pin-pointed stimulation
2. Womanizer Pro40

The interestingly named Womanizer Pro40 Sensual Pleasure Enhancer has perhaps "earned" its name by bringing thousands of women to orgasm. Though I can't quite say much about the name of the product, a lack of creativity on the part of the company should not disqualify what is perhaps the best clit vibrator on the market. Poor marketing is a pattern with Womanizer. Though they pioneered suction based sex toys, their terrible work at design pushed them back. They have fixed the design with the Womanizer Pro40, and will (hopefully) fix the name soon as well.
Place the clitoris in the soft silicone cup of the device and turn it on. Though the device doesn't physically touch the clitoris, it creates a vacuum, which in turn puts a suction effect on the clitoris. More airtight the vacuum, higher is the intensity of stimulation. It's sort of like carrying around on-demand oral sex, and it is awesome!
There are eight intensity patterns to play around with, so finding the best for you is relatively easy. The vibrator is coated in silicone and ABS plastic and is completely body-safe. It is waterproof and submersible, so feel free to take the Womanizer Pro40 along to the shower or the bathtub. Power to its vacuum-inducing motors comes from a rechargeable Li-ion battery.
Pros
Innovative product
Excellent cunnilingus feeling
Waterproof
Rechargeable
Cons
Unimaginative (perhaps offensive!) name
Bland design
Some customer complain about the battery dying off rather quickly
3. Orlena Clitoral Sucking Vibrator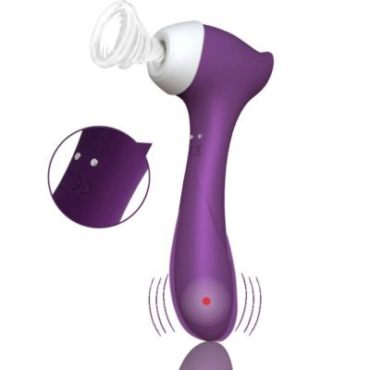 Continuing the tradition of terrible names for amazing vibrators, the Orlena matches suction with vibrations to create a divine effect. Well, its multifunctional lifestyle goes beyond that, keeping room for functions as a nipplesucker vibrator, clitoral stimulator, dildo, or a g-spot vibrator. Seeing the picture you see here, I was like Heck, No! at any possibility of using this as a g-spot vibrator. Nothing to worry about, as the dildo part is the other end, or the handle for this scenario. And while it is not easily apparent, the Orlena does easily take on the look of a conventional vibrator.
But then that's not the point of this amazing vibrator — it's job is to be a clitoral stimulator, and that's when I learned to say Hell, yeah/ Placed as one of the bestselling and highest rated vibrators on Amazon, the Orlena Clitoral Sucking Vibrator has eight powerful vibration modes and five suction intensities. Excellent for clit massage, this vibrator sends power to its Li-ion batteries that can be recharged by a magnetic USB charger. It uses silicone for its head, while the body is made from ABS plastic. The Orlena is waterproof and easily lends itself to a number of other uses.
Pros
Easy to use and multifunctional
Waterproof
Very low noise
Excellent pricing
Cons
Suction can be low powered
Some consumers complain of difficulty charging, or product dead on arrival
The vibrator could use a facelift
4. PALOQUETH Tongue Vibrator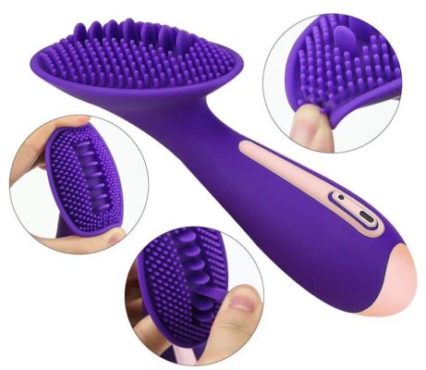 This spot was a tie between the Paloqueth Tongue Vibrator and the Paloqueth G Spot Rabbit Vibrator. As you see, the Tongue Vibrator won out, mainly because I decided to stay focused on clit massagers. This clitoral vibrator is priced rather affordably and offers excellent functions. Unlike the Womanizer Pro40 that creates the feelings of cunnilingus through a vacuum, the Tongue Vibrator makes use of its wide tongue to copy the sensation of a flicking tongue.
Its multiple vibration modes work with the style of "tongue flicking". The vibrator is designed to be very silent, and it barely registers above 40dB. For comparison, normal conversation at 50dB. To make things better, the motor is fairly powerful and can churn out as much as 7500rpm, It may look like a runaway hairbrush, but it keeps true to its promise of tongue flicking goodness. As far as vibrators go, this is perhaps the best clit vibrator you can find in its [roce range. Plus, including several functions makes it an excellent value for money.
Paloqueth Tongue Vibrator is coated in medical grade silicone, is waterproof and is rechargeable. Its shape sits well with the female anatomy, so you can just place it at the right spot, and let this little vibrator tongue flick the clitoris into a wonderful orgasm.
Pros
Innovative shape
Waterproof
Rechargeable
Excellent sensations
Cons
May feel lackluster in power to some
The design makes the vibrator very difficult to clean and maintain hygiene
Large surface area makes pin-pointed stimulation difficult
5. Svakom Echo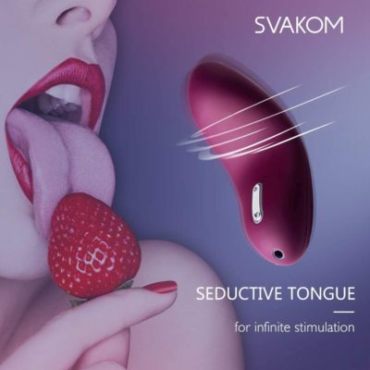 Svakom's Echo mini has a shape that loosely follows the contours of the body. You can simply place it on the clitoris and go hands-free while this massager provides excellent clitoral stimulation. Svakom calls it a "tongue type design", and though it somewhat follows the shape of the tongue, it's functionally different from Paloqueth's tongue flicking vibrator, or for that matter, Womanizer Pro40's prowess to simulate oral sex.
Svakom Echo has a simplistic shape, which allows it to cover a fair amount of surface area, sending vibrations to the clitoris as well as the vulva. Moreover, it is slim enough that you can keep it on the clitoris while you have sex with your partner. It keeps your clitoris stimulated, and also provides a nice sensation to the penis. And of course, it's excellent for solo play as well. There are five vibration patterns so you can find the one that's the right fit.
The Echo is largely made from body safe "ABS environment-friendly material", and is powered by a Lithium polymer battery. It takes one hour to charge the battery, and it offers a playtime of one hour.
Pros
Simple shape
Can be used conveniently during sex
Low Noise
Cons
Vibrations may feel weak for some
Vibrations are more buzzy (surface) and not much by way of deep and rumbly
Some customers complain that the size of the vibrator is too small for convenient use
6. Lelo Sona Cruise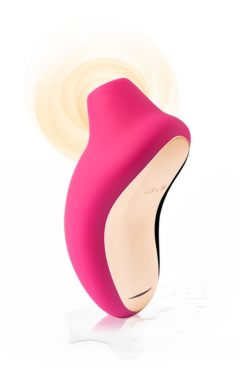 Sona Cruise is one of the non-contact vibrators that have taken the world of clit vibrators by storm. However, unlike others that rely on air-based suction technology to pleasure the clitoris and nipples, Lelo Sona Cruise makes use of sonic (sound wave) technology. According to Lelo, that allows the Sona Cruise to work beyond being superficial, and stimulate the entirety of the clitoris, not just the surface. This leads to the amazing, toe-curling orgasms that Sona Cruise users love.
By virtue of the technology employed, the Sona Cruise gently, but consistently works to excite the clitoris, building it up to a massive orgasm. Lelo Sona Cruise is a variant of the Lelo Sona clitoral vibrator. The difference between both of these is the use of "Cruise Control" technology.
Basically, the Sona Cruise holds 20% of the battery in reserve. If you press it harder against the body while using it, the Cruise makes use of the stored power to up the ante and deliver a stronger push for orgasm. Many of us do enjoy an extra touch of power when we're close to orgasm, so the gesture controls of the Lelo Sona Cruise can be quite a blessing.
Check it out on the Lelo website
Pros
Convenient to use with 8 intensity and power settings
Waterproof
Powerful orgasms!
Cons
Very noisy
Intensity change with gesture controls may not be suitable for some people
Unconventional technology can take some time getting used to
Get more details our in-depth Lelo Sona review.
7. Crave Vesper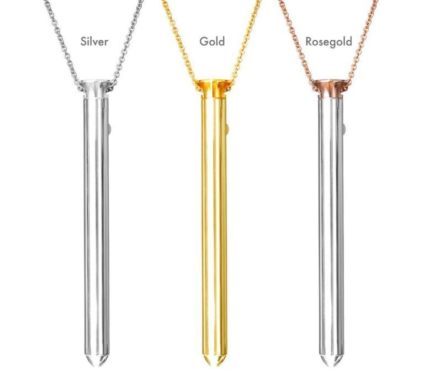 Crave Vesper has made quite some news as a designer jewelry piece and a clitoral vibrator. You're not supposed to stealthily tuck this vibrator into a closet somewhere. Instead, it's meant to be worn around the neck, as a fashion statement. And perhaps an insight into public and private manifestations of sexuality.
Thankfully, this vibrator isn't all talk intended to draw publicity. It is an excellent clit vibrator, sending off amazing vibrations to pleasure the clitoris, and if you prefer, doing that with pinpoint accuracy. Its unique shape qualifies it to deliver targeted stimulation, however, if you prefer, you can use the broader side for more distributed vibrations.
Crave Vesper is operated by a single button, and each press of the button lets you cycle through the four vibration options on the vibrator. The vibrator offers 40 minutes of play time on a full charge, and it is recommended that you don't let the battery drain out completely.
Pros
Good design and looks
Personalization options available
Convenient to use, discreet
Cons
Only one chain size available
The control button can be difficult
Discharging the battery degrades battery performance
Read our in-depth Crave Vesper review.
Best Clitoral Vibrator — The Verdict
All of the vibrators listed here are super popular and have excellent reviews to go along. Find one that works to your specific needs, and you won't go wrong. My suggestion would be to go with the classic shape and clitoral stimulation prowess of the Lelo Smart Wand. Should it fail to tickle your fancy, treat yourself to the novel technology and feels of the Womanizer Pro40. That one has got things going in its favor, except its name!