(Last Updated On: March 5, 2023)
Tongue vibrators, to put it simply, are vibrators designed to mimic the feeling of a tongue on the clitoris. What makes them different from a classic clit vibrator is the texture and the feeling. Those of us who enjoy oral sex can find enjoyment in tongue vibrators. Even as clitoral vibrators, these are pretty good. These vibrators work their magic pretty well on the clitoris, but you can as easily enjoy them on your nipples, inner thighs, and ass.
Top Tongue Sex Toy Options For 2022
Tongue-Like Vibrator vs On-Tongue Vibrators
In most cases, the tongue vibrators fall into two categories: on-tongue vibrators, and tongue-like vibrators. As the name implies, on-tongue vibrators are those that you wear on your tongue. Add the power of vibrations to the flick and movement of your tongue to pleasure your partner.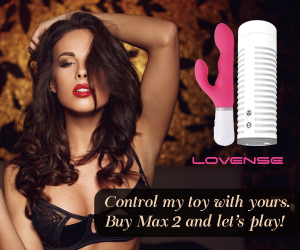 I'm not a huge fan of these. A vibrator inside your mouth isn't half as sexy as it should be. It's more of a distraction for the one wearing the vibrator and doesn't often result in as much fun as it should. It's also more of a novelty item, and most vibrators available aren't powerful enough. The other problem is the use (or lack thereof) of body-safe materials. Many of these vibrators are made from materials that aren't really body-safe. In fact, most on-tongue vibrators can be considered single use items.
To be fair, some of these really are quality vibrators that deliver good vibrations. Unfortunately, they're few and far between.
Tongue-like vibrators are the more common, and at this moment, the better choice to make. These are designed to mimic the texture of the tongue, and do it rather well. They are also less of a novelty item. Many of these can follow the form and function of a clit vibrator or g-spot vibrator, albeit with more detailed texture.
Due to their conventional shape, these vibrators are more convenient to use, and also offer more features.
10 Best Tongue Vibrators Reviewed
1. Pink B.O.B. Textured Tongue Vibrator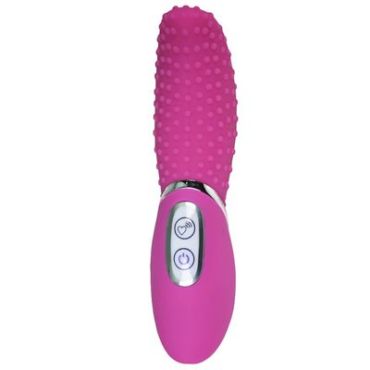 Also called the Nubby Tongue Vibrator, the Pink B.O.B. Textured Tongue Vibrator has a textured shaft that emulates the feel of a tongue. The dots (nubs) on the vibrator add texture to enhance the stimulation on offer. Right above the power button is the vibration modes button that can be used to cycle through all seven vibration functions on offer.
The seller says the vibrator is coated in high-quality silicone and is completely body safe. It is also flexible so you can apply pressure and work towards the stimulation you want. Interestingly, the manufacturer says the vibrator can also be inserted into the vagina. However, with an insertable length of just 2.75-inches, don't expect it to work any wonders there.
As a clitoral stimulation device, it works pretty well. It's fun to build up to the climax and enjoy your ride there. Power for this vibrator comes from 2AAA batteries. And though the battery life is pretty good, it lacks a flair where intensity is concerned. If you want strong vibrations, this isn't the vibrator. It is a pretty good vibrator for beginners and offers a fair range of functions and sensations.
Pros:
Excellent texture
Body safe materials
Seven vibrating functions
Good value for money
Cons:
Vibrations aren't very powerful
Needs batteries
Questionable longevity
2. Feelingirl Tongue Vibrator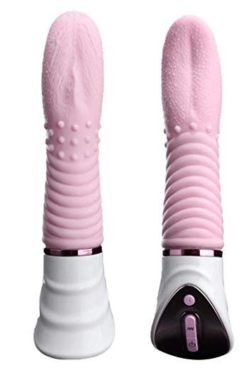 Feelingirl Tongue Vibrator is an interesting choice as a clitoral as well as a vaginal vibrator. It is very literally a tongue shaped vibrator, at least towards the top of the shaft. Made from high-quality silicone, the vibrator is body safe and its range of textures offers great stimulation.
The tip of the vibrator is squishy and flexible, which makes it useful for clitoral stimulation. Adding pressure is easy and convenient. A drawback of this approach is that it stifles vibration intensity a bit. On the plus side, the vibration intensity is strong enough, so some loss of vibration intensity is largely acceptable.
A very useful feature is the 360-degree vibrations. In this mode, the tip or tongue of the vibrator moves and creates a sensation of the tongue flicking the clitoris. It feels pretty great. Heck, it even brings out a moan or two when the vibrator is used in the vagina.
The vibrator offers a total of 10 vibration modes with fairly good intensity. It is rechargeable and the battery lasts a fairly long time. One problem it has is the noise. That is an unfortunate side effect of the 360-degree rotation for the most part, but it is fairly noisy in regular use too. Not to say that it will announce itself, but yes, it can be heard outside the door.
Pros:
Strong vibrations
Excellent texture
The 360-degree rotation is a nice touch
Rechargeable with good use time
Cons:
The sex toy is not waterproof
Can be noisy
3. Paloqueth Clitoral Tongue Vibrator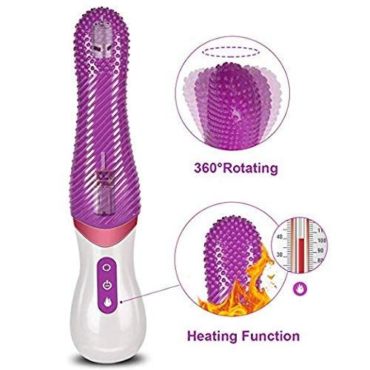 With all its ridges and nubs, the Paloqueth Clitoral Tongue Vibrator looks very enticing for stimulation. It's a feature-rich vibrator that offers a range of options and stimulations. Its features include a mix of vibration and rotation for stimulation. To add more comfort and sensation, the vibrator heats itself up to 104 degrees, so feel a warm vibrator and not some cold touch.
The vibrator is made from TPE, so be careful with cleaning. It's not my favorite material in the world, but it's a fairly good choice for a soft, self-heating vibrator.
Paloqueth tongue vibrator has seven vibration intensity settings and seven patterns to enjoy. Both these options can be controlled separately, so you have a large number of vibration choices to consider. As for sensations and stimulation, it works pretty well.
The clitoral stimulation it offers is amazing and the nubs certainly fulfill their role. It works pretty well when inserted into the vagina and offers excellent stimulation. This is not exceptional as a g-spot vibrator, but for the task of clitoral stimulation as a tongue vibrator, it is one of the best on offer.

Pros:
Excellent stimulation
Wide range of vibration and stimulation options
Attractively priced
Waterproof
Rechargeable
Made from body safe materials
Cons:
Questionable longevity
Can get noisy
4. Lonove G Spot Clitoral Vibrator, Tongue Vibrator Stimulator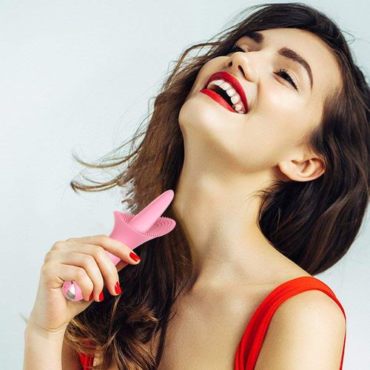 Lonove G Spot Clitoral Vibrator, Tongue Vibrator Stimulator is interestingly shaped and uniquely styled. Overall, it creates the sensation of a rather eager tongue flicking and licking your clitoris and vagina. The vibrator has several "stimulation points" arranged in a circle around the shaft. It looks less like a tongue, and more like some weird alien plant. Whatever it is, it is enthusiastic about its duties as a clit licking vibrator, and that's good enough for me.
It has 10 vibration modes, each with a good intensity. It can also be used for vaginal stimulation, which is also where those weird stimulation points come into play. Love's tongue vibrator is average for vaginal use, though the flicking tongue works very nicely with the clitoris. Definitely worth a shot.
Pros:
Flicking tongue feels great against the clitoris
10 vibration modes
USB rechargeable
Great texture
Made from body-safe silicone and ABS
Cons:
Can get noisy
No waterproofing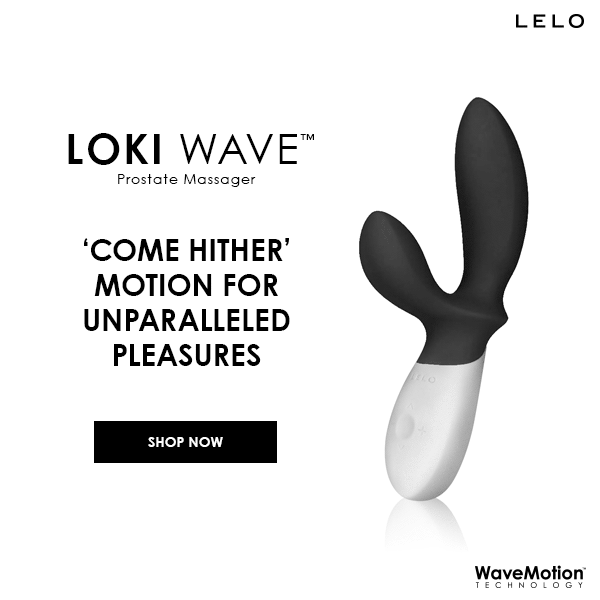 5. Adorime Oral Sex Tongue for Clitoris Stimulation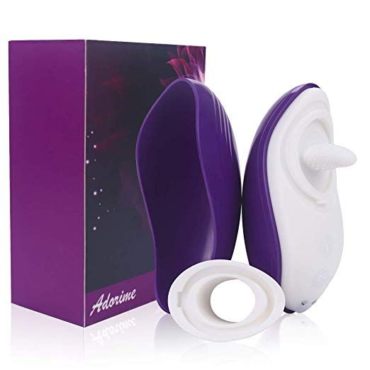 Where its general shape is concerned the Adorime Oral Sex Tongue for Clitoris Stimulation looks a bit like the Womanizer Pro 40. Of course, instead of the clitoral sucking nub, you get the tongue-like attachment. The vibrator has that going for it and flicks its tongue like some crazed devil. That is exactly what we want out of a tongue vibrator!
Its shape largely follows the contours of the body, and its seven vibration modes create sensations best described as oomph. Adorime tongue vibrator includes a self-heating function that heats up the vibrator to body temperature in about 5-10 minutes. I'd have preferred if this was quicker… sitting around waiting for a vibrator to heat up isn't all that fun. In some ways, I think it is more like the Crave Vesper that uses the heat generated by the motors to heat up the vibrator. Although I'm not quite sure if Adorime uses the same method.
Adorime Tongue Vibrator is made from body-safe silicone, is rechargeable, and waterproof. These qualities also make it easy to clean, which is a huge plus in my book.
Pros:
Several vibration modes
Waterproof
Rechargeable
Easy to clean
Cons:
6. Utimi Clitoris Stimulator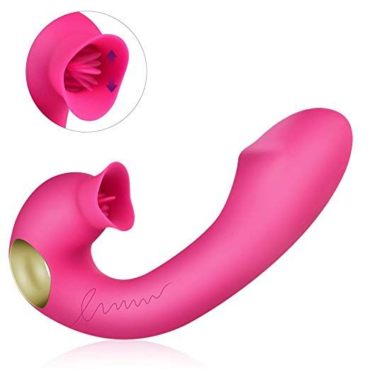 Add another one to the list of those weird-looking vibrators. It's shape isn't weird per se, but look inside the clitoris-end of this vibrator, and you'll know what I'm talking about. Thankfully though, weird is good. Those crazy looking tongues on the clitoris side make this vibrator feel awesome. Those simple, bristly things look and feel great, and create an amazing sensation.
As those bristly nubs work on the clitoris, the vibrator's insertable ends works as magically on the g-spot. The insertable end is wide enough with ridge placed just right, to create an amazing feeling against the g-spot. It's wide enough to feel filling, but not enough to feel overwhelming. Very pleasant sensations come to fruition with this lovely vibrator.
This vibrator has 10 vibration modes to meet your requirements, and is coated in silicone to be completely body safe. It is waterproof, rechargeable, and very well-priced for the features on offer. It takes about two hours for a full charge and offers a similar amount of time for use.
Pros:
Excellent stimulation for clitoris and vagina
10 vibration modes
Body safe materials
Rechargeable
Waterproof
Easy to clean
Cons:
Questionable longevity
Tongue attachment could be more powerful
7. CalExotics Dr. Joel Kaplan Gyrating Flickering Tongue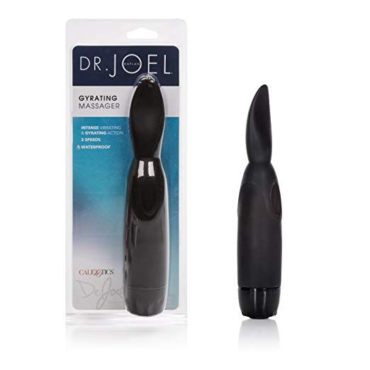 If you're a power queen looking for a tongue vibrator, this is the machine you want. It focuses solely on its role as a tongue vibrator, and it does that pretty damn well. It is sized like a regular vibrator, so there's a lot of space for components. Its body handles the components, and all the tongue has to do is go flicking.
This allows for better performance in terms of power and use. The gyrating, flickering tongue draws from the power of the vibrator and creates rather strong sensations. This sex toy will draw out orgasms like no other tongue vibrator.
CalExotics Dr. Joel Kaplan Gyrating Flickering Tongue vibrator is coated in hypoallergenic silicone and feels great to the touch. There are just two speed modes here: low and intense. I'd say even the "low" is somewhat intense, but once you hit the higher mode, the throbbing and flickering tongue really makes a difference.
It needs three AA batteries to function, which is a bit of a negative. In the same vein, I'd have preferred better aesthetics. However, the powerful machine makes these small concerns look trivial in the face of amazing orgasms!
Pros:
Powerful
Made from body safe materials
Simple to use
Waterproof
Cons:
Noisy
Could have better aesthetics
8. Paloqueth Clitoral Stimulator with Silicone Ticklers
Another interestingly styled tongue vibrator, Paloqueth Clitoral Stimulator with Silicone Ticklers stands out because there is no tongue, so to say. Instead, it relies on silicone "ticklers" to get the job done. Those small ridges made from silicone move with the vibrator and do all the flicking and massaging a regular tongue is supposed to do.
Little nubs are placed all around the ticklers and act to enhance the texture. With all those little ticklers flickering like several eager tongues at the clitoris, the stimulation is exactly what most of us wish for.
Made from silicone, this vibrator has eight vibration modes. It is rechargeable, waterproof, and body safe. The device takes about an hour to recharge, and offers decent use time.
Pros:
Good stimulation
Rechargeable
Waterproof
Made from body safe materials
Silent operation
Cons:
The battery does not last long on standby
Can feel underpowered
9. Feelingirl Clitoral Tongue Mini Vibrator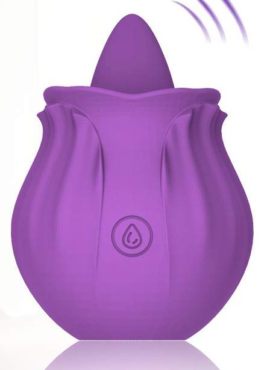 Feelingirl Clitoral Tongue Mini Vibrator is a cute little vibrator with a lovely flicking tongue. The small size makes it handy and easy to maneuver. It's pretty quick to respond, and the flicking tongue is pretty much on the spot the moment you switch on this vibrator.
The vibrator offers a combination of 10 vibration modes, and handles them pretty well. It has a light at the power button that comes on when the vibrator is switched on. Interestingly, the light also follows the vibration patterns. Just something cool to look at! Although, I found that light novelty wears off pretty quick, and after that it's just an overly bright light with little use.
The company has gone ahead and labeled it as a G-spot vibrator as well. It certainly is not that. The half-inch tongue is thoroughly unlikely to reach anyone's g-spot. Overpromising and under-delivering is a poor strategy. More so, because this vibrator is decent at what it is supposed to do. It's a nice flicking tongue for clitoral stimulation. The vibrator is waterproof, rechargeable, and fairly quiet.
Pros:
Rechargeable
Waterproof
Good stimulation
Cons:
Tough to clean because of all the cosmetic designs on the handle
Questionable longevity
See current price and discounts on Amazon
10. Adorime Clitoral Stimulation Vibrator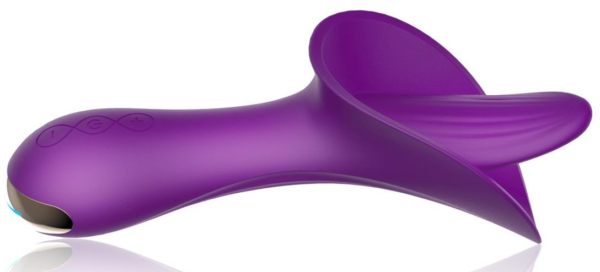 The textured tongue on the Adorime Clitoral Stimulation Vibrator promises some amazing orgasms. It is backed by a powerful motor and 10 vibration modes to make it all possible. The model is made from body-safe silicone and is great to touch.
Adorime's vibrator is rechargeable and waterproof. One thing this sex toy lacks is ease of cleaning. It is a tough one to clean, especially under the tongue.
I like that the texture isn't overwhelming, it's just some subtle ridge on the body of the tongue. This little texture, along with the soft touch of silicone, goes a long way in creating a very sensational feel.
Pros:
Powerful
10 vibration modes
Rechargeable
Waterproof
Cons:
Gets noisy
Battery lifetime is questionable
Getting A Tongue Sex Toy To Love
Tongue vibrators are excellent for clitoral stimulation. A tongue simulator vibrator flicking the clitoris or massaging it in some way is a great feeling. For those of us who love oral sex, this is bound to lead to quick orgasms. These vibrators often do tend to be noisy because of the mechanics involved with moving parts. That's something worth remembering if you intend to buy one. On the plus side, the tongue vibrators can be immensely satisfying, so if you don't mind the noise, get one!