(Last Updated On: April 17, 2023)
When I was younger, everyone was ashamed to admit they used vibrators – now, they are all the rage. In fact, my girl friends and I frequently exchange sex stories to help each other find the perfect pleasure tools.
Did you know that vibrators can help women have better blood flow and tissue perfusion, less muscle tension, and an overall better metabolism? I admit I didn't know this, but I suspected it, considering how much better I felt after starting to use vibrators regularly.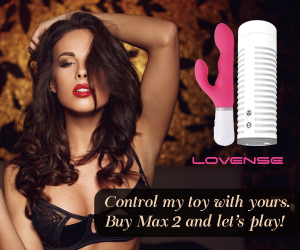 With all these benefits in mind, I thought it would be a good idea to try out some of the most popular vibrators on the market.
That's how I came across the Lovense Hyphy! This dual-end vibrator has a unique shape that had me perplexed in the beginning. However, as soon as I tried it out, I realized that the company had really done girls a solid with the vibrator's shape and versatility.
After a few months and *quite a few* uses of the Lovense Hyphy, I decided to spread the word and tell other women about the powerful motors, attachments, portability, effortless maintenance, durable battery, and so on. That is how we got here – to the most detailed Lovense Hyphy review you will ever come across.
If you are interested in learning more about this vibrator and why so many women have ditched all their other vibrators for it, keep reading!
Lovense Hyphy: An Overview
Lovense is a company that produces various sex toys for men and women. They have a line of vibrators, butt plugs, dildos, male masturbators, penis rings, prostate massagers, penis massagers, etc. All these products have great features and capabilities, but if you ask me, nothing tops the Lovense Hyphy.
Released in 2021, the Hyphy is the perfect vibrator for both beginners and experienced girls. Its straightforward yet highly interactive interface offers enough versatility to help a girl realize what she likes and what might not be her cup of tea.
Over the past couple of months, I've given the Lovense Hyphy test runs to see whether it would live up to my, at times, unrealistic expectations. I will share my experience in this review while also including information based on other girls' testimonials.
So, without further ado, let's get right into the review and discuss the Lovense Hyphy in greater detail:
#1 Simplistic but Cute Packaging
The Lovense Hyphy comes in the highly-recognizable Lovense box used on most of their products. The outside is white, the front side has a picture of the vibrator and the attachments, whereas the back mentions some technical information.
When you open the box, you will find the vibrant purple vibrator in its own transparent plastic box. Under it, you will find the USB charging cable and a comprehensive user manual. Three attachments come with the vibrator, but I will talk about them in one of the following sections.
#2 Quality Body-Safe Materials
The vibrator's body is plastic but covered with silicone on the broader part. All three attachments are silicone.
The materials used to make this vibrator are body-safe, so you are unlikely to have an adverse reaction to it. If you are prone to allergies, it would be wise to read the manual and check the material list before using the vibrator.
The vibrator's entire construction is waterproof, with an IPX7 certificate, so water cannot easily damage it.
#3 Innovative and Versatile Design
The design of the Lovense Hyphy is interesting, to say the least. It does not look like your typical magic wand, especially the narrow part, which resembles a phone tower rather than something you would use to pleasure yourself. But don't worry – you will understand its purpose better once you try it.
As I mentioned before, this is a dual-end vibrator, which means you get double the pleasure when you use it. The narrow side is suitable for external stimulation of the clitoris, vulva, and labia. You can also use the pointy tip to stimulate your nipples and other tingly body parts.
The broader part is suitable for both internal and G-spot stimulation. It has a slight curve towards the end and a wide and flat end you can use for overall stimulation. I found the length perfect, and the girth left me craving for more!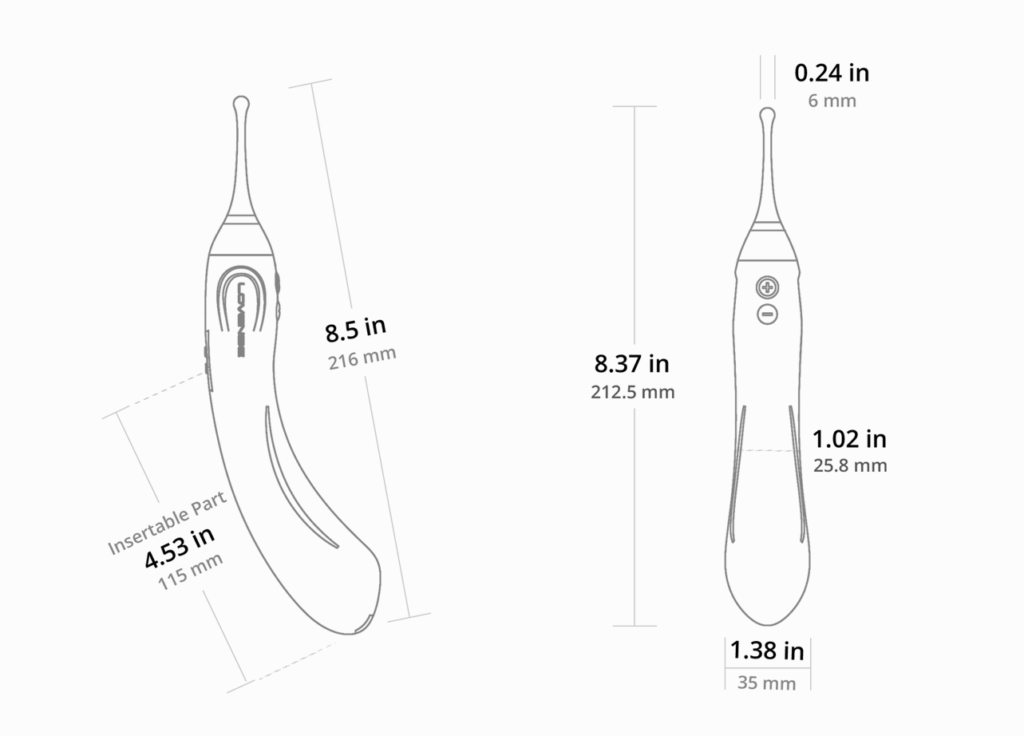 #4 Three Amazing Attachments
I don't like overly simplistic vibrators that do not offer any variety. Wouldn't it be so much fun knowing you can always spruce things using your old, trusted vibrator?
I certainly think so, which is why I found this vibrator perfect. In addition to the device, you get three attachments to use as you wish.
The first one is long and narrow, similar to a tongue, and it is recommended for labia stimulation.

The second attachment is a simple tip you can use for broad stimulation. It does not have to be the vagina – you can use it on other body parts. Think big!
Finally, you get a third attachment that looks like the letter "U," which is perfect for your clitoral hood or nipples.
Switching between the attachments is very easy and quick, so you can do it without skipping a beat even when in the middle of "flicking the bean," if you know what I mean.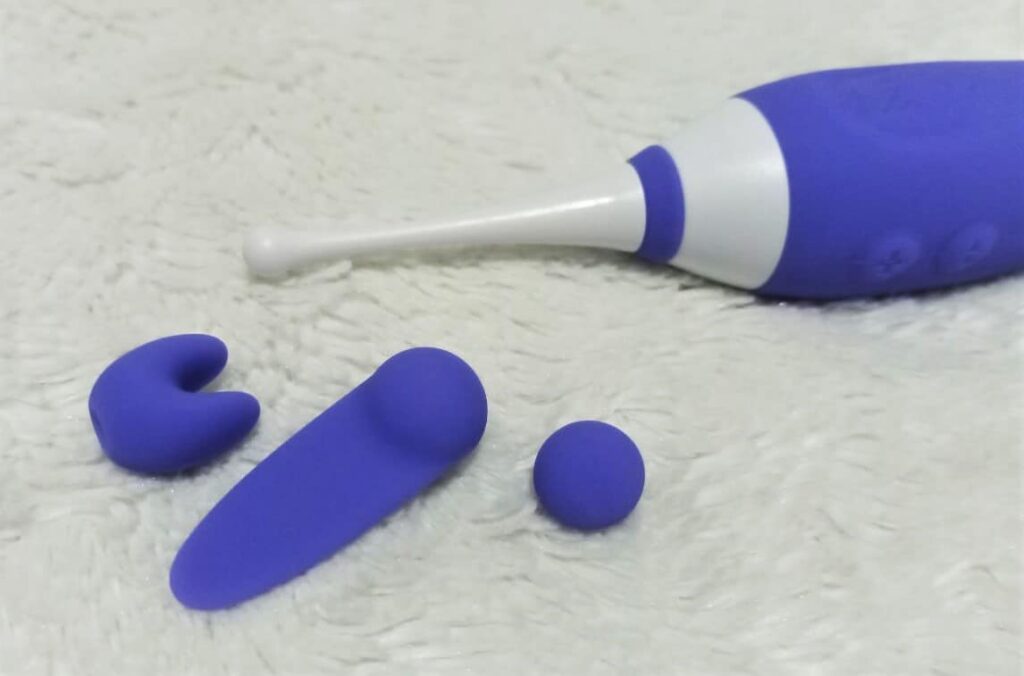 #5 A Plethora of Helpful Features
As far as motors go, this vibrator has two powerful motors on each end that you can use separately if you want to. Studies show that using powerful vibrators is a good idea because they produce vibrations that can reduce vaginal pain and improve its overall health.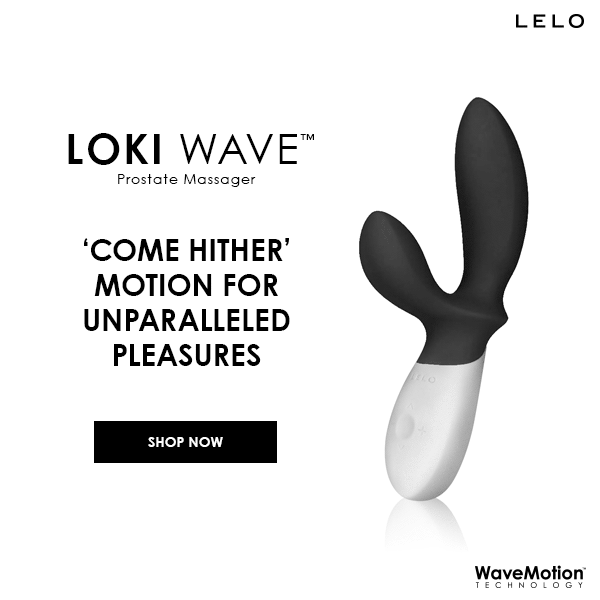 You can use the vibrator on various frequencies depending on your preferred settings. I suggest the narrow end for higher frequencies. This end can reach 12,000 vibrations in only a minute, according to Lovense.
The broader end can only reach 5,000 vibrations in one minute, sufficient for internal and G-spot stimulation. The curvature on this part of the vibrator will help you reach your sweet spot with little to no difficulty.
Aside from being waterproof, the vibrator is also ergonomic, making handling it a breeze in every position! The comfy design makes it perfect even if you want to thrust it in harder. Some might find the narrow end less comfortable, but that depends on your sensitivity level.
The thing I had a problem with was the noise. Usually, loud vibrators are not recommended because they might negatively impact your privacy. If you use the Lovense Hyphy without putting any music on, others could hear it even if they are not in the same room.
This can be a problem, especially if you are not living alone or with a significant other. It can certainly make things awkward if you use it in your parent's home with them there. But the good thing is that the vibrator app allows you to play music while using it, so you should be able to cover up the noise a bit.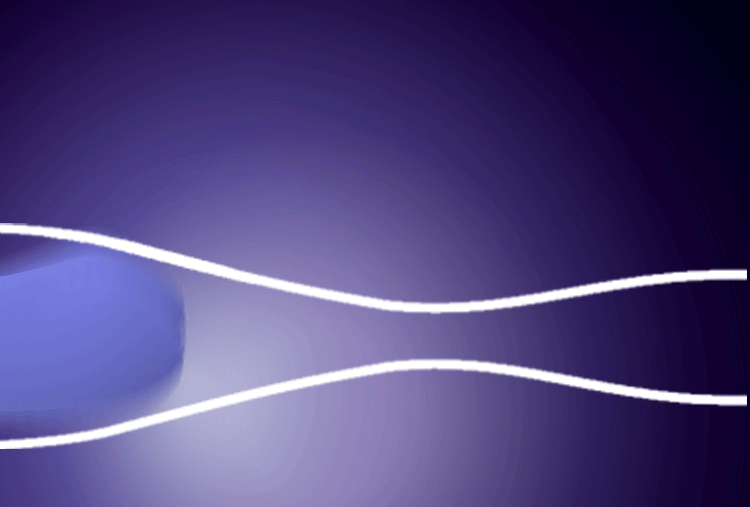 #6 Effortless Use
I mentioned before that this vibrator is effortless to use, and I really meant it. You might need to use it a few times to adjust fully, but once you do that, you will be on the fast lane to Orgasmville!
You can use the vibrator for a little one-on-one action or incorporate it into your sex routine. Studies have shown that women get more excited and might even have multiple orgasms when sex toys are incorporated into intercourse.
To turn it on, you need to press the "+" button and hold it down until it makes a short vibration. Turning it off is the same as turning it on, whereas the "+" and "-" buttons can help you adjust the vibration range once the vibrator is on.
Some might feel the need to press the vibrator harder against their lady parts to feel the vibrations better. I recommend it more for people looking to get buzzy vibrations, but it all comes down to personal preferences.
#7 Durability & Maintenance
The whole design is very durable, so you should be able to use the vibrator for years after you purchase it. Lovense gives a one-year warranty on all devices, but repairs needed after that will be all on you.
As for maintenance, the company recommends that you clean the vibrator after each use.
To do that, turn the device off, give it a quick rinse, then scrub it with mild soap or a special sex toy cleaner. Next, rinse it thoroughly with warm water. Finally, wipe it dry with a clean towel and place it back in its box.
#8 Long-lasting Battery
This vibrator has one of the most powerful batteries you will come across, and it also has a short charging time. Once you plug it in using the USB charger provided by the company, it will take about 75 minutes for it to charge fully.
The long battery life is handy for people who want to take their time enjoying themselves without worrying that the vibrator will die on them. In fact, the company states that this vibrator can last as long as 310 minutes if you begin at a full charge!
Don't worry – even if you use it for 300 minutes straight, you will not cause any harm to your vagina. Vibrators can benefit your health and sexual function – they rarely have adverse effects, even with extended use.
After charging the vibrator, it can stay on standby mode for about 120 hours before you need to charge it again. The manual states that you should charge the vibrator at least once every six months, but if you love it as much as me, you will be using it and recharging it much more often than that!
#9 Portability
Lovense did us a favor by making this vibrator a rechargeable one. Lord knows how much money people would have to spend on batteries if this vibrator was powered only on regular batteries!
With this rechargeable vibrator, all you need to do is keep the battery charged, and you will be all set to use it wherever you like, whenever you like. You can bring it on trips outside your city or country, to restaurants, clubs, or wherever you want.
#10 Device Compatibility
The hands-free or app control has to be one of my favorite features of this vibrator. Not only can I adjust it through the app – I can also give someone else control of it to make things even spicier.
The app is very user-friendly, straightforward, and available for almost all types of devices. Here are some of the devices you can install it on:
Apple devices, including iPhones, iPad, and iPods with iOS 11 or later.
Android devices with Android 5.0 or later and enabled Bluetooth 4.0.
Mac devices with enabled Bluetooth 4.0.
Devices with installed Windows operative system but with a Lovense USB Bluetooth adapter.
You can install the Lovense app using Google Play Store or Apple Store.
#11 App Features
After installing the app, you will see the options Remote, My Patents, Music, and Discover when you open it. Here is what you can use these options for:
Remote – allows you or someone else to adjust the settings. You set the vibrator on loop, float, and traditional.
My Patents – allows you or someone else to preset the settings and save them under a specific name, so you would not always have to adjust them when using the vibrator. You can also choose between a few presets provided by the company, including pulse, wave, fireworks, and earthquake.
Music – allows you or someone else to sync the app to Spotify and play your favorite tunes while using the vibrator. This option will enable you to cover up the sound of the vibrator when you are not alone in your home or when you use it in public.
Discover – allows you or someone else to look at other available patents, speeds, and general settings for the vibrator.
Another great feature of this app is the ability to make a phone or video call with your partner directly. No need to involve third-party apps to make things interesting – the app will let your partner witness the action from miles away!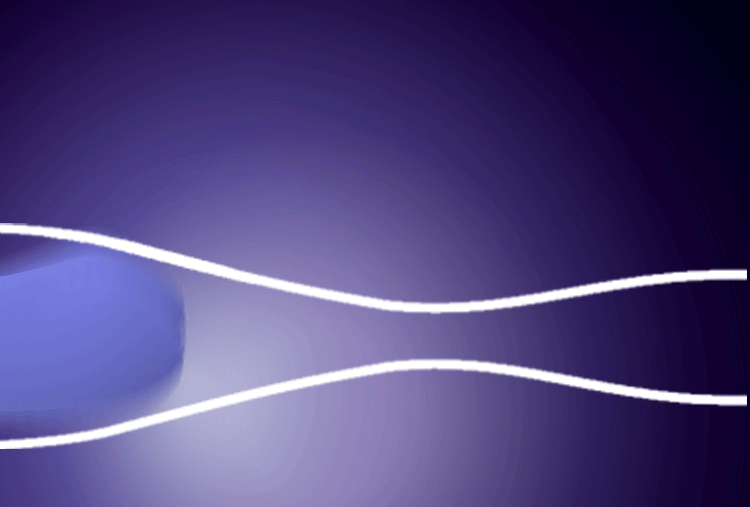 Conclusion
There you have it – a detailed Lovense Hyphy review, along with recommendations and stories based on my experience with the vibrator. While I know that my experience with it might not align with everyone else's, I still think it was important for me to share this information so that you know what you are getting yourself into when buying this dual-end vibrator.
Overall, I have to say that the vibrator surprised me in the best way possible. Once you move past the fact that it looks like an electric toothbrush, you will see that it is amazingly effective at achieving an incredibly fast orgasm!
Remember that the vibrator has many great features, including powerful motors, adjustable vibration ranges, a durable and lasting battery, a waterproof and ergonomic design, attachments, and so on.
Some people have a problem with the girth and curve and the fact that it is not that intense or rumbly. To best see if these things would bother you, too, you should get the vibrator and try it out for yourself.
Feel free to tell me how you liked my review in the comments below – tips and suggestions are also welcomed. Finally, don't forget to share with some girl friends – a friend in need is a friend indeed!