There are plenty of words that describe the Lelo Elise 2. You can call it big, unyielding, filling, and fulfilling. It is all that, and more. Lelo Elise 2 personal massager/vibrator is one of the biggest (in size) offerings from Lelo.
The company describes it as "supreme power and a deeply fulfilling length, this iconic LELO targets your pleasure centers for the most intense, deep-reaching, body-shaking sensations you'll ever experience". They are obviously overselling it, but yes, the Elise 2 is a hot favorite. Let's find out why with our Lelo Elise 2 Review.
Bonus:

Save 10% on LELO Elise 2 Today

Coupon code: GURU
Lelo Elise 2 Features To Justify This Vibrator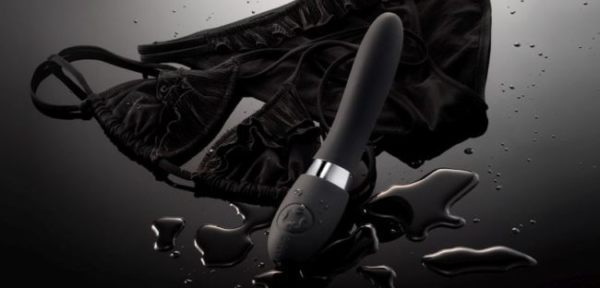 Lelo has released new models for several of its popular products, including the Elise. Before going further, let's get a quick and somewhat simplified lowdown for Lelo Elise 2 vs Lelo Elise. To put it rather simply, all of the new range is built to be superior to the originals. The Elise 2 is bigger, more powerful, and with a better battery than the Elise. It is, quite simply, a new iteration of the Elise, and it does better than the original.
Product Dimensions And Construction
As we said, the Elise 2 is one of the largest products on offer by Lelo. And the dimensions show that, especially when compared to simpler models like the Lelo Ella, or even the Lelo Iris. The Elise 2 is 8.7 inches long, and has an insertable length of 5.25 inches. Remainder of the length is used by the handle that includes the control panel. The handle and the insertable length are separated by a metal accented piece of ABS plastic, giving a clear boundary demarcation.
It has a slightly curved shape, and tapers a bit towards the middle before expanding again into the bulbous end. Maximum circumference of the Elise 2 is 4.5 inches. Overall, while it would initially seem large, the Elise is just the right fit. Lelo Elise 2 has avoided going too slim or too girthy, managing a near optimal length and girth.
This personal massager is covered in Lelo's signature silicone style — a matte finish that is extremely smooth and velvety to the touch. Quite an inviting feel actually, it basically sets the mood the moment you touch it. It stays in shape, and there is no room to bend the Elise 2 or have it yield even a little. Lelo Elise 2 is available in three colors: black, pink, and plum.
The silicone, as well as the ABS plastic used in the vibrator's construction are phthalate-free, body safe and non-porous. Thanks to the high-quality choice of materials, it is easy to keep the Lelo Elise 2 clean and hygienic.
Save 10% on LELO Elise 2 Today
Coupon code: GURU
Elise 2 Motors That Power A Giant
Two motors power the Elise 2, one at the base of the shaft, while the other is placed near the top. The top motor of course does most of the work and pleasuring, while the lower motor happily buzzes along, creating buzzes to match the top and overall enhancing the work and stimulation put in by the top motor.
When inserted, the top motor takes the G-spot to task, while the lower motor supports the vibrations from the top, while simultaneously providing vibrations and pleasing sensation to the vaginal opening. The result usually is an amazing, very fulfilling orgasm that you will find many Elise 2 reviews (including this one) happily chirp about. Few vibrators make fans like the Elise 2 does, and for good reason.
Vibration And Intensity Functions On The Lelo Elise 2
The Elise 2 control panel is laid in a circular shape, with four buttons placed in a "plus" shape. Two buttons representing up/down arrows control the vibration patterns, while the other two represented by + and – control the intensity of the vibrations.
Pressing on the + button turns on the vibrator and increases vibration intensity. Obviously, the minus sign does the opposite. The arrow signs cycle through the eight available patterns. Couple these with the nine modes of intensity, which also work on each pattern, and you have a huge range available to get the vibrations that match your own personal preferences. You can lock on to the pattern and intensity of your choice by holding the +/- button for five seconds. To unlock the control, simply press the button again for five seconds.
Save 10% on LELO Elise 2 Today
Coupon code: GURU
Lelo Elise 2 Is Waterproof
Yup, the Elise 2 is completely waterproof, and this sex toy brings you the freedom to play wherever you want. Take it to the shower, or the bathtub, this powerful toy is a great companion! Given its larger size, it is also surprising how quiet the the Lelo Elise 2 is in operation. Even with both motors running at a high intensity, it is noticeably quieter than most others. The sound is not entirely noticeable, but for a vibrator this big to make so less noise is certainly worthy of praise.
Charging The Elise 2
Elise 2 includes a rechargeable Li-ion battery. The vibrator can be charged through a USB charger plugged at its very base. Once you plug the charger in, a light at the control panel shows up and starts pulsing to indicate that the device is being charged.
As the Lelo Elise 2 finishes charging, the light keeps on a steady glow. It usually takes about 2 hours for the battery to charge completely, though the first charge may take longer. Once the battery is fully charged, you can use the vibrator for four hours, though patterns and higher intensities will somewhat hasten the need of recharging slightly earlier.
Save 10% on LELO Elise 2 Today
Coupon code: GURU
Lelo Elise 2 G-Spot Use
Primary function of the Elise 2 is to stimulate the G-spot and send you off on your merry way to an awesome, preferably earth shattering orgasm. The slightly curved shape works amazingly in this regard, making it easier to reach and stimulate the G-spot.
Work with the Lelo Elise 2 to reach your g-spot, and then get working on it with the army of patterns and intensities at your disposal. As it works its magic, either through individual motor patterns or having both motors work in tandem, you will realize how remarkably unique and pleasuring these pattern sensations can be.
When inserting the Elise 2 into the vagina, keep in mind this is one big vibrator, and is entirely inflexible. Thrust it the wrong way or at the wrong angle, and you might be troubled with cervical prodding and discomfort. None of those things should come anywhere near a nice masturbating session. So be careful, especially on the first few uses where you get used to the vibrator and its dimensions and functions.
For its part, Lelo Elise 2 angles naturally, taking a shape that's comfortable for the vagina to accommodate. Oh, and remember to use lubricant. This is a large vibrator, and its much better to give the vibrator's smooth silicone surface a coating of lube so it can be thrust easily. It's best to use water-based lubricant with this vibrator, as silicone based lubricant can damage the silicone used on the vibrator.
https://youtu.be/V4YbjbUlPAk
Elise 2 Clitoral Use
Lelo Elise 2 and several of its patterns and modes certainly can come in handy for clitoral stimulation. Just move to the pattern with the top motor working, and you can enjoy an excellent sensation on the clit. Or, have both motors working and let this large vibrator stimulate the clioris as well as the labia.
It works perfectly well and does its job for clitoral stimulation. However, given the larger size, the Elise 2 just isn't built for pinpointed clitoral stimulation. Similarly, the big vibrator might seem a little more heavy and troublesome for clitoral use. Give the Elise 2 a chance, and it will probably satisfy your requirements.
However, if you're deeply devoted to your bullet vibrator and its pinpointed stimulation, it's perfectly okay to stick with that. In fact, use them both together — the Elise 2 for vaginal use and the bullet vibrator for clitoral stimulation. Now that is an amazing orgasm!
Lelo Elise 2 Packaging And Specifications
Packaging:
A Lelo Elise 2 package generally contains:
Lelo Elise 2 personal massager/vibrator
Warranty card
USB Charging cord
Instruction manual
A small sachet containing lubes
Satin drawstring storage bag
Specifications:
Dimensions: 8.7 x 1.7 x 1.4inches
Materials: Silicone and ABS plastic in matte finish
Charging time: 2 hours
Usage time: 4 hours
Standby time: 90 hours
Lelo Elise 2 Review — Pros And Cons
Pros
Battery powered
Two well placed, powerful motors
Easily accessible controls
Several intensity and pattern options
Larger size and weight for those who prefer it
Cons
Save 10% on LELO Elise 2 Today
Coupon code: GURU
Lelo Elise 2 Review — The Final Word
Lelo Elise 2 is a wonderful sex toy, and we actually had to struggle to find a fault for it. Even though, keep in mind that like everything else, how well this toy works for you depends on your preferences and body. Should your body find the Lelo Elise 2 to be too large for your vagina, there isn't much to be done.
So before you buy a premium vibrator, perhaps give a similarly sized dildo a shot. On its part, the Elise 2 does almost everything well. It's very good at its job and at eliciting orgasms, has a variety of vibration options, and is available in several colors. There is no reason to skip this purchase!