(Last Updated On: May 13, 2023)
Ever since I tried the good old Hitachi, I've been eager to test as many massagers as possible to see which one "scratches the itch" perfectly. Right now, I could say I've tried a fair number of gadgets — but only a few have impressed me. So, today, after thoroughly testing it out, I'm ready to do my LELO Mona 2 review & testing and relay my experience.
Now, I should warn you that this isn't my first rodeo. I've tried many vibrators over the last few years, but curiously enough, only a few have stood out as much as Mona 2, the most powerful vibrator in LELO's lineup — and on the market as well.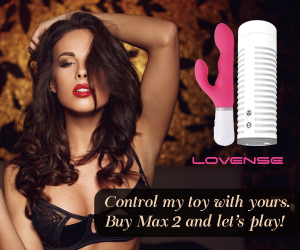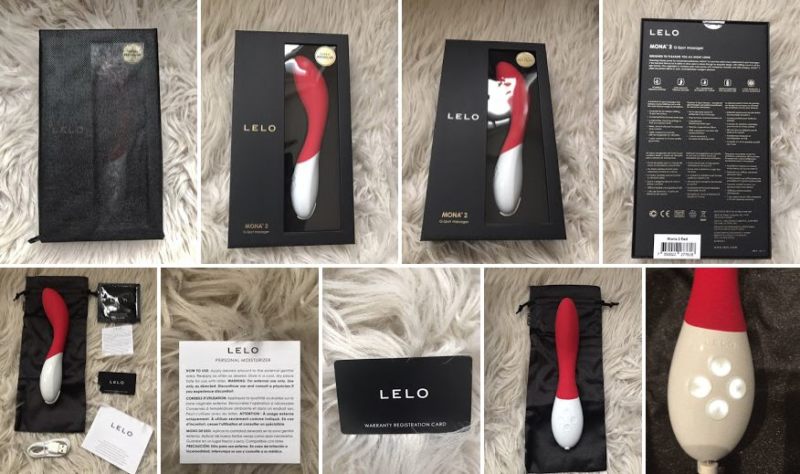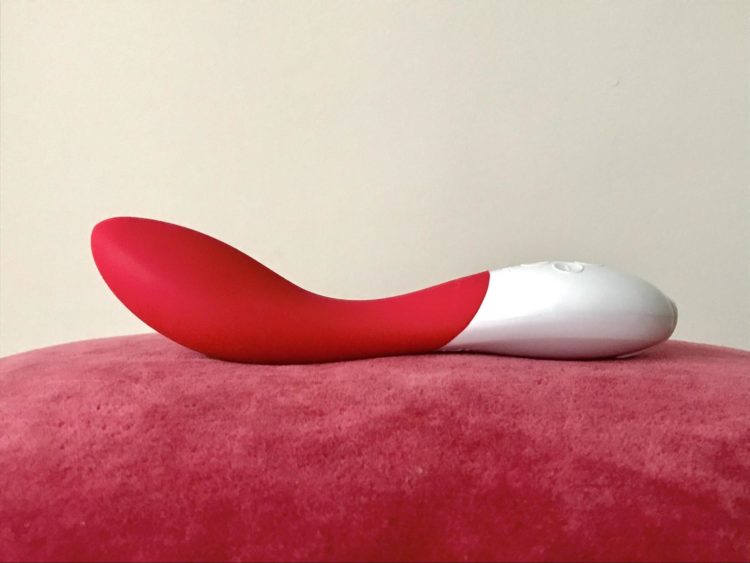 I wouldn't go as far as to say that the device has changed my life. However, it has made climaxing so much easier and smoother, not to mention that its ergonomic design caresses the G spot perfectly, to the point that I've basically forgotten about my other toys.
Not sure if you need another vibrator or don't know whether this one's any good? My in-depth LELO Mona 2 review will show you that this toy is a gift that keeps on giving. Prepare for mind-blowing ecstasy — get your hands on your new ride-or-die vibe right now!
LELO Mona 2 Review & Testing — Did It Dazzle Me Right Off the Bat?
Mona 2 at a Glance — Are the Specs Promising or Not?
Brand: LELO
Price: $108.95
Dimensions: 8.7 x 2.0 x 1.3 in / 220 x 51 x 33 mm
Material: ABS plastic, silicone
Weight: 4.05 oz / 128 gr
Power Source: USB cord (53 cm) + Li-Ion 500mAh 3.7 V batteries
Warranty: 1-year coverage + 10-year satisfaction guarantee
Of course, when reviewing a product, it's essential to ensure it works as stated. Still, to me, the packaging and the overall design speak volumes about the company behind the device. In this case, I can say with confidence that I wasn't disappointed at all. LELO is a luxe brand, and they do tend to keep it classy through and through.
A Sleek Box + Luxurious Interior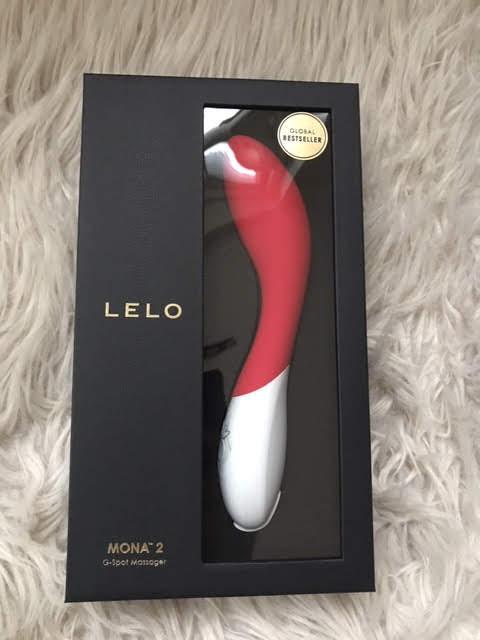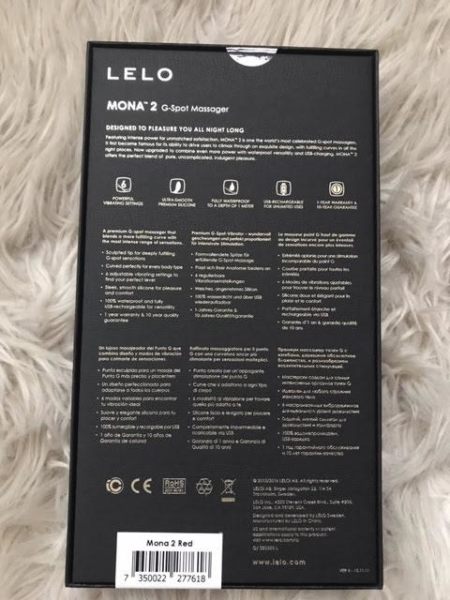 Mona 2 comes in a sleek black box of a minimalistic design. There's not much to read on the front; the company has decided to keep it subtle by only printing "LELO" and the device's name in gold lettering. On the back, though, there's plenty of information on the product that could help you figure out the best way to use it.
In other words, the box itself isn't much to write home about, though it is quite sleek. The part I liked the most about it, however, was the interior. Just as you would expect from a brand such as LELO, the vibrator lies in a velvety compartment.
Apart from the device, the package includes a USB charging cord, an authenticity card that's essential for the warranty registration, a user manual, a sample of a personal lubricant, and a satin pouch you can use for storage.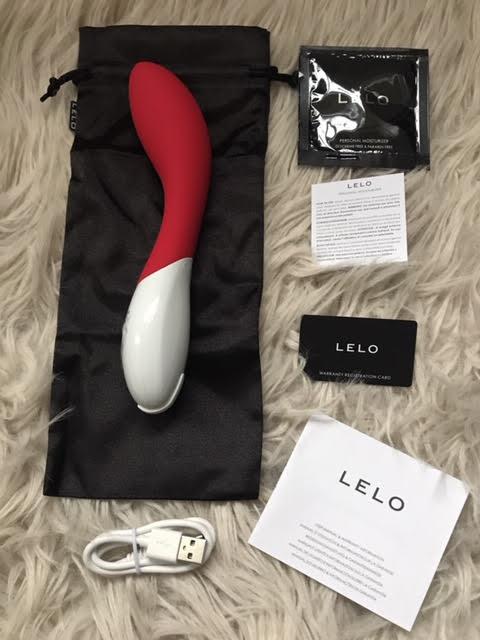 Curved, Minimalistic Design
As for the overall design of the Mona 2, I was actually quite thrilled with it since experience has shown that you don't really need all the bells and whistles for a vibrator to take you over the edge and make you orgasm.
Mona 2 has a curved shape that perfectly targets the G spot with vibrations. Additionally, the end (or rather, the part that will actually dazzle you) is a bit fuller in person than it seems in the photos. But you should see that as an advantage, as it will "fill" you up on the inside, allowing for more powerful sensations.
About ¾ of the device is covered with smooth, soft body-safe silicone, and that's the part you want to insert. The remainder is the tech, i.e., the plastic part of the device, where you'll find four buttons and a power port.
It seems that LELO does pay attention when customers voice their concerns or design wants and needs. So now, the power port features a flap that prevents water from coming in. Furthermore, the buttons are large and carefully positioned to allow for more comfortable use.
Overall, both the device and the packaging show that LELO cares deeply about making an excellent first impression. When I opened the box, I felt like I had bought myself something truly luxurious that would not only satisfy my needs but make me feel extra special every time I used it.
Yet, I was truly floored when I got the vibrator out to test it. So let's jump into the main part of my LELO Mona 2 review and see why I'd recommend it to any woman out there.
What Lurks Behind the Fancy Packaging? Apparently, a Ton of Quality!
Excellent Width and Length — But Might Need Some Getting Used To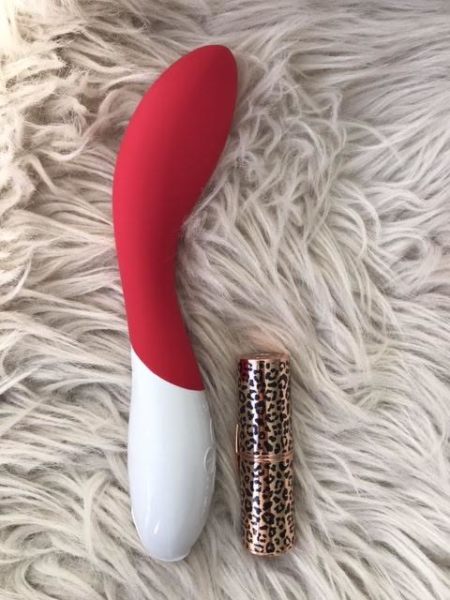 I've already mentioned that the Mona 2 is a bit fuller, so if you're intimidated by width or haven't used a vibrator before, I'd tread carefully here. It may take you some time to get used to it. Once you do, though, it's unlikely you'll consider switching to another vibe anytime soon.
That said, for me personally, the Mona 2 has just the right dimensions. At 8.7 inches in length, it reaches my G spot without much hassle but doesn't feel uncomfortable at all. At the same time, due to the ergonomic design, it's suitable for most body types.
The curvy design also allows you to insert the vibrator practically effortlessly — with just a bit of lube, it simply glides in, almost as if it already knows where it should go!
Still, a word of warning — it's a bit pointy, which may or may not suit you. The pointy end should put enough pressure on the G spot to ensure pleasure, and it works for most women right off the bat. However, since each body is different, you may need to switch up your angles a bit to insert it properly.
Intuitive Button Arrangement and Multiple Functions
When it comes to my sex toys, I resent anything too complicated that would take the magic out of the action almost immediately. Because of that, I've found Mona 2 to be an absolute delight when it comes to practicality.
It only has four buttons, with each covering a specific function. The + and – ones are there to boost or lower the intensity of the vibrations. The arrow buttons, on the other hand, let you go through the vibration patterns.
I also like the fact that these buttons serve as the lock switch as well. To lock or unlock the device, all you have to do is hold the + and – buttons for about five seconds. The light will indicate whether the device is active or not (it will flash if it's unlocked). You also turn it on or off by pressing and/or holding + or – for a couple of seconds.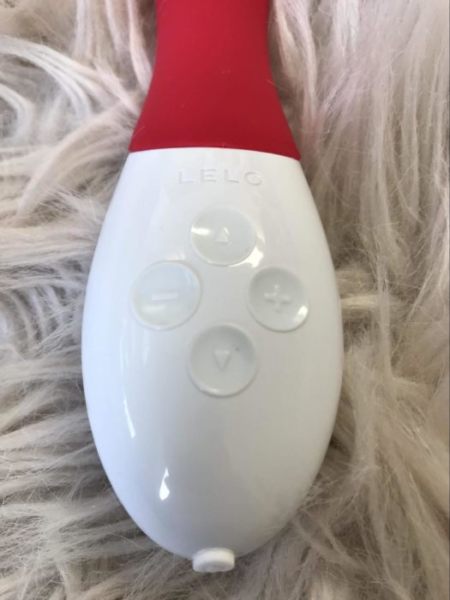 Whisper-Quiet Pleasure Settings — A Solid Range of Crowdpleasers

The LELO Mona 2 comes with six vibration patterns in total that can be intensified or made a bit more subtle with the use of selected buttons. That's a decent range of settings to choose from, but I'd love to see more variations from LELO in the future.
For the price, I believe the number of patterns should be higher so that every woman could browse through them and find something that will get her going every single time. I'm not saying only some women will enjoy Mona 2 — on the contrary! But, the more variations there are, the better the experience.
For more experienced users, the gentlest pattern may not be enough, as it's only a slight purr that you can barely feel. However, it's great for that first minute of warm-up before you go through the other options.
The patterns go from light to impressively powerful, and there are even some pulsating patterns to choose from. The one you go for will depend on what you're into that day. My personal favorite is the faster beat featuring short consecutive pulsations.
There is also a pattern that offers steady pulsations and one that opts for looping cycles instead. The final one, though, could just be up your alley, as it's sort of like having a party in your vulva. It has a memorable beat you can sync with and orgasm within a minute or so!
Deafening Noise? Not With Mona 2!
Yet, though you may think this vibrator must be quite loud, the absence of extreme rumbling noise may surprise you. The weakest pattern is actually so quiet that I sometimes fail to notice the vibe is still on when I go to clean it. Overall, the vibrations don't go over 50 dB, which is what you would expect to hear in a quiet library.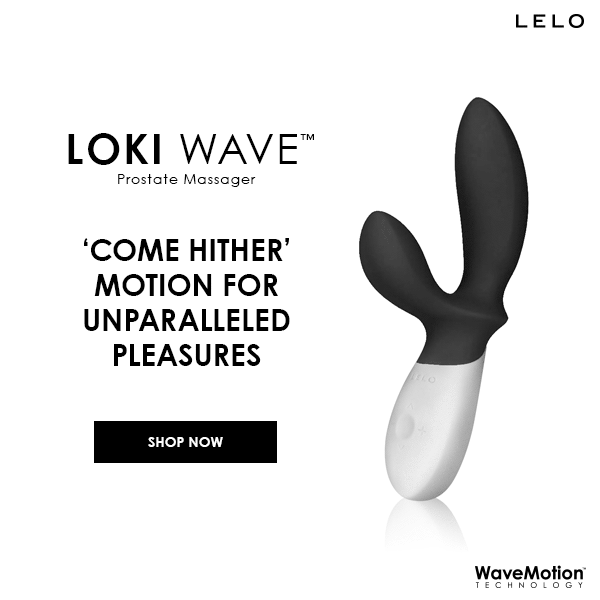 Even the highest settings are rather hushed, especially when the device is deep in your vulva doing its thing. It is really unlikely anyone would notice the sound right off the bat, so if you want to keep Mona 2 your secret, you definitely can.
Suitable for Splashing Around in the Bathtub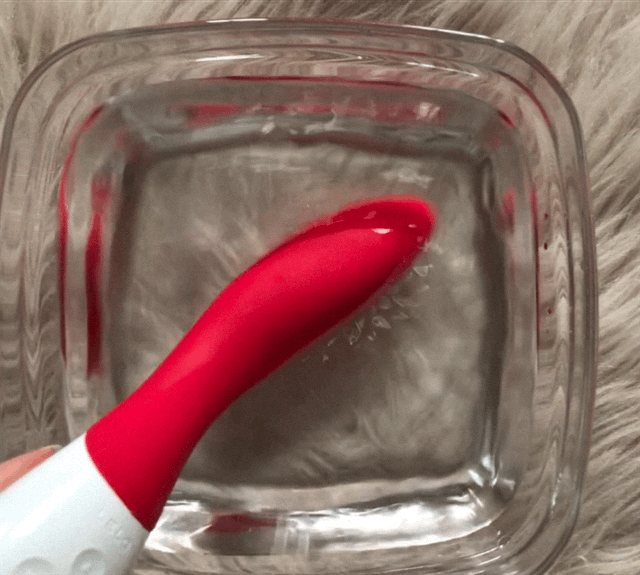 Now, I could say that the fast throbbing this device blesses my vulva with is my favorite part about it. However, what makes it even better is the fact that I can use the Mona 2 in my bathtub.
Unlike most vibrators, Mona 2 is completely waterproof, so much so that I can submerge it without worrying about damaging the device beyond repair. The flap over the charging port makes it impervious to water, so there's no chance of any liquid coming in and wreaking havoc while you're playing.
Fast Charging, 90-Day Standby Time, and Two Hours of Play — Oh My!
Finally, I'd like to give props to LELO for doing something most companies are afraid of — investing in quality batteries and chargers.
If you're anything like me, you probably love playing around once or twice a day but don't want to keep the device on the charger all day long. With Mona 2, that isn't an issue, as the battery is full after only two hours. That gives you up to two hours of play, which is more than any woman out there truly needs.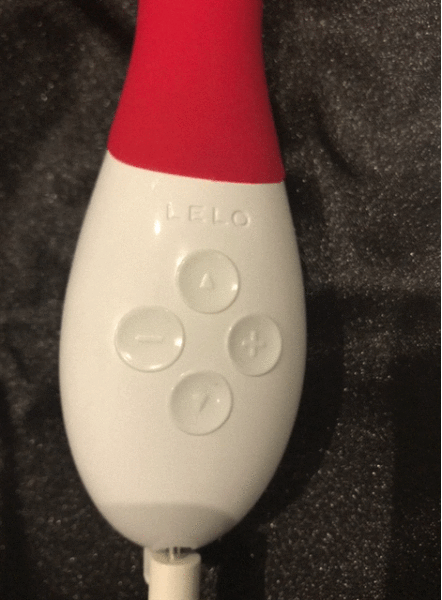 Yet the best part is that the Mona 2 has a standby time of up to 90 days. Therefore, even when you're not using it, it won't lose charge in the next three months.
Overall, when you take into account all the benefits, it's easy to see why my LELO Mona 2 review is overly positive. I simply couldn't find anything major that would make me chuck it into a drawer and never use it again.
If you still haven't ordered one, you better get on it right away. Snap up Mona 2 now and make lackluster orgasms a thing of the past!
Testing, Testing, 1, 2, 3 — Taking Mona 2 for a Spin
Before testing the device for my LELO Mona 2 review for the very first time, I had to charge it fully to ensure proper functioning. Then, I opted to use some lube.
Now, lube isn't crucial if you're moist enough and feel that you don't really need it. However, it truly helps the device glide in, and the tip feels slightly better on the clitoris if there's a bit of lube on it. Without it, I wouldn't necessarily recommend using the highest setting if you have a pretty low sensitivity threshold. It may get a bit uncomfortable.
Once I lubed the device up, I tried it on my clitoris. Surprisingly, it didn't make it all numb after a minute or so. That can sometimes happen with high-intensity vibrators, and it is as unpleasant as it sounds. Also, I got my happy ending pretty quickly — five minutes at the most.
Let's Go In!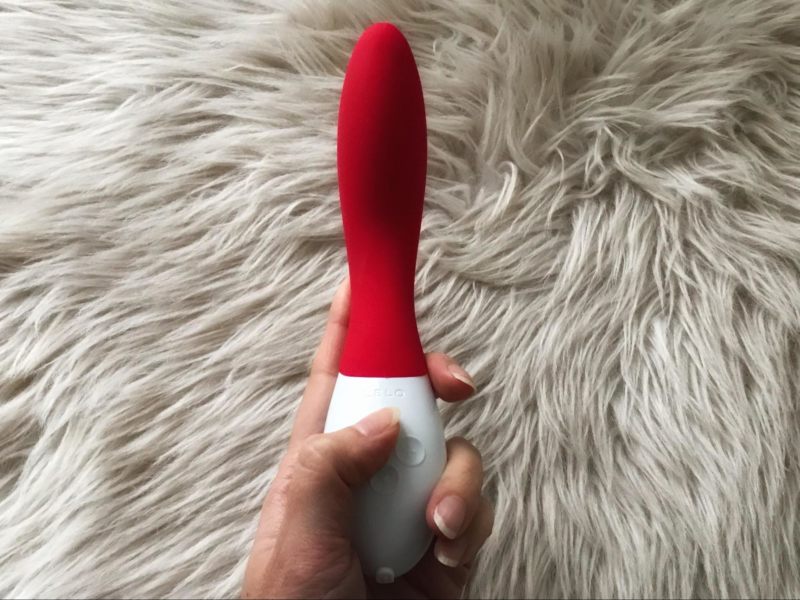 After that, I tried to insert it and found that it wasn't tricky at all. The shape sort of throws you off at first, as you think it will never fit inside you or that it might be a bit too pointy. However, it glides into the vulva pretty smoothly due to the premium silicone cover — and the lube obviously helps. Still, you may need to adjust your position a bit if you don't find your G spot immediately.
Depending on what you like most, you can play around with the intensity and the vibration patterns. I started with the lowest, but as mentioned, that one is a bit too faint for me. I found that staying somewhere between levels 4 and 6 hits the right spot. However, I would recommend amping it up if you're using it internally just to see how hard you can orgasm.
Smashing Results Without Much Noise — Mona 2 Shoots and Scores
The first test didn't last that long, as I climaxed in about five minutes. The next one took a bit longer, of course, so I had a chance to play around with the settings. I orgasmed after about eight to ten minutes.
For the purposes of my LELO Mona 2 review, I decided to test the device for at least a few weeks. So after about three weeks of use (I tried to make it a regular thing by using it every other day), I can honestly say this vibrator is truly powerful.
It's rather quiet, so I didn't have to worry about anyone hearing me use it. At the same time, it's surprisingly potent for a device that looks so minimalistic.
It packs quite a punch, especially when you get to the pulsating vibrations. What I've noticed, though, is that I couldn't really feel the vibrations on the lower part, i.e., the handle. They're more focused at the tip, which is great news as my hand doesn't go numb after a while.
In the end, I doubt any woman would feel disappointed after using Mona 2. It has an excellent range of options and is quality-made, which should be enough for quick bursts of satisfaction on a daily basis.
On top of that, I've found that it's an amazing addition to my sex life, and my partner also loves it. Obviously, the vibe works great while we're both still warming up. But the vibrations are actually so powerful even when just used externally that my partner can very well feel them when he's inside me. It may not work in all positions, but if you need some clitoral stimulation, it's the best device for the job!
Keeping the Device in Mint Condition Is Easy and Quick Too
In terms of the cleanup, Mona 2 shines yet again. Since it's waterproof, you can bet that you can just use some water and an antibacterial solution to get it all squeaky clean. On the other hand, LELO recommends their antibacterial cleaning spray as well, which can actually be used both before and after.
Maintenance is also quite easy, as the device comes with a neat satin pouch. Once you're done with it, turn it off and keep it in the pouch to avoid dust falling on it. That's pretty much it!
LELO Mona 2 Review — Did It Pass With Flying Colors?
Pros:
Six mighty vibration modes
Can be used both internally and externally
Waterproof
Discreet (you can barely hear it)
Easy to clean and maintain
It takes only two hours to charge
Cons:
The USB charging cord is a bit short (only 53 cm)
May not suit every body type right off the bat (needs to be positioned properly)
Would like it more if it had a greater selection of vibration modes
Pricey
Thoughts and Musings of Other Users — Who Else Loved Mona 2?
Before I wrap up my LELO Mona 2 review, I do have to say that I wondered what other users thought about the device. Was it just me — were my expectations low, and was I imagining things? Or is this vibrator truly a godsend?
As it turns out, I'm not the only one who's in love with Mona 2. The reviews are predominantly positive. Sometimes, they are even downright tear-jerking when you consider the fact it has helped many elderly jumpstart their sex life once more!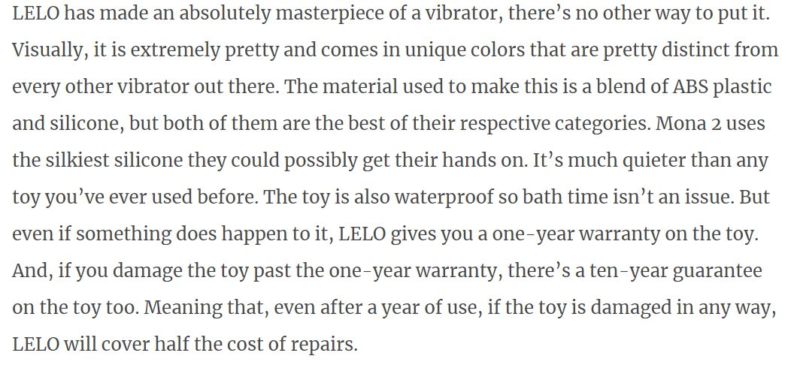 LELO Mona 2 — Is It a Dream Come True or Simply Overhyped?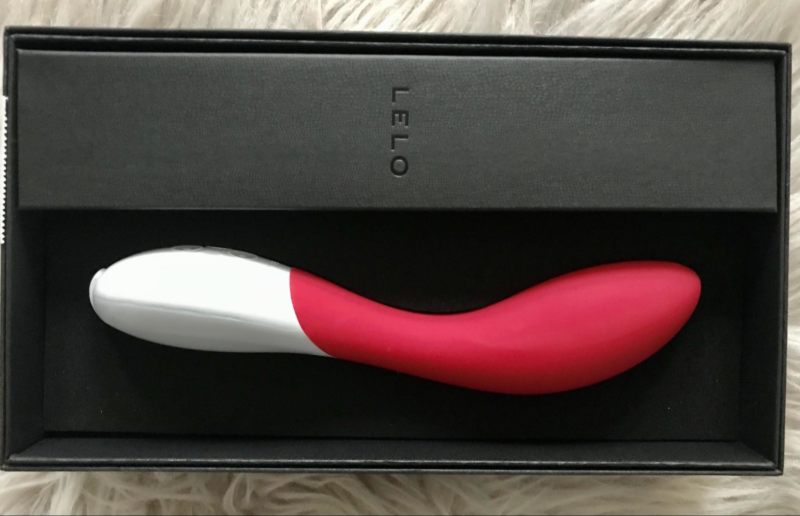 As you can see, my LELO Mona 2 review does end on a positive note. Still, there were a few shortcomings I didn't expect.
First of all, the cord length irked me a bit, as 53 cm is really not much. Charging the device is a nuisance if you don't have many outlets to choose from. You have to prop it up with a book or something bulkier.
Another thing that may bother some users is the shape of the device. Though I like it pointy, one of my friends also bought the toy and was disappointed at first. She had to figure out how to use it without making herself uncomfortable. So, she experimented for a few days with positions and angles until she found the perfect combo.
While testing the device for my LELO Mona 2 review, the only major disadvantage I've found comes down to the price. It may be the only dealbreaker, but that depends on whether you're ready to drop over a hundred dollars on a vibrator. Personally, I don't regret my decision at all, as it will be my go-to for months to come.
Besides that, I do think the price-to-value ratio is outstanding. I haven't had any issues while testing it, and I will continue using it whenever I need to unwind and have some fun.
Overall, all the features and benefits, as well as the quality design and manufacturing, speak for themselves. My LELO Mona 2 review and experience confirm what everyone has been saying online and on LELO's website. This vibrator will rock your world from within and make you wonder how you ever lived without it.
So why wait around? Intense orgasms aren't that easy to come by — but with Mona 2, they should become a daily staple!