(Last Updated On: February 17, 2023)
Throwing in a remote with a vibrator is seemingly simple, but it increases the fun factor exponentially. Get your hands on the best remote control vibrators and let your imagination fly.
Using a remote control vibrator can be as simple as adding convenience for your use, or getting playful and kinky to expand the range of all the fun stuff you can do.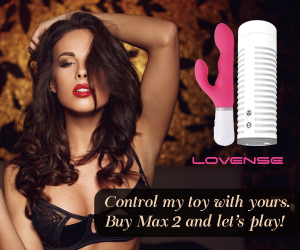 Modern technology has a lot to offer, and it's not just wireless vibrators. Remote control vibrators are amazingly adept at what they do. And they have features to be uniquely suited for specific needs.
Let's take a look at the 7 Best Remote Control Vibrators For Different Needs In 2023.
In a hurry? Here's Our Top choice: Lovense Lush 3
#1. Lovense Lush 3 – Best App Controlled Vibrator
Best-selling Remote Vibrator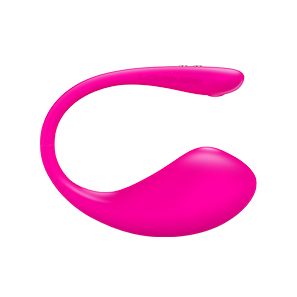 This powerful, versatile, and pleasurable phone controlled vibrator can work with Bluetooth or be controlled over a long range via the internet.
Lovense Lush 3 vibrator is a massive improvement on the original Lush. This is the toy Lovense Lush always wanted to be. Pleasurable, fun, and most of all, reliable. As an app controlled remote vibrator, it connects to your phone via Bluetooth. Once connected, several functions for the vibrator are available once you put together the vibrator with app.
The vibrator blends in pretty well with Lovense's teledildonics. You can use your smartphone for short-distance control of the vibrator. However, you can also share control of the vibrator with your partner – provided both of you have the app installed and a reliable internet connection. The app also enables you to create custom patterns and vibration settings for your Lush 3.
Teledildonics appeals to a very large number of people. An obvious application is couples in long-distance relationships. Another use it has found is for cam girls who can allow their patrons to control the vibrator.
For camgirl use, the company has gone further and made it possible to use this as a tip controlled vibrator. Lush 3 can be set up to respond to tips received by the camgirl, and provide a custom response (like change in vibration intensity).
Read more: Best wand vibrators to buy in 2023
Using The Vibrator And More Specifics
Some other cool features include syncing the vibrations to music and letting your favorite song do the work for you! Or you could have it controlled by sound and have your own or your partner's voice work the magic. Lovense has been pretty thoughtful with the design of this vibrator. This is a hands-free vibrator that does not need you to expressly direct it for stimulation. Just place it, and let the vibrator do its job.
Lovense Lush 3 can also be synced with other sex toys. As a long-distance sex toy for paired play, it can work in sync with the Lovense Max, or the Lovense Nora vibrator.
On the other hand, it is dependent entirely on control by the app, lacking buttons on the vibrator itself. Although that doesn't seem like much of a problem since the app and vibrator work together fabulously.
#2. Desire Luxury Rechargeable Remote Control Panty Vibrator
Panty Vibrator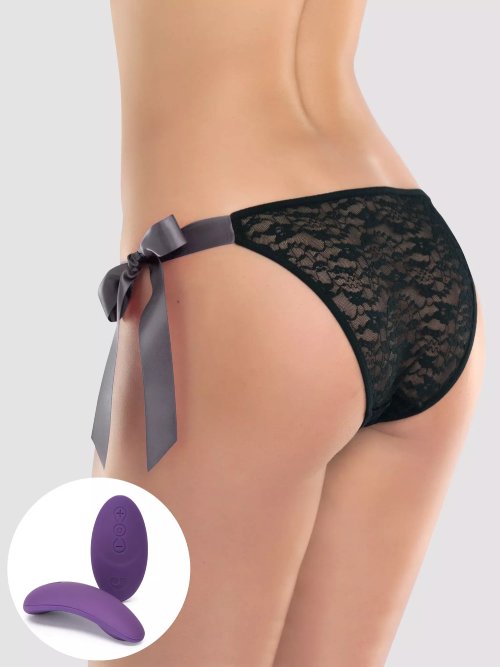 A panty vibrator has to do more than being powerful and pleasurable. We want it to be sleek and invisible when it's in use. Desire Luxury Rechargeable Remote Control Panty Vibrator outshines others in all the categories that matter.
The vibrator is saddle-shaped and comes with nice ribbon tie briefs to give it company. The briefs are a nice match, though you don't necessarily need to pair the vibrator and the panty. It'll work with any briefs, provided there's enough room to support the vibrator and keep it in place.
Having the saddle shape works in favor of the vibrator. It's easy and comfortable to put in place, or as the seller describes it, "nestle the saddle-shaped vibrator onto your pearl". The silicone-clad vibrator fits in nicely and will position itself well to deliver pleasure right where you want it.
A dedicated remote control is included. Fairly simple to use, the remote has three buttons laid out in a single line. A power button brings it to action and the "+" and "-" buttons make it possible to cycle through the various speed and pattern options.
The remote control has an 8-meter/26 feet range. That's a conveniently well-spaced distance, but is dependent on line of sight. This implies the range will be lower if the remote is behind the one using the wearable vibrator. You don't have to do the embarrassing "point and shoot" but try to have the remote and vibrator in a clear range.
Using The Vibrator And More Specifics
There are 12 speeds and 8 patterns available on this vibrator. All of them managed and controlled through the remote. I'd have preferred if it was easier to switch between patterns and vibration speeds. The three button format on the remote makes it slightly more work, but thankfully, it isn't troublesome.
Where it matters, this vibrator scores all the points. These remote control vibrating panties are immensely pleasurable. They're more than just a tease or foreplay. These panties are capable of taking you all the way to the edge and then pushing you over.
They're practically noiseless and don't attract any attention when used for public play. Well, there is going to be a hum when using the vibrator, but unless you intend to use it in a library, there shouldn't be a problem.

If you want to see more options for wearable vibrators or vibrating underwear, check out our list of best vibrating panties.
Desire Luxury Rechargeable Remote Control Panty Vibrator has a built-in battery and can be charged using an included USB charger. The vibrator is waterproof and can be submerged (bathtub and pool fun times ahead!). Its remote, however, is splashproof and should not be submerged in water.
#3. Fifty Shades of Grey Relentless Vibrations Remote Control Egg
Remote Control Egg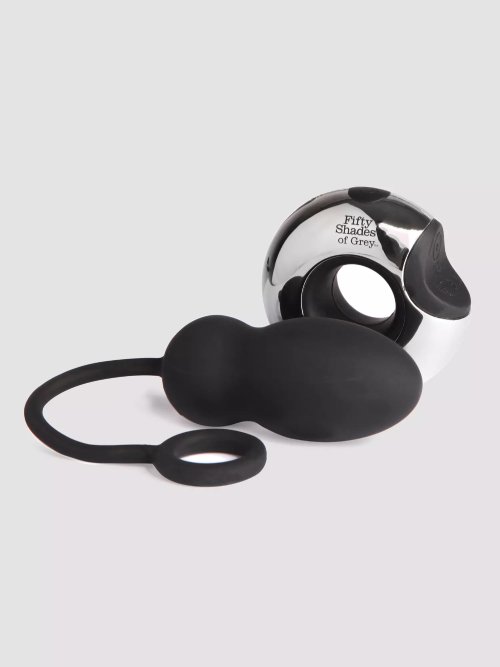 An Intensity, playfulness, and pleasure come together in this orgasmic vibrating egg.
If hot play in public is on your mind, a good remote egg vibrator is tough to beat. Fifty Shades of Grey Relentless Vibrations Remote Control Egg is the best on the market right now. The construction quality as well as the superb vibrations make this a fantastic pick.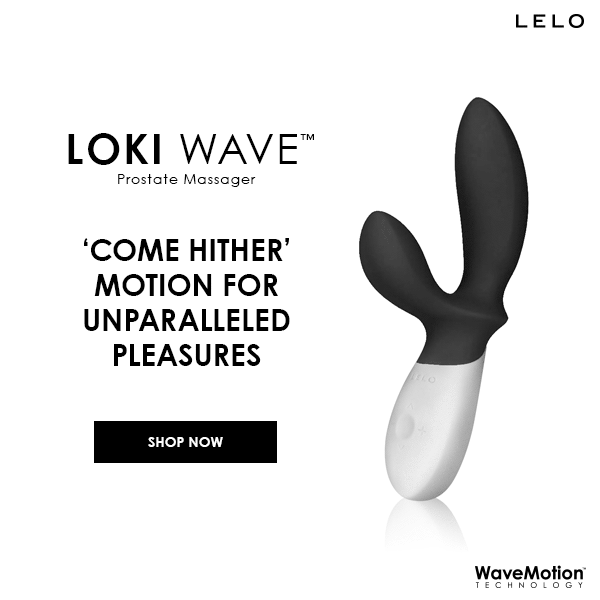 The vibrator body is coated in smooth, silky silicone and the drawstring has enough length to always be easily accessible. Several vibrators get coated in silicone (and that's a good thing), but the quality of silicone is something to enjoy too.
The material is always nice to touch, but the quality of Fifty Shades of Grey Relentless Vibrations Egg makes it feel lovely. It feels great in the hands – and as good when it's inserted.
Using The Vibrator And More Specifics
Vibrations come in two speeds and five patterns. It's not all about the number of options – it's how they're used that matters. And this egg vibrator is true to its name. It's relentless and the vibrations take the route straight to earth-shattering orgasms.
The remote control here is something of a donut shape. It isn't exactly tiny, but it's convenient enough to hold in your hand. Or run fingers through it and use the thumb to control vibration and pattern settings.
The declared range here is 10 meters/32 feet, but for practical use, let's consider it limited to 15-20 feet at most. Don't forget it has to be in the line of sight for proper use.
Fifty Shades of Grey Relentless Vibrations Remote Control Egg is USB rechargeable, and waterproof. Insertable length for the vibrator is 3 inches and it has a circumference of four inches at its widest.
#4. We-Vibe Unite 2 – An Amazing Pick For Couples
Affordable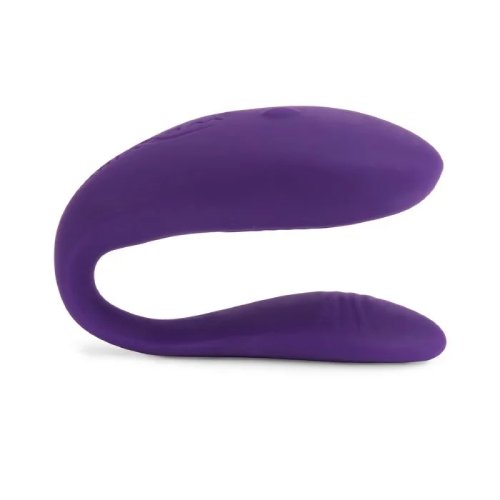 A fantastic couple's vibrator with dedicated remote that stimulates the g-spot and the clitoris.
Couples vibrators often run the risk of being a hit or a miss. We-Vibe Unite 2 gets it right. This is a classic remote control vibrator with a dedicated remote and is very responsive to commands.
Benefits also come from We-Vibe's skill at making great vibrators. The vibrations here are deep and rumbly and set the course straight for earth-shattering orgasms.
Unite 2 is a U-shaped vibrator designed to pleasure the g-spot and the clitoris. The thicker arm goes over the clitoris, while the other is insertable and places itself over the g-spot. There are two motors in this vibrator, one placed at each stimulation point. Both these motors get quite the symphony of vibrations going for an earth-shattering experience.
Using The Vibrator And More Specifics
We-Vibe Unite 2 is clad in body-safe silicone, with each side measuring 2.5-inches. The smooth and velvety touch of silicone feels great against the body. The base of the vibrator where the two arms meet isn't exactly thin but is inconspicuous enough to allow PiV sex. That's what adds to the excitement of this couples vibrator!
You get 10 vibration speeds and patterns and a simple remote to control the vibrator. This is a simple single-button remote that simply cycles through the available modes.
Even so, the dedicated remote is useful and makes the vibrator fun and easy to use. Proper functioning of the remote requires line of sight, so it's best used within a room and a range of up to 25 feet.
The vibrator draws power from a USB-rechargeable battery that offers 90 minutes of play time. While the vibrator isn't visible or noisy when worn, it isn't really meant as a public remote vibrator. This is best used for intimate times for a couple.
#5. UPRIZE Remote Control Erecting Realistic Dildo
Dildo VIbrator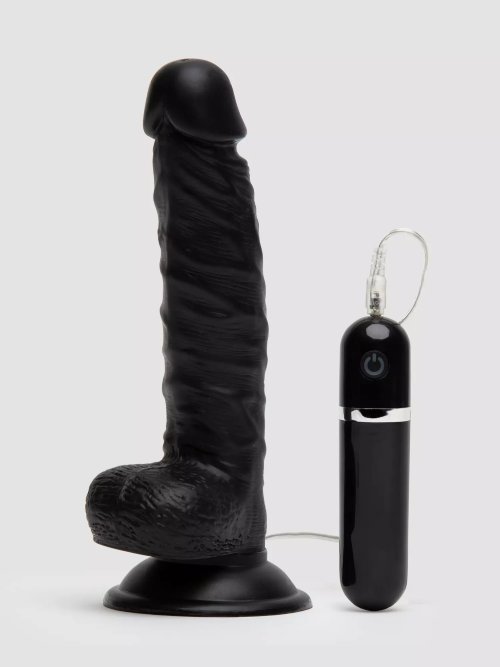 A fantastic dildo with a "realistic" look.
I like the UPRIZE "realistic" dildo vibrator. Its erecting function is positively hilarious. Erections at the touch of a button – now that's something fun. It's very easy to dismiss something like this as a gag gift. However, it's a lot more than its humorous erections. Because once it's done, it can be really fun, just how nature intended it to be!
Apart from getting erections, the "realistic" angle also includes the general look and design of this dildo. Which is to say, it looks like a real penis.
Though it has an erection function, the dildo isn't really flexible. It is a mechanical function, otherwise the dildo is firm, which allows the exterior to be silicone. The erection motion is more like an exaggerated "come hither" motion in Lelo Ina Wave and similar sex toys. Unfortunately, this motion isn't really exploited to its fullest in this dildo.
Using The Dildo And More Specifics
UPRIZE erecting dildo is powered by an internal USB-rechargeable battery and offers 10 vibration modes. It comes with a dedicated remote, but there are controls on the dildo as well, so you can use it whatever way you prefer.
It's fairly versatile and is compatible for use with harnesses as well. Even with its realistic look, it has a rather pronounced texture at the trunk which makes it all the more pleasurable. Of course, there's a touch of texture for the penis look as well. It's enjoyable and very pleasurable. Plus, you don't necessarily have to rely on vibrations.
The total length of this vibrating dildo is 8.5-inches and the insertable length is 6 inches. It is convenient to use, waterproof, easy to clean, and its remote is fantastic.
#6. OhMiBod Fuse App Controlled Interactive Rabbit Vibrator
Rabbit Vibrator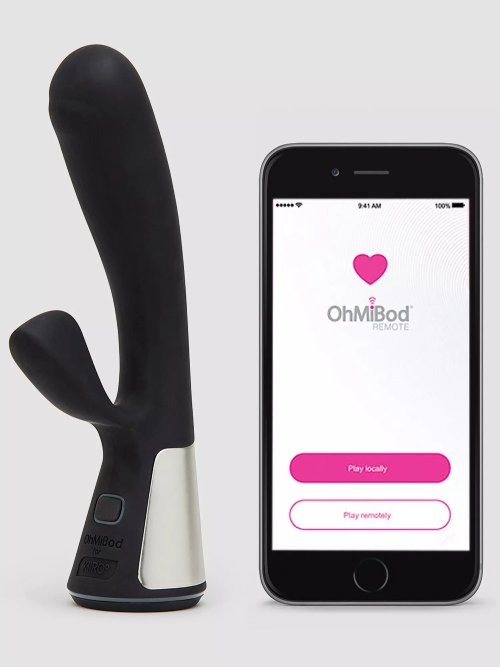 OhMiBod Fuse App Controlled Interactive Rabbit Vibrator
Use solo or connect via bluetooth to a partner's phone, or Kiiroo Onyx Masturbator, for a truly unique experience that can even be enjoyed over long distance. The rabbit can be enjoyed in manual mode, with 7 vibration patterns, or in 'interactive' mode using the FeelConnect app. Plus it has an innovative touch sensitive mode that vibrates on contact with skin.
See latest price
Pleasure and technology come together in this remarkable vibrator that opens new doors of pleasure.
OhMiBod Fuse is another smart, long-distance remote control sex toy. Interestingly, the app platform for this Bluetooth vibrator has been developed by Kiiroo. This means, that when paired, OhMiBod Fuse sex toys can play along with Kiiroo sex toys, and Fleshlight products too since they use the same platform.
Fuse has simple, minimalist, modern-ish looks. That design works pretty well in making this toy appear sleek. The rabbit-style vibrator draws its power from two motors, thus ensuring that both its appendages have adequate power to work with.
OhMiBod remote control vibrator does a lovely job at stimulating the G-spot and the clitoris. Plus, it excels as an app controlled vibrator and provides a smooth experience without glitches. You can work this vibrator at a small distance directly using the phone. Or, connect to the internet and use it as a Wifi vibrator capable of being controlled from anywhere in the world.
It offers only four vibration patterns and three intensity settings. This may seem like a low number, but the vibrator is adept at its work and will deftly build to, and bring on, an orgasm. The company calls it a "G-spot centric" design and I wholeheartedly agree. The curvy shape of the vibrator shaft works pretty well and does a good job of massaging the g-spot.
Once connected to the app, you get to access a range of functions, going beyond a simple remote control. For one, you can share the controls with your partner and enjoy the teledildonic prowess of this vibrator. Other features include syncing the sex toy to Virtual Reality (VR), videos, and even games. It's pretty cool!
#7. Desire Luxury Rechargeable Remote Control Prostate Massager
Prostate Massager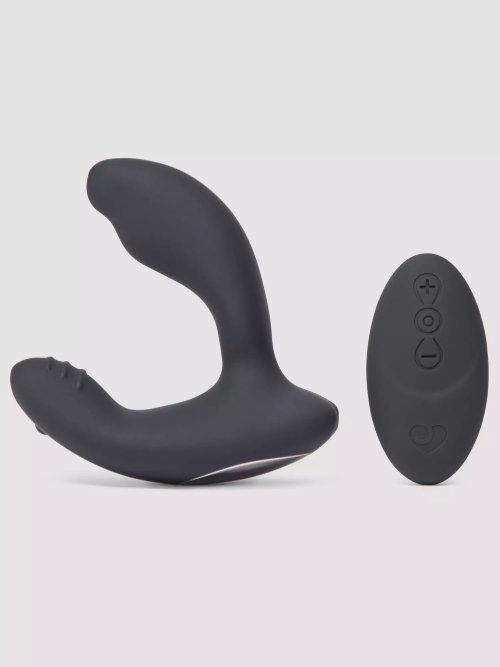 Powerful toy for p-spot stimulation.
Desire Luxury Rechargeable Remote Control Prostate Massager is a prostate massager par excellence. Its build is quite similar to another excellent remote control prostate massager, the Lelo Hugo. The insertable arm juts out from the base, while the base itself extends to cover the perineum.
By and large, the prostate massager is fixed and inflexible. However, it gives some way at the root where the insertable side meets the base. This makes it possible to adjust the massager right and be more comfortable for the user.
A dedicated remote is available to control the prostate massager. It's also available as an app-controlled prostate massager, though that's slightly more expensive. Both of these are superior options to competing remote control butt plugs.
The massager offers eight vibration modes with 12 speeds and an effective remote control range of 8 meters/25 feet. For practical use, that range is more like 10-15 feet, depending on location and line of sight.
Being covered in silicone makes it a pleasure to use and easy to clean. The best part is its uncanny ability to hit the p-spot every time and bring on a strong orgasm. It's priced right and is one of the best sex toys available for men.
Types of Remote Control Vibrators
There are several ways to control your sex toys by a remote. The type of remote can affect the functions, use, and cost of the vibrator you choose. Of course, usability remains an important concern. Many of the vibrators available today are built with the explicit idea of being used with remote controls. Let's check out the most popular vibrator types used with remote controls.
Dedicated Remote Control
These are the most popular remote control vibrators. The vibrator comes with its own, dedicated remote control. In most cases, these vibrators will follow the conventional path and used infrared waves to control the vibrator. Some may also use radio waves. Think of something like your TV remote control, and you'll find these are pretty similar in the basic technology employed.
Another available option in this category is wired remote control. The wired remote control is directly connected to the vibrator. In these cases, the vibrator is quick to respond, but the additional wire can sometimes create a hassle. For most uses, wired remotes have been replaced by wireless options.
Wearable Vibrators
Wearable vibrators are increasingly popular with each passing day! Discretion is of course the most important characteristic of these vibrators. Generally represented by vibrating panties, wearable vibrators are often employed for public play. So whether you get creative to look for places to use your remote vibrator, or simply go along your day, it makes sense to use a remote. You certainly can't be pressing buttons on your vibrator as you go about your day!
Bluetooth And App Controlled Vibrators
These vibrators ride on the smartphone proliferation. A big benefit here is that this way, the vibrator gets to use the technology and availability made possible by the phones. In most cases, the vibrator connects to the user's phone via Bluetooth. Once connected to the phone, a dedicated app for the vibrator can be used as a remote control. The app may also offer additional controls and features for the user.
And this is where it gets interesting.
Many vibrators allow an infinite number of pattern and vibration settings that can be used via the app.
Additionally, it opens up the world of teledildonics. You can share the controls of the sex toy with your partner anywhere in the world (depending on the app used). As long as both of you have an internet connection, your partner can control your vibrator even from thousands of miles away.
The range of a Bluetooth connection is limited to a few feet. For actual use of a sex toy, I'd recommend staying within 10 feet. However, once the internet comes into play, the range is the globe.
Pair-Play Or Synced Sex Toys
This could be a subset of the App Controlled Vibrators, but the set is too important to not warrant a class of its own. Pair play sex toys are the future. In these cases, the sex toy connects to the app via Bluetooth. However, rather than just one toy being involved, there are two, and both respond to the motions of each other.
Rather than using the app as a remote to control a sex toy, the simply becomes a medium allowing for the two sex toys to interact. For example, the man may be using a Lovense Max, while the woman may be using the Lovense Nora simultaneously. The motions each of them make with their sex toy, are echoed on the toy of their partner.
It's a rather promising area, and I can't wait to see the new developments that come with these sex toys!
Looking for remote vibrating panties? Read our review: Best Remote Control Vibrating Panties For A Cocktail Of Naughty Pleasure
What To Expect From Your wireless vibrator
Your vibrator's remote adds spice to your sex life. Play a bit, get naughty, and let your fantasies fly. New toys can metaphorically reduce the distance between lovers, by providing means through which lovers in long distance relationship can share intimate moments together. Here are some things you can expect.
Read more: Find the most powerful vibrators on the market.
Ease Of Use
Simplicity and ease of use has to be a big part guiding your choice. Something that requires extensive effort or knowledge to use just defeats the purpose of a remote. Who wants to consult an instruction manual while in the heat of the moment?
Wired Or Wireless?
Remotes come in several flavors. Most are wireless, wifi or bluetooth. like the ones most of us are used to. We hit buttons, the device responds. It's simple and convenient – there's no need to involve wires. An obvious advantage of wired remotes is that it lowers cost.
Wired remotes also have greater response from the vibrator as compared to a wireless options. Some wireless remotes have trouble connecting with insertable vibrators. So indeed, wired remotes are more reliable. However, they come with the mess of wires, and with limiting distance between the remote and the vibrator.
We want freedom while using remotes, and wired remotes just aren't up to the job. Plus, they pretty much kill play like going outdoors with the vibrator in action, or kinks where a distance between the remote and vibrator is required.
Shape, Size, and Comfort
A lot of things can get slapped with a remote. The question largely is the value proposition of the remote. These vibrators are available in several shapes and sizes. You should be looking for one that is comfortable for you. This includes the materials used for manufacturing the vibrator.
Always remember to use high-quality vibrators that are free of phthalates. Being non-porous is a plus, and always remember to use lubricant with your vibrator!
Battery Life
Most vibrators use different power sources for the vibrator and the remote. If you are using one, keep tabs on the battery level of the remote as well as your vibrator! For a few vibrators like Lelo Lyla 2, it is the remote that unlocks most of the vibration and speed patterns on the device. So yeah, you will need your remote in action for the vibrator!
Noise – Important if you are buying a remote public vibrator
The noise is often a consideration, but it can be more pronounced in the case of remote control vibrators. Many people use their vibrators for public play, with one person handling the remote.
A noisy buzz of the vibrator would be rather embarrassing while out and about. It is generally a good idea to stick to locations that have significant background noise.
Some Problems Remote Control Vibrators May Have
Unfortunately, there are some problems that plague the world of remote vibrators. For example, modern Bluetooth vibrators and known to often lose connection with their remote control. Since app-based vibrators rely on Bluetooth connectivity, the same problem continues.
Conventional remotes may also have trouble. Many of these remotes need 'line of sight' connectivity with the vibrator to function properly. Obviously, that is a big problem, especially for insertable vibrators. Keep these points in mind, when you go through the reviews in this guide.
Best Remote Vibrators — The Conclusion
Remote control is the future of vibrators, and it is getting big. While the technology is still being perfected, there are many vibrators that can also be controlled by a mobile app, for example, the We-Vibe Connect app.
For the moment, the conventional remotes work best. There's plenty of them, and they offer a whole range of functions and more importantly, ease of use.