(Last Updated On: August 7, 2023)
We all know how the saying goes – It's better to give than to receive – but why not both?
Now, I've always enjoyed pleasuring my partners, and have been doing so in many different ways. As you may therefore guess, strap-ons have been a staple in my toy collection for a long time, so I've tried my fair share of them.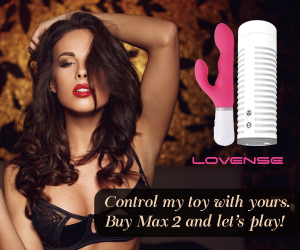 The strapless strap-on was, for me, a complete gamechanger. Finding out I could get a taste of the action while engaging with my partner was incredibly tantalizing to me. A whole new world of pleasure to be explored. Today I'm here to use what I've learned to help you make your choice!
So, strap on in and let's check out my favorite strapless strap-on dildos.
What is a Strapless Strap-on?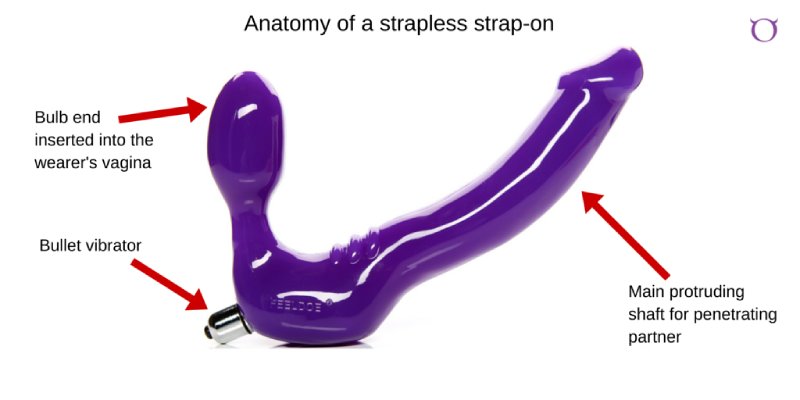 For the uninitiated, let me be your guide as you first wade into the world of strapless strap-ons. This toy is different from your usual strap-on in that it doesn't require a harness and instead has a bent shape that allows you to hold it up using your pelvic floor muscles. Oh, and by the way, you might wanna start doing your Kegels!
Instead of the classic harnesses that are sometimes uncormofratble to wear, or hard to fit, the strapless strap-on its comfortably within you. Usually, the shaft that would be the dildo is longer, and the insertable part – that goes into the wearer – is shorter but just as pleasurable. So, not only is the toy strapless, but both partners can achieve orgasm while using it!
They've also got a leg up on a classic strap-on aesthetically. Now, obviously, most aren't realistic dildos and come in a variety of not-so-realistic colors, but they don't have to be. They do still look like a natural extension to your body – or the body of your lady partner.
You may also find that a woman with a hot pink dick is, in fact, very hot, very pink, and very arousing.
The strapless strap-on can serve multiple purposes. It can be used for lesbian sex, pegging, masturbation, and double-penetration. You can even try it out purely for appearance.
Either way, it doesn't matter what kind of relationship you're in, or if you're by yourself, all of my fellow proud vagina-owners can get something out of this product.
Our Top Choices For The Best Strapless Strap-On
The Best Strapless Strap-on
There are many available products on the market so to make your choice easier, here is my list of top 6 strapless strap-ons that might pique your interest and ultimately satisfy your needs.
#1 Happy Rabbit Rechargeable Vibrating Strapless Strap-On – Best overall
Best Overall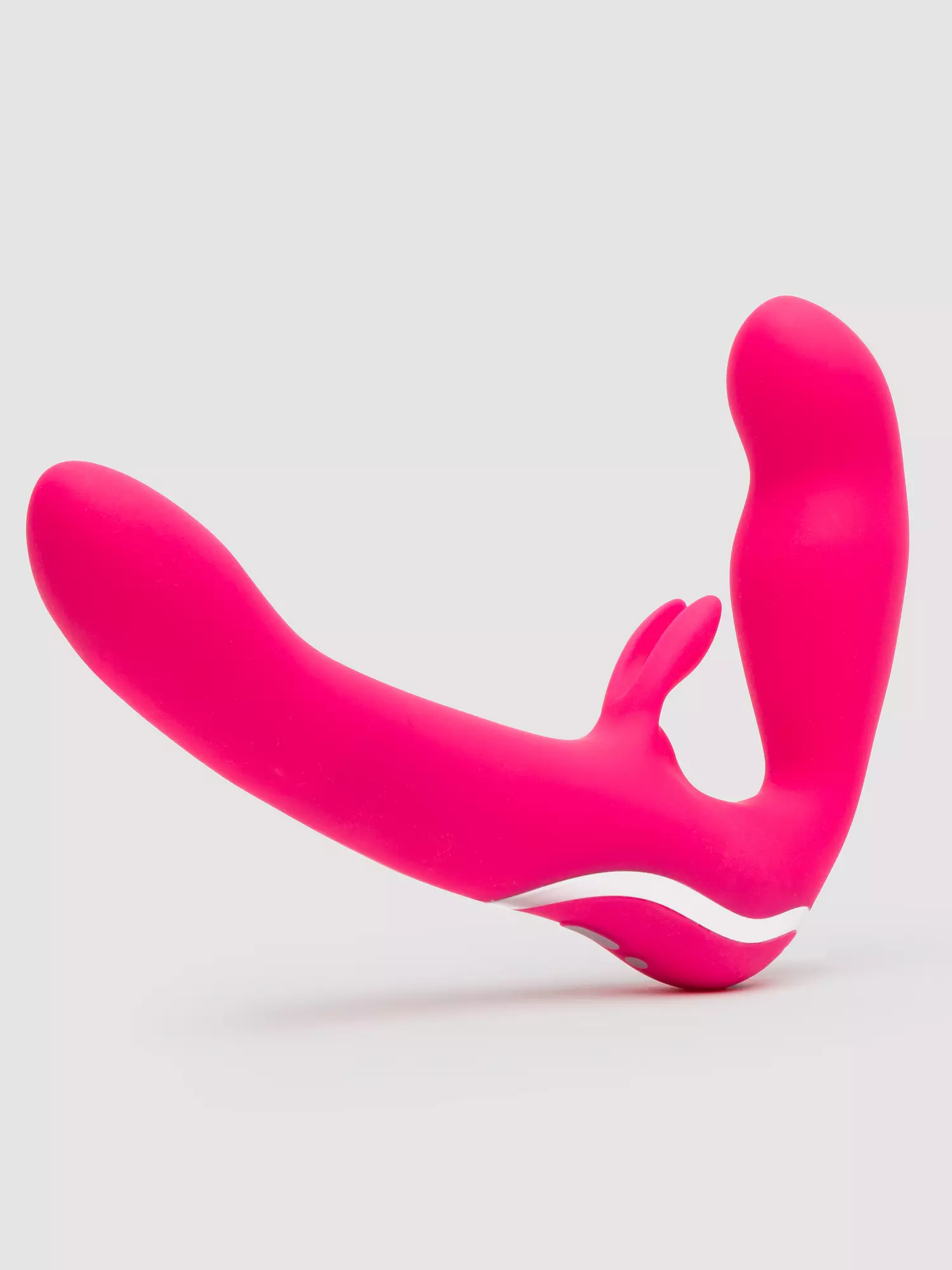 Happy Rabbit Strapless Strap-On
Tumble down the rabbit hole with your lover and explore the unbelievable intimacy of our happy rabbit® strapless strap-on. Enjoy strong vibrations for two with 12 tempting vibration modes in the slim penetrative shaft and 3 satisfying speeds in the pony.
Get 15% off with Code: GURU15
Specifications:
Vibration: the shaft has 3 speeds and 9 patterns, while the bulb had 3 speeds
Length: 5.5 inches
Girth: 4.5 inches
Material: Silicone
Flexibility: Firm
Power source: USB charged
While you can most definitely use the Happy Rabbit to "fuck like rabbits" with your special someone, the name is actually referring to the rabbit ears feature. This is meant to stimulate the wearer's clitoris for an even more heightened experience.
The shaft and the pony inserts are relatively modest in size, 5.5 inches and 4.5, respectively, reaching a maximum girth of 4.5 inches. But it's not always about size; it's about what you do with it.
The device offers vibration options for added stimulation. In fact, there are 12 vibration modes in the shaft and 3 vibration speeds for the pony, all there to help both you and your partner reach climax.
The design is non-phallic with a smooth surface and it's made of body-safe silicone. The pony has a tapered tip allowing for its easy insertion and help keep the toy's position.
Besides the bunny ears, there are other features you can find like a travel lock and its waterproof build. The travel lock keeps the device from acting up on its own, so you can feel safe taking your strapless strap-on wherever you go. The waterproof build is ideal for some extra steamy play underwater, leaving much room for your creativity to run wild.
The Happy Rabbit is a very impressive vibrator, and unfortunately, its price reflects this, as it's one of the most expensive items on our list. However, if you are looking to make a larger investment, I would recommend putting your money down on this beautiful, pink orgasm-fest ASAP.
Pros
Tapered tip on the pony allows for easy insertion
Offers strong and powerful vibrations
Is waterproof and allows for water play
Has a travel lock for convenient and discrete transport
Cons
It's a heavy device
The pony doesn't have many vibration options
Has a high price tag
#2 Tracey Cox Supersex Rechargeable Remote Control Strapless Strap-On Vibrator – Best for practicality
Most Practical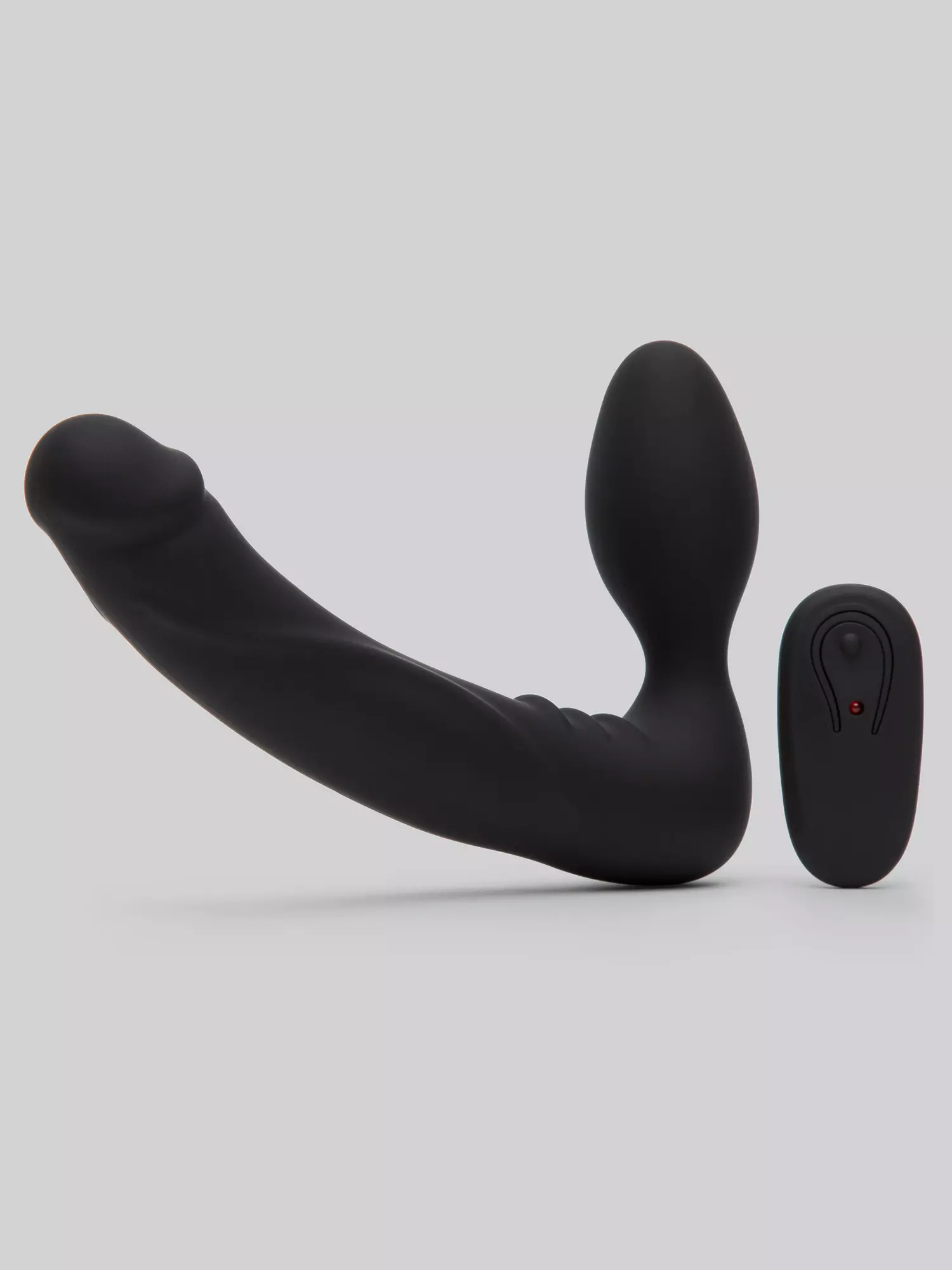 Tracey Cox Supersex Strap-on Vibrator
Enjoy all the fun of strap-ons without the hassle of a harness with the Tracey Cox Vibrating Strapless Strap-On Dildo. Designed to help you indulge in spontaneous, skin-to-skin penetrative strap-on sex, this toy provides 3 speeds and 7 patterns to amp up your play.
Get 15% off with Code: GURU15
The Tracey Cox Supersex vibrator has to be the most elegant strap-on in my collection. From shape to color, it's a stunner. That's not, however, why it made this list.
This strap-on not only does away with the need for a harness but also comes with a stylish wireless remote. Did you catch that? Wireless. That's right, no more fidgeting with control buttons or wired controllers annoyingly attached to your "member." Now you can change vibration settings with hardly any effort.
We mentioned the beautiful design already, but let's expand on that. The toy is made of textured silicone with a delicious phallic shape. The insertable shaft is 6.5 inches, while the bulb (or pony) is 3.5 inches.
Vibrations are equally distributed to both insertable ends to offer added stimulation and pleasure to both partners. You can adjust between 7 vibration patterns and 3 speeds, using the remote that is just as stylish as the strap-on it comes with.

In case things aren't quite wet enough, you'll be able to take this device for a little underwater action, thanks to its waterproof feature.
Be careful when slippery, though. This device does tend to fall out easily for those still unacquainted with the product. It takes some practice, but once you get the right techniques down, you'll be counting stars and counting down the minutes till your next sesh.
Pros
There is a realistic design and feel
Long-lasting charge, granting up to 90 minutes of play time
Cons
Falls out easily
Comes in at a high cost
#3 Lifelike Lover Luxe Posable Realistic Silicone Strapless Strap-On – Best for beginners
Best for beginners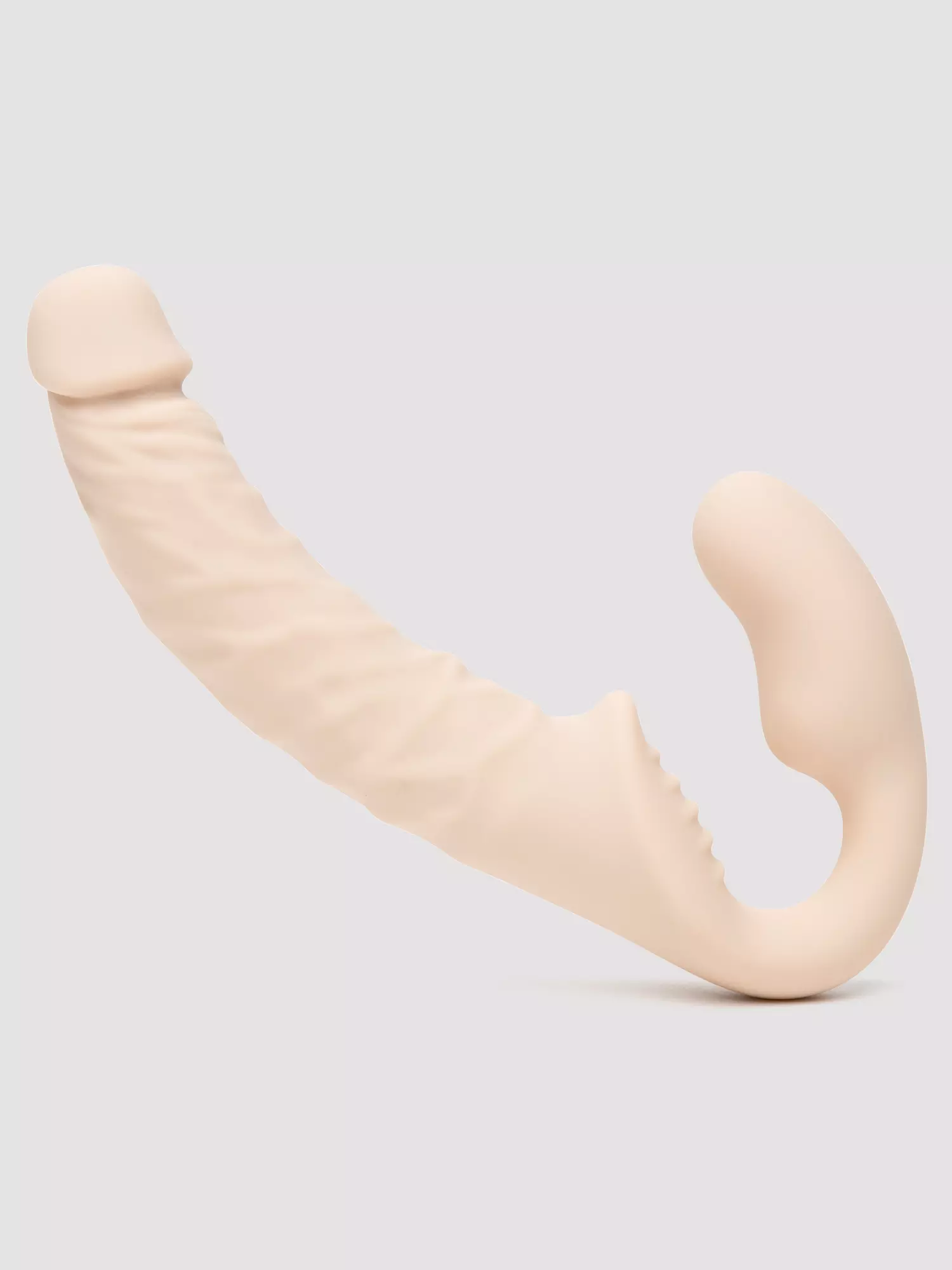 Lifelike Lover Strapless Strap-On
Seek out the peak of shared satisfaction with this super-lifelike strapless strap-on. Savour unrestrained intimacy as you explore 6 insertable inches that adjust to the perfect angle for you, for sensational penetrative play without a harness between you.
Get 15% off with Code: GURU15
Specifications
Length: 6 inches
Girth: 4.5 inches
Material: Silicone
Flexibility: Flexible
The Lifelike Lover Luxe Posable Realistic Silicone Strapless Strap-On is what I always recommend for people just starting with strap-ons. It's made of silicone and has very realistic features. The shaft takes on the shape of a realistic penis, protruding veins and all.
The dildo is pretty firm but mno worries, it's still flexible enough for the two ends to be adjusted to your liking. The shaft comes in at 6 inches, while the pony comes in at 3. It doesn't vibrate, so there's no need to worry about any extra features. The wearer should worry about getting their stroke game up to bat, 'cause it's just going to be them and that dildo doing the work.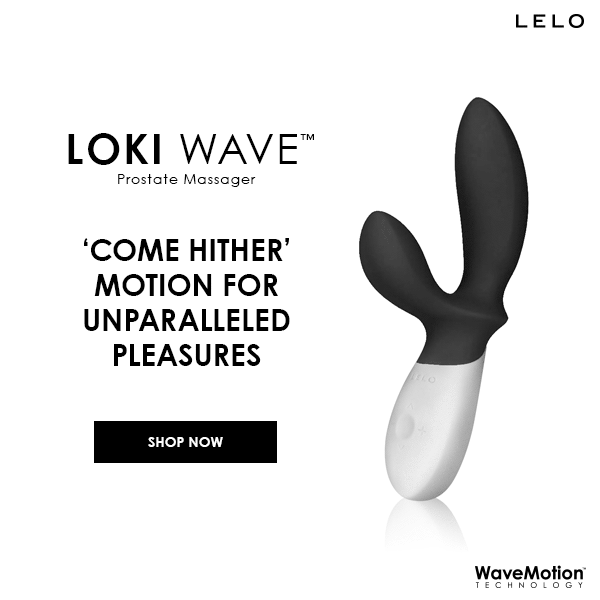 Again, work out those pelvic floor muscles!
Pros
It is easy to use and get the hang of
Very life-like
Is an affordable price
#4 Lovehoney Double Wow Strapless Strap-On Dildo Vibrator 7 Inch – Best value
Best Value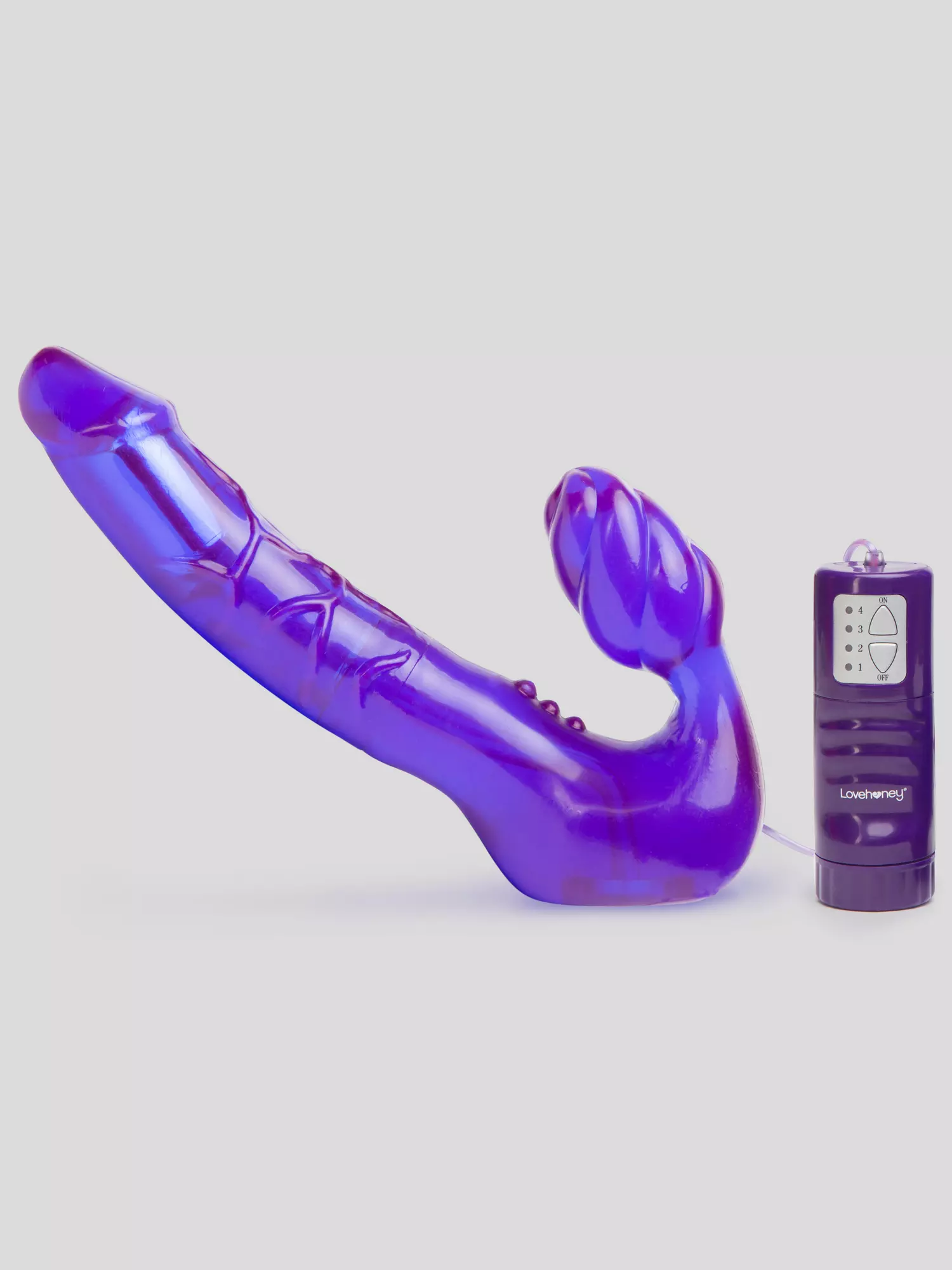 Specifications
Vibration: 4 speeds
Length: 7 inches
Girth: 4.75 inches
Material: Jelly Rubber
Flexibility: Flexible
Power source: 2 x AA batteries
Now, I know I just gushed about wireless strap-ons, but a good strap-on is more than just how cool and modern it looks. Ideally, you wouldn't want to be wired while getting down with someone, but Lovehoney's Double Wow 7 Inch Strap on still made the list, and for a good reason too.
For one, you get the most bang for your buck. At a much more affordable price than other vibrating strap-ons, it has a 7-inch shaft, a 4.75-inch circumference, and 4 vibration speeds you can alter between. The bulb is ribbed and aimed to hit that G-spot, making sure no sensitive spot gets left out.
This toy is a prime choice if you're on a budget; just be sure to factor in the cost of two AA batteries you need for the device to operate.
#5 Fun Factory ShareVibe Rechargeable Vibrating Strapless Strap-On Dildo – Best for intimacy
Best for Intimacy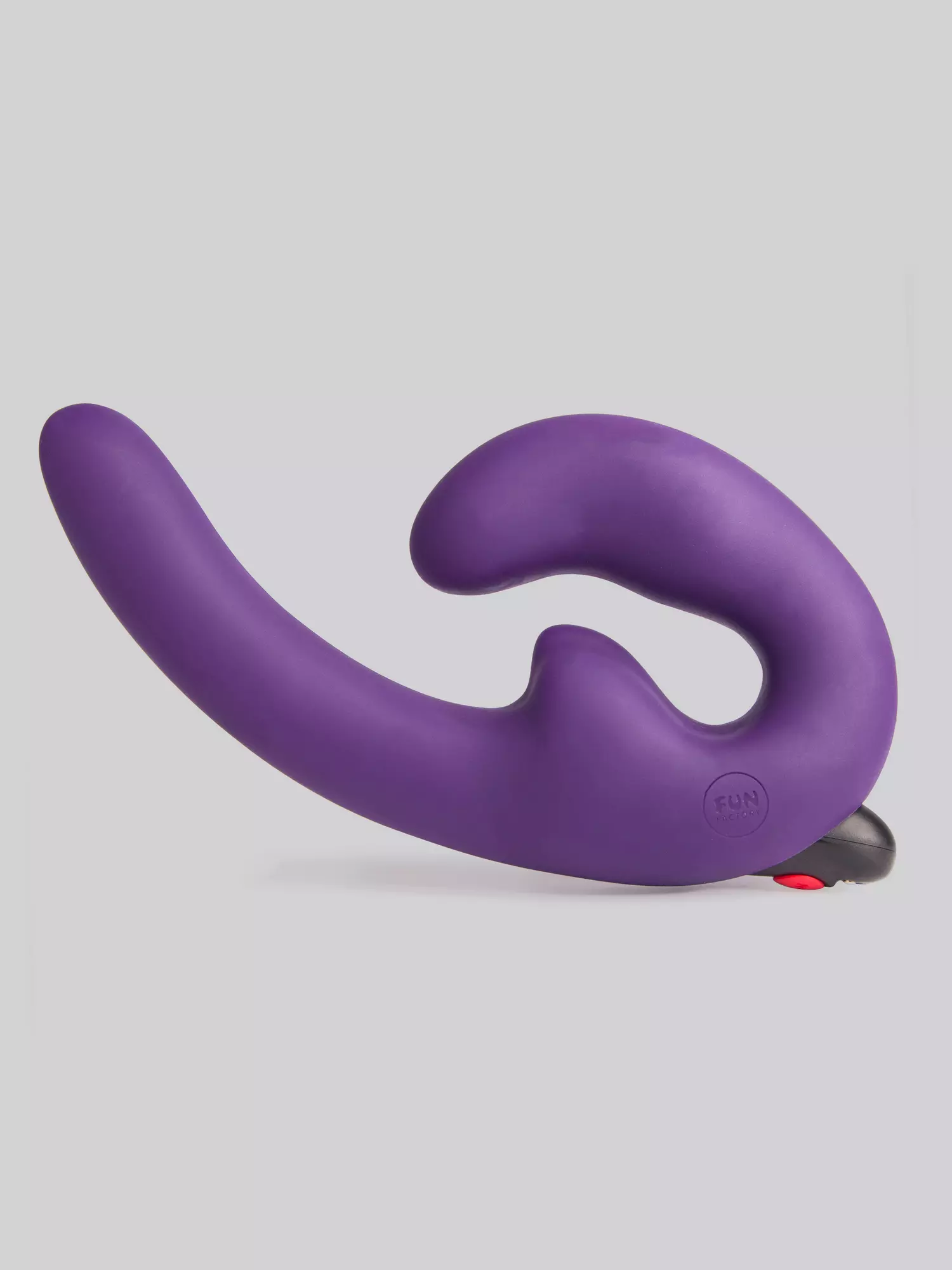 Specifications:
Vibration: 5 modes
Length: 5.5 inches
Girth: 4.5 inches
Material: Silicone
Flexibility: Flexible
Power source: The product has a removable rechargeable bullet
I consider Fun Factory ShareVibe to be the couple strap-on. Because of its design, you get skin-to-skin contact just as you would when inserting an actual penis.
But this isn't your boring regular appendage. With a fully waterproof silicon rechargeable design, it performs in a much more powerful and multi-dimensional way.
You get a flexible double-ended dildo with a ridge to stimulate the clitoris of the wearer and 5 powerful vibrating modes.
The shaft extends to 5.5 inches with a circumference of 4.5 inches. Both the shaft and pony are designed to hit the g-spot.
Pros
Had a clitoris stimulating ridge
Is waterproof
Cons
The shaft could be longer
#6 Desire Luxury Rechargeable Strapless Strap-On Dildo Vibrator – Best Sensations
Best Sensations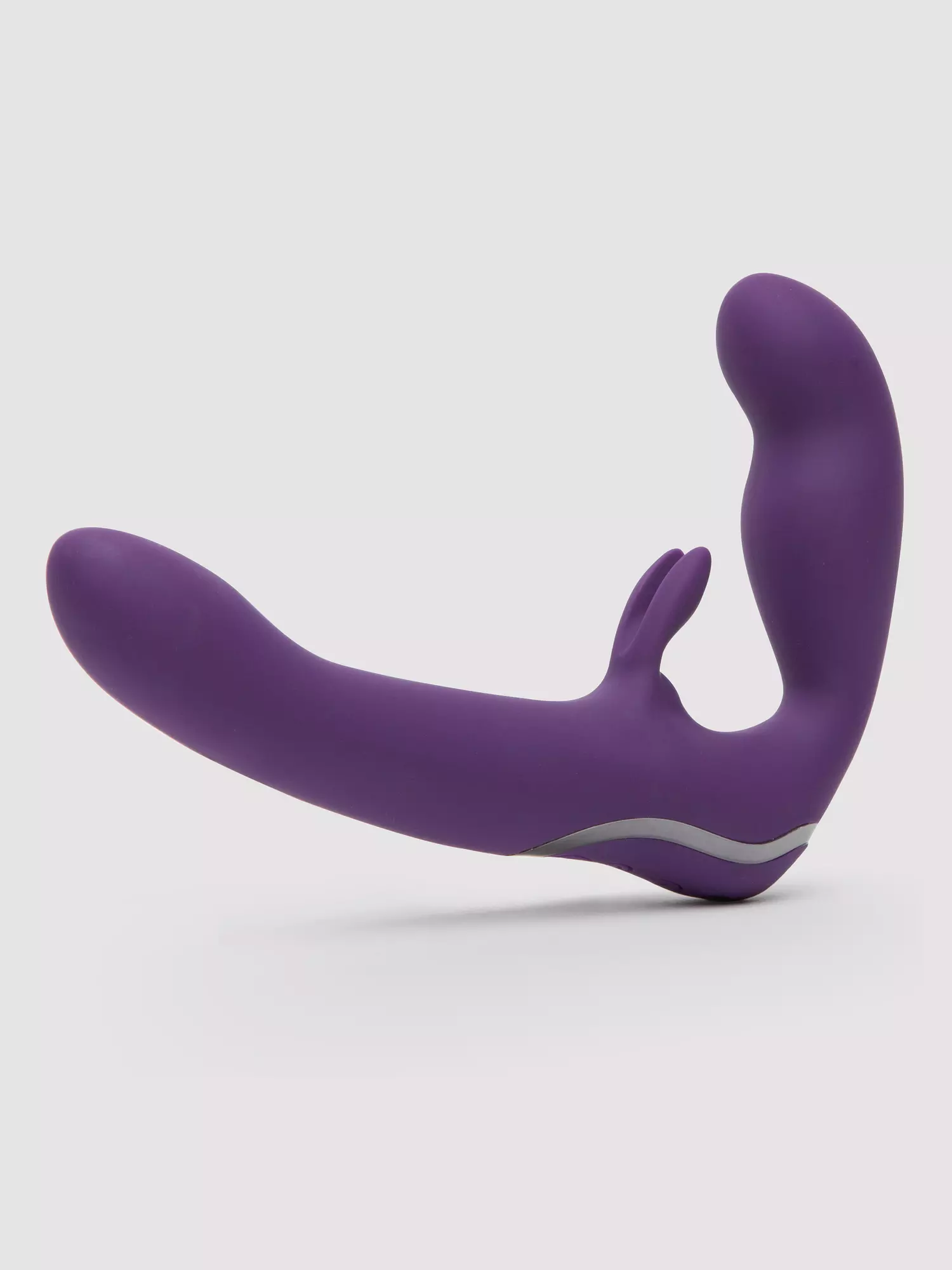 Desire Luxury Strapless Strap-On
If it's strap-on action you're after, then look no further than the Desire Luxury Strapless Strap-On. Double-ended for shared fun, it's made from premium silicone, features a posable pony for the perfect angle and fit and bunny ears for clitoral bliss.
Get 15% off with Code: GURU15
Specifications:
Vibration: 12 speeds, 8 patterns
Length: 5 inches
Girth: 4.25 inches
Material: Silicone
Flexibility: Flexible
Power source: The product is USB rechargeable
This device has 12 speeds and 8 patterns. On top of that, it also has a set of bunny ears for clitoral stimulation of the strap-on wearer.
This double-sided strap-on will take you to a whole new level of excitement, dopamine release, and sexual thrills. It comes with a vibrating pony, so it doubles the pleasure both parties get. There's a range of vibrations and speed patterns for you and your partner to explore. Open your water-based lube and get going; you won't want to leave for a while.
Overall the Desire Luxury Rechargeable Strapless Strap-On Dildo Vibrator is a great addition to any serious sex toy collection.
Pros
Made of smooth hypoallergenic silicone material
Fully waterproof
Powerful and quiet
Cons
Controls can be awkward and difficult to use
Tips on using a Strapless Strap-on
When you first lay eyes on a penetration sextoy of this type, it's probably one of the most confusing couples sex toys out there. But if you're the type who likes a challenge, wants to play with something different, or doesn't like the awkwardness of a harness dildo, read on, because you may have just discovered a new treasure, and we'll show you how to get the most out of it.
There are several reasons why couples may prefer to use a dildo of this type instead of the harness. Some of the obvious advantages of the strapless dildo include….
Forget about straps and buckles so you can go straight down for play. There's no slipping in a harness, no adjusting the waist and thigh straps. Just apply lube, insert and play.
Get more skin-to-skin contact because there is no front harness panel in the way, so your body can be even closer, giving a more continuous and natural feel.
Provides simultaneous pleasure to both the giver and the receiver so you can build an orgasm together. Unlike traditional play where the recipient experiences the majority of the pleasure, double dildos ensure that both partners are taken care of.
Enjoy a more natural angle, especially when using this dildo without a tether. Thanks to the way the dildo is held by the user, this means that the shaft protrudes at a more realistic angle, which leads to better control and penetration.
Strapless Strap-on Buying Guide
Every individual has their own needs, and what works for one person may not work for someone else. This is why it's very important to buy a sex toy that works for you, that caters to your needs, and that will best enhance your sex life, not anyone else's. Let's go over the main things to consider when choosing a strapless strap-on and the main things we considered while making this list.
Vibrations
Just like any other dildo, there are non-vibrating and vibrating strapless strap-ons. If you are new to the product, it's probably safer to start with the former.
Firstly, they'll often be the cheaper choice, and secondly, it will let you get a better feel for what you're actually doing. Without any vibrations in the mix, you can really focus on strokes, positions, and techniques that work and that you're comfortable with.
Of course, if you want to get a vibrating kind as a beginner, that's perfectly fine! Just keep in mind you might find it more difficult to navigate the use. However, if you and your partner are up for it, it could be worth the extra effort!
You will also want to pay attention to how powerful the vibrations are and how many different modes you can have. You want to have as many options and as much versatility as possible!
Material
The dildo is going to go inside you, and if used with a partner, then as well. Therefore, it's very important to know what material your toy is made out of. Ideally, you'd want to look for silicone dildos, as they are hypoallergenic,, easy to clean, and flexible. They also capture the quality of a real penis.
Don't forget that you will need to consider materials when picking out lube as well. If you go for my pick of silicone, you're going to wanna use water-based lubes and stay away from silicone or oil-based lube!
Size
Let's just come out and say it – size does somewhat matter! When you're buying a dildo, you're in charge of how big it is, and you can choose precisely what you want. Consider both length and girth, and as always, it's better to start small and build up, so don't bite off more than you can chew.
Design
Strapless strap-ons like all other toys vary in their design.The product's surface can be textured, emulating the real thing, as we saw with the Lifelike Love Luxe strap-on, or plain Like the Happy Rabbit. It can also come in different colors and, in the case of vibrating strapless strap-ons, can be wired or wireless.
Battery life
When it comes down to vibrating options, you can also choose between battery-powered and rechargeable ones. Pay attention to how long your toy would last without needing to be recharged and how long the recharge time is. You'd surely want a toy that will last you longer, for pleasurable nights on end.
Verdict and Conclusion on Strapless Strap-ons
So, strapless strap ons aren't really strap-ons, huh? They sure do the same work though. Whether it's pegging, or vaginally penetrating your partner, a strapless only steps up the performance for the wearer, as the shaft is only ever going to differ in length and texture.
A strapless strap-on seems more appealing to me. Being able to have both partners orgasm in the same sexual act is very appealing as many people don't want to go through 12 different rituals to meet their bedtime.
In conclusion, the best Strapless dildos of 2023 are the Desire Luxury Rechargeable Strapless Strap-On Dildo Vibrator and the Happy Rabbit Rechargeable Vibrating Strapless Strap-On.
These were the most popular picks, and even though they are slightly pricier, they are sure not to disappoint. The greater the effort, the greater the reward after all, and I don't know about you, but I like to be rewarded in plenty.
If you're interested in cheaper or, non-vibrating options take another look through our list, but if budget isn't an issue, I highly recommend going with our top picks. You're sure not to be disappointed!