(Last Updated On: January 30, 2023)
Nowadays, sex toys are a dime a dozen. And with the number of dildos on the market, one can choose whatever their heart and lady bits desire: from uniform silicone cocks to over-the-top stainless steel and glass dildos.
However, no material comes as close to the real thing as a jelly cock does.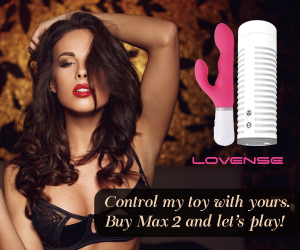 So, where does my affinity lie? Well, not only are they squishy and soft while remaining perfectly hard, but they're also a lot of fun to play with! Alone or with a friend, jelly dildos can liven up any steamy love session or get you prepared for a back entrance.
And as your fellow try-sexual (as Samantha Jones would say), I've tried them all! From simple realistic-looking shafts to double-entry ones, mama can tell you exactly what's there to like and not to like about each one!
So, let's move on to the most notable jelly dildos of the year, shall we?
What Is a Jelly Dildo?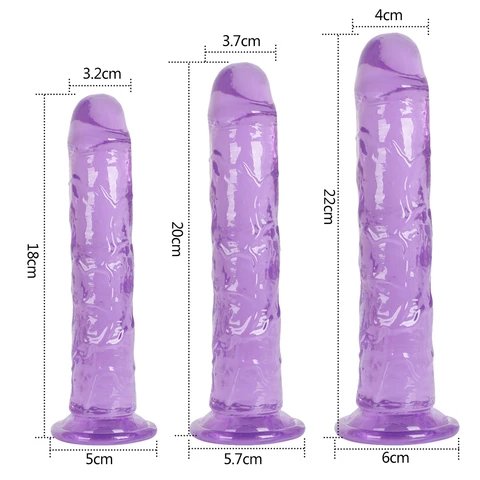 It is right there in the name ─ a jelly dildo is a cock toy made of jelly. The primary reason jelly dildos made a boom and knocked off other types of fake cocks off the shelves is, first and foremost, their affordability.
Jelly dongs are super cheap and accessible to almost anyone who has $20 to spare. What's more, their flexible nature, soft base, and ease of use make them a popular choice for all sex toy novices.
Still, you know what they say – buy cheap, buy twice! There is a reason jelly dildos are as inexpensive as they are, and all jelly dong enthusiasts should educate themselves on the matter before purchasing one. So, let's read about the pros and cons, the good and the bad!
If you're searching for a way to get yourself off for the lowest price possible – look for your solution in a jelly cock. But before you do so, there are some things you should bear in mind.
Jelly products cost a little to produce, and that's why manufacturers everywhere rely on them. However, what makes them even cheaper is a low-maintenance production! That means a lot of jelly dildos are made of material that contains phthalate, a type of chemical used to plasticize products and make them last you for long.
However, this combination of chemicals can be harmful to one's health, especially if used on a daily basis. There is a lot of evidence to support these claims, and most people are already aware of the ailments that phthalates can bring.
In addition, jelly dildos have tiny holes in them, pretty much invisible to the naked eye. So, every time you think you're cleaning your toy, in fact, you're just pushing down on all the bacteria.
But, don't worry! I know how amazing a jelly dong can feel, which is why I'm here today. I'll tell you exactly which products to go for and how to properly use and care for your jelly friend. If done the right way, your jelly dildo can be the best lover you've ever had!
The Best Jelly Dildos
#1. Doc Johnson Crystal Jellies Anal Starter Dildo – Best for Backdoor Play Newbies
Best for Backdoor Play Newbies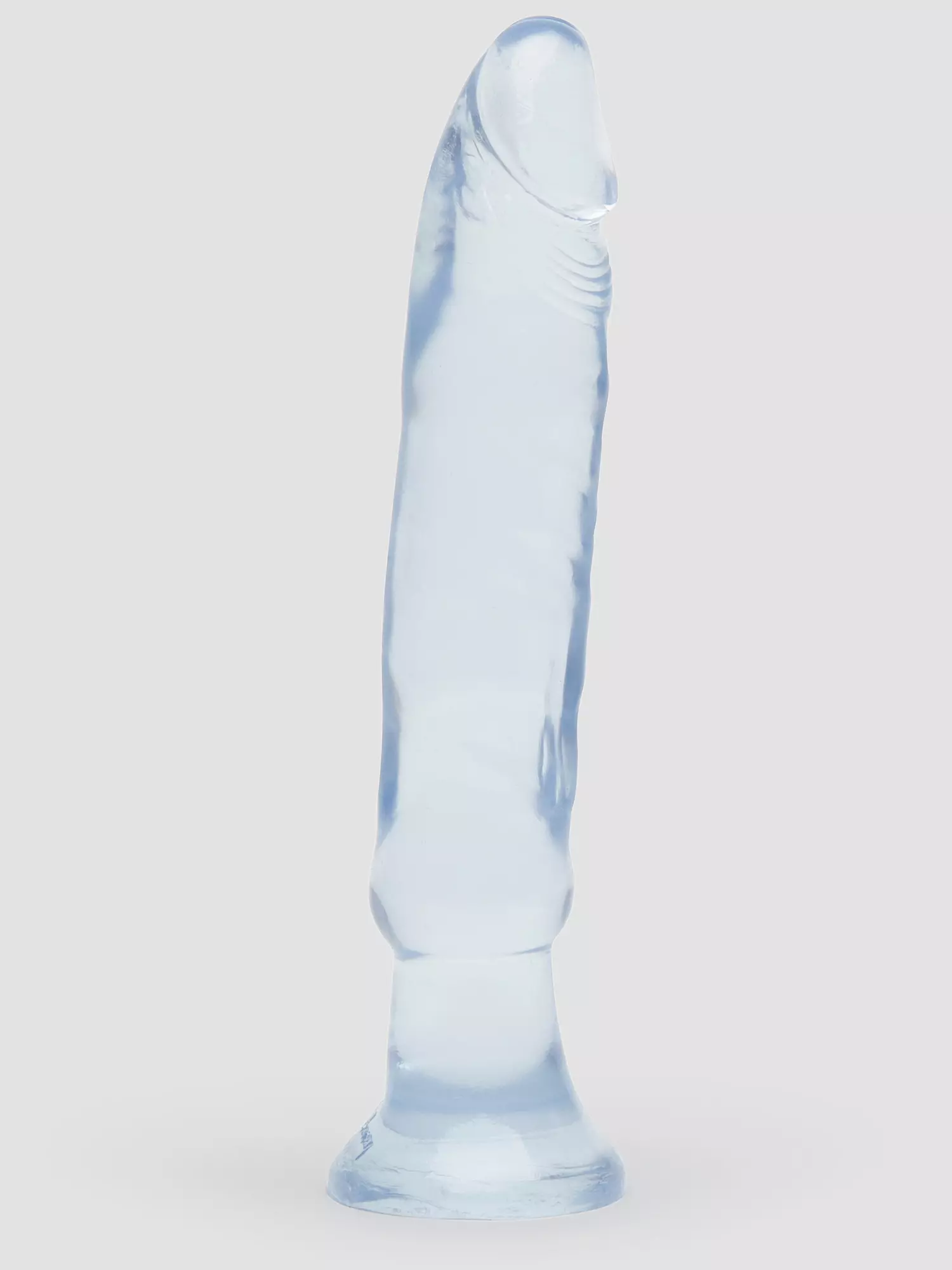 Doc Johnson Crystal Jellies
Giving new meaning to a 'crystal maze', Doc Johnson's Crystal Jellies Anal Dildo is specifically designed for first-time anal. With its slim, tapered, flexible form, it works with your body's natural curves to navigate your hidden labyrinth with ease.
Get 15% off with Code: GURU15
Let's for a second discuss the perfection that is the Doc Johnson anal starter dildo – an absolute necessity for anyone wanting to enter the realm of backdoor play! This bundle of joy takes on a shape true to life, dick veins and all. The exquisitely carved tip manipulates your front and back, delivering a spot-on penetrating sensation.
Arriving in average dick size, this 6-inch jelly dildo will touch your most delicate spots and ultimately bring you pleasure! With just a drop of lube, its soft and squishy but firm-to-an-ideal-extent surface will enter your vagina or ass in no time.
Our new favorite toy is latex and phthalate-free and comes with a suction cup so you can take it with you in the shower. And you don't have to worry about making a splash, as this jelly dildo can be completely submerged.
It is 5 inches in insertable length and 3.25 inches in width, making it the most comfortable length for both front and back play.
Users rate it the best for ease of use as well as its authentic-looking shaft. If you're ready to explore some new kinks in the bedroom, this affordable sex toy should be next on your list.
Pros
Made from high-quality body-safe materials
Excellent sensations
Can work with VR, encoded games, and is FeelMe compatible
Stylish design
Cons
Maximum battery life of 1 hour
No vibrations
#2. Adam & Eve Blue Dolphin – Perfect for Those Who Love Them Good Vibrations
Best Vibrations
Adam & Eve Blue Dolphin
You'll flip for this sensually slick waterproof vibrator! The Adam & Eve Blue Dolphin is an aquatic twist on a classic vibrator, complete with a beautiful cobalt hue, sensual veined texture, and a beginner-friendly length and girth for comfortable solo explorations.
See latest price
Adam and Eve's Blue Dolphin jelly dildo may be just what you need! And I say this with the
utmost confidence because this baby comes as a jelly dildo plus vibrator combo. Offering the best of both worlds, this toy will not only satisfy your craving for a penetration session but will also bring you to a leg-shaking orgasm thanks to its wide range of vibration modes.
This battery-operated device is made of jelly for an easy way in. Coming in above-average dick size, you can now penetrate yourself with a full 6 inches-long pleasure device! The width is only an inch, so you don't have to worry about any difficulties entering with it.
And not to toot its horn, but this jelly dildo and potent vibrator combo is akin to the real thing, except it's a bit more superior because its good vibrations will take you to another dimension!
The texture is simply beautiful and designed to trigger your most erogenous inner zones. Personally, I recommend having a go with a good portion of lube for an easy glide.
And just like that, Adam and Eve didn't fail to deliver yet again. Ladies and gents, order this top-pick jelly dildo, and your front bottom will thank you for it!
Pros
Speeds to mix and match
Perfect for any climate (dry and wet)
Great value for your money
Cons
Might be too thin for some
Some complain the speeds aren't fast enough
#3. Super Jelly Realistic Double Dildo – Double Heads, Double the Fun
Double Heads, Double the Fun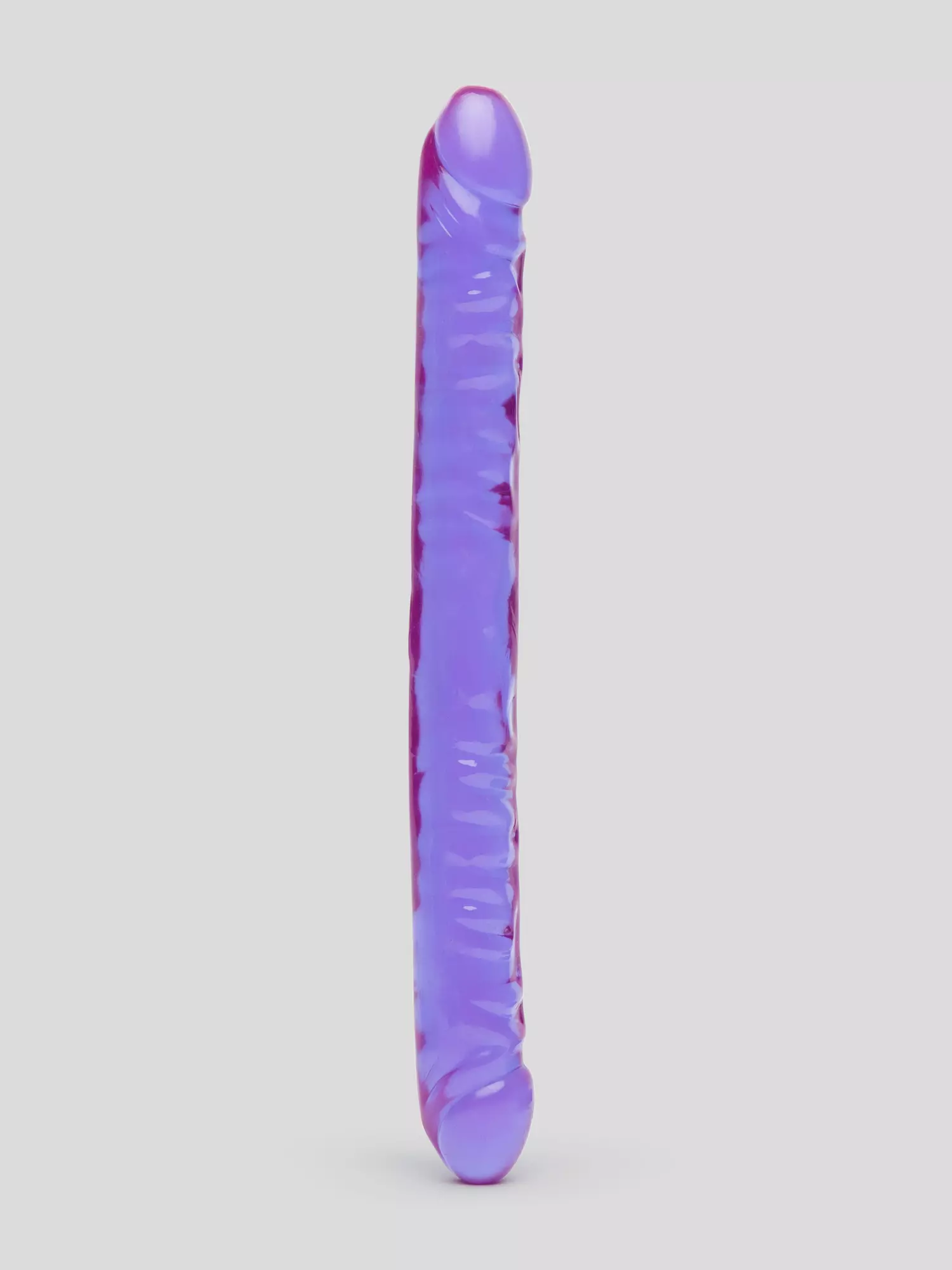 Doc Johnson Realistic Double Dildo
Max out climactic couplings sharing this thick, long and filling double dildo. Gratify yourselves with its thick 5.5 inch shaft detailed with raised veins and 2 rounded heads for intense textured pleasure galore. Flexible enough for double penetration.
Get 15% off with Code: GURU15

For my adrenaline junkies, I highly recommend Doc Johnson's double-ended dildo. This versatile 2-in-1 jelly dildo can enhance your kink play behind the curtains. It's perfect for all: two girls, two guys, and some hetero couples use it, too! And if you're brave enough, you can get it in both doors at the same time.
If you're looking for an elevating, out-of-the-box sexual experience, I can safely say this toy will not disappoint. In fact, my partner and I gave it a go, and the aftermath was a big, wet puddle on my bed!
The hyper-realistic look and feel of this toy will increase your pleasure twofold while providing you with an experience like never before. Get ready to say bye-bye to regular dildos, as this double-edged sword will pierce all the right pleasure zones!
Made of jelly, this toy provides an utmost level of comfortability and can easily adjust to the contours of your body. You and your partner can take in 6 inches each, at a width of 1.50 inches. With a little bit of coordination and teamwork, this jelly dildo can turn out to be just what you've been missing in the kink room.
Pros
Double-ended
Realistic texture
Ultra soft
Cons
Indiscreet packaging
Can have a funky smell due to the jelly
#4. Doc Johnson Crystal Jellies Ballsy Suction Cup Dildo – Best for the Bravest
Best Overall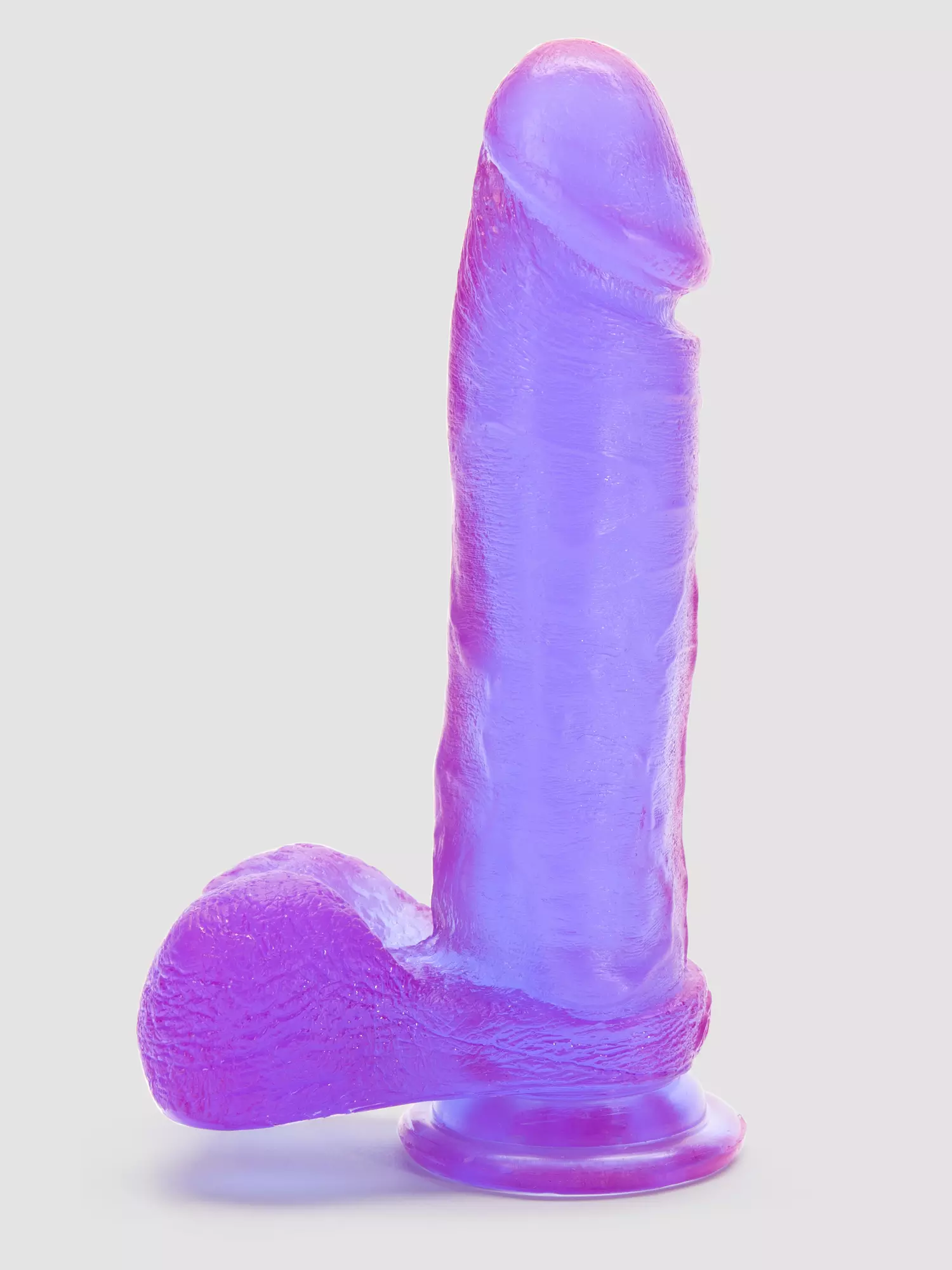 Doc Johnson Crystal Jellies Ballsy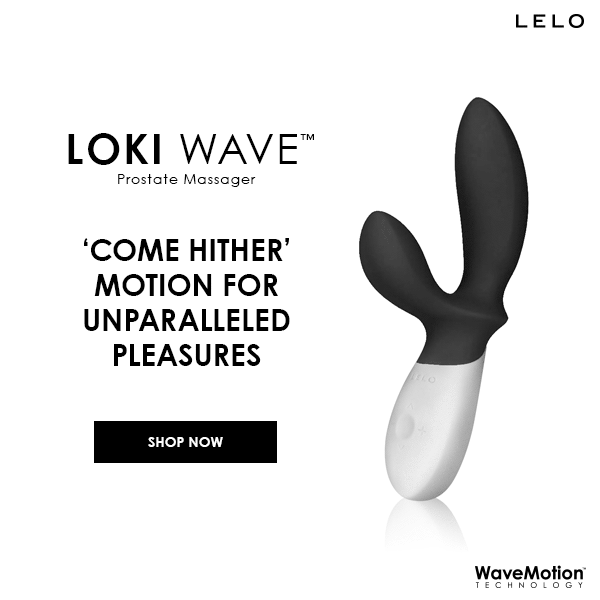 Flexible and firm, this oversized jelly dildo is chomping at the bit to stimulate your inner pleasure zones, stroking you in a frenzy with its long shaft, pronounced glans and lifelike veins. Take advantage of the suction base and enjoy hands-free play.
Get 15% off with Code: GURU15
Another one of Doc Johnson's best-sellers is this Crystal Jellies Ballsy Suction Cup dildo. And in a true "fortune favors the brave" fashion, this 8-inch realistic-looking jelly dildo will take you on a ride of your lifetime!
Boasting a 7.5 inches insertable length, you'll be in for a treat playing around with this fantastic toy. This jelly dildo is designed to penetrate deep, all the way to the cervix. And with a width of 6 inches, I advise you to think long and hard (no pun intended) before purchasing this toy. There is such a thing as "too big", after all.
What I most like about this one is how real it looks! As the name states, this jelly dildo is very much "ballsy", as in it boasts a lovely pair of balls and a generously endowed shaft. The testicles further provided me with external stimulation when I was using it, adding to my overall pleasure and satisfaction.
The toy is entirely waterproof, which means you can go to town using this baby! Even though it is ideal for more experienced users, anyone can play around with it. However, if you are a novice, I would advise you to use lots of lube! You can try a water-based one in order to avoid damaging the material.
Pros
Comes with a pair of testicles
Suction cup
Insertable length of 7.5 inches
Cons
Not recommended for novices
Thicker than you average jelly dildo
#5. Doc Johnson Ribbed Anal Starter
Comes with Beads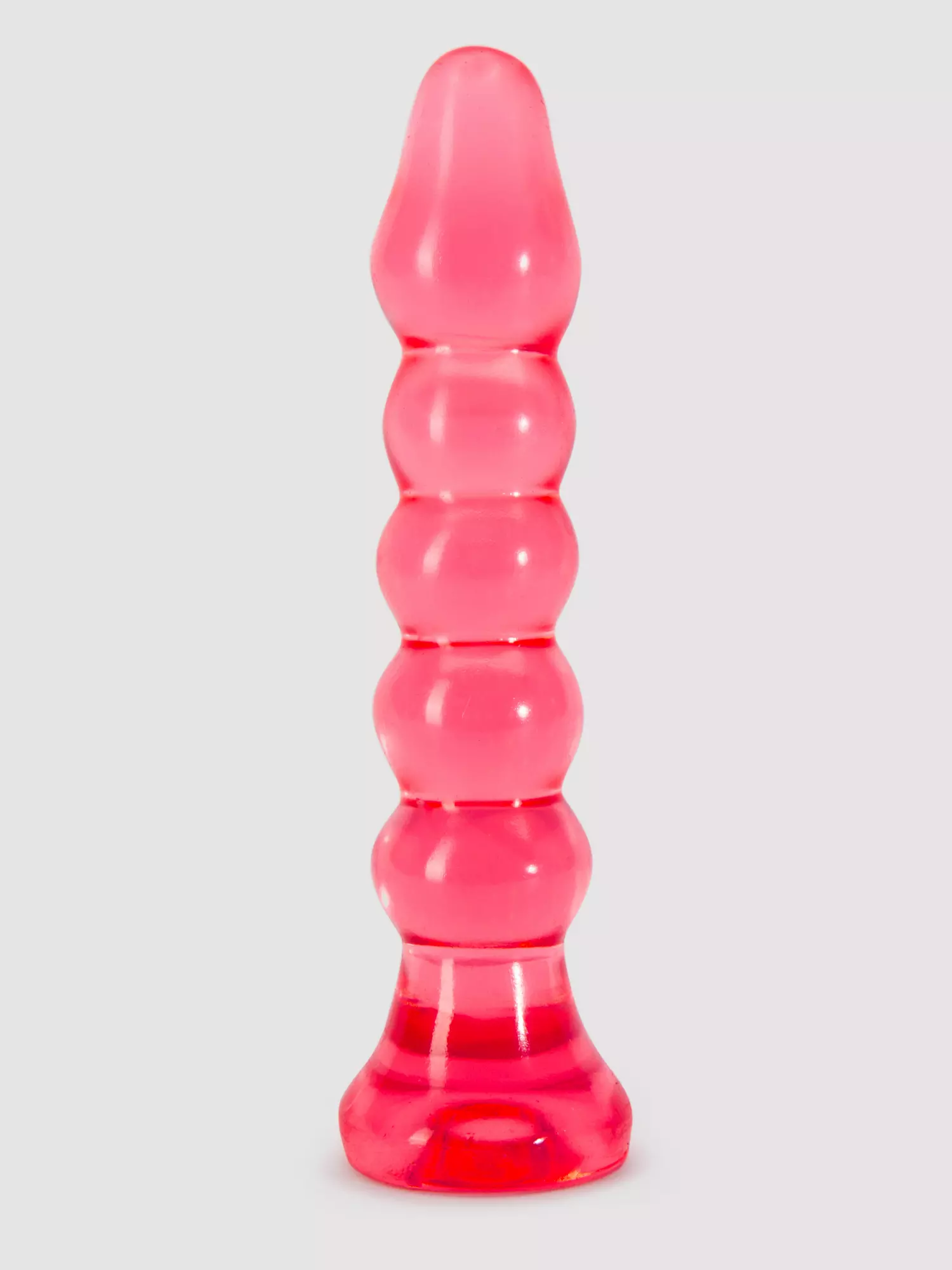 Doc Johnson Ribbed Anal Starter
Flabbergasting, bum-enhancing starter stimulation awaits with Doc Johnson's Crystal Jellies anal dildo. Slender, super-flexible and sculpted into a set of arousing beads, this gorgeous dildo strikes the perfect balance between comfort and sensation.
Get 15% off with Code: GURU15
Doc Johnson's Crystal Jellies Ribbed Anal Starter dildo is everything one could want in a jelly cock! Excellent for both beginners and regular sex toy enthusiasts, this jelly creation features something the other dildos on our list do not: a ribbed shaft.
This incredible Doc Johnson creation has an insertable length of 5 inches, which is just enough to stimulate your anal glands for some backdoor action. However, this toy is both great for front and back insertion, as the beads add to its texture, providing you with an intense feeling and a far more intense release!
The toy also features a flared base which will prevent the dildo from getting lost back there! Bendable to whichever extent you want, this product is the perfect balance of vanilla yet fun. It is best for those just starting to get into insertable toys. However, its unique design aims to impress even the most skilled.
The toy is entirely submersible, so you don't have to worry about doing a number on your lube. In this case, "the more, the merrier" beats "less is more"!
Users, including myself, rate it the highest for its distinctive look and the ability to cause flabbergasting orgasms! So, if you're ever in a drunken "order a bunch of random sex toys online" mood, I recommend you let this one slip in!
Pros
Beads. It has beads. Did I mention the beads?
Flared base
The most affordable one of all
Cons
The jelly material can make for difficult insertion
#6. Adam & Eve Pink Jelly Slim Dildo – Easy on Your Lady Bits
The Softest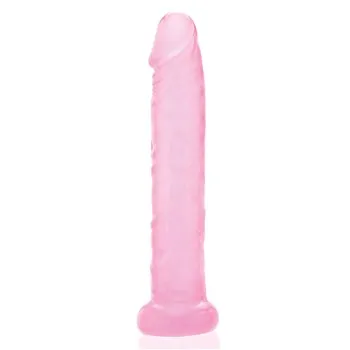 Adam & Eve Pink Jelly Slim Dildo
Slender, flexible and seductive! It's 6" long and 1" wide for easy vaginal play and anal exploration. Dip it into your favorite love zone! Wide base makes it easier to hold onto. Veined details pop out and stimulate! Molded from super flexible TPR material.
See latest price
As someone who's ordered and thrown away toys back-to-back, I must say this Adam & Eve pink jelly cock is one of my most prized adult toy possessions to date. And that's due to its incredibly flexible body and easily insertable shaft!
This baby pink jelly dildo has stuck with me through thick and thin, through better and worse. When you have one of these lying around at home, you realize you no longer need a man's touch!
It boasts 5.5 inches insertable length and is 1 inch in width. This makes it the perfect beginner-friendly toy, but also a safe thing to turn to when in need of one wild, will-knock-you-right-out climax!
This toy is excellent for any type of play. You can use it to rub your clit or take it all in for maximum pleasure. Many others, like myself, use it for backdoor play preparation, as it is easy on the entrance and will help you relax and open up more.
Not to mention the design thrills the girly girl in me! So, if you're tight down there, I highly suggest you turn to this pink jelly friend for solace.
Pros
A snug fit
Super comfy
Aesthetically-pleasing design
Jelly Dildo Buying Guide
Take a look at the top things to keep in mind when buying a fake cock before you hurry up and get acquainted with your new jelly friend!
Official Websites
Do not, and I repeat, do not buy sex toys of any kind from third-party sellers. Despite the fact that places like Amazon are great and offer a wide range of products, many of the vendors there sell recycled products or straight-up copies from original brands. My advice is: yes, order from Amazon, but always make sure the jelly dildo's official website is listed, too! That way, you'll avoid getting scammed out of your money for a less-than-stellar product.
Phthalate-Free
Need I explain again just how toxic phthalate is? Thankfully, all of the products above come from reputable vendors and are therefore phthalate-free. If you want to spare yourself from a gnarly illness, I highly suggest you consider purchasing one of my top picks or at least look into other safe-to-use options.
Waterproof
Always search for a waterproof dildo! It doesn't even matter what material it is – silicone, metal, glass, jelly – you can say goodbye to your dildo if it isn't waterproof. That's because our bodies naturally produce wetness when we are aroused. Can you imagine getting in the mood and your dildo falling short because you drenched it in a bunch of liquids? That would suck, wouldn't it?
Flexibility
All jelly dildos are flexible, some more than others. This is one of their key features, after all. It's what puts them in front of dildos made of metal and glass, for example. However, not all jelly dongs are the most flexible. So, always make sure to buy a dildo that can bend to fit the curves of your body. This will significantly increase the ease of use, and the dildo will smoothly glide into whenever you want it to go!
Sex Toy Care Options
Before purchasing a toy, I always look into its cleaning options. Of course, some toys are more complicated to clean than others, but jelly dildos are relatively easy to take care of. If you want to keep your new best friend squeaky clean, look for one that is waterproof and easily rinsable with water. You can wipe down the surface with a damp towel, or even better, order branded sex toy care products that will further eliminate any bacteria, keeping your toy fresh and clean.
Verdict and Conclusion on Jelly Dildos
If you're looking to spruce up your sex toy collection with a dash of excitement, jelly dildos are the way to go. Your new jelly pal might be big or small, fat or thin, and come in various shapes and sizes. Some pose a challenge due to their generous shaft, and others will snuggly fit right in to keep you warm and wet for a long, long time.
Even better, who needs a partner when you've got your trusty jelly friend by your side? These hyperrealistic-looking sex toys can serve as a replacement for even the largest cock, and I'm not complaining. In fact, your partner can serve as an added bonus into the mix!
And to double the fun, you can always invite a friend over and try out the double-sided jelly cock we talked about above. This one is my choice for today because of the not-so-vanilla fun it can bring to not one, but more people!
Embrace your kinks and treat yourself with the best jelly dildo today!