(Last Updated On: March 30, 2023)
Introduction
Sex toys can be the magic ingredient to leveling up your pleasure. Whether you are buying your first one, or just adding another to a growing collection, it can be difficult to know how to make the right choice for you. There are a lot of retailers out there, a lot of brands, and boy, a lot of toys. With so much choice, it can be hard to know where to start.
Here I will cover everything you need to know when buying a sex toy. Whether you don't know where to buy from or you are confused by the sheer number of toys available, I will help give you a map to your next sex toy purchase and to all the pleasure it promises.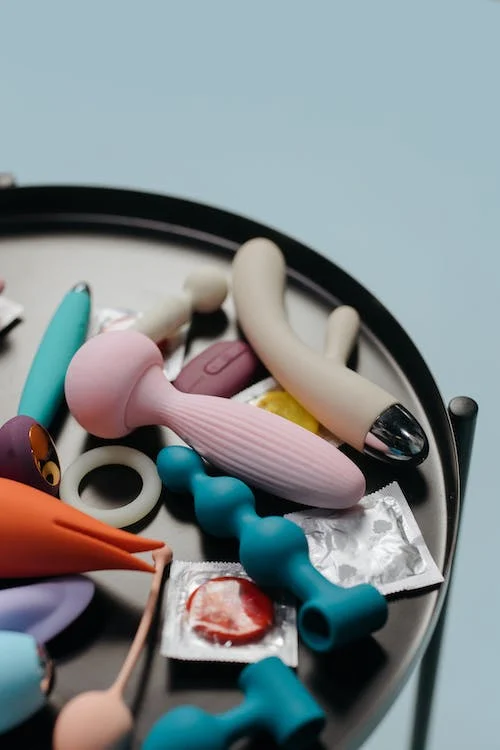 Sex Stores
In a time where so much of our shopping is done online, buying sex toys in person probably seems like a strange suggestion. There are benefits to buying online, of course. There is often more choice, and it is far less embarrassing than looking a stranger in the eye when buying a dildo. Even so, I think that there are benefits to going into a real store and speaking to a real person.
I'll admit it, my first visits to sex shops were scary. I was both incredibly nervous and excited at the same time. Pushing past the curtain of ribbons that stopped people from peeking in from the street made my heart pound. It felt like stepping into a secret place, like I was discovering something, and yes that feeling doesn't compare to scrolling through photos on a website.
That rush isn't the only reason to think about visiting a sex shop rather than buying online though. Visiting a sex store with you sex partner is certainly a way to spice up your sex life.
You will find that the staff at most stores are knowledgeable, helpful, and ready to answer any questions you have. In my experience, they have been willing to provide tips hitherto unknown which have led to some of my most memorable sexual experiences. If you are like me and love a freebie, you would find many in sex stores. I have been given books containing toy guides before as well as lube samples. If you are shy about talking to them, just remember that they have probably heard it all before.
Of course, your access to these stores is very dependent on where you live. If you are not in a big city like me or if you live in a country that is discouraging of sexual expression, then this might not be an option for you. It is easy to find out, though. Just do a quick Google search to see if there are any in your area.
Why not consider paying a visit to your local sex shop? I think that we all understand the need to support our local businesses when we can, and you might find that you learn something new there too.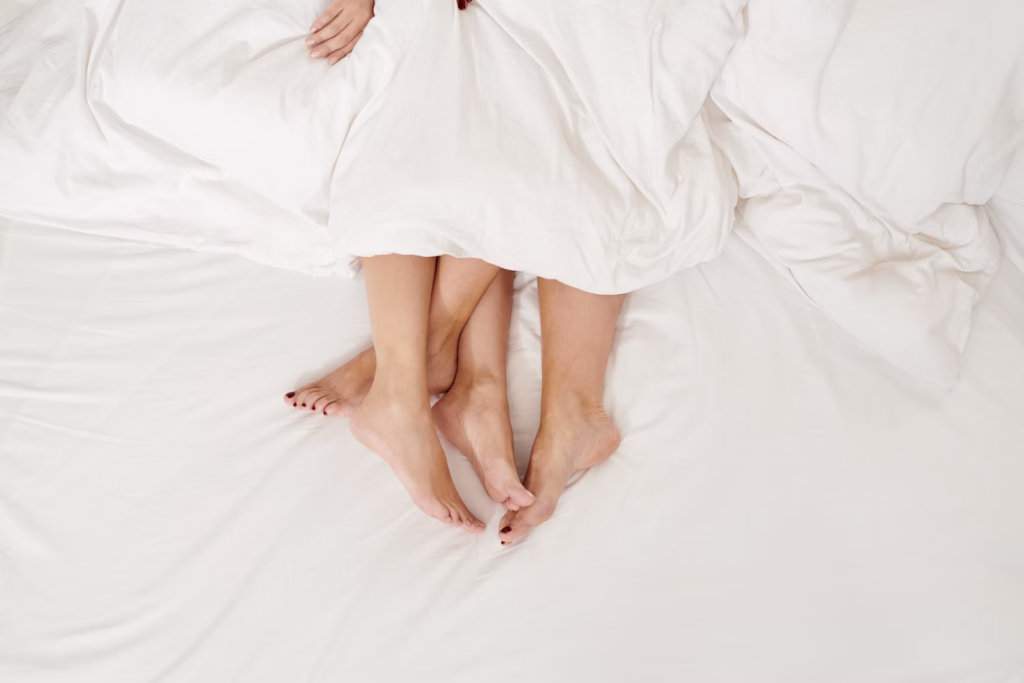 Online Shopping
While sex stores have their place, I must say I prefer the online shopping experience, especially for sex toys, and there are lots of good reasons for this. For starters, most credible retailers provide discrete and fast delivery. So, no waiting forever to try that new machine. If you are wondering how to buy a vibrator discreetly, then the online sex store is your best option. There is no risk of being seen shopping by someone from work. You can take your time and compare your options. You can search for items that suit your size and tastes.
Multiplicity of Choices
Just knowing that you want to shop online isn't enough though, you need to know what sites are best for you and your needs. What are the best online sex toy websites? Now, this depends on a lot of things. I have been doing some extended research on this and will be publishing this soon so look out for it. However, as an introduction the sites below come up tops in any rankings. These are international sex toy retailers and can provide you with your desired toy in most countries in the world.
Sex Toys For Men And Women
Celebrating its 20th year of providing lovely sex toys to the passionate lovers worldwide, this is my No.1 recommendation for budget toys. They stock a wide range of toys and have the lowest prices while still maintaining quality. They always use discreet packaging and can deliver within one working day. They have all kinds of toys to cater to any particular needs you may have. Whenever I get asked for recommendations by sex toy newbies, i always tell them that Lovehoney is the place to start. Though they do stock a range of kink items, more specialist tastes are likely catered for better elsewhere.
What I love about Lovehoney
The variety on offer is breathtaking from cheap dildos to the most luxurious brands. Furthermore, the Lovehoney 100-day money back promise gives me piece of mind.
Trivia
Did you know that Lovehoney has a forum where like-mined and curious individuals share sex tips and talk about all things sex related from sex parties to lingerie.
My favorite Lovehoney purchase of all time has got to be the …
Most Affordable
Liberator Bonbon, Grape
- Petite sex toy mount for vibrators and dildos
- Low profile and ergonomic design
- Allows for comfort while in straddling positions
- High-density foam supports the body
- Prevents sinking into soft mattresses
Get 15% off with Code: GURU15
Sex Toys for Women
This is my recommendation if you're looking for high end toys. The price point is higher, but they stock a range of well-designed and sleek toys. Every toy on the Lelo site screams luxury and superb craftmanship.
What I like about Shopping at Lelo
Their high-quality materials and the functionality of their toys.
Sex Toys for Men
Is the best place to look if you want something especially for men. A wide range of toys for use on the penis aren't always stocked on other sites, but Fleshlight has a huge range of modern toys. This is my go-to site when embarking on a long trip. I usually buy a few masturbators for my partner, so he doesn't miss me too much. What's more? He swears it simulates my pussy near perfectly.
If you live in a remote region of the world, it is possible that getting these sites to ship to your country may be difficult, so you may be able to find your desired items on Amazon. On the other hand, you may be looking for something a little more specialist, I'll cover that in a bit. Finding a site that works for you can take a little bit of digging. In general, try to stick to larger and more reputable sites when you can to ensure good quality and service. If you are unfamiliar with a site that looks interesting to you then you can look up their Trustpilot reviews to ensure you're buying with a trustworthy site.
Specialist Sites
One of the brilliant things about human sexuality is that it is so diverse. If you're kinky or have any special sexual interests, then you might find that the mainstream sites don't cater to you. Don't worry though, there are plenty of specialist sites out there that should have what you're looking for.
For example, for people with sexual problems such as impotence, MysteryVibe has a huge range of everything you could want to have a satisfying sexual experience. This isn't for everyone, but if it's for you then you'll be glad to have found it.
The same goes for Lovehoney and SheVibe that stocks a wide range of sex machines and thrusting vibrators that aren't available on other sites. As well as Realdoll who have a huge range of sex dolls available.
There are lots of kink stores out there like these ones. Depending on your kink and how popular it is, it could be hard to find the right site for you. Take some time to Google though, and check forums where other people with your kink talk to each other.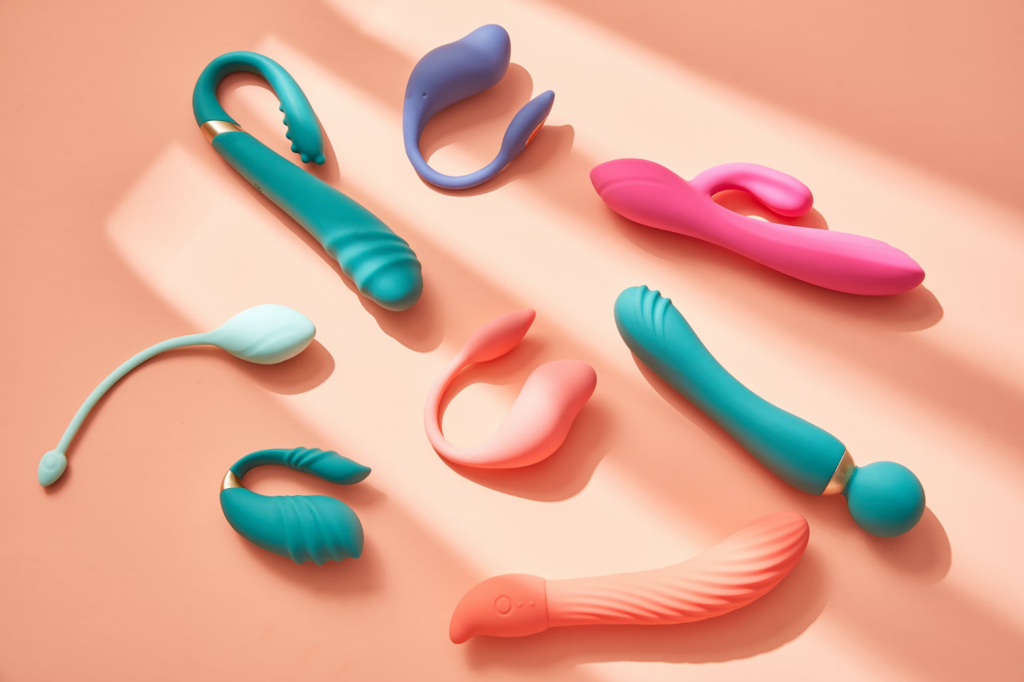 So What Toys are available?
If you are just getting started and you don't know what's out there, then you might still be confused about where to start. Just like musical instruments range from percussion to wind instruments, there are different varieties of sex toys out there so if you are starting with no knowledge at all, not even sure on the difference between vibrators and dildos, then here's a quick run-down of the kinds of toys you can expect to see on these sites.
Penetrative toys
These are primarily dildos and butt plugs. These are fairly simple toys used for penetrating. There are lots of materials available as well as special features. Some will have suction cup braces for hands free use, some might vibrate, some could have a thrusting function, and some are good for use with a strap on harness.
Tip: When it comes to butt and any toys that you want to use for anal always remember to use something with a base that is wider than the toy. This makes it safe to use and prevents the toy from getting lost.
Strokers and sleeves
These are toys used on the penis. The most well-known one and the gold standard is the fleshlight and I have covered the best fleshlights and their alternatives extensively but there are lots of options available. They usually have textured insides but can look like a vagina/ anus/ mouth or be more abstract. They are used by either stretching the toy over the penis or pushing the penis inside before stroking the penis.
Clitoral Vibrators
There are a lot of different vibrators available. Some dildos will vibrate but there are others that are designed for use on the clit. There are lots of shapes and styles available like bullets (bullet vibrators) or wands (wand vibrators). Some have rumbling vibrations, sharper vibrations, and others use suction technology.
BDSM Accessories
From blindfolds to ball gags, this can cover a lot of things. Most mainstream retailers will stock a small range of kink items, but kink specialty stores will have a wider range. If you're not experienced in kink, I recommend you still browse these items. You don't know what ideas you might have, and things don't have to be chains and dungeons if you don't want them to be. Just introducing a feather tickler into foreplay might make things more interesting for you.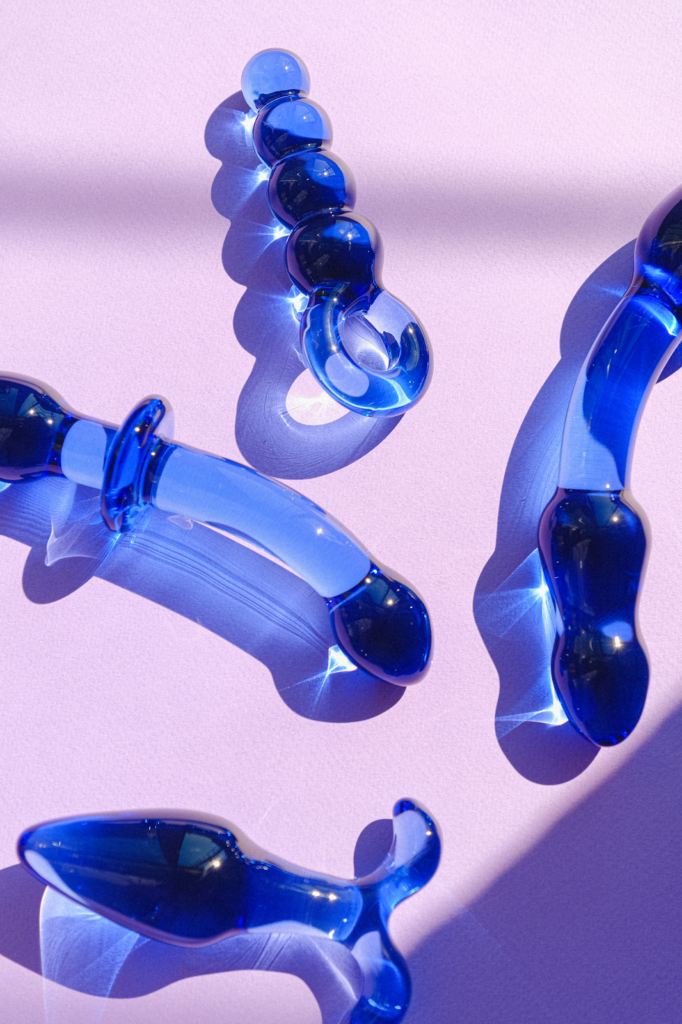 More On Vibrators:
Vibrators are a classic toy for a reason. They do something that can't really be mimicked just by your hands, the sensation is something else entirely. Not only that, personally they help me achieve more powerful orgasms easily, and for some it's the missing piece that can help them orgasm when they couldn't before.
It's not that straightforward though. There are dozens of different vibrators available and, if you don't know what you are looking for, the sheer number of options can be overwhelming. Here's a little guide that will help you to straighten out what different types of vibrators are like and how to know which is best for you.
Vibrator Shapes
Vibrators come in lots of different shapes and sizes. The different shapes normally make them better or worse for different kinds of use. Knowing what vibrator is best for you depends on how you want to use it.
Some vibrators are shaped like dildos which make them perfect for internal stimulation. Though they can also be used on the clit, the design means that they can also be used as a dildo to stimulate the G spot. There are also 'rabbit' vibrators that allow for internal stimulation while simultaneously pleasuring the clit.
Others are more specifically tailored for clitoral stimulation like a wand design or a bullet. These are perfect for powerful clitoral stimulation but don't have the flexibility of use that vibrating dildo's have. That being said, some of the larger (and more powerful as well as more expensive) wands often have attachments you can buy which increase their flexibility of use too.
While vibrators have been around for a while, wearable vibrators are a recent and exciting introduction. Possessing some of the most advanced technology out there, wearable panty vibrators are also available for hands free (and if you fancy it, discrete) use. They are designed to fit inside of the vagina or inside of the panties so that they can be used without falling out or having to be adjusted. Often these toys will work with a remote control, so they are perfect for long distance lovers or those you enjoy discrete public foreplay.
There are also small vibrators designed to be worn on the fingertip. These are small toys that are attached to a ring for ease of use and allowing you to use other fingers while still controlling the vibrator finger.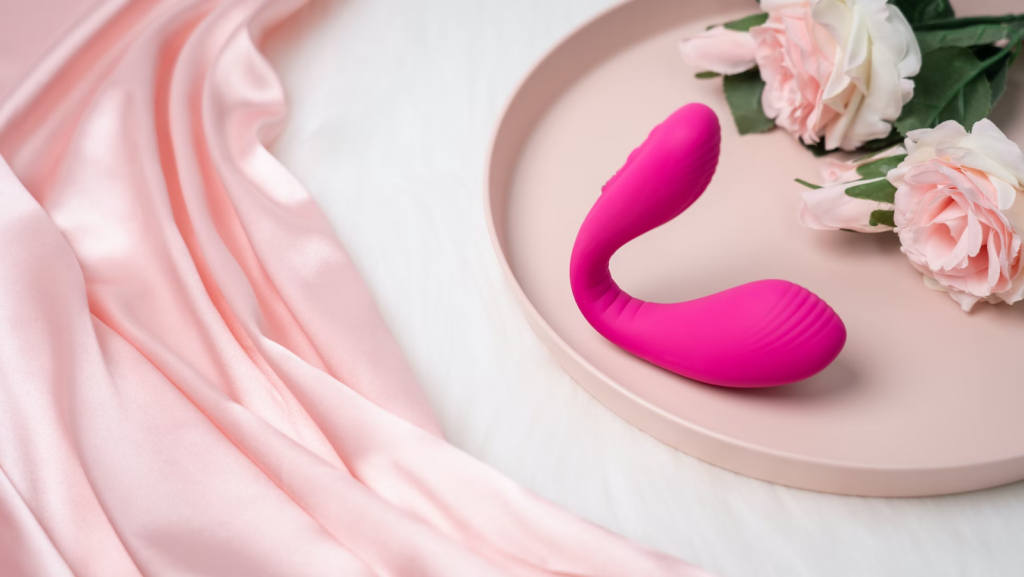 Vibrator Sensations
The classic vibrator works simply with a motor that creates vibrations at various intensities and rhythms. For many people this sensation is unmatched when it comes to pleasure, and for others it's unbearable. It is the classic sensation for a reason, but there are other kinds available.
Sucking Vibrators
For women that prefer to be licked or sucked, sucking vibrators are a popular alternative. The toys are designed with the clit in mind. They fit nicely over the clit and then use soft suction and rumbling vibrations to pleasure the clit with various levels of intensity. The most popular is the rose sucking vibrator which is quite the rave at the moment.
Tongue Vibrators
Tongue vibrators mimic the sensation of oral sex like suction vibrators do but take a different angle. Tongue vibrators use a small piece of silicone that moves back and forth quickly. This can be placed over the clit and mimic the sensation of a tongue flicking the clit. I have reviewed the best tongue vibrators which have provided me with some of my best orgasms.
Vibrating Dildos
There are also vibrating dildo's which can, when held still in the hand, thrust back and forth. This genius feature means that the thrusting vibrators work easier and for longer than if you were making the motion manually. The vibrating dildo I love most at the moment is the Lovehoney Double Duty vibrating dildo, it is simply heaven on earth.
Recommendation For Absolute Beginners:
If you are buying your first toy my main piece of advice is to keep things simple. You don't have to go for something with a gimmick when it comes to your first toy. The simplest designs are often the best and more reliable. Once you have tried them, then you may want to branch out into the weird and the wonderful, but I think it's always best to walk before you run.
If you want clitoral stimulation, buy a wand vibrator. They are simple and effective and can be bought for very cheap. Explore the sensations that the wand can bring you, see how you like it and how strong you want your vibrator to be, just take the time to explore and find what works for you.
If you want internal stimulation, then a dildo is simple and effective for that. Maybe get one that has the option to vibrate if you fancy that, but it's not essential. Just think about what kind of size you would like and how soft or hard you would like it to be and find one which fills your needs.
Recommendation For Couples:
The best sex toys for couples are toys that can be used through foreplay and sometimes into the heat of the moment. Because of this, I recommend the wand or bullet vibrator for couples. It can be used on him or her, on multiple areas of the body, during foreplay or penetrative sex.
I also recommend toys that aid sensation play for couples who haven't tried them. Scented oils, wax play, or feathers are all great examples. Sensation play is a fantastic addition to intimate time with your partner, it can even be nonsexual if you like and just focus on the sensual. It helps you to both be in that moment with each other, something that can be so hard when we all lead such busy lives.
Recommendation For The Kink Curious:
If you are looking to explore BDSM but you don't yet know what your tastes are, then toys are a great place to start exploring. For those who are totally new to BDSM, starter kits are a fantastic place to begin. When it comes to sex and sensations, you can't always know what you like until you've dipped your toe into the water and felt it for yourself. This is why I think that starter kits are a great jumping off point.
What you get will vary from kit to kit, but you will normally get a selection of BDSM staples like restraints, blindfolds, impact play tools, chastity cages and sensation play tools. This broad sample of BDSM will let you play around and know what these things feel like, to spark excitement to find out more about those sensations and want to explore them further.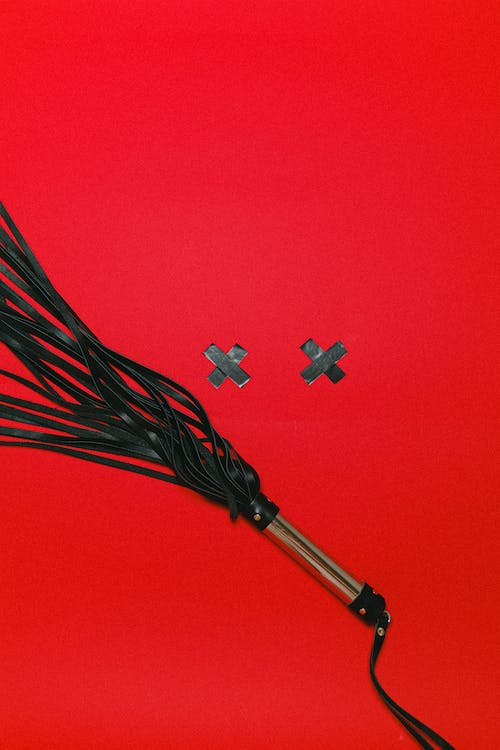 Final Thoughts
There is so much out there to explore when it comes to sex toys. Even if you have a growing collection, it can be hard to know where to look and how to filter the information you are given when a huge selection of toys is put in front of you.
These notes should help you to keep things a little clearer in your mind and help you to work out what toys would work well for you and where you can buy them from. The most important thing is that you enjoy the journey. Let yourself be excited by all the options that you have. Enjoy the anticipation of getting a new toy and having that feeling of playing with it for the first time. There will always be new experiences and new sensations available to you, keep exploring them and keep celebrating them. You deserve it.