(Last Updated On: January 30, 2023)
In the world of male submission, the male chastity cage is a classic toy. Not only is it a symbol of one person's power over another, but it can add some fantastic new elements to play sessions as well as that time in between.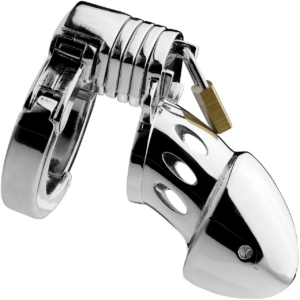 Who is the male chastity cage for?
A male chastity cage can be used by anyone with a penis, but it is most commonly used in partnered play. A male submissive can be put into chastity by a dom. It's a perfect display of power and submission, but it also has a very physical element to it too. With the cage on, it restricts a male sub's ability to get an erection and therefore achieve orgasm.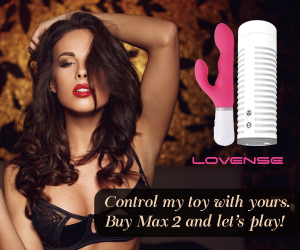 Letting someone lock you up and keep the key is an act of trust between a dom and a sub. A sub might get pleasure just from seeing the key to his cage around his dom's neck, knowing that it's out of their hands where and when they are let out of their cages.
Cock cages can be used for a single session of play, but they can also be worn for extended periods of time. This means that they are perfect for people who enjoy exploring 24/7 dom sub dynamics. A male sub can wear a cage for extended periods of time for the cage to serve as a constant reminder of their submission or willing ownership.
With the cage on, it restricts a male subs ability to get an erection and therefore achieve orgasm. This means that it's perfect for those who enjoy edging and orgasm denial. When worn in between sessions, it means that a sub can't play without his dom. It guarantees that the sub can't give into temptation without exiting the scene entirely.
All this means that the male chastity cage can be used in a variety of different fantasies and kinks.
Male Submission
Femdom
24/7 Dom/Sub Dynamics
Cuckold Fantasies
Male Sub Humiliation Fantasies
Sissy Play
Edging and Orgasm Denial
Male chastity cages are simple toys, but there are slight risks that come with using them which means that they are often seen as toys for the very experienced. I do recommend that anyone who wants to try a male chastity device does make sure that they do their research before trying one out, but I don't want to discourage beginners from getting started. The cock cage is a wonderful toy that can add a lot to a male sub experience which is well worth putting the time into making sure that you do it safely.
A Note On Safety:
When it comes to all forms of kink, it's important that as much as possible is done for safety and harm reduction. Whenever you enter into a scene, the boundaries of all parties should be established first. There should be a way for everyone to redefine those boundaries or to pull out of the scene entirely. If you are playing the role of dom in a scene that involves chastity, you should make sure that you can unlock your sub when he needs it and that you can be sure when he's communicating that need to you through the use of a safe word.
How is the male chastity cage used?
Compared to a lot of other sex toys and sex devices, the cock cage is a relatively simple thing. Though there are differences between the different cock cages available, their essential function is the same. A cock cage will be placed over the penis and secured there, usually with the ability to lock in place.
They are designed to be put on when the penis is soft and prevents it from getting hard because any growth will make the penis push painfully against the restraints of the cage. This gives another person control over a man's ability to get hard and then orgasm.
This can be used for a single session or in between scenes. When it comes to longer term use, don't rush into it. Many cages are not recommended for constant use and say that they should be removed before sleep. They can be bulky and uncomfortable when it comes to long term wear. This being said, most are made so that a person can still use the bathroom. So, in theory, you can wear the cage for as long as you like. If you're a beginner though, with male submission in general or with chastity play, then start out with shorter sessions at first and then work your way up.
The Best Male Chastity Cages
#1 CB-3000 Male Chastity Cage Kit – Best Overall
Specifications
Medical Grade Polycarbonate
Cage Design with Spacers
3 Inch Size
The CB-3000 Male Chastity Cage Kit is my no. 1 recommendation. Instead of being made from the traditional steel, it's made from a clear polycarbonate. The plastic material is medical grade and hypoallergenic which makes it comfortable and ideal for long wearing as well as short scenes.
Pros
Material is not only hypoallergenic, but plastic is also quieter to wear than metal cages.
Made comfortable with long term wear in mind.
Adjustable for a secure fit.
Cons
Head has full coverage (except hole that allows urination) so teasing and touching of the head is not possible.
Not as durable as a metal toy.
#2 CB-X Mini Me Pink Chastity Cage Kit
Specifications
Medical Grade Polycarbonate
Cage Design with Spacers
1.26 Inch Size
The CB-X Mini Me Pink Chastity Cage Kit is an adorable pink cage perfect for sissy and humiliation play. The smaller size (1.26 inches) means that it can provide a tighter fit for those working with smaller size penises.
The material is a medical grade and hypoallergenic polycarbonate for a comfortable fit. Perfect for the petite who want to look pretty in pink.
#3 DOMINIX Deluxe Chastity Cock Cage 3.5 Inch – For the More Experienced
Specifications
Solid Metal
Cage Design
3.5 Inches
The DOMINIX Deluxe Chastity Cock Cage is my recommendation for the more experienced dom or sub. It's a classic metal cage design which allows visibility while keeping the cock secure and restricted.
The open end allows for teasing of the genitals while still keeping them secured within the cage.
It's a secure and sturdy cage that is perfect for anyone looking to upgrade their chastity play.
#4 Oxballs Full Coverage Male Chastity Cage
Specifications
TPR-silicone
Full Coverage Design, Cock and Balls
Covers Cock and Balls
3.7 Inch Size
This silicone cage completely sleeves the cock and balls, keeping them secure but also restricting any touching of the genitals. Even though it provides that full coverage, it still has a comfortable fit. The silicone material is much more flexible than any metal or plastic cage and it has holes for ventilation.
Pros
Full coverage design prevents any touching of the cock and balls for full denial.
Silicone material is flexible for long wearing, able to bend and move.
Simple design, good for beginners.
Cons
Full coverage design prevents teasing.
Even with ventilation, it will be hotter and sweatier inside than a traditional cage.
#5 Uleade Male Chastity Device Cock Cage – Best Budget Option
Specifications
Premium Metal
Cage Design
Cock Coverage Only
2inch/1.75inch/1.5-inch Adjustable Diameter Size

This is the cheapest cage on the list, making it a great budget option. Many of the other cages are over $100, this is a fraction of that price. The low price isn't the only thing going for it though.
The cage has many of the features that you would expect from a more expensive toy even with the low price point. The size is adjustable so no matter your size, you should be able to find a fit that is both comfortable and snug enough to keep it secure. It also has an open design, to keep it breathable, and has an opening to allow for urination. This means that it's perfectly suitable for keeping things secure and locked during longer term wear.
Pros
Price, at $23.99 it's likely the lowest you could spend without sacrificing quality.
Breathable cage design.
Premium and easy to clean metal material.
Curved design for comfort, making it suited to longer wearing.
Three options for diameter, to find the right fit and make sure that the cage is secure.
Cons
Sturdy metal means that the cage is heavy which can cause discomfort with longer term wear.
Cage length is not adjustable, only girth, so may not be the right fit for everyone.
#6 TERNENCE Stainless Steel Small Male Chastity Device – Most Ergonomic
Specifications

This steel cage is another great budget option but this one is better suited for a smaller size penis. At 1.97 inches, this chastity device will keep even the very small package under lock and key. It also has a stealth lock design, meaning it's made so that the components won't move around and make sounds when they hit each other. This means that it's perfect for wearing longer term without anyone knowing what's being concealed in your trousers when going about your normal day to day life.
#7 FYJENNICC V3 Chastity Device – Most Visually Appealing
Specifications
Resin
Full Cock Coverage
1.73inch/ 1.85inch/ 1.97inch/ 2.20-inch Diameter Adjustable Size
This is another full coverage design, this time made from a hard resin rather than a flexible silicone. If you want a full coverage plastic toy, rather than a cage design, and you're also looking for something at a lower price point- Then this should be a good option for you. The length of the toy is fixed, though it's available in different sizes so can be bought for your length. For diameter, there are three options to choose from depending on your girth. This means that you can get a secure fit.
Pros
Another fantastic budget option, the cheapest on the list at $20.99
Available in several sizes.
Simple to use so is a good option for beginners.
Available in a variety of colors.
Light material for longer wear.
Cons
Not adjustable so you need to make sure you buy the right size for you.
Closed design means that the cock can't be teased physically during chastity.
#8 Master Series Incarcerator Adjustable Locking Chastity Cage
Specifications
Stainless Steel
Cock and Balls Secured
Fully Adjustable Girth Size
This sleek and well-designed cage is probably the most easily adjustable with three spacers to adjust the length and an adjustable cuff base to find the right fit for any sub. A pin and plate system secures the cage around the balls securely, ready to be locked up and secure. The head of the toy has a hole that allows urination and the open design of the rest of the toy is well ventilated as well as allowing for teasing while locked up.
#9 Anal Fantasy Elite Anal & Cock Chastity Blocker
Anal Chastity Option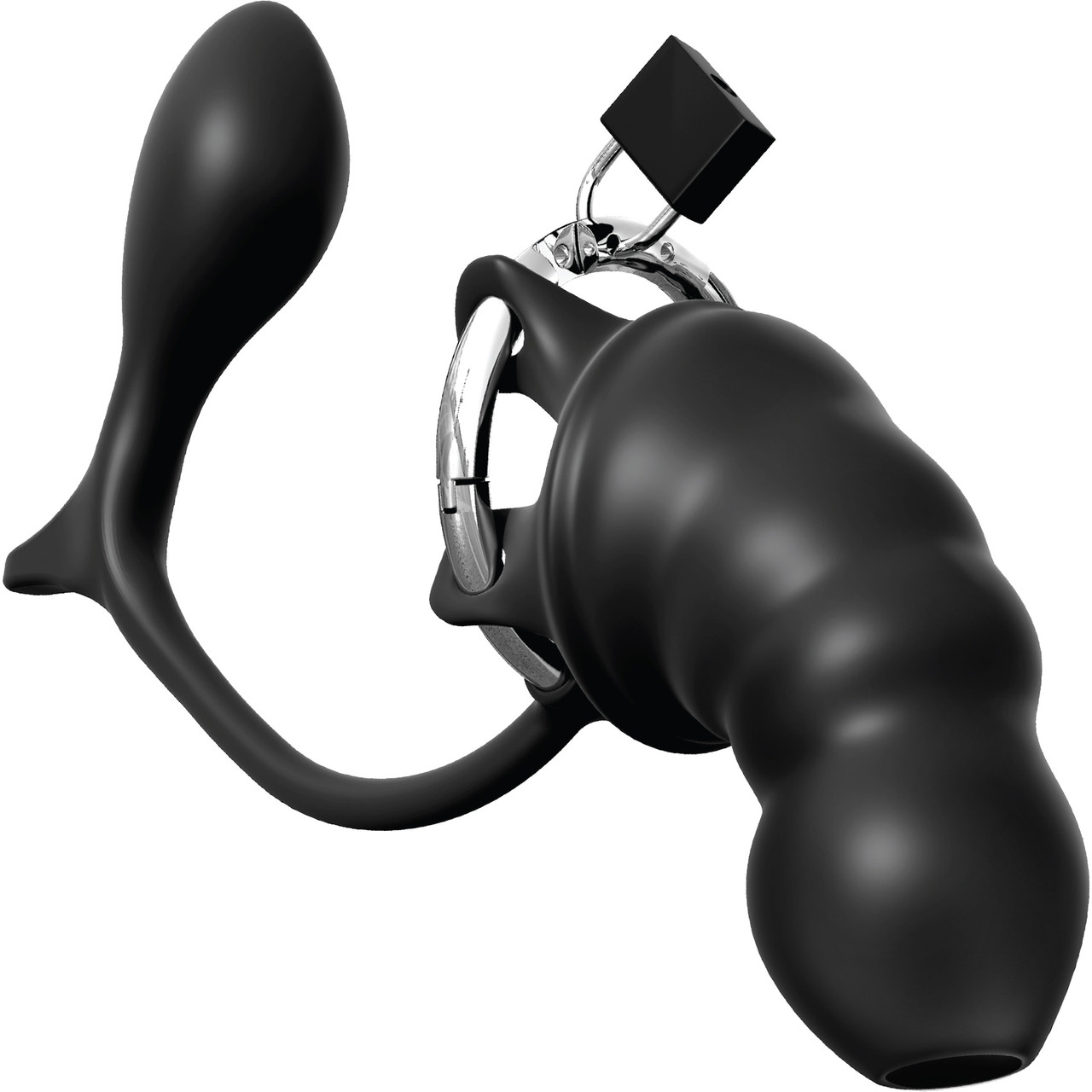 Specifications
Combines both an anal Chastity Device and cock chastity device
Lockable Straps
The Anal Fantasy Elite Anal & Cock Chastity Blocker is the only anal chastity option on the list. Though chastity devices worn on the penis like cock cages are the most popular male chastity devices, I thought it was important to give a recommendation for an anal chastity option.
The harness has a metal cock ring and a butt plug at the back. It works with multiple sizes of flared butt plugs so the size can be tailored to your own tastes. The straps can be locked for chastity fantasy games, with a dom holding the key and deciding when the harness can come off.
How do I choose the best fit for me?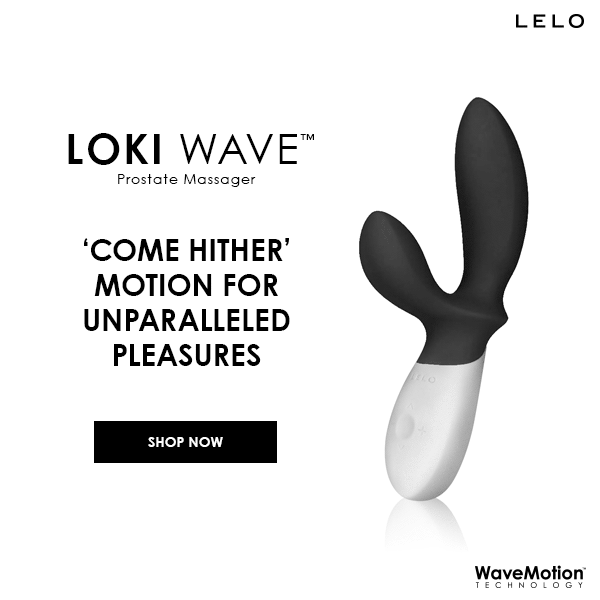 When it comes to a physical fit, you should have your measurements on hand when you're buying. The girth, in this case, is even more important than the length. Some toys will be secured around the balls, but those that are secured to the shaft need a snug fit to stay secure but can't strangle the penis if you want it to be comfortable for long term wear. Make sure that the cage you buy has a ring that will work with your size and a length that will keep everything restricted when things heat up while being comfortable when the penis is soft.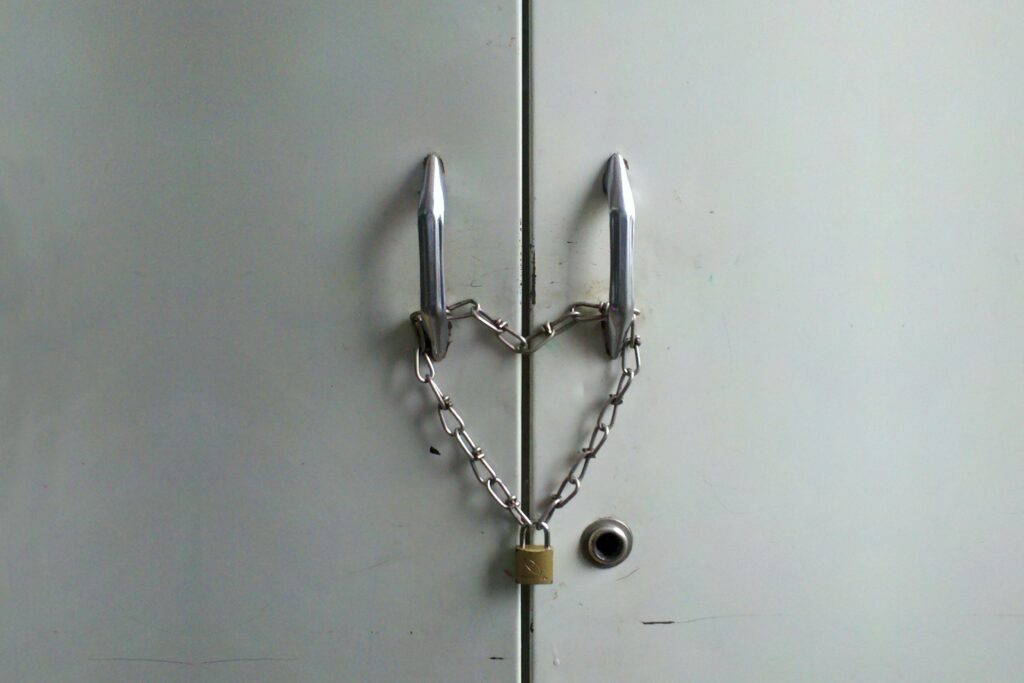 It's possible that you're buying a cage for a future partner, or you want one that will work on multiple subs. If that's the case, it's important to invest in a cage that is easily adjustable for different lengths and girths. Many cages have options when it comes to sizing.
When it comes to fitting your style of play then I think the most important thing is how much access you want to the penis while it's locked. Are you wanting to prevent any touching of the penis? Or do you just want to make sure it can't get fully hard but you still want to touch and tease it? On top of this, think about how long you intend to be locked up for. Will it just be a few hours? Or are you looking to have your sub spend most of his waking hours locked up?
For shorter play, heavy metal cages are completely fine, and you might even enjoy the sensation of the cold heavy metal. For longer wear, some people prefer to go for something lighter like a plastic or silicone cage. Heavy cages can be very uncomfortable if worn long term, making it hard to carry out day to day tasks normally. They can also be louder because of metal components clinking together and they can be bulkier and harder to hide under clothes. Maybe you want to be able to wear your cage at work but the last thing you want is anyone to notice the bars through your clothes or wonder why you make clinking noises when you walk, then a plastic toy might be a better fit for you.
Final Thoughts:
It might take some time to work out the best fit and material for you, but it's worth it. As for myself and my partner, we find that the CB-3000 Male Chastity Cage Kit absolutely elevates our roleplaying to the next level. For anyone interested in chastity play and male submission, whether experienced or a total beginner, this chastity device will be a very exciting addition to your sexual adventures.