(Last Updated On: July 2, 2023)
A cock milking machine does all the work needed to bring its patron to a big, satisfying orgasm. It sounds simple enough, but a lasting session that brings about a powerful orgasm is anything but easy. Unlike a classic masturbator where the man has to do the thrusting, a penis milking machine simply needs to be put in place. The machine will do all the tugging and massaging needed to bring you to orgasm. So here are the seven coolest machines for pleasure.
In a hurry? Here's our top choice: Lovense Max 2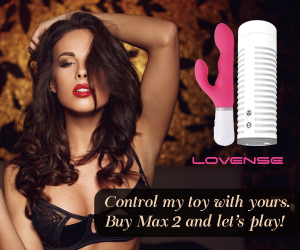 Our top 7 choices for the best cock milking machines in 2023
Keep reading for a full breakdown of the best 7 cock milking machines for 2023—
1. Lovense Max 2
High Tech Male Masturbator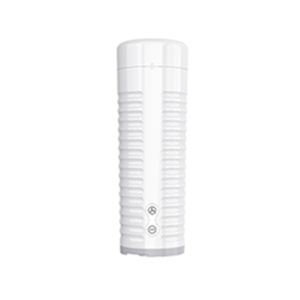 Lovense Max 2
As a result of constant research, feedback, and updates, Max 2 now has an improved sleeve, 360-degree contractions, and a redesigned vibrator. Add ALL of that to an easier charging process, longer battery life, and extra-improved sensors. This newest addition to the Lovense teledildonic line is guaranteed to be an unforgettable experience!
See latest price
Lovense has always put teledildonics as its primary focus. It is no wonder that it should show up in their cock milking machine/ pocket pussy, Lovense Max 2. For full features of the pocket pussy to be available, it has to be linked to your smartphone via Bluetooth and Lovense app. It is a fairly quick process, and once completed, allows you to control Max 2 via the smartphone app.
Users can also transfer control of Max 2 to their partner over the internet. All you need is a good internet connection. Intensity and vibration settings can all be controlled through the app. An interesting feature that really turns the heat up is the possibility of syncing Lovense sex toys. For example, the Lovense Max 2 can be used in sync with the Lovense Nora. When both sex toys are synced, sensations in one can be transferred to the other.
It's a terrific sensation, especially for long-distance couples. While long-distance control over sex toys is fairly innovative, adding the possibility of sync takes things to a whole new level. To be clear, awesome as that feature sounds, it is far from perfection. It will be a while before synced sex toys bring the orgasmic and intimate experience this feature promises. Still, Lovense Max 2 does a fairly good job at that.
As a cock milking machine, Max 2 has three contraction settings and seven vibration settings. Find a combination that works for you, and the Max will get to work bringing about an orgasm. An adjustable air vent is placed at the end of the body, so you can control the air pressure build-up in the machine more conveniently.
Pros
Long distance control
Can sync with other sex toys
Great sensations and 360-degree contractions
Can sync with VR videos
Cons
Needs to be paired with mobile app for best performance
Sync feature can be buggy
2. Autoblow 2+ XT
Best For a Lifelike Blowjob Feel
Autoblow AI
If you're looking for the best blowjob machine in the world, look no further. The result of years of research, the Autoblow A.I. used artificial intelligence to analyze 1000 hours of blowjob videos to understand the movements that occur during real life blowjobs.
See latest price
Autoblow 2+ XT lives on the promise, and premise of delivering amazing blowjobs. And who doesn't love a good blowjob! The original Autoblow was crowdfunded on Indiegogo with resounding success. Autoblow 2+ XT claims to be an improvement on the original and a pro at delivering amazing orgasms.
One complaint that had remained common throughout the life of the Autoblow 2 was that the sleeve felt too loose. The company has attempted to fix it with the XT, which stands for "extra tight". An improved spring-loaded design makes sure that the penis is held tightly by the machine. The idea, of course, is to make sure the sleeve feels comfortable and tight.
Unlike most machines that rely on vibrations to get their job done, the Autoblow 2+ XT makes use of several rows of beads. The beads move over the sleeve, gently massaging, squeezing, and milking your cock.
The machine itself is available in only one size in terms of length. However, users can choose between three sleeves based on girth. The sleeves remain interchangeable and can be swapped with ease. Sleeves for the Autoblow are made from a realistic, waterproof material that feels great against your penis and is also easier to clean.
As a high-quality machine, the Autoblow 2+ XT is made from robust components that are built to last. The sleeve itself is fairly reliable and the motor is rated for 500 hours of use. This is an expensive machine, but as the numbers go, you are very likely to get the full worth of your money. All of that, though, is dependent on the sleeve being a good match for your penis girth.
Pros
Powerful machine that offers great stimulation
Rolling beads motion really adds to the sensations
Good quality build
Cons
Expensive
The machine having the right grip can be questionable
No batteries, must be plugged in for use
Noisy
3. Hismith Male Masturbation Cup for Premium Sex Machine
Hismith Male Masturbation Cup is an attachment designed for the Hismith Sex Machine. It could be used as a simple masturbation cup, but where's the fun in that?! It's more fun when the Hismith Cup is attached to its premium sex machine. The cup connects to the machine with the quick air connector, and once the machine powers up, it's a whole new world of pleasure.
Interestingly, the Hismith Pocket Pussy doesn't depend solely on the machine to do its work. Motions from the machine are complemented by a built-in vibration device on the masturbation cup. With 10 vibration modes available, there's a decent selection available to choose the vibration pattern that works best for you. An included 200mAh battery keeps the vibrations chugging.
The battery is decent enough for a few minutes of action. It isn't much, but it is unlikely that anyone will need more time with the powerful machine busy milking the cock. An advantage of placing the masturbation cup on the Sex Machine is that you can go hands-free. Using the machine and placing it at the right angle also makes it possible to choose your preferred position for action.
Hismith Male Masturbation Cup is housed in an ABS plastic body. The sleeve itself is made from TPR and is textured to enhance pleasure and sensations. Whether you choose to actively thrust at the pocket pussy, or let the vibrator and machine to all the work, it is likely that you're having a great time!
Cons
Onboard battery performance is abysmal
Does not fully utilize the power of the Hismith Machine
Expensive – attachment and machine together cost a sizeable sum
4. Fleshlight Quickshot Launch
Best Male Masturbator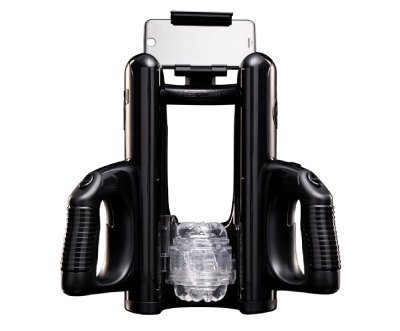 Fleshlight Quickshot Launch puts a premium on getting you to an orgasm amazingly fast. Hence the name, Quickshot. Unlike classic Fleshlight, the Quickshot uses a sleeve that is open at both ends and promises extra stimulation. The Launch itself has been reworked to make controls more accessible and the device easier to hold.
There are two handles on the Quickshot, one for each hand. Each of these handles also includes buttons for control, so the device can be conveniently manipulated. One of these handles controls the stroke speed, the other controls the stroke length. The sex toy can also be manipulated to focus on the head, middle, or base of the penis. Simply put, it offers a great experience and easy controls.
One thing that makes itself very apparent is how easy it is to use the controls. Plus, with its easy handling, the Fleshlight Quickshot Launch can be used in various positions. The company has included a universal smartphone holder at the top of the device, so users can watch their favorite porn while enjoying the stimulation offered by the machine. One shortcoming here is that the Quickshot Launch only works with specific sleeves and cannot use classic Fleshlight sleeves.
Pros
Excellent stimulation
Very easy to use
Intuitive controls
Device can provide pinpoint stimulation
Cons
Does not work with classic Fleshlight sleeves
Expensive
Open-ended sleeve risks making a mess
5. Fleshlight Launch Stamina Pack
Cheaper, (Better?) Alternative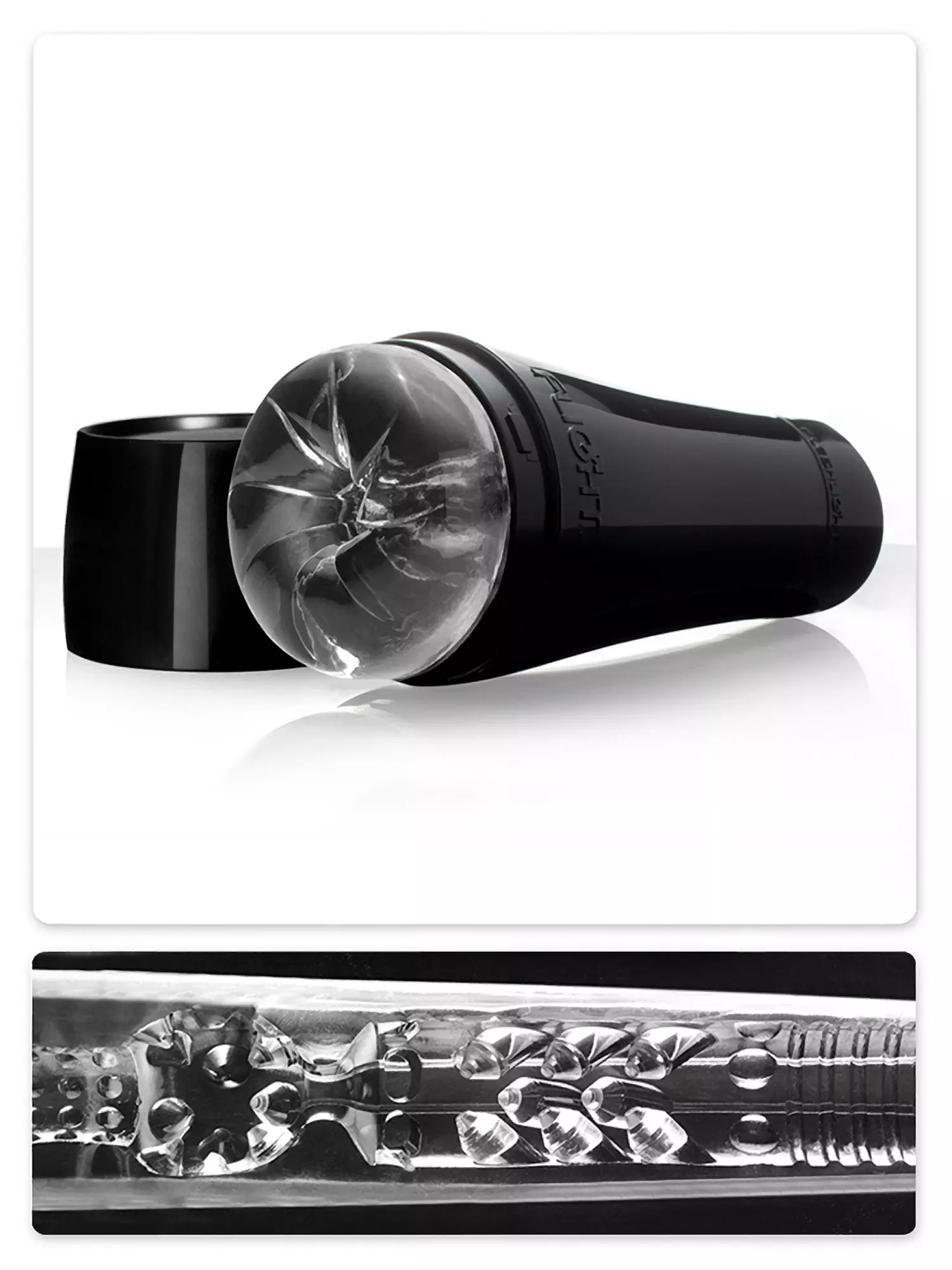 Fleshlight Flight Pilot
The number 1 selling sex toy for men just got even better. Flight by Fleshlight is a discreet and fantastically textured male masturbator with an aerodynamic exterior, stealth opening, and incredibly bumpy canal for pleasure that soars to new heights.
See latest price
Fleshlight Launch is designed to convert your classic Fleshlight into a cock milking machine. For this specific pack, the Fleshlight Launch works with the company's well-regarded Fleshlight Stamina Training Unit. The result of this combination is amazing sensations that bring on an orgasm at amazing speeds.
Fleshlight STU by itself is quite a pocket pussy, couple it with the Launch, and you have a machine of orgasms. Length and the speed of the strokes can be controlled by using the buttons on the machine. Alternatively, you can connect the Launch with your smartphone via the FeelConnect app. Once connected, the Fleshlight Launch can be controlled by the smartphone.
Taking the path of high-tech pleasure, the Launch can sync with VR porn on your headset. You get an excellent view of the porn, and your penis gets milked with the action in the video! How cool is that? Apart from videos, the Fleshlight Launch can also sync to VR games and webcams. The device can go as high as 180 strokes per minute, so the intensity controls can get pretty strong.
While I'm specifically talking about the Fleshlight STU here, the Fleshlight Launch is compatible with standard size Fleshlight cases. It is not compatible with Turbo, Ice, Flight, GO, Quickshot. While the capabilities of the Launch don't fail to catch the eye, it lacks some features. For example, the device cannot provide pinpoint stimulation. Technically, all it does is move the Fleshlight you placed in the machine. It still has to be held in place, and it is heavy enough to feel uncomfortable.
Pros
Excellent stimulation with chosen Fleshlight sleeve
VR sync to movies, games, and webcams
Can be controlled via a smartphone app
Cons
Expensive
Questionable value for money
The machine has a significant weight
6. Kiiroo Onyx 2
Best Automatic Masturbator

Kiiroo Onyx 2 is a quality machine with a clean design and packaging. In a way it looks very "modern" and it does live up to that belief with the impressive array of technologies on offer. It is useful as a cock milking machine as well as a regular male masturbator. The sleeve used in the Onyx 2 is made from Fleshlight Superskin material, which can well be considered one of the best materials available.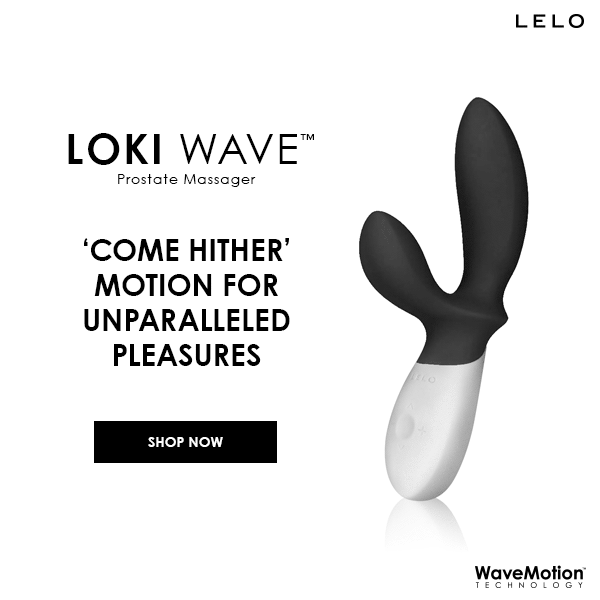 The skin has excellent texture, and works very well with the more advanced systems available in this machine. Contracting rings are placed along the length of the material to accentuate the grip provided by the sleeve. The machine does pretty well with strokes too, and can go as high as 140 strokes per minute.
Controls for the Onyx 2 are handled by a touch-sensitive panel placed on the body of the machine. I'd say buttons are better for this purpose. Their tactile use should be more intuitive in machines like these, where a random movement of hands in passion could change the settings of the device.
As a high-tech machine, the Kiiroo Onyx 2 also includes the capability to sync with other devices. You can use this masturbator with VR movies, encoded games, and through the internet. It's compatibility with FeelMe takes interactive porn to a whole new fun level.
Pros
Made from high-quality body-safe materials
Excellent sensations
Can work with VR, encoded games, and is FeelMe compatible
Stylish design
Cons
Maximum battery life of 1 hour
No vibrations
7. Feelingirl Electric Automatic Male Masturbator
Cheap alternative
Feeling Electric Male Masturbator
To be honest my expectations were low based on comparison of two other products. This was the last attempt to find a satisfactory product.
Upon initial investigation the first thing noticed was the simplicity of operation with a single button. The simple operation allows for a less distracted utilization.
See latest price
One of the most cost-effective options on this list, the Feelingirl Electric Automatic Male Masturbator could give the more expensive machines a run for their money. The sleeve here is made from TPE, with the internal texture being greatly pleasurable and fun to work with. It has 10 modes that work on various combinations of spinning and thrusting features available on this device.
There is a selection of three different "seductive" voices that go along with the masturbator. I prefer not to have disembodied voices cheer me on while I masturbate. Of course, people have different preferences, and if this works for you it can really be seductive.
This machine from Feelingirl is USB rechargeable, and can last sufficiently well on a single charge. The box includes a suction cup attachment that screws into the base of this masturbator and makes it possible to enjoy its use hands-free.
Pros
Good value for money
Included suction cup is useful for hands-free use
The sleeve texture is pretty good
Cons
Questionable longevity of the device
The battery has poor charge retention in standby mode
Comprehensive Guide To Male Milking Machines
Is A Penis Milking Machine Worth The Cost?
Cock milking machines are generally priced significantly higher than other sex toys. A conventional pocket pussy can be significantly cheaper than a machine. So the cost of the machine is obviously a factor to consider for most people.
Short answer: yes, it is worth it. The sex toy is not a cost of jerking off. It is a cost of experience and sensations. And yes, the machines make a difference there. They feel great and offer an experience that is well worth the price. It would be incorrect to compare this to simply masturbating. Most men don't need help with orgasming – just their hands, tissues, and some lotion are enough. 
However, that's also a reductive approach. There's a reason these machines exist, and they have put great effort into the art of bringing a man to orgasm. The sensations and the experience are excellent, and a welcome break from the same old routine. And the value of machines like these is tough to figure until you actually try one!
Maintenance And Care Of Male Milking Machines
For most machines, it is the sleeve that is doing the real job of providing sensations. Sleeves are generally made from TPR or SuperSkin and need to be cared for. After your session, follow the instructions from the manufacturer on cleaning the toy. This usually involves keeping the skin under running cold water until it is clean of any semen. Let it dry completely before storing it.
Always use a lubricant, and use it generously. Water-based lubricants are preferred for most sleeves. Using a good lubricant increases the pleasure you get from the machine. Additionally, it reduces the chance of any damage or micro tears forming on the sleeve, thus prolonging its life.
Get Creative And Experiment
A lot of fun with sex toys comes when you are not scared to experiment. Being willing to try things isn't about doing some risky maneuvers with your machine, it is about getting creative with its use. Cock milking machines offer a lot of options and choices. Rather than picking one and staying there, get playful with your machine. Explore the options it offers, and maybe even have your own movements supplement the machine.