(Last Updated On: December 29, 2022)
Sometimes, you just need a machine to do the job. Hismith Sex Machine has been a popular option for a while now. It has managed to maintain a fairly loyal following and has managed to keep up with the times and quality expectations of customers. Some people call it a robotic sex machine, and while that may technically be true, it sounds a bit disingenuous. For the purpose of this Hismith Sex Machine review, I'll consider it a machine because that's what it actually is.
Hismith Sex Machine Review — Pros And Cons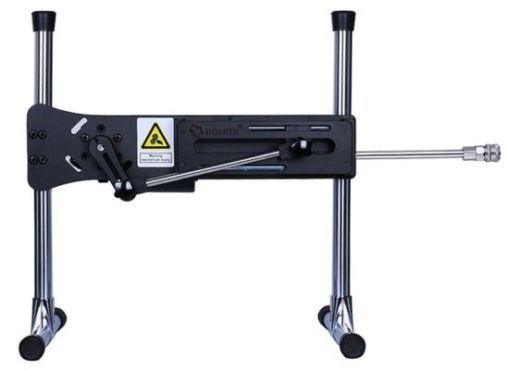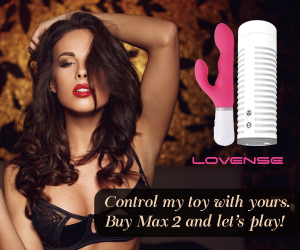 Pros
Powerful
Wire-controlled for easy access
Can be set up in several positions
Relatively quiet
Can be disassembled and stored in a box
Can handle various attachments as well as suction cup dildos
Cons
Expensive
Can take some time getting used to
May need a fair bit of manual intervention
Average, dull aesthetics
Hismith Sex Machine Features
I'm primarily discussing the Hismith Premium Sex Machine New Design Edition. Why? Because this machine is the future for Hismith and is superior to the conventional machine. The new Hismith Premium Sex Machine comes with a wire controller for easier access and control, as well as support for suction-cup dildos — features that make it very flexible and usable as a sex machine. Let's dig into the specifics!
Assembly And Disassembly
Hismith Sex Machine is a relatively simple machine and can be set up easily by an adult with a basic understanding of assembly instructions. While I do enjoy this machine, it is probably best kept out of public display, unlike the Crave Vesper that is designed to be flaunted as a necklace. The clean, unmarked box that the Hismith Sex Machine arrives in is great for storage as well. Everything you need to assemble/disassemble this machine is included in its box, and no extra tools are required.
Construction Quality And Aesthetics
The foundation of the Hismith Sex Machine is made from solid chrome plated steel, rather than hollow rods used in cheaper machine. Use of solid and high-quality steel means that the machine can be fairly steady on its base and be quite sturdy. You can expect a fairly long life from the parts used in the machine. Do keep in mind that it also includes motors and moving parts, and even if they are of high quality, they may need servicing or maintenance at some point.
Aesthetics of the Hismith Sex machine are a real downer. It does its job admirably well, but surely it could look good doing it? It's look is dated, to say the least. The bare-boned machine look does nothing for me and almost makes it look like the Hismith sex machine would look better in a workshop somewhere than in a bedroom. I can appreciate minimalism, but plenty of devices manage to look good even being minimalist.
Hismith Sex Machine Review — Usage And Performance
Power And Speed For The Hismith Sex Machine
Power for the machine comes from a 100 Watt turbine motor. That's practically all the power you could ask for from a penetrative sex machine. For the amount of power it puts out, the machine is surprisingly quiet. It could probably still be heard if someone was standing right outside the door, but it doesn't quite create a ruckus to announce its presence.
When it comes to power, it's also natural to make a comparison with the most powerful vibrators like the Sybian. Comparison, however, should stay limited since the Hismith Sex Machine has a different purpose – a different niche, if you will, focussed on penetrative sex and different positions.
A good measure of the quality of a sex machine, apart from its power, is its ability to perform well at slower speeds. Anything can go ramming like a piston, but only a good quality sex machine can sustain slower speed thrusts. Hismith sex machine performs admirably in this regard and can maintain decently when faced with slow or fast motion, as you please.
Controlling The Hismith Sex Machine
The wired control, though a seemingly simple addition, greatly enhances the "quality of life" for users of this machine. Having simple and quick response controls at your hand while you enjoy the wonders of this sex machine has to be a huge positive in its favor. If only human partners were this responsive to our need of changing the speed and staying consistent at it!
Sex Positions And Flexibility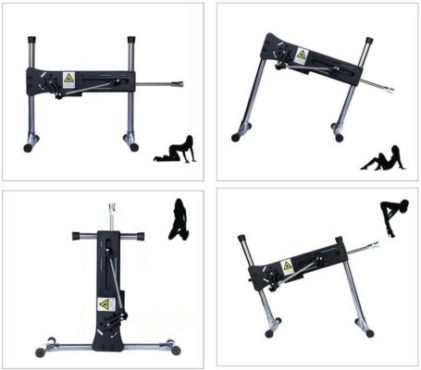 What good is a sex machine if you can't coax it into your favorite sex position? Hismith has you covered on that count. You can try (and enjoy) many amazing sex positions with this machine. Hismith Sex Machine is adjustable for a zero to 90-degrees angle, which means you can employ it for most positions including doggy style, woman on top, missionary, and standing positions; including of course, some interesting variants of these positions.
It might also be worthwhile to try some kinky sex positions that require a degree of flexibility from the penetrator. Although obviously, don't try the positions where the penetrator needs to support or lift you.
Adjusting Thrust Depth On Hismith Sex Machine
First off, you should never adjust the thrust depth of the Hismith Sex machine while it is in use. Stop the machine, and then change the depth. Simple controls on the side of the machine let you control the stroke length. Hismith Premium Sex Machine can handle settings for thrust depth or stroke length ranging from 1.18-inches to 5.59 inches (3cm to 15cm).
Attachments And Dildos
Hismith Sex Machine arrives with one dildo with an insertable length of 6-inches. It is a fairly useful attachment, but there is no reason for anyone to be stuck using that dildo. An advantage of the availability of sex machines is that attachments too are easier to obtain. You can take some time to choose the best attachment that works right for you or one that catches your imagination.
Of course, there's a chance you already have a favorite dildo that you would enjoy using with the Hismith Sex Machine. The new machine makes accommodations to make it possible to use conventional suction-cup dildos. This makes the range of options available to be significantly larger, so it is much easier and convenient to find an attachment or dildo that works right for you.
You must always use a quality lubricant with the Hismith Sex Machine, or any other sex machine for that matter. A good lubricant helps things move smoothly and keeps the experience pleasurable — exactly the way it should be.
Hismith sex machine is made for penetration and can be used by females as well as males. However, some attachments are geared towards male masturbation, including those intended to function like the Fleshlight or Autoblow.
Oh, and just as with any other sex toy, be sure to clean the machine and dildo well before and after each use. Hismith sex machine recommends disinfecting the machine with 1% Benzalkonium, Bromide or 75% medical alcohol before use. Depending on the material of the dildo you are using, you may also want to keep manufacturer instructions in mind or know how to clean your sex toys.
Hismith Sex Machine Review — Conclusion
To conclude this Hismith Sex Machine review, I'd say it is a great product. Attention to detail, good construction, and flexibility make the Hismith Sex Machine a very useful choice. Since the new version also makes it possible to use suction dildos, the possibilities and uses of this sex machine increase quite drastically. Its expense may seem like a downside, but I think it's a fair price to pay where quality is concerned. In my opinion, it does make good in terms of value on the money spent.
Read More … The Lovense Sex Machine Review