Readers know that I am a staunch advocate of using lubricants. Don't use them only for when you need extra lubrication. Use a good lube every time you're playing. That includes sex, and also masturbation and fingering. The market is flooded with lubricants, home recipes, and random anecdotal products. When choosing the best lubricant for women, it's worth taking a closer look at the various lubricants and their types available.
14 Best Lubricants That Should Be Top Of Your List In 2022
Choosing The Best Lube That Fits Your Body And Needs
Should I Use A Lubricant?
Short answer: yes. Long answer: YES!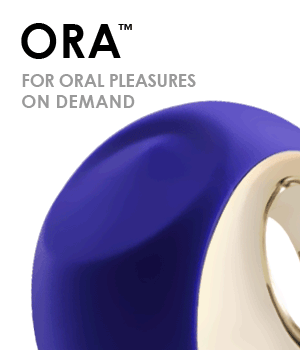 Using a lubricant is natural and normal. It isn't just meant for times when you cannot get wet enough. The extra touch a lubricant provides is welcome everywhere, every time. It doesn't matter if you're masturbating using your fingers, a sex toy, or having PiV (Penis in Vagina) sex. Lube up! The wetter, the better. And the extra fluidity the lube provides is always welcome.
Studies and research suggest that most women engaging in sexual activity said that it felt better with lubricants. In one study by Indiana State University, 70% of the surveyed women said that using a lubricant made things better.
So yes, you should use a lubricant. Apply lubricant liberally and generously. Then add some more!
Types Of Lube
Going by the most common classification, there are three types of lubricants.
Water-Based Lubricant: The most common and versatile lubricants are usually water based. For most practical purposes, water-based lubricants are the ideal choice. These lubricants are compatible with most sex toys and can be easily used during sex or masturbation as well. These lubes do not affect the pH of the vagina, don't leave stains on sheets, and are easy on the skin.
Silicone-Based Lubricant: As a velvety smooth and long-lasting lubricant, silicone is hard to ignore. Silicone lube can even be used underwater, so this is the lube to pick when you want action in the shower. Remember to never use it with silicone-based sex toys, and you'll be good. Additionally, it can be slightly difficult to clean.
Oil-Based Lubricant: Oil-based lubricants last a very long time. To put it simply, this is the lubricant you put at the start, and then don't have to worry about getting another round of lube during sexy times. Plus, it is nice for some massaging fun between partners as well. The downside is that oil will soil your bedsheets, clothes, anything it comes in contact with. Oil based lubricants should not be used if you're using a latex condom or latex/ rubber sex toys. They degrade latex and increase the chance of tear. Oil-based lube is also increasingly associated with the risk of infections.
Other types of popular lubricants, though far less prominent are Hybrid and Natural. A hybrid lubricant is usually the combination of the two of the above lubricants put together. Natural lubricants, as the name implies, are lubricants sourced from natural sources. The definition isn't universal, and some also consider vegan, paraben-free options in this category.
Coconut Oil as lube is an excellent specimen of this category. It's great for the body, and safe to use. But as you can guess, it has the same limitations as conventional oil-based lubricants.
Things That You Should Never Use As Lube
Now that we're talking lubricants, there are some common things that should never be used as a personal lubricant. Even if conventional wisdom suggests so.
On top of that list is Vaseline or any other petroleum jelly. It's not a lubricant meant for sex. It degrades condoms and can upset the pH balance of the vagina. You may even end up with irritation and inflammation. Not worth it.
Other products in the same boat include:
Glycerin
Propylene Glycol
Parabens
Nonoxynol-9 and similar spermicidal jellies or creams
Some companies continue to use these ingredients in their lubricants. A good idea is to read the list of ingredients and skip the product if you see any of the above. Ideally, pick a lube that is free of paraben, petroleum, and glycerin. Additionally, you'll need to make sure that the lubricant you use is fit for the activity planned. The lubricant should not degrade a condom or the sex toy you're using.
If in doubt, pick one of the nice water-based lubricants listed here.
Personal Lubricant Reviews — The Best Lubes For Women
1. Lelo Personal Moisturizer – Best Water Based Lube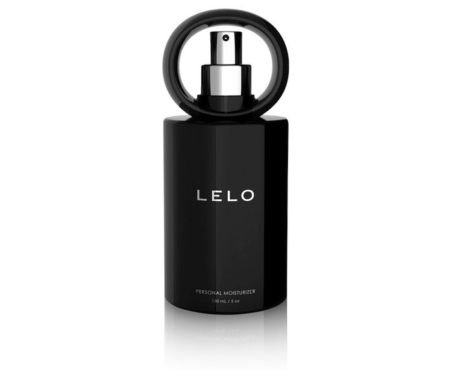 Luxury and quality come together for the Lelo Personal Moisturizer. This water-based lubricant feels great to the touch – pretty much like the satisfying feeling you get when touching Lelo sex toys. It is far away from being sticky and actually makes the skin feel nicer after use. I suppose that is in part due to the aloe vera at work.
Most Lelo sex toys include a sample of the lubricant. If you've bought a toy and enjoyed the lube sample, you certainly want this one. This non-greasy lubricant (ahem… moisturizer) is available in a spray bottle that is convenient to use. It is glycerin-free, paraben-free, and unscented.
The best water-based lube available, Lelo Personal Moisturizer is safe to use with all Lelo toys and latex condoms, and of course, the company recommends Lelo Hex condoms. It is safe to use with most other sex toys as well, though the company (understandably) does not want to make sweeping statements.
Highlights:
Water-based lubricant
Aloe vera for hydrating
Not sticky
Unscented
Glycerin and paraben-free
2. SYLK Personal Lubricant and Moisturizer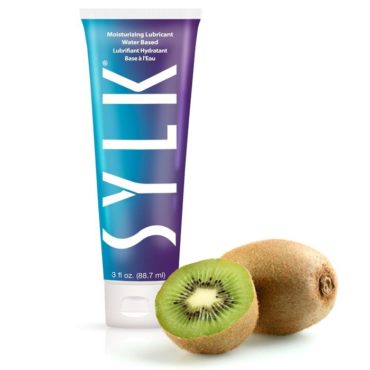 SYLK is an all natural, high-quality, water-based moisturizing lubricant. The lube is compatible for use with most sex toys and condoms. It focuses a bit on the therapeutic side of things. This lubricant claims to be good for menopause dryness, vaginal dryness, hormone therapy, and childbirth.
The skeptical will find solace in this being FDA approved. In fact, that is a benchmark you should look for in any lubricant for women that claims medical benefits. If they don't have an FDA approval to back their claims, they're probably up to no good.
This is a water-based moisturizer that uses Kiwifruit vine extract. That makes it very hydrating and lubricating, which makes the skin feel good even after you've removed the lube. Keeping the Sylk away from feeling sticky requires a bit of effort. It has to be applied as a thin film. Since this is a water-based lubricant, water will eventually disappear. Sylk suggests adding a small amount of water to "refresh" the lubricant.
Highlights:
Water-based lubricant
All natural ingredients
FDA approved
Unscented
Requires some care when applying
Free of parabens, hormones, and harsh chemicals
3. Uberlube Luxury Lubricant — Silicone Lube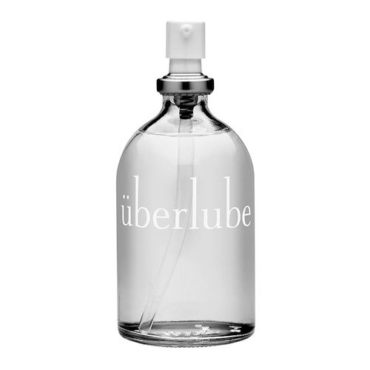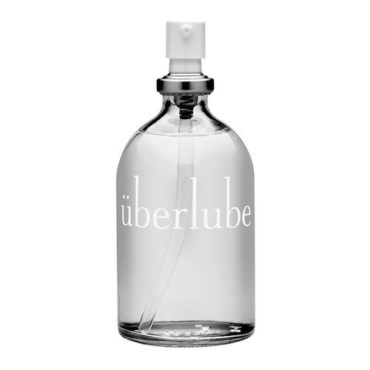 Uberlube Luxury Lubricant is a silicone-based lubricant designed to increase sensations. As the company claims, the lube isn't just meant to make things "slippery" it intends to transfer sensations more effectively. Well, there is no way to define how effectively it "transfers" sensations, but yeah, it does feel pretty good.
The silicone feels soft and supple and has a remarkable texture as the lubricant. In some ways, it's comparable to the touch of a well-made silicone vibrator. Obviously, I'm only talking about the texture, not the pleasure one may expect from the toy.
Once applied to the body, the lubricant also moisturizes the skin. When it is no longer being manipulated, the lubricant begins to dry up. It is easy to clean and does not leave behind any sticky or tacky residue.
Uberlube is available in a spray bottle. There is no cap for the bottle, which is a bit of a downer, but not a dealbreaker.
Highlights:
Silicone-based lubricant
Very satisfying silky feel
Easy to clean
Excellent presentation
Lasts for a fairly long time
Not sticky
Unscented
4. Penchant Intimate Lubricants for Sensitive Skin — Best Lube For Sex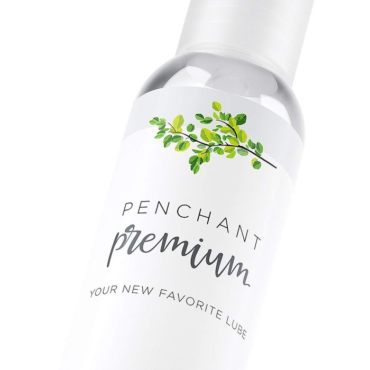 A long-lasting silicone-based lube that's marked safe for sensitive skin, the Penchant is quite amazing. Penchant Premium Intimate Lubricant is FDA 510k approved and non-toxic. As a silicone lube, it is also hypoallergenic, repels water, and offers an impressively silky feel. The lube is odorless, easy to clean, and free of parabens and glycerine.
It lasts long and feels pretty much like a moisturizer. It has a fairly long list of features, but one where it exceeds expectations is for its use in sex. It lends itself pretty well to action, and helps movement as well.
My only gripe with Penchant Intimate Lubricant is that it's only available in a 4 oz bottle, and that feels too small. On the plus side, you only need a small amount every time, so perhaps not so bad a deal!
Highlights:
Silicone-based lubricant
Satisfying and smooth silky feel
Easy to clean
FDA approved
Works underwater (shower, bathtub, etc.)
Easy to clean
Long-lasting
Non-sticky
Odorless/ unscented
5. Sliquid Naturals Silver Silicone Lubricant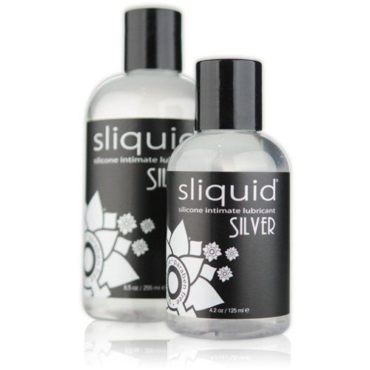 Another silicone-based lubricant, the Sliquid Naturals Silver Silicone Lubricant is long-lasting and waterproof. It's made from medical-grade silicone and it shows with the feel and texture of the lubricant.
This lubricant clearly illustrates the most important reasons why silicone lubricants are so popular. The delightful texture and long-lasting use make it entirely possible to enjoy these lubricants (and their associated activities) without any interruptions.
You don't have to worry about staining, or of having to reapply the lubricant mid-action. If you're using a sex toy, just make sure it is compatible with silicone lubricants.
Highlights:
Silicone-based lube
Waterproof (works in shower or bathtub)
Non-toxic
Long-lasting
Great texture
Odorless/ unscented
6. Shibari Tuxedo Silicone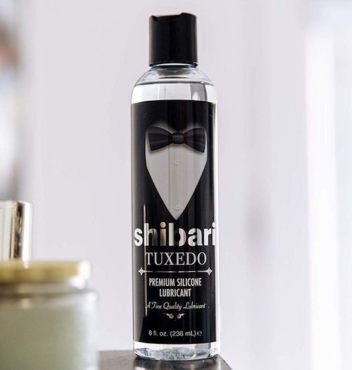 Shibari Tuxedo perhaps gets its name from the company's desire to position this lube as a premium, luxury product. I'm not sure of its standing in the world of luxury, but as a lubricant, it is pretty damn good.
The lube is made from high-quality premium silicone and has a great texture. It is long-lasting, fragrance-free, and does not include parabens and glycerine. It's pretty easy to apply and has a soft, supple feel. It's great for sex and masturbation, just don't use it with any silicone toys!
Highlights:
Silicone-based lube
Waterproof (can be used in shower and bathtub)
Fragrance-free
No parabens or glycerine
Long-lasting
Non-toxic
7. Sliquid Naturals Sassy Lubricating Gel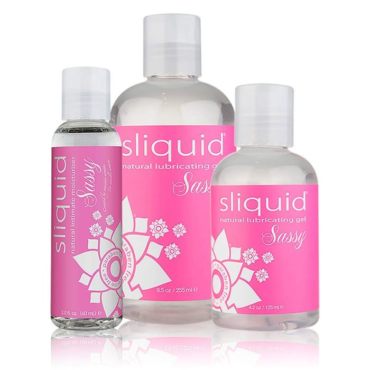 Sliquid Naturals Sassy Lubricating Gel is a water-based lubricant. It is formulated to be thicker and more viscous than a conventional water-based lube, thus giving it a gel-like texture. I was a bit concerned about the gel texture, mostly because of the risk of it feeling sticky. Thankfully, that is not the case here. And thanks to the gel, it lasts slightly longer than most water-based lubricants. If water-based lube is what you're looking for, this one won't disappoint.
The lubricating gel has quite a list of features. This one is vegan-friendly, non-toxic, odorless, glycerine-free, and paraben-free. The lube is water-soluble, so cleanup is easy.
Highlights:
Water-based lubricant
Easy to clean
Vegan friendly
Odorless
No glycerine or parabens
Check current price and discounts
8. Blossom Organics Natural Moisturizing Personal Lubricant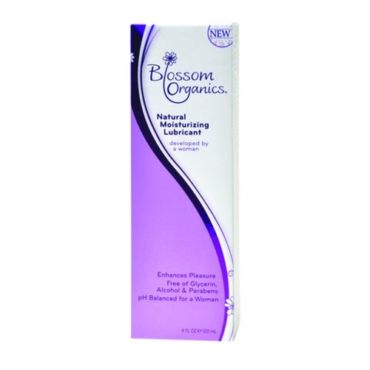 Ingredients used for this lube are all natural and organic. Blossom Organics Natural Moisturizing Personal Lubricant uses a formulation based on aloe vera and its pH level is formulated to be non-disruptive to a woman's body. Given the efforts it makes to be useful, no wonder it is the best vaginal lubricant. The company emphasizes that this is a lubricant for women and has been created by a woman.
This natural moisturizing lubricant does not include any added scents, parabens, petroleum, glycerine, alcohol, hormones, dyes, or fragrances. Its focus stays on natural ingredients.
It's an excellent moisturizer. Well, yeah, it's a useful lubricant too, but it's an amazing moisturizer! Maybe that's because it somehow manages to dry up faster than conventional water-based lubricants and you have to apply more of it. Though while it lasts, it performs its lubricating duties diligently.
Highlights:
Natural lubricant
Aloe vera based formulation
Natural and organic products
Moisturizing
Free from parabens, glycerine, petroleum, hormones, and alcohol
pH balanced
9. Aloe Cadabra Natural Personal Lube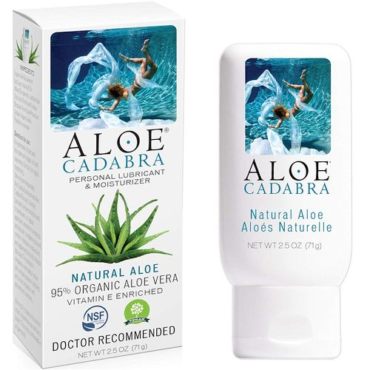 Aloe Cadabra is one of the notable and useful natural lubricants. This one is also unique and useful in the sense that it handles not just the lubricating duties for sex and masturbation, but also keeps itself flavorful for oral sex! To that end, the lubricant is available in several flavors, including peppermint, vanilla, and pina colada. The basic version is a simple organic lubricant that relies on aloe vera.
The lubricant uses "pure natural" ingredients and is free of substances like parabens, petroleum, glycerine, and hormones.
Highlights:
Natural lubricant (water-based)
Free of parabens, glycerine, petroleum, and hormones
Made from natural ingredients
Also available in various flavors
10. Wet Platinum Lube

Wet Platinum Lube is made from premium grade silicone and has a great texture. It's easy to apply and feels great. Being a silicone lubricant, it lasts long and can be used in the shower or bathtub. It is non-sticky, non-toxic, and free from parabens and petroleum.
The manufacturer goes on to specify that the product is vegan, gluten-free, keto, non-GMO, and kosher. It is also FDA Class II 510(k) approved. One negative here is that the bottle is prone to leaking and must always be kept upright. Silicone lubes carry a risk of staining sheets and upholstery, so be careful where you use it.
The lubricant has been around for years and has several loyal users. In the interest of humor, here's an excerpt from one customer review:
The lube itself is top-notch and lasts for hours but it gets expensive. I spent more on this last year than on my kid's college fund. But in all fairness, it's a better investment.
Highlights:
Silicone-based lube
Long-lasting
Can be used in shower/ bathtub
Non-sticky
Non-toxic
Paraben-free and petroleum-free
11. Sliquid Swirl Flavored Water Based Lubricant – Cherry Vanilla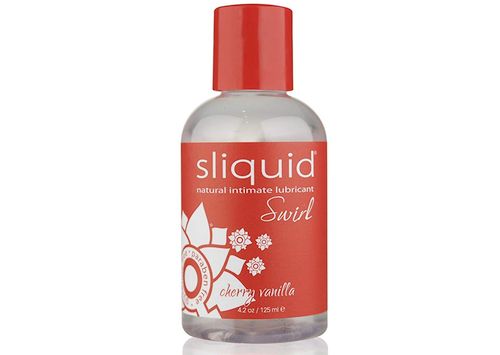 Sliquid Swirl is the classic water-based lubricant, though this particular formation is intended to sweeten up the deal for oral sex. It's great for use on your privates as a good quality lubricant, and your partner can take some pleasure in the flavor when it's time to go down. Swirl has been sweetened with a touch of aspartame, though no sugar is added. This particular one features the very delectable cherry vanilla flavor. Other flavors are also available, chief among them being green apple tart and pink lemonade.
Highlights:
Water based lubricant
No parabens
Flavored
Sweetened with aspartame
Non-toxic
Paraben-free
12. Shibari Personal Lubricant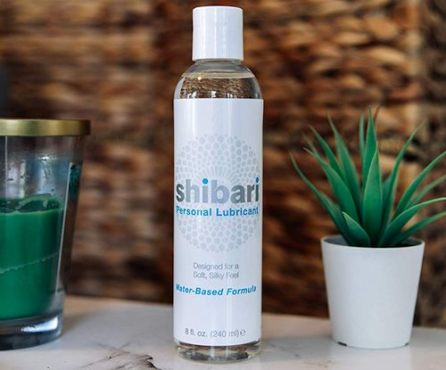 Shibari Personal Lubricant is water-based, non-toxic, and non-staining. On the other hand, it does have a tendency to get sticky and is a chore to clean once you're done. It is FDA 510(k) certified and safe to use. That stickiness aside, this lubricant is pretty good and fun to use while you're in action. It is fairly mild and does not pH balance of your privates. Although, I wouldn't use it if oral sex is on the cards. Shibari lube is not tasteless, and the taste is unflattering, to say the least.
Highlights:
Water-based lubricant
FDA approved
Can get sticky
Non-toxic
Excellent value
13. Lynk Pleasure Anal Lube — Best Anal Lube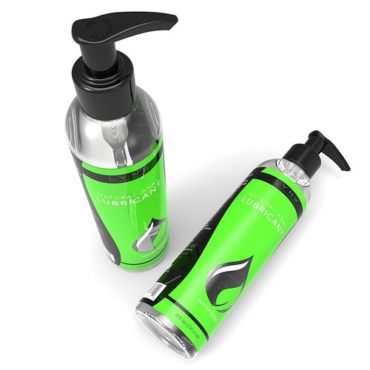 Lynk Pleasure is a water-based lubricant, but has a somewhat better texture that allows it to be used longer as compared to conventional water-based lubricants. While it is excellent for anal sex, it is worth noting that the lube is as good for vaginal use too.
Being water based, the lubricant is safe to use with practically all sex toys and condoms. The lubricant is non-toxic and free of parabens and glycerin. While we are on topic of anal lubricants, sometimes, using a butt plug can take some effort. In these situations, you can consider using a lube applicator (like this one) for better results.
Highlights:
Water-based lubricant
Free from parabens and glycerine
Long lasting, compared to conventional water-based lubricants
Doesn't get sticky
Great texture
14. Tracy's Dog Personal Lubricant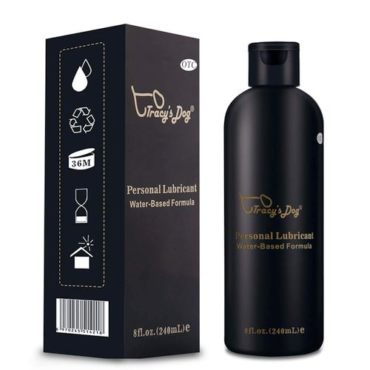 Tracy's Dog Personal Lubricant is water-based and aims at the premium segment while offering great value. The lube is free of parabens and feels pretty smooth and slick. Being water soluble, it is also easy to clean up once you're done. This lubricant manages to stay away from being on the sticky side – I imagine it does so only barely, but not being sticky is half the game for being a better lubricant!
Highlights:
Water-based lubricant
Paraben-free
Feels slick and smooth
Excellent value for money
The Best Lubricant For A Woman
All the lubricants listed here are high-quality and have great ratings and reviews from customers. Even so, remember that every woman has a different chemistry, and there is no universal best lubricant for women. Whatever lubricant you choose, start with using a small amount on your privates, and wait a while to see if you have any adverse effects. Heck, start from your forearms, so any trouble never reaches your privates! There are a lot of quality lubricants available, but take some time to ensure you've got the one that's best for you.