(Last Updated On: December 3, 2022)
Lelo Hex intends to solve the big problem people have with condoms — they dampen the fun of sex. Most people find that condoms become a thick covering over the penis that dampens the feel and becomes troublesome. Of course, there are other problems like the risk of tear, and being uncomfortable to wear. Unfortunately, this means that many couples avoid the use of condoms, which in turn has led to an increase in reported STIs.
That's the problem that Lelo Hex condoms claim they can solve. Lelo's claim is that the Hex is the greatest advancement in condoms in several decades. Let's put the claims to test and see how they fare in our Lelo Hex review.
Lelo Hex Condom Features – Is It Worth Your Purchase?
At first glance, Lelo Hex condoms seem to be making tall claims. But then they have a reputation for excellent products, and a massively successful campaign for the Hex condoms on Indiegogo. There must be some fire that's bellowing that smoke!
Lelo Hex Condoms Color And Structure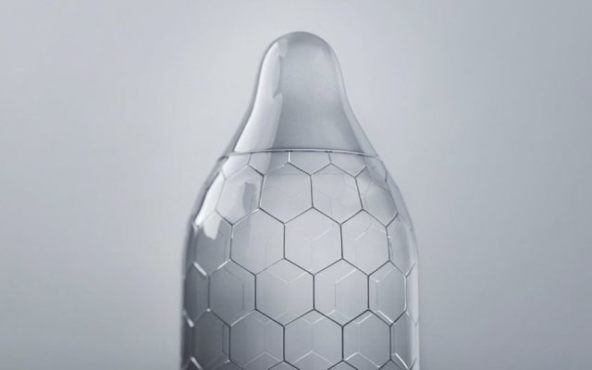 The major selling point for Lelo Hex condoms is that they are thin and strong enough to dramatically reduce the risk of breaking or tear. Hex condoms are clear, and them being colorless is quite a welcome feature for many couples. At the very least, the penis in the condom still looks like a penis, and not some weirdly colored rubber tube.
Structurally, the condoms are built to be strong, without being uncomfortable. According to Lelo, their scientists worked for seven years in developing the Hex condom. In their research, they decided to follow through with the honeycomb structure – a shape often found in nature, and one that has several benefits. According to the company, hexagons are strong, symmetrical, and tessellate perfectly, and that's what they have tried to recreate in the Hex condoms.
Surface of the Lelo Hex condoms is covered in 350 hexagons (except the reservoir tip). While they provide structural strength, in case of problems, the hexagons also keep the damage localized (if only for a short while).
Incidentally, the honeycomb has other non-structural benefits. Many women report that it feels good. Perhaps, much like the dotted or ribbed condoms, but it's not distracting to take you away from the actual act. The same is true for men, as the texture is towards the inner side of the condom. This placement of texture also helps the condom create a better grip without constricting the penis.
Lelo Hex And Where It Stands On Use And Pleasure
Lelo Hex condoms are just 0.045mm thick. There are thinner condoms in the market, but the Hex does its job better, and keeps the wearer more comfortable. As a general rule, most condoms will taper to hold the penis, so the condom doesn't slip off. The effect is more pronounced in the case of conventional ultra-thin condoms.
The effect is an uncomfortable sensation to the wearer, and a greater risk of tear to the condom. In fact, most men find that condoms constrict the penis, and take away pleasure. The constriction effect is greater for condoms that taper to the base to grab hold. Since many men find the effect of such condoms robbing them the pleasure of sex, they avoid using condoms. This could have considerable on the sex life of couples. Here is where Hex condoms stand out.
Lelo Hex condoms are very stretchy and avoid creating that uncomfortable grip sensation at the base of the penis. To add, the condom allows body warmth to be transmitted between partners, creating a far more pleasurable and intimate sensation. Pleasure is no longer warded off by thick, insulated rubber! That alone ought to give the Hex condoms some serious points for thoughtful design.
Lelo Hex Condoms Package Design Critique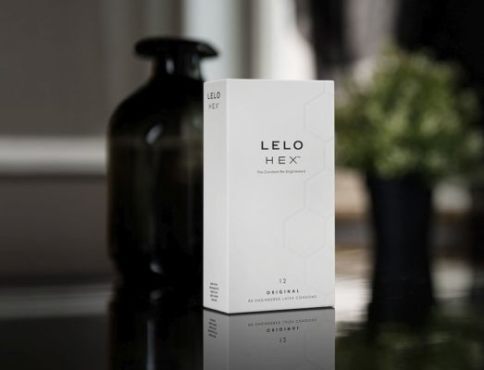 Individual Lelo Hex condoms come packed in what feels like strong paper, rather than the usual parade of plastic or foil. This makes it easier to remove the packaging. Similarly, the condom out of packaging is slightly more unrolled, making it easier to see what side is up.
These might seem like trivial things, but if you've ever wasted time trying to remove the packaging, or deciding what side of the condom goes up, you know how useful these little changes are. Even more so if you're doing it in the dark. Imagine putting that work against the packaging and then deciding what's the right side up.
Lelo Hex Condoms Quick Specification List
Material: Natural latex
Thickness (on in this case, thin-ness): 0.045mm
Diameter: 54mm
Length: 180mm
350 interconnected hexagons
Hexagon texture is at the inner side of the condom
Lightly lubricated for comfort
Easy to open no-slip wrapper
Where Can I Buy Lelo Hex Condoms ? – Lelo Hex for sale
The condoms are fairly popular and are widely available across retailers. There's a good chance your nearby supermarket or store has Lelo Hex for sale. Heck, several Walmarts have the condom in stock as well. In case you're looking at other options, here are some options where you can find Lelo Hex for sale:
Order them from the Lelo HEX sales page, enter the discount code HEX25AFF to cut 25% OFF
If you're looking for larger size, you can order the Lelo Hex condoms Respect XL line.
Hex condoms are available in packs of 3, 12, and 36. While prices vary with packaging, the Lelo Hex price is usually around one dollar per piece. So you may find the 36-pack of Lelo Hex priced near $36. Lower number packages will be slightly more expensive per unit.
Lelo Hex Review — Pros And Cons
Pros:
Hexagonal structures for greater strength and reduced risk of tear.
Colorless. Helps it appear less intrusive.
Ultra-thin 0.045mm.
Allows body warmth to be transmitted between partners, making the experience more sensual and intimate.
Stretchable and non-constricting. Lelo Hex condom does not constricting the penis and reduce pleasure from sex, unlike generic condoms.
Packaging is easier to use.
Cons:
Expensive compared to its competitors.
Keep in mind, the biggest "pro" in favor of condoms is the protection they offer. Not only do they avoid pregnancy, they can also keep you safe from STIs. A lot of people avoid using condoms, and that has resulted in an increase in cases of STI being reported. Keep in mind, birth control does not protect you from sexually transmitted diseases. Use protection. Condoms, including the premium ones like Lelo Hex are easily available and you don't have to worry about where to buy Hex condoms. If you're about to get lucky, just walk into a nearby store or pharmacy and buy some condoms.
Lelo Hex Review — The Verdict
There's everything to be impressed about with the Lelo Hex condoms. They hit the right spot (pun intended) for usability, and do look their part as a useful, premium product. There is little point in having your penis wrapped in thick rubber (or worse, no condom), when Lelo Hex condoms are easily available. While the Lelo Hex price certainly could be lower, it certainly is a small cost to pay for safe and fun sex.