Creativity and imagination add more fun to sex. Having fun times on a swing is an amazing feeling. There's a lot of room to maneuver in, and you can take on some very exotic sex positions. What makes it better is that setting up a sex swing doesn't have to be complicated! Finding the best sex swing doesn't have to be a chore. Let's look at some of the best options available, and some tips to get the most out of a sex swing.
Top 8 Sex Swings In 2022
8 Best Sex Swings Reviewed
1. Pipedream Fetish Fantasy Series Bondage Swing
It may look a bit complex, but this is a great spring for starters. This is a fantasy swing and should be suspended from a stand or a hook in the ceiling. If you choose to attach this to the ceiling make sure it is connected to a weight-bearing stud or frame (a sex swing stand). The fantasy bondage swing has a weight limit of 350lbs, though it makes sense for someone much lighter to use it.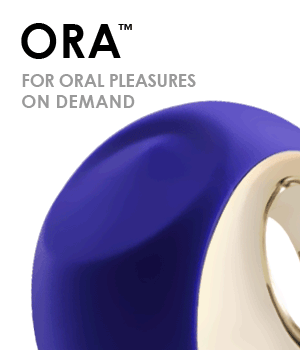 An advantage of this swing is that it can be easily adjusted to different heights or angles. That gives you a lot of room and flexibility to work with! The submissive in the swing can be moved 360 degrees, allowing for greater freedom of movement. Plus, there's always the possibility of trying new things.
A spring placed at the top of the swing helps make movements easier, and also absorbs some motion. This ensures that the overall movement remains smooth and you don't have to face the unnerving experience of random jolts coming from the harness or the suspension.
On that topic, the attachments provided with the swing are strong and can conveniently hold the weight of a person. However, in most cases, using the wrist, leg, and ankle restraints is a better option. Put together, these make the swing feel more secure, and you can enjoy your time without worrying about maintaining your balance.
Pros:
Solid construction
Restraints also serve to add more safety and balance
360-degree movement
Easy adjustment for various heights and angles
Cons:
Requires specialized setup
Expensive
In some positions, the neck can feel sore after some time since there is no support
2. Sexbaby Adult Sex Swing Bondage with Steel Triangle Frame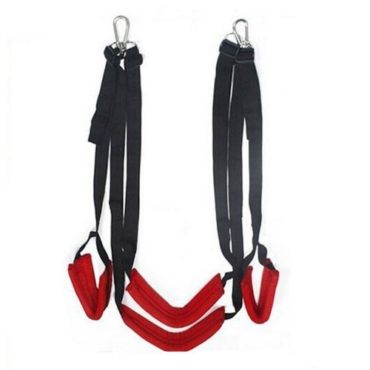 The manufacturer describes the robustness and strength of this swing by claiming that it has been made with the same material as those used in making parachutes. Ostensibly, this should allow greater tensile strength and stability to the swing. Practically, that's a claim difficult to verify. Plus, there can be doubts about the usability of this material for creating sex swings – several fabrics are used in parachutes.
Putting the tall claims aside, this is a robust and strong swing. It makes liberal use of nylon, which adds strength to the swing. This sex swing is rated for 450 lbs of weight. Since this is a fantasy swing, make sure it is suspended by a weight-bearing stud or frame in the ceiling. Or you could choose a frame that can be placed in the room as necessary, and provides the necessary support to this swing.
The top of the swing is metallic, with strong joints and clamps. A spring placed at the top of the swing ensures it remains relatively stable. Additionally, it absorbs some movement, and keeps the swing easily maneuverable. Soft padding ensures that the restraints or other parts that come in contact with the body are not uncomfortable.
It allows slightly more maneuverability for the submissive, but the lack of restraints can make it seem somewhat unstable. Using some of your own bondage gear with this swing can be a good idea, if only to add a greater sense of stability.
Since this sex swing is suspended from the ceiling, it allows for easy movement of the submissive. The dominant partner can use the handlebar at the top for greater control, as well as for 360-degree movement of the submissive partner.
Pros:
Allows 360-degree movement
Solid and reliable construction
Allows some maneuverability for the submissive
Cons:
Can feel unstable for the submissive due to the lack of restraints
No support for the neck, so it can get uncomfortable after a few minutes
Needs specialized setup for hanging through the roof
See current price and discounts on Amazon
3. Aerial Yoga Swing Set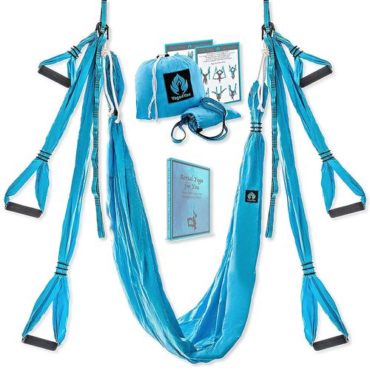 As the name implies, this isn't so much a sex swing as a Yoga swing. However, there is no reason to not use it for both! And where functionality is concerned, there is little difference between a Yoga swing and a regular sex swing. Most of the things you can do on a sex swing, can also be done on a Yoga swing. 
Also, the swing does make it convenient to practice Yoga as well, so there is dual use here if that interests you. It isn't an obvious sex tool like the other swings, so you could leave it up all the time without arousing suspicion.
As a quality Yoga swing, this is strong, durable, and makes a good range of motions and movements possible. It is made from silk and nylon fabric for added comfort, with a double material layer in the middle for added comfort. There are thick foam handles for easier support, however, the lack of any padding is likely to make itself felt during your activities.
Another possible problem point is that the seat is flat and wide. While that is excellent for Yoga and balance, it can make penetrative a little more difficult. This is one reason why conventional sex swings have narrow seats.
Aerial Yoga Swing Set is rated to handle a weight of up to 600 lbs. If you intend to go anywhere near that weight, make sure the hanging support is capable of handling the weight!
Pros:
Discreet
Machine washable
Several color choices
Quality materials and good construction
Cons:
Lacks padding
The bigger seat can pose minor problems
4. Real Black Mens Leather Heavy Duty Adult Sex Sling Swing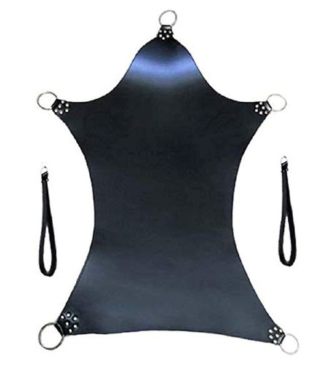 This heavy-duty leather sling swing adds brings along a whole lot of fun. This is a platform-style swing for better supporting the body. Being rigid, it allows the back to remain straight, being more comfortable for the person on the swing. An additional advantage is that the submissive partner can rest their neck, so the swing does not feel uncomfortable.
Though it brings in more comfort, a part of it comes at the cost of easier maneuverability. On the plus side, it does add another element of fun to bondage and BDSM play. This sling is made from high-quality leather, and its joints are bonded, stitched, and riveted to ensure it lasts. In terms of color choices, the sling itself is black, though you can get black, red, or blue piping according to your preference.
The leather sling has been stress-tested for up to 285 pounds (130kg). Apart from the sling, the package includes leather stirrups and steel D-rings. There are no chains, ropes, or suspension frame included, and will have to be purchased separately. Those additions can make this swing fairly expensive.
Pros:
High-quality leather construction
Comfortable
Convenient to use
Cons:
Expensive
Limited maneuverability
Chains, ropes, frame etc. need to be purchased separately
5. Utimi Sex Swing Hanging On Door Bondage Restraint Sex Toy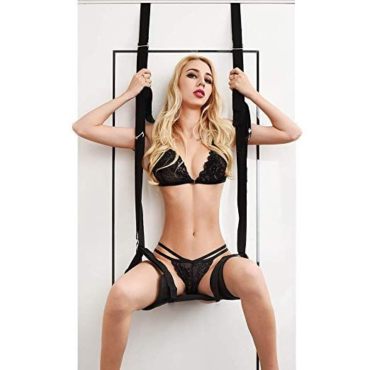 Utimi Sex Swing is a door swing. These swings are characterized by the ease of setup. All that these swings need is a closed, sturdy door. Utimi Swing is made from nylon and is fairly durable. The seat is fairly well padded, and there's room enough to comfortably put feet on the leg straps. It does not include any restraints for the hands.
Two solid plastic cylinders provide the anchor necessary to keep the sling in its position behind the closed door. One obvious problem here, that is common with all door swings is that there is limited room for movement. The submissive will always have their back against the door, so the range of movement and positions is limited.
On the plus side, it is remarkably easy to set up and does not require additional work. All you need is a door. Just be sure that the door is sturdy and strong on its hinges. The door's the one that is going to take all the weight.
I think some grips or bondage holds for the hands could be put to good use here. It would at least add some more stability. Anyways, the low cost and simplistic fun make this a great choice. It's an ideal choice for beginners who want to get a taste of sex swings, but would rather not invest in an expensive swing or its setup requirements.
Pros:
Good value for money
Easy to set up
Fairly convenient to use
Cons:
Very limited range of movements
Only includes seat and leg/feet straps
6. Misstu Door Sex Swing for Adult Slings and Swings Restraint Bondage Kit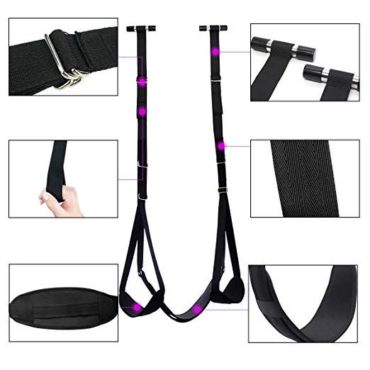 Where door swings are concerned, I think the Misstu Door Sex Swing for Adult Slings and Swings Restraint Bondage Kit is the most useful choice. It is well-priced, and includes several accessories to be more useful. The swing is made from nylon and can handle up to 300lbs of weight. It also includes well-placed straps for legs and for hands as well.
The height of the swing can be adjusted to match your convenience. Again, as a door swing, it has limited maneuverability. Sure you can get the submissive's back off the door and try more exotic positions. It just won't be comfortable. And that gets annoying very quickly. Stay within the conventional parameters of the swing, and you will have a lot more fun.
Pros:
Excellent value for money
Very convenient to use
Easy to setup and remove
Great for beginners
Cons:
Limited range of motions
Feels a bit flimsy
7. BELSIANG Couples Sex Swing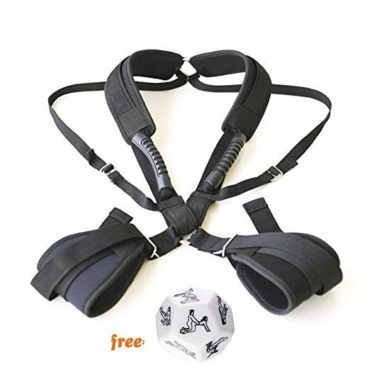 Belsiang couples sex swing is a body swing. It is more intense, more intimate, and requires the male partner to have a ton of strength. I'd say the dominant partner, but in most practical cases, this is going to be the male partner for this swing.
For this swing, the dominant partner acts as the "frame", while the submissive is placed on the swing. It's something of a sex harness. There is no seat, and a part of the submissive's weight is handled by stirrups that go around her legs/thighs. For added comfort, the male will have to support part of her weight by placing his hands below her hips.
It is basically the setup to kinky sex positions like the Piston, although with the addition of a swing. If you've got the upper body strength to pull this off, it can be very rewarding and enjoyable.
The swing is made from nylon and includes some padding to make it more comfortable. There is little room for movement or maneuverability, but it does make for some amazing play and positions.
Pros:
Very intimate
Playful position
Cons:
Requires a lot of upper body strength from the dominant
Not much space for movement
8. Romi 360 Degree Sling
Romi 360 degree sling is a low-cost fantasy swing. The cost savings come from foregoing the triangle swing frame and spring. That affects the performance and smoothness of the swing a bit, but it also brings big savings in cost.
The swing can still be placed through a regular (and sufficiently strong) hook. It allows full 360-degree movement of the submissive, and makes it possible to enjoy several positions and plays. Because there is no frame or spring, the maneuverability is slightly affected. It is perhaps better for this type of swing that the dominant move, while the submissive partner stays relatively stationary.
Romi swing is made from nylon, and as the claim goes, it is the same quality as those used in parachutes for tensile strength. I wouldn't put much faith in a purchase simply to that claim. But yeah, the material used is sufficiently strong to enjoy the sex swing.
The swing includes padding for added comfort. And there's the leopard print, for those who want more color, I guess. It's not a terrible idea, I'm just not a fan of leopard prints!
Pros:
Good value for money
Fairly strong
Easy to set up
Cons:
Somewhat less maneuverability compared to fantasy swings with frames/springs
Feels cheaply made – unimpressive construction
How To Use A Sex Swing And Buying Guide
Sex Swings Explained
A sex swing is exactly what its name implies – a swing that can be combined with sexual activities. In these swings, the submissive partner is generally placed on the swing. There is a seat to place the buttocks, and swings may have harnesses for hands and legs. There could be just some of these harnesses, or more could be added for a secure fit of the submissive.
The dominant partner controls the angle and position of the submissive partner. This lends these swings to easy use for dominant/submissive and even BDSM play. Or, the use could be kept for the simpler side, by employing the swings to aid in more exotic sex positions.
Sex Swing Positions — Is A Sex Swing Stand Necessary?
There are no fixed positions to be used with sex swings. Your activities will depend on the swing of your choice and your own creativity. Swings can be used for anything from oral sex to more exotic sex positions. Here's a quick rundown of the commonly used swings, though they've already been mentioned:
Fantasy Swings: These swings are suspended from a frame or a sex swing stand. The stand serves as a load-bearing structure from where the swing can be suspended. A stand isn't necessary, though it is simpler. If you have access to a strong point on the ceiling that can manage weight, it can be used as well. Fantasy swings generally allow 36-degree motion and greater maneuverability.
Door Swings: The simplest to setup, all these swings need is a closed door! Ends of the swing work as anchors to hold their position behind the closed door. These are very easy to set up and remove. However, movement space is significantly affected considering the swing is always placed against a door.
Body Swing: This is where the dominant partner acts as a frame for the swing and takes on the bodyweight of the submissive partner.
DIY Sex Swing
If you have some craftsmanship and confidence in your abilities, you can make a DIY Sex Swing for your use. These are fairly simple devices and should not be any trouble for an experienced hand. However, if there is even an inch of doubt of your craftsmanship, I suggest you buy one instead. They're not that expensive, and are likely to be more suitable and steady than an amateur craftsperson.
Spicing Things Up With A Sex Swing
Sex swings are great tools for making things more fun and adding some spice to your sex life. There are several types of swings available, from those that work best for beginners to those that are made for more experienced users. Choosing the best sex swing is easier when you have your expectations right. Take some time, and check out these highly-rated sex swings I have mentioned in this list.