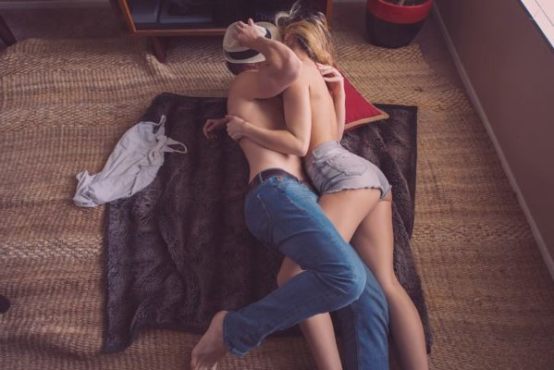 Adding variety and a touch of novelty to the bedroom is a great way to spice up your sex life. Trying and perfecting new sex positions is a great way not just to have more fun, but also to keep your relationship from hitting a plateau. This guide has 8 best sex positions you should try. Keep in mind, this does not discount common sex positions like missionary and doggy style, or another favorite position you might have. Even so, have some fun with this list of sex positions.
1. Amazon Sex Position
Lesser known but a very intense sex position, the Amazon sex position is a bit of a reversal on traditional angles. Going by category, it's a woman-on-top position, with the woman strongly in charge. The man lies on his back with his legs raised upwards and bends his knees.
The woman mounts him from above in a kneeling position, as the man pushes his legs towards his chest or slightly widens them to give you more space. You can lean on his thighs to better support your weight. Since you are in charge, make sure you are both comfortable. Also keep in mind that the man's penis will bend slightly backwards, so be careful not to hurt him.
Even if it sounds a bit awkward, it's a great sex position. If you are into analingus, you can move to this position quite naturally after the act.
2. Sybian Sex Position
Another woman-on-top position, this one is named after the Sybian sex toy – one of the most powerful vibrators. In this position, the man lies down on his back on an ottoman or similar prop, leaving enough room for you to stand over him in a straddling position. You have to squat down for penetration.
You may have noticed, this position is quite similar to the Cowgirl sex position, with the difference that rather than resting on your knees, you will be on your feet. You are in charge. Alternate between thrusting and grinding, giving yourself an angle that works for g-spot stimulation as well as clitoral stimulation.
3. The Slow Dance
Bring the romance of a slow dance to sex. The fun and simplicity of this position make it one of the best sex positions. The only difficulty in this sex position is that your heights should be compatible, or close enough that one partner can bend her/his knees to make up for any difference.
You stand close to each other, face to face. You'll have to open your legs a bit to let him enter you. Then wrap your arms around each other, thrusting and grinding as you please. You may not orgasm in this position, but it is a very sensual experience and one of the sexy sex positions, if I may say so.
4. Sitting Lovers Sex Position
One of the better-known sex positions, the Sitting Lovers allows deeper penetration and greater skin-to-skin contact. Plus, it's comfortable to boot and you won't find your muscles getting cramped after a few seconds. Sure it's popular and you might have already tried it. Even so, here I am offering tips to get the most out of this sex position.
A lot of people try this on the chair, but that's not the most comfortable place for this sex position. The man should be sitting on the side of the bed (or on a sofa), giving you enough room to place and rest your knees on either side of him. A sofa is perhaps a better choice since the back support makes things more comfortable.
You can get close and place your arms around his neck, and lean backward to adjust the angle. As you face each other, you can kiss him and maintain eye contact, making position intimate and romantic. That perhaps explains why this position is favored and considered one of the best sex positions.
Your man can lean back, using his arms for support against the bed or sofa, making thrusting easier. He may also place his arms around you, though that means there will be less thrusting and more grinding.
5. Pushing The Cushion
This excellent sex position matches penetrative sex with pillow humping. Start with the setting of the conventional doggy style, and place a throw pillow against your vulva. If you're up for it, add a vibrator with the throw pillow to further enhance the clitoral stimulation. Raise your torso a bit to comfortably hump the pillow while he enters your vagina.
The man may have to support some of your weight with his arms as you grind against the pillow, while he moves inside you. Keep consistent pressure on the pillow so you get enough stimulation for the clit. Be communicative and give him clear directions so that things can progress smoothly.
6. The Butterfly Sex Position
The Butterfly is a simple and versatile sex position. You can do it on a table or on the edge of a bed. You can also be completely on the bed, the difference being that on the bed, the man supports his weight on his knees, rather than standing on his feet. The woman does not have to be very active in this position, so you can relax, lie down and enjoy the sensation because this position is great for g-spot stimulation as well.
In this sex position, your hips will be raised a bit. You can rely on the strength of your man to lift your hips into position or make things easier for him by placing some pillows below your hips. Your thighs will rest on his chest, and your ankles will go over his shoulders. He can raise you by placing his hands on your hips, or you may place your elbows on the bed and use your hands to help support the weight.
Men love this position as they have a great view of all that is going on. You get maximum pleasure as this position provides g-spot stimulation. Adjust the height of your hips until you get desired stimulation for the g-spot.
7. Fast Fuck Sex Position
As its name suggests, the Fast Fuck sex position is best suited for when you want a quickie. In terms of positions, it's quite like the cowgirl position with him lying on his back and you on top. There are some changes however, and they make all the difference.
The man has to lie down on his back, with his knees bent and feet planted on the bed. After that, you straddle him while leaning forward. You can be on your feet or knees – whatever is comfortable – supporting your weight with your hands and feet/knees. You will be slightly raised above him, not placing your weight on his crotch.
With the position set up, it's the man's job to thrust in and out, usually rapidly, using his feet for support. Since he is not supporting any weight, it should be relatively easier. Of course, this position won't last long and within a couple of minutes he will either ejaculate or be too tired to continue in the same position.
It's not an intimate or sensual sex position, but as far as quickies go, it can be amazing.
8. Piston Sex Position
So far, I've stayed with relatively simple and sensual sex positions. This one takes things a notch higher and is one of the exotic sex positions. The piston requires him to be strong enough to not just lift you up, but also to thrust in and out while holding you. In this position, he lifts you above the ground, supporting you by placing his hands on your hips.
If either of you has doubts about his strength, it's best to skip this position and try something else. Piston position gets easier if he stands with his back to a couch or bed. You can place your feet on the surface behind him, supporting some of your weight and leveraging the position to thrust. Put your arms around his neck, making this more romantic, and having better balance.
Many couples start the piston while standing straight on the ground and the man lifting the woman into the air. It may be better to straddle him while he sits on the edge of the bed or couch, making it easier for him to stand in position. It may be tough and tiring, but it's also sensual and one of the best sex positions to try.
Best Sex Positions — Parting Words
When all is said and done, the best sex position is the one you enjoy the most. Experiment and don't get tied down with a position that you may find comfortable. There are plenty of sex positions to try, so keep things fresh and spicy. It does wonders to go beyond your comfort zone and try something new in bed. Give this list of sex positions a shot, and see if you find one that becomes your new favorite!