(Last Updated On: July 26, 2023)
The best butt plug is one that is comfortable, convenient, and most importantly, enjoyable! One thing it should never be is painful. If you're new to butt plugs, be sure to choose one for beginners that can be used conveniently. A butt plug must always have a flared base. Irrespective of how deft you imagine yourself to be, getting something stuck up your butt is not a pleasant experience. It's much better to invest in a good quality, safe butt plug for anal play.
Top 15 Butt Plugs Of 2022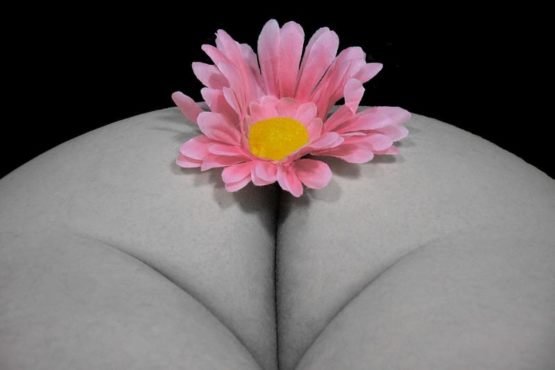 Things To Know About Butt Plugs
What Is A Butt Plug?
A butt plug is a sex toy designed for anal play. These anal toys are used by both sexes for pleasure as well as a prelude to sex. Males can especially enjoy the benefits of anal play with a focus on prostate massages. While men do enjoy prostate massages and get the most out of it, women too can enjoy anal play.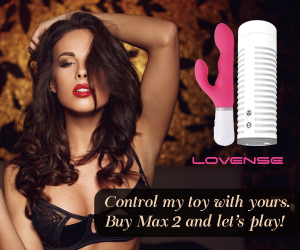 Buying a safe butt plug with a flared base is the most important thing. It prevents accidents from happening and keeps the toy easily accessible. Always make it a point to keep safety first.
How To Use A Butt Plug?
Whenever you think of anal play, start with lube. It is a good idea to use lubricant every time you enjoy sex. Using good lubricant for anal play is all the more important. Choosing the right lubricant is dependent on the material of the butt plug you're using. In case you are unsure which lubricant to use, a water-based lubricant is a good choice.
You should feel relaxed and ready before you use a butt plug. Never force it on yourself (or your partner), and indeed take some time to anal train before you choose to move towards bigger toys. Your experience should never be painful… the goal is pleasure, not building a tolerance to pain.
Make it a point to clean your sex toys before and after every use. Some materials like silicone, glass, and stainless steel are non-porous and easy to clean. Others may need special care. Cleaning your sex toy depends on the material, but it should be cleaned anyway. I'll recommend staying away from any porous materials for your sex toys.
Top Butt Plugs Reviewed
1. B-VIBE – Trio Plug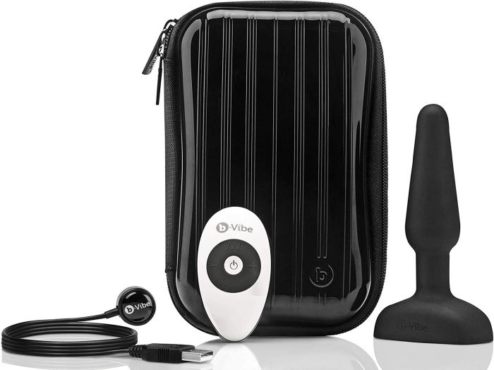 B-Vibe Trio Plug is one of the few devices that can appeal to beginners and pros alike, and even offer something for the power queen. This versatile sex toy has impressive features when it comes to power, performance, and safety. Considering sizing, this is a medium-sized vibrating butt plug.
Trio is about 5.3-inches long and at its widest insertable point has a diameter of 1.2-inches. The width measurement obviously doesn't include the flared base, which is wide enough to ensure this toy's safety for anal use.
There are three motors in this plug, probably a reason why it gets the name Trio. All three motors together create quite a symphony of patterns and intensity options. There are a total of nine vibration options and eight intensity settings. Working the three powerful motors to the fullest, you can get amazing intensity options as well as benign vibrating options that beginners will appreciate.
There's no point in having all those options if you have to reach around to the butt plug to change vibration options. B-Vibe has included a remote control to handle all of that. With a range of 30 feet, the remote works pretty well. There are bound to be some limitations with remote range.
The user would rarely feel any problem operating the remote. If a partner is using the remote, they may notice the range reduces if they stand directly in front of the user, but works better standing behind them.
B-Vibe Trio is made from high-quality seamless silicone that is non-porous, phthalate-free, latex-free, and hypoallergenic. Once fully charged, the battery offers a play time of up to one hour. The butt plug comes in a nice package, including the charger and a travel case for easy transportation.
Pros:
Powerful – 3 motors give it enough power
Several vibration intensity and pattern settings
Coated in high-quality silicone
Seamless design
Comfortable
Cons:
Expensive
Battery life could be better
2. Lelo Bruno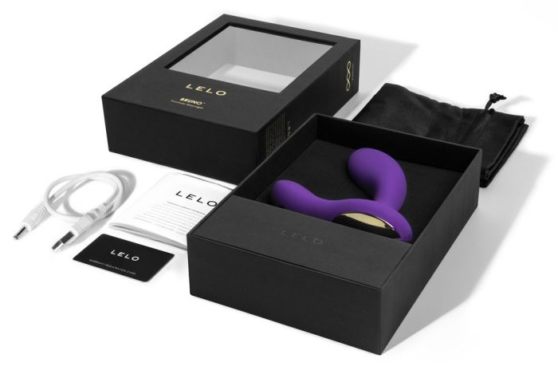 Bruno is a potent prostate massager from Lelo. This prostate massager has two arms, one works as the prostate massager while the other provides stimulation to the perineum. This is intended as a prostate massager for men and is not a unisex sex toy.
Lelo Bruno packs in quite a punch, drawing power from two motors. One motor is located in the curved tip of the insertable side for enhanced prostate stimulation. The second motor is located at the base where it adds pleasure to the vibrations and also sends stimulation to the perineum.
Though its dimensions aren't exaggerated, Bruno is not a sex toy for beginners. Its insertable side is 3.4-inches in length, which may seem benign. However, the maximum circumference of 4-inches at its widest point is anything but benign. The perineum side is about four inches long. Remember to lube up pretty well when you decide to use this massager. The good part is that even with those impressive dimensions, Lelo Bruno does not hamper movement. You can move around, sit comfortably in a chair, and even go about your day with this butt plug inserted.
It offers six vibration patterns for stimulation, though there is only one intensity setting. There is no remote, so users will have to reach around and press the button to cycle through those preset patterns.
Lelo Bruno comes wrapped in the high-quality velvety silicone that Lelo products are renowned for. It is waterproof, can be used hands-free, and the battery can last for about two hours. If you prefer the convenience of a remote, check out Bruno's twin, the Lelo Hugo.
Pros:
Well-constructed medium-sized prostate massager
Waterproof
Powerful vibrations thanks to dual motors
Six preset patterns for vibration
Comfortable to use
Cons:
Only one setting for vibration intensity
No remote control – user must reach around to change vibration pattern
Check the latest discount from Lelo
3. Paloqueth Unisex Waterproof Vibrating Butt Plug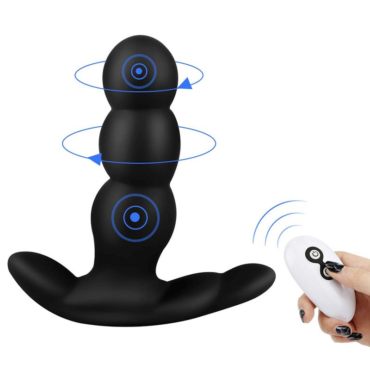 Paloqueth Unisex Waterproof Vibrating Butt Plug is meant for use by both sexes. It is, however, not meant for use by beginners. This is a vibrating butt plug powered by two motors – one placed at the top, while the second is placed at the bottom. The appearance is quite similar to three beads stacked together. Its use isn't intended for anal beads, though the vibrating butt plug does use it well to its advantage.
Apart from vibrations, the top two beads can also rotate, adding more to the sensations and stimulation on offer. There are seven vibration modes and seven rotation patterns. Given that both motors can be operated individually, you get a large choice of options and combinations to play with. Paloqueth has included a remote control to make it easier to control the toy and its many vibration combinations.
The company says that the toy is completely waterproof – which must be some feat given its ability to rotate. Even so, I'm not going to risk submerging this butt plug in water. I'd rather be skeptical than lose a perfectly good toy. An excellent Paloqueth sex toy, this one is made from silicone and is hypoallergenic and latex-free.
Pros:
Several vibrating patterns and rotation options
Good value for money
Dual motors for extra power and pleasure
Rechargeable and waterproof
Cons:
Noisy
Included remote control has a very low range
4. Phanxy Wave-Motion Vibrating Prostate Massager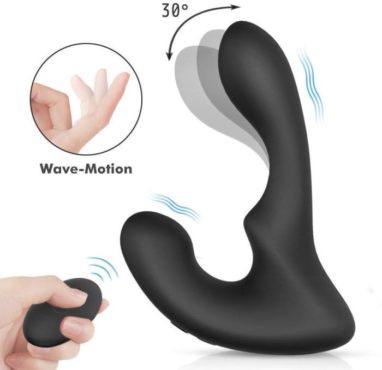 This is an interesting vibrating prostate massager and can be used by beginners as well. There are two arms for this vibrator, one to massage the prostate and the other to stimulate the perineum. Dual motors make for an interesting combination of vibrations. The vibrating butt plug boasts nine vibration modes and nine wave motions.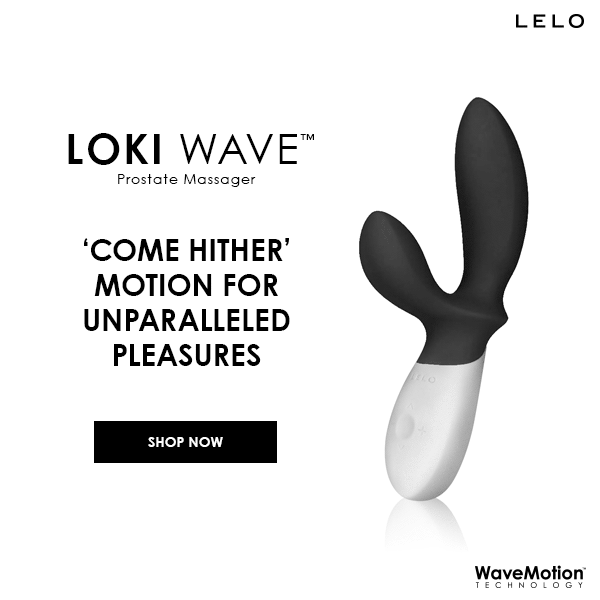 Both motors are placed in the insertable side, one towards the top to massage the prostate, while the other sits near the base. The lower motor provides extra sensations, and also sends some vibrations the way of the perineum massager. There are onboard buttons to control the vibrations, though a remote is included to make things convenient.
I think the "come hither" wave motion is worth special mention as it creates a wonderful sensation and paves the way for a P-spot orgasm in males. While this sex toy is wonderful as a prostate massager many customers say they use it as a G-spot vibrator for women. The come hither motion works wonders with G-spot stimulation, like with the Lelo Ina Wave. If you do choose this one for G-spot stimulation, do not use it for your partner's prostate stimulation (or your own anal use). Anal and vaginal toys must stay separate.
Pros:
Excellent stimulation for the prostate
Good pricing
Wave motion is fun and pleasurable
Dual motors make it fairly powerful
Cons:
Noisy
Questionable longevity
5. Njoy Pure Plug — Stainless Steel Butt Plug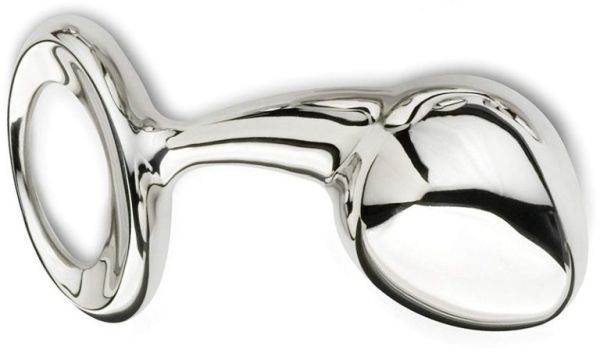 Njoy Pure Plug is one of the better-known metal butt plugs available. The high-quality construction and good performance pretty much speaks for itself. Most Njoy products, including this butt plug are made from 316 medical grade stainless steel and given an excellent mirror finish. This isn't a high-quality coating, the entire butt plug is made from solid stainless steel. This approach shows up in the weight of this butt plug and is an overall testament to its build quality.
Being solid blocks of metal, the njoy butt plug veers towards the heavier side in terms of weight. And that is a good thing! It feels filling and creates lovely sensations. These butt plugs are available in three sizes; small, medium, and large. The small size is good for beginners and those looking to start with anal training. However, the medium size is the best choice for most users. Advanced users will enjoy the large size njoy butt plug. The dimensions and weight of these butt plugs are:
Small: 1-inch diameter, 2.25-inch length, 5oz weight
Medium: 1.25-inch diameter, 2.5-inch length, 7oz weight
Large: 1.75-inch diameter, 2.75-inch length, 11oz weight
Once inserted, the butt plug remains firmly in place and you can go about your day without any trouble. The material is non-porous and very easy to clean. When necessary, you can place the njoy butt plug into boiling water and sanitize it. If you want a high-quality butt plug, this is it.
Pros:
High-quality materials
Excellent construction
Easy to clean and sanitize
Smooth and easy to insert
Non-porous and completely body-safe
Cons:
Get njoy Pure Plug medium on Amazon
6. Njoy Pfun Plug — Long Butt Plug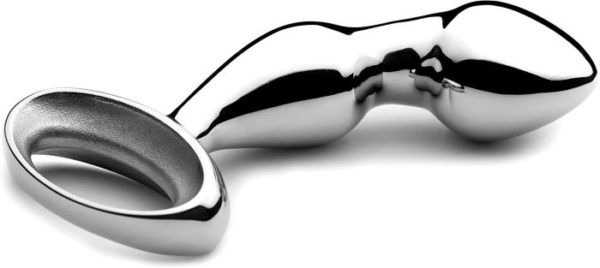 Njoy Pfun Plug is a more sculpted version of the njoy Pure Plug we just saw. It is focused on stimulating the prostate and uses its increased length and sculpted body to do that job. The insertable length here is 3.5-inches topped by a 1.25-inch wide sculpted head. The plug weighs 310 grams. Its top takes a look similar to a penis, which as you can see, is being called the "sculpted head".
In other aspects, the Pfun Plug retains the quality we've come to expect from njoy toys. The butt plug is made from 316 medical grade stainless steel and has a shiny mirror finish. Pfun Plug is completely body-safe, non-porous, and very easy to clean. When necessary, this prostate massager can be sanitized by placing it in boiling water.
Pros:
High-quality materials
Excellent construction
Convenient sanitization and cleaning
Non-porous and completely body-safe
Cons:
The sculpted angles can feel inconvenient for some people
Expensive
Get the Njoy Pfun Plug on Amazon
7. Fun Factory Bootie — Small Butt Plug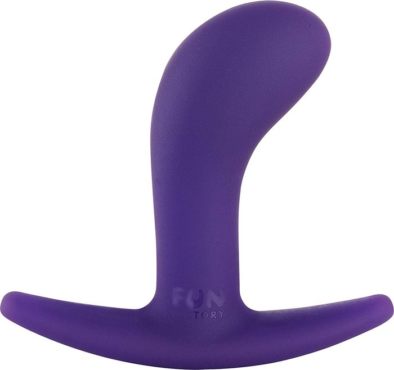 No bells and whistles here, the Fun Factory Bootie gets straight to business. This butt plug is made from certified silicone, as such, it is non-porous, odorless, and easy to clean. As a beginners' butt plug the Bootie has some flexibility that makes it more convenient to use.
The small size of the Bootie is a great first time butt plug. More experienced users can consider buying the medium and large-sized versions of this butt plug. There's even a cock ring Fun Factory Bootie version, which I find very intriguing and fun. This is one of the best and most trusted silicone butt plugs you can buy. If you are new to sex toys, the Bootie is an excellent place to start.
Pros:
Good construction
High-quality materials
Available in several color and size options
Non-porous and body-safe
Cons:
More expensive as compared to its competition
See buying options and discounts
8. Pipedreams Icicles No 48 — Glass Butt Plug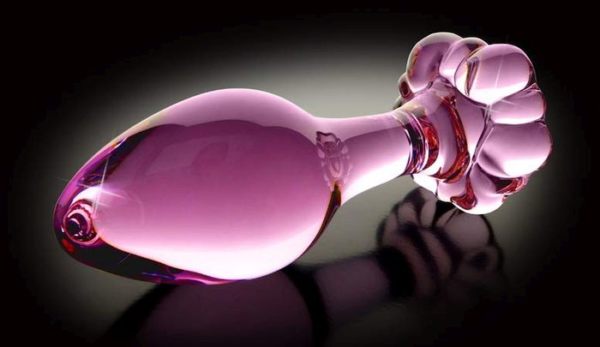 Beautifully crafted and shiny, this glass butt plug makes quite an impression. I consider it a welcome change from the masses of similar-looking sex toys. The flower at its base is quite a nice touch and adds personality to this butt plug. The company says Icicles range is hand-blown and handcrafted. I find it tough to believe, but I'll play along.
The handcrafted Pipedreams Icicles No 48 has a strengthened neck and borosilicate glass construction adds to the structural integrity of this item. Being made of glass, this is easy to clean and can be considered non-porous. Since this is made from glass, remember to exercise caution and do not keep it inserted for a long time. There is no problem with construction quality, but glass being glass is susceptible to breaking and you don't want that anywhere near your butt.
Pros:
Good design
Glass is a body-safe material
Cons:
The plug has a noticeable seam
9. Fox Tail Fur Anal Plug — Fox Tail Plug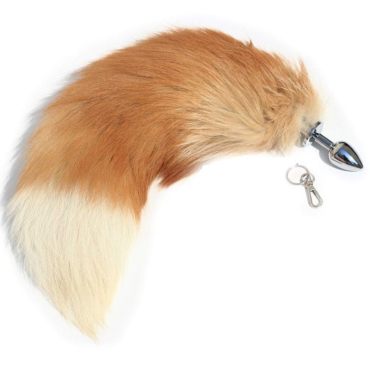 Add some kinky or creative fun to your activities with this Fox Tail Anal Plug. The tail is pretty nice and fluffy, and very much looks ready for some play! A stainless steel butt plug is attached to the end of the tail. The plug itself is available in two variants.
The small-sized plug measures 1.08 inch in diameter, while the medium sized plug measures 1.34-inches. I'm partial to the medium-sized plug, the small one risks getting pulled out with the weight of the tail. Dimensions of the tail vary between 15.5 to 17.5 inch.
Pros:
Looks great!
The butt plug is made from stainless steel and is body-safe
Non-porous and easy to clean butt plug
Cons:
The tail is a pain to clean, even though it is not difficult, it does take time
The tail's quality could be better
10. Utimi Anal Plug Fox Tail — Tail Butt Plug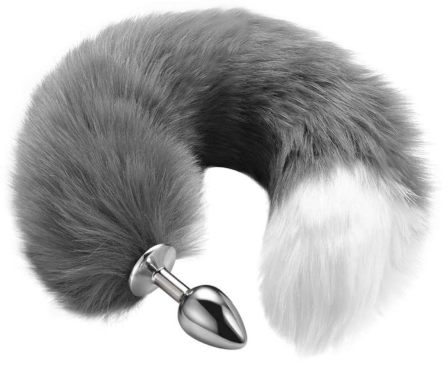 The faux fox tail on the Utimi Anal Plug is fluffy and looks very nice. The tail is topped by a stainless steel butt plug for pleasure and amazing sensations. You could use this one for kinky play and maybe get some creative cosplay in!
Maybe a nine-tailed fox is too much, pikachu butt plug may be going too far, but yeah, your imagination is your limit! The maximum diameter of the plug is 1.2-inch and it will hold its position very well. That way, you don't have to worry about the tail pulling the plug out due to its weight.
The tail on this anal plug measures roughly 15.7-inches. There's a possibility of the size being slightly off because of the nature of the fur. In case you find the fur all bundled up and flat, washing and blow drying should help it get back to its fluffy self.
Pros:
Good looks
The quality of the fur is good
Stainless steel butt plug is body-safe
Cons:
It's a chore to clean the tail
Anal plug quality is average
11. Paloqueth Anal Plug Set — Advanced To Small Butt Plug Size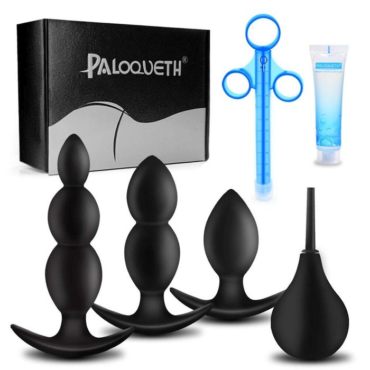 Paloqueth Anal Plug Set includes three butt plugs of different sizes and styles. Depending on your preference and where you are with experience or anal training, you could start with the small butt plug or pick a more advanced one.
The small plug is about 1.5-inch in diameter, though the insertable length is negligible. It may need some effort getting this in, so make sure you use lube liberally. Going for medium size, another bead is added on top of the plug, and the largest size gets a third bead on top. All anal plugs in the set are made from FDA approved safe silicone.
Pros:
Good quality construction
Non-porous
Different sizes make it easy to pick a choice or progress from lower to higher size
Cons:
The diameter is quite large to be comfortably used by beginners
Top of the plugs is too pointy, and can feel uncomfortable
12. Silicone Inflatable Anal Plug — Hollow Butt Plug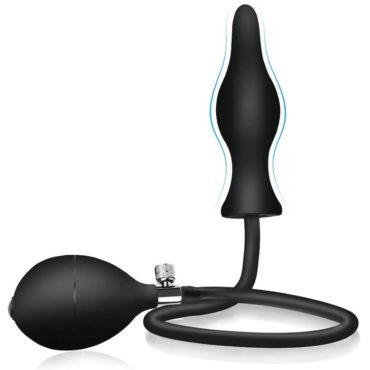 Silicone Inflatable Anal Plug practically lets you choose your desired width for the butt plug. It starts as a small plug with a tapered tip and an inflatable body. That makes it relatively easy to insert. You can inflate the plug to your preferred size, at a max of 5-inches diameter.
The plug is inflated through an included palm-sized pump. A quick-release valve is placed near the pump so you can deflate the plug as and when required. It's fairly simple to use, and fun as well! Before you insert this plug, use the pump for a bit to see how the expansion of the inflating plug works. It's better than being surprised (or worse) with inflating the pump while inserted.
The plug is fairly easy to clean as well. While the changing width might make it seem attractive, this isn't the best plug for beginners.
Pros:
Convenient to use
Deflates quickly
Easy to clean
Cons:
Not suitable for beginners
Can slide out when inflating
13. Doc Johnson Mood Naughty 2 — All Day Butt Plug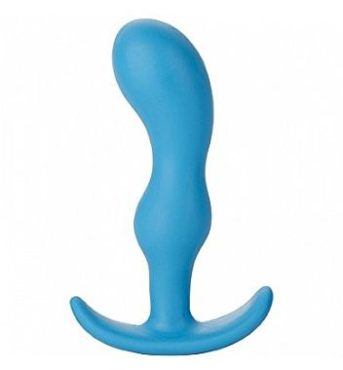 Doc Johnson Mood is an interesting range of butt plugs. The well-made quality butt plugs in this range are available in several size and shape options. Size options here go all the way from small to extra large, with everything in between. I find the Naughty 2 to be especially nice with its curvy shape and sculpted design.
Naughty 2 has a narrow tapered stem, opening up in a flared base. The base is curved and narrow, allowing it to stay comfortably between the cheeks. You could use this as an all day butt plug and enjoy your daily activities with all the sensations the curves of the Naughty 2 bring.
Total insertable length of Naughty 2 is 3.6-inches and the maximum diameter is 1-inch. It is made from silicone, which feels velvety. At the same time, it is non-porous, phthalate-free, and body safe.
Pros:
Choice of size options
Good curves and design
Comfortable enough to be used all day
Made from body-safe, phthalate-free, non-porous silicone
Cons:
The sculpted curves aren't for everyone
The low-width can feel small, even for beginners
14. T-explorer Huge Head Glass Butt Plug — Big Butt Plug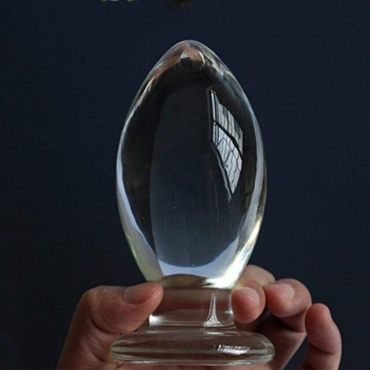 T-explorer Huge Head Glass Butt Plug is for advanced users who need something big! And this thing is big. This big butt plug is 2.3-inches in diameter and has a length of 5.5 inches. That diameter is massive and you better be well-prepared, preferably with a lot of lube! Being made from glass, this butt plug is easy to clean and non-porous.
Pros:
Good construction
Easy to clean and body-safe
Big butt plug!
Cons:
The flared base is almost a similar width as the plug, making it less efficient
15. Akstore Luxury Stainless Steel Plug — Jeweled Butt Plug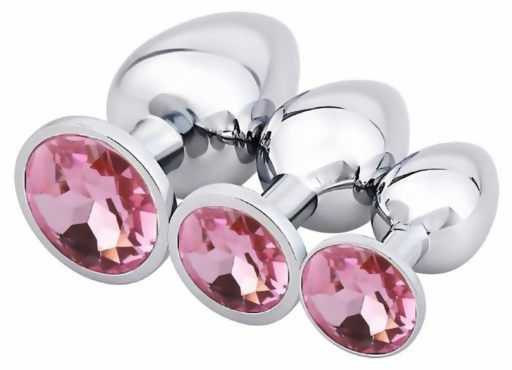 Akstore Luxury Stainless Steel Plug is adorned by pretty jewels at the base. There's a lot of color options in terms of the jeweled base to pick. I prefer lighter colors, like the pink one over the more rich and emphatic colors. The shiny jeweled base is attached to stainless steel butt plugs.
The anal plugs are available in three sizes, suitable for beginners to more advanced users. To fit into this range, the diameter of the shortest plug is 1.1-inch with an overall height of 2.95-inch. The medium-sized plug measures 1.3-inch and has a height of 3.35-inch, while the biggest plug is 1.6-inch in diameter and has a height of 3.6-inches.
Made from stainless steel, the plugs are non-porous and easy to clean. The jeweled base adds a lovely look to these plugs, and is well worth the extra effort it requires for the plugs to be cleaned.
Pros:
Choice of colors for the jeweled base
Look great!
Easy to clean and maintain
Good value for money
Comfortable to use
Cons:
The plating can come off rather easily
Questionable longevity
Making The Anal Plug Choice
There is no dearth of anal plugs in the market. You'll find them available in a variety of shapes, sizes, and materials. Choosing the best butt plug that suits your requirements, preferences, or even your kink is the tough part. The selection above has the top rated and reviewed butt plugs for various requirements. My intention is to present options that can enable you to make a more informed choice.