(Last Updated On: June 18, 2023)
Remote controlled sex toys are incredibly amazing. They add to the fun you could have with your partner and can be thoroughly enjoyable. and could be a viable option for people in long distance relationships. While Skyping and FaceTime might make it easy to stay in touch, the element of physical intimacy is still missing. While nothing can replace physical presence, getting intimate can be a lot easier with toys like the Lovense Hush 2.
This amazing sex toy is a butt plug that can be operated via Bluetooth. It can run on your Smartphone with the Lovense Hush app, allowing you simple control of the Lovense butt plug, and equally importantly, making it possible for your partner to control the vibrator. As long as you both have the app and an internet connection, you're all set!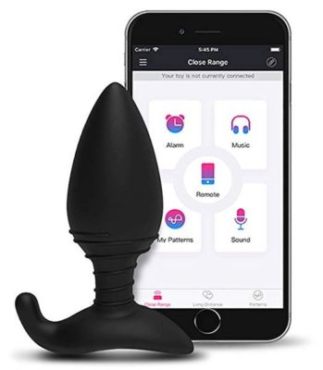 Lovense Hush Review — Pros And Cons
Pros
Powerful vibrations
App works fairly well, and does not have mood-killing bugs
Body safe, phthalate-free, non-porous, and non-toxic
Rechargeable
Waterproof
Easy to clean
Discreet enough for public play
Cons
Can get noisy at higher vibration speeds
Many customers report that the Lovense Hush develops battery issues
Complicated and time consuming initial setup
Lovense Hush Review — Features Of Note
Features define a product, and Lovense Hush sure does love to show off. And that makes complete sense; this is, after all, a feature-rich butt plug.
Lovense Hush App
The Lovense Hush App is an amazing feature. It is available on PlayStore as well as the AppStore, and really enriches the experience. The Hush connects to your smartphone via Bluetooth, and the app becomes the remote control. It requires some effort to get the pairing done, but the one-time effort is worth having the app as the control. A tiny LED lights up when the pairing is done and is aided by the Hush vibrating to keep you on topo of things.
If your partner has the Lovense Hush App as well, you can share the controls and let your significant other take control over the Hush butt plug vibrator.
Those in a long distance relationship will appreciate that the app also includes a message center to allow chatting. You won't need an extra app running for communication during your intimate session.
As far as controlling the sex toy via an app is concerned, the Lovense Hush works quite similar to the We-Vibe 4 Plus. However, I believe that the Lovense app is more robust and overall superior to the We-Vibe Connect.
Lovense App Controls And Vibrations

There are some very interesting ways to control the vibrations and intensity of the Lovense Hush using the app. The simplest way is to use the "trackpad" on the app, and simply moving your finger on the screen will result in a corresponding change of vibrations on the Lovense Hush. If you find a pattern you like, you can have the app record and save the pattern. Your vibrator can then be set to move to the pre-selected pattern in a loop.
An interesting feature is that you can set your Lovense Hush to vibrate to music. Just set a playlist going, and your vibrator will respond to the music/sounds and vibrate to match intensity. Theoretically (or erotically), you could have yourself pleasured to the sound of your favorite band!
Pleasuring by sound brings us to a rather unique feature. The Lovense Hush can actually be controlled simply by sound. That means you could enjoy some public play and have the background noises do it for you. Or, as a more creative solution for long-distance couples — let the voice of your partner move things around. If he knows what he's doing, he'll manage the pitch of his voice to control the vibrations.
Lovense Hush Construction And Battery
The Lovense Hush butt plug is made from a rather soft and amazing to touch silicone in a matte finish. It does feel like a premium product to the touch. There are grooves at the back of the Lovense Hush, which it says are used to trap lube so things go a lot smoother. That's somewhat dubious as far as I'm concerned, though many people do find it useful.
This butt plug is available in two sizes. One with a diameter of 1.5-inches at its widest point, and the other has a diameter of 1.75-inches. None of these are made for the beginner. If you are new to sex toys or vibrators for the butt, it's better to start small. You should also consider some anal training before you move on to wider toys like the Lovense Hush app.
The battery works for about 1.5 hours of continuous use, so there is plenty you can do with the Lovense Hush. This also opens the door to some intriguing possibilities of public play! Many consumers, however, continue to complain about the low overall life of the battery, some saying that it lasts only for a few uses.
Lovense Hush Review — The Use And The Fun
https://youtu.be/wAll1KR-okE
It is best to use this toy with a lubricant. Since its body is made from silicone, the suggested lube is water-based. However, using a water-based lube can be quite challenging as it will take some time, and water-based lube dries up quickly. Silicone-based lube could be a more appropriate choice, but it is not recommended for use with silicone toys.
Hush, Here It Comes!
Once it gets to work, the Hush is fairly straightforward and easy to operate. The app control usually remains pretty solid, saving the embarrassment and trouble of stopping midway of the act to take the phone closer to the vibrator for better connectivity. The controls are easy to handle, so are the playlist and sound options.
If you have a half-decent internet connection, you can easily share controls for the Lovense Hush with your partner. Public play is an important aspect of this butt plug, and features like the sound-based vibrations lend themselves quite easily to public play. The Hush is a bit noisy, so it is best to use it in a place that has some background noise. Using it in a busy restaurant would work just great, but it isn't the best choice to enjoy some pleasure to exorcize boredom at work. Or, as Lovense suggests, turn on the sound mode and hit a club or theater, and let the music work things out for you!
The freedom to create your own vibration modes is a big plus, especially if you know exactly what you want. It is super convenient to have a pattern of your choice saved on the device, and simply hit play when you want to enjoy some pleasure.
Lovense Hush is unobtrusive, and you can go about your daily routine without having to worry about the butt plug inhibiting your movement or dislodging from its place. You can walk and sit unencumbered, and the Hush will stay right in its place.
While I often mention the sharing of controls with your partner, it is worthwhile to point out (or simply to underline the fact) that the Lovense Hush works great in solo mode as well.
Cleaning The Hush
Cleaning your sex toys after every use is extremely important, and doubly so for the case of anal toys. On that count, the Lovense Hush is fairly easy to handle since it is completely waterproof and its outer body is covered in silicone. Avoid harsh soaps and antibacterials, but do make sure you clean the toy thoroughly. It's also good practice to clean your toys before use as well, even if you had already cleaned them after use.
Lovense Hush Review — The Finale
As anal toys go, the Lovense Hush is a remarkable one. Its shape and design are great, though I must say that it is the Lovense Hush App that really sets this one a class apart. Anal play is not everyone's cup of tea. If you do enjoy it, the Lovense Hush can really be a great companion. It is also targeted at couples in long-distance relationships, and the freedom of sharing intimate moments does help a lot.