(Last Updated On: August 25, 2023)
For this SVAKOM Alice Rabbit Vibrator review, I'll take a look at the vibrator that has often made to the most-recommended vibrator lists. Alice has something of minimalist looks, but her power and features do not fail to impress. Overall, this strong vibrator is a combination of elegant design and alluring features. Now that's something we can always enjoy!
Svakom Alice — The Good And The Bad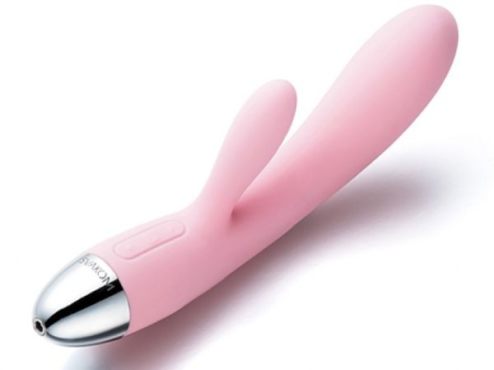 Pros:
Powerful dual motors for excellent clitoral and vaginal stimulation
Easy to use
Can be conveniently used by beginners are pros
Waterproof
Rechargeable
Soft-silicone coated body is non-porous and completely body safe
Cons: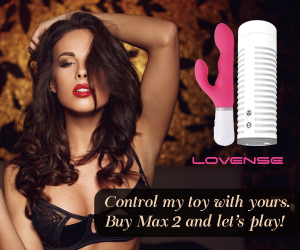 The 'Intelligent Mode' can be a hit or a miss
Svakom Alice Rabbit Vibrator — First Impressions And Specs
What's In The Box?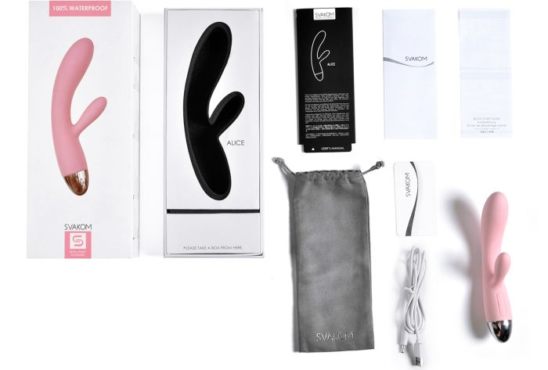 First impressions can very well define how well a product is perceived and received. Thankfully, Alice makes a good first impression. The package arrived in a discreet and unremarkable shipping box. Inside, there's the real product box that contains the vibrator and related accessories.
The product box does not make any attempt to hide what it contains. There's a picture of the vibrator on the box and some other information. It is well-built and feels like a box you get when you buy a premium product.
Inside the box, you'll find Alice dual motor vibrator, USB charging cable, a velvet bag for storage, instruction manual, warranty card, and product certification. There is no charger/plug with the cable, but since it is a USB cable it can be attached to your computer or phone charger.
Appearance And Dimensions Of Alice Rabbit Vibrator
One factor I find particularly good about Alice is its good looks. The minimalist and clean design with non-phallic looks works wonders. It has curves in all the right places, which makes it an excellent g-spot vibrator
The soft-silicone exterior feels wonderful to the touch and feels great against the skin. Alice is a solid vibrator without flexibility. However, the base of the clitoral side has some give, allowing the clitoral vibrator to move a bit. This comes in pretty handy at adjusting the vibrator to various body types and ensuring the clitoral side of the vibrator makes way to where it is supposed to be.
Overall dimensions of the Svakom Alice are non-intimidating. The insertable side measures about 4.5-inch in length, average diameter, and the total length is about 7-inch. That makes it an excellent choice for beginners, and its power can prove itself to pro users.
Read more: Find the best wand vibrators
Battery And Power – What Powers The Dual Motors
Power for the Svakom Alice Rabbit Vibrator comes from a 430 mAh Lithium polymer battery. It takes about 1.5 hours to fully charge this battery, and on a full charge, it can power the vibrator for up to two hours. Of course, if you're like me and enjoy the higher vibration intensities, the actual use time is more likely to be close to one hour.
The vibrator makes good use of all that available power. There are two powerful motors drawing at that power. A smaller motor lives on the clitoral side of the vibrator, while the other is located towards the top of the insertable side. Between these two powerful motors, you can expect the vibrator to launch into a bolt of orgasmic power.
Between the two motors, Alice offers 5 intensity settings for its vibration. You also get 7+1 vibration modes. The 7 vibration modes are conventional vibration patterns, while the last is the "intelligent mode". It's an interesting mode where the vibrator tries to imitate the sensations of sex.
Waterproofing And Cleaning
Svakom Alice is rated IPX6 waterproof. At that rating, it can very well resist water and you won't have trouble even if the vibrator is placed under a direct, strong spray of water (like the tap). If you're so inclined, you can enjoy the vibrator in the shower. You could also take it to the bathtub, but I won't recommend keeping it submerged for long.
An advantage of this waterproofing is that cleaning the vibrator becomes a breeze. There's no worry about water damaging the vibrator, so you can clean it well using cleaning sprays as well as some conventional methods.
Svakom Alice Review — Using The Vibrator
Lube It Up!
It's always a good idea to use lubricants with sex toys. Even if you feel you get wet enough down there, still lube it up! Alice is a silicone vibrator so the best choice is a water-based lubricant. A good lubricant adds to pleasure, and makes it an overall better experience.
Getting There
Alice, like most quality vibrators, is a good fit for stimulating other areas of the body as well. Don't keep it limited to the nether regions! I prefer to start with the nipples and hit other erogenous zones for a few seconds before taking the vibrator to the clitoris and vagina. It builds up anticipation and the reward in building up is always worth way more than the extra seconds spent.
Insertion And Enjoyment
Given the sleek shape and average dimensions of the vibrator, it is easy to insert. The clitoral side comes into position easily as well, though I'd rather focus on the g-spot vibrator. Don't get me wrong, the clitoral stimulation is wonderful too – it's just that Alice excels at hitting, massaging and stimulating the g-spot. Additionally, for the majority of women who need clitoral stimulation to reach climax, Alice has everything you need.
Curves on this vibrator are well-placed. It's not very textured, but the smooth, curvy shape of the top is pretty good at stimulating the g-spot. Put some pressure and dial-up the vibration intensity, and building up to an orgasm gets easy and comfortable.
The use and power of dual motors becomes apparent here. Move up to the right vibration intensity and pattern combination, and the symphony of the clitoral and g-spot vibrations becomes wondrous and well-apparent. Alice hasn't failed me yet, and the satisfying orgasms it delivers make me like this vibrator more every time I use it!
Controls And Intelligent Mode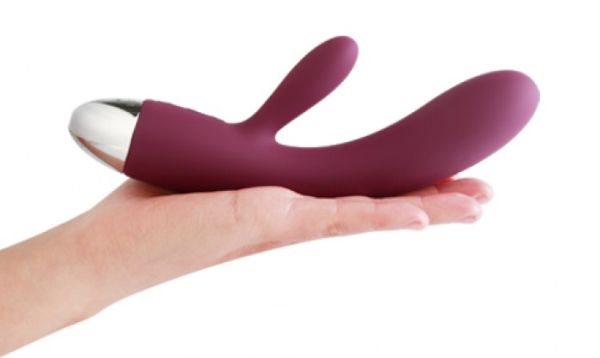 Svakom Alice has controls conveniently placed at the bottom, slightly above the metallic cap. The three buttons remain easy to access and are tactile enough to be used easily even in scenarios where you find the vibrator and hands covered in lubricant or body fluids.
Controls include three buttons, the up and down buttons are placed at either end and manage the vibration and patterns.
The central button brings the Intelligent Mode into play. This mode is designed to offer a series of vibrations and patterns designed to mimic the feel of having sex. It starts slow, and then the vibration intensity and patterns change to offer the feeling of sex. Strong pulsations match relatively lower vibration intensities to create an interesting and fun pattern.

I found the intelligent mode to be fun enough. However, in general reviews, the opinion seems to be divided. Some like it that the vibrator works pretty much all on its own to deliver an enjoyable mix of vibrations. Others prefer that they keep control fully within their own hands. Knowing exactly how you want your vibrations and patterns and using them can be more fruitful. But then again, letting the vibrator do all the work is fun too. I'll say give this mode a shot and see how well it works for you.
The Epilogue
To sum our Svakom Alice Rabbit vibrator review, I'll say it's a well-priced vibrator that stands to expectations. It delivers powerful and deep vibrations without going overboard and does a good job at stimulating the clitoris and g-spot. It's exceptional as a g-spot vibrator, and I believe therein lies its true talent!